St. Louis, MO
St. Louis
Monster Energy AMA Supercross Championship
Riders from the United States of America have had a mixed history on the FIM World Championship tour. The last world champ born in the U.S. was Bobby Moore, who won the 125cc title in 1994. With the 2011 Grand Prix season starting up this weekend in Bulgaria, here's a look back at the ten best Americans in GP history.
10. Mike Brown: The last American to seriously compete for an FIM world title, Brown came close to winning the 125cc division twice ('99 and '00). He's made a long career as a highly respected motorcycle racer, landing the 2001 AMA 125cc National MX title as well as a WORCS off-road title. He's still extremely fast and versatile, as evidenced by his nearly winning the opening round of the 2011 Can-Am Grand National Cross Country Series.
9. Mike Healey: As part of a very competitive brigade of expats racing abroad, Healey battled with the likes of Donny Schmit, Trampas Parker, Bobby Moore, A.J. Whiting, Ricky Ryan, Bader Manneh, and more. His bad-boy image made him a favorite with fans in Europe. He's fallen on tough times since retiring; here's to better days for Mike Healey.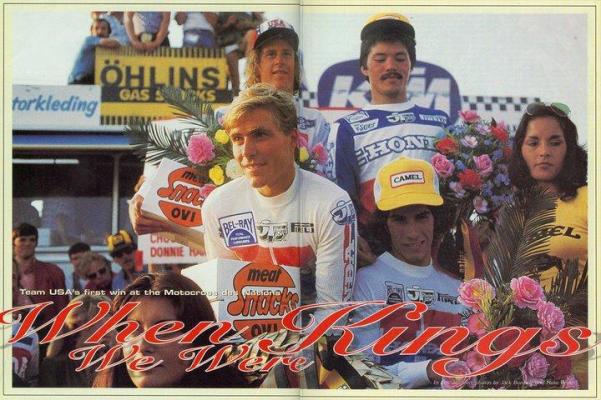 Danny LaPorte (center), after helping Team USA win the '81 Motocross des Nations
8. Tallon Vohland: The younger of the very fast Vohland brothers from NorCal, Tallon won a bunch of GPs in his career but never the world title. He finished third twice in the 250cc class a couple of times and is still working in the motocross industry with Acerbis.
7. Billy Liles: "The Georgia Peach" was a charter member of Kawasaki's Team Green way back in 1982. A hardworking rider who spent the majority of his career in Europe, he came close to winning the world title a couple of times, but injuries also wrecked his chances. To learn more, check out Nick McCabe's recent Where Are They Now? piece.
6. Danny LaPorte: "Danny the Door" might have been a little higher on this list had he not spent the majority of his career in America. But when an opportunity arose for him to race in Europe in 1982 as a factory Yamaha rider, he jumped at the chance and ended up beating Georges Jobe for the 250cc world title. He missed being "first American" by two weeks that summer, leaving that distinction to another Hall of Famer.
5. Jim Pomeroy: Though he never won a world title, "The Yakima Flash" was super-competitive in the 1970s on Bultaco equipment. He also broke through as the first American ever to win a Grand Prix, shocking the world with a win at his GP debut in Sabadell, Spain, in 1973. Pomeroy died in an automobile accident in August of 2006.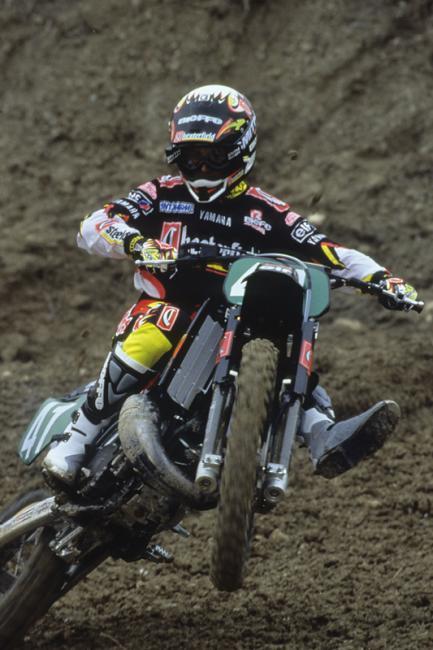 Bobby Moore won the '94 125cc world title.
4. Bobby Moore: The California minicycle legend gambled his whole career on a ride in Europe in 1986 and ended up staying there for a decade, winning the '94 125cc world title and numerous 250cc races. He then became a team manager and has been a driving force with Road 2 Recovery ever since his retirement from racing. Bobby's also an agent at WMG.
3. Trampas Parker: Easily one of the most unexpected success stories in motocross history, Parker landed in Italy in 1988 after failing to make a dent on the AMA circuit. He ended up with Farioli KTM and came practically out of nowhere to win the '89 125cc world title. He followed that two years later with the 250cc title, then nearly won the 500cc title in 1995.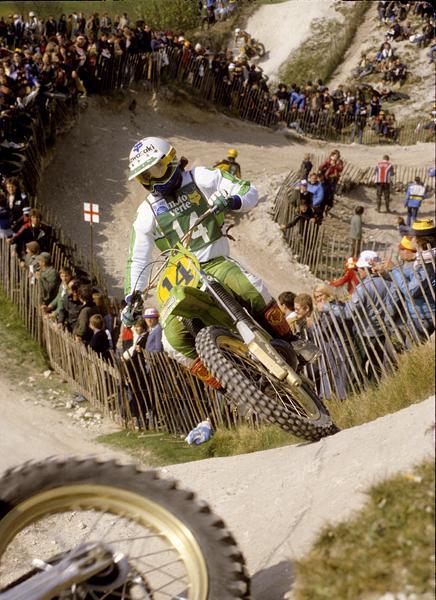 Brad Lackey was the first American crowned FIM World Motocross Champion.
Photo: Moto Verte
2. Donny Schmit: The globetrotting hero from Minnesota landed in Europe in 1990 after riding in the States as a privateer in '89 and promptly won the FIM 125cc world title. He added a 250cc title two years later, then retired at a relatively young age in 1995. Sadly, Schmit passed away one year later due to a rare blood disorder. How cool was Donny? Here's an old clip from Fox Racing's Terrafirma to remind you.
1. Brad Lackey: While this NorCal hero has fewer wins and titles than others, he was still the first American to be crowned FIM World Motocross Champion when he captured the 1982 500cc title. Lackey spent a decade pursuing the championship at a time when GP motocross featured top riders like Roger DeCoster, Heikki Mikkola, Adolf Weil, Gerrit Wolsink, and more.