Edward Jones Dome
St. Louis

,

MO
St. Louis
Monster Energy AMA Supercross Championship
By: Davey Coombs and Steve Matthes
Saturday night marks the fourteenth round of the 2011 Monster Energy AMA Supercross Championship, and the first fourteen rounds have delivered some amazing action in both classes. The St. Louis race at the Edward Jones Dome will air on on CBS Sports (noon ET Sunday) and SPEED (6 p.m. Sunday). Here are ten things to watch for....
10) Lemoine. Matt Lemoine has certainly had some ups and downs in his career. The talented Texan is on the road driving to the races and is actually doing pretty well on his Kawi. Right now, with two rounds remaining, he is sixth in the points, beating of some guys who are of him in salary and traveling to the races. Lemoine turned down a shot on Weimer's vacant 450 to focus on this East Region Lites title, and so far, it's going pretty well. He's establishing himself as one of the guys doing the most with the least.
9) Mookie Fever! Suzuki City's Malcom "Mookie" Stewart tied his career high last weekend with a fourth and is looking to make the box before this thing is done. Surpassing everyone's expectations, Stewart is definitely doing things the same way his brother did: showing some incredible skill but sometimes following that up with some incredible crashes. Mookie is a big guy and is probably affected a little bit by his size out there, but he makes the most of it by throwing the 250 around like an 80. He's top ten in points, but he's learning, and he'll get better. Until then, he's going to aim for the box this weekend.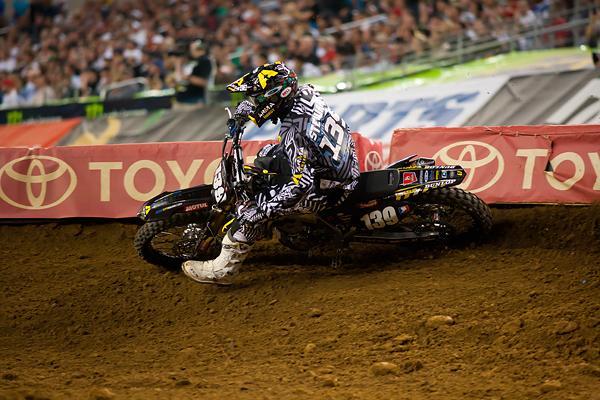 Can Stewart carry his momentum into St. Louis?
Photo: Andrew Fredrickson
8.)
Moving the Finish Line.
On last year's calendar, the St. Louis SX marked the end of the East Region, so a champion was crowned and the East guys went home for three weeks before Las Vegas' East-West Shootout. But now they have to go to Las Vegas and be ready to compete, because the grand finale is really going to the Grand Finale for Everyone! So St. Louis won't see a king crowned unless something really strange happens between Barcia and Wilson. Speaking of...!
7) Wilson/Barcia Battle. Look, these two guys don't really like each other all that much, they ride for the two biggest teams in the Lites class, they are amateur rivals, the mechanics are getting into it, and they're 13 points apart in the series. These two seem to spend a good portion of the race trying to block the crap out of each other, so if I were in St Louis this weekend, I would be really, really hoping that these two got together at some point. Sparks are going to fly for sure! As stated above, the Las Vegas round is where it's all coming down unless disaster strikes the #17 this weekend, and with Wilson winning the last two races, I have to think that Barcia isn't going to let this aggression stand, man
6.) The Big Drop. We have seen terrible turns of luck in this championship, from RV's no-go in JAX to RD's broken chain at A2 to the occasional get-togethers of Stewart and Reed (though still not at one another's houses on a social level). With eighty main-event laps left in this thing, it's still anyone's title. But the next big mistake may mean you're out of this—no matter which one of these five heroes you are. St. Louis could be someone's Waterloo.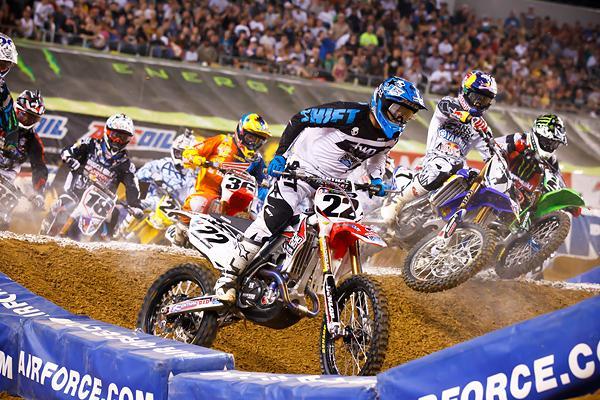 Can Reed rebound from last week?
Photo: Simon Cudby
5.) Still the One. And then there's Ryan Dungey, the guy who is actually wearing the #1 plate and has somehow, some way climbed out of the hole he was in, albeit with some help from some of the title contenders mentioned above. The Rockstar/Makita Suzuki rider might have had a shot at the win on Saturday, but he made some mistakes and had to settle for third behind Canard and Villopoto. Still, he's only seven points out of the series lead with four races to go. He hasn't lost a title since 2008. Think about that.
4.) TwoTwo. Chad Reed probably wanted to throttle James Stewart after last week's main event, but then he saw photos of the crash where Bubba knocked him out of bounds and seemed to realize that it wasn't intentional, but probable at that rate of speed through those kind of whoops. He lost the points lead, but he acted like a champ afterward. You can bet he'll be out for redemption and hopefully a second win of the season for his TwoTwo Motorsorts/Bel-Ray Honda team.
3.) The Slump. James Stewart has probably never lost eight races in a row in his entire life on two wheels. Actually, that's kind of what the problem has been for the San Manuel Yamaha rider: staying on two wheels. James hasn't won since Anaheim 2, way back on February 5. Is he trying too hard? Seemed like it when he crashed at both Daytona and Dallas. Can he smooth out and get back in the winner's circle? Absolutely. Will it happen on Saturday night in St. Louis? Stay tuned.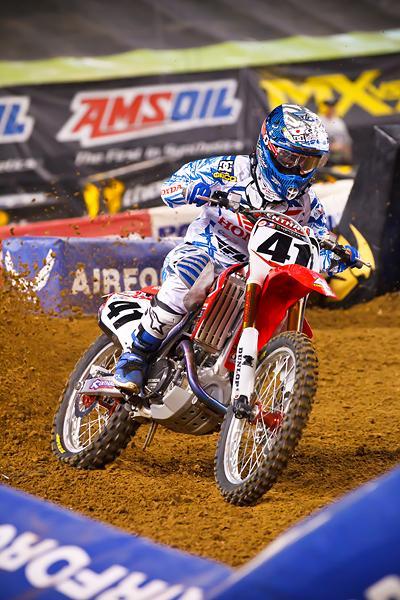 Can Canard make it three out of four in St. Louis?
Photo: Simon Cudby
2.) Ryan's Revenge. Last year Ryan Villopoto seemed to have Dungey covered at this point, as he gobbled up wins and points on his Monster Energy Kawasaki. But then came St. Louis '10 and some funky jumps that ended up costing him not only the win but his entire summer. Villopoto has made a remarkable comeback from that ugly injury, to the point where he's back in the points lead. Will he take revenge on Edward Jones and the stadium named after him?
1.) St. Canard. When we last left the Monster Energy AMA Supercross tour, there was all kinds of crashing and commotion going on in the pack, but rising above it all was Team Honda's Trey Canard. In fact, he's won two of the last three rounds, and he's the only man who's been on the podium the last three races. The kid just wins—kind of like last year's Rookie of the Year in this class, Ryan Dungey, was able to do. Can #41 keep on trucking at St. Louis?