Edward Jones Dome
St. Louis

,

MO
St. Louis
Monster Energy AMA Supercross Championship
Jimmy Albertson – Knee
Comment: Albertson crashed on the third lap of his second qualifying session at Anaheim 1 and caught his leg under the bike. He underwent ACL surgery in late January but has just been released to walk. Should be back on the bike in May and ready to race
Hangtown
.
Jeff Alessi – Foot
Comment: Rehabbing his foot and may be back for Seattle if all goes to plan.
Derek Anderson – Back
Comment: Still suffering the effects of a crash at the Pala National, where he compressed his back, causing a herniated disk. He will most likely miss all of the 2011 SX season but hopes to return to action at the start of the outdoors.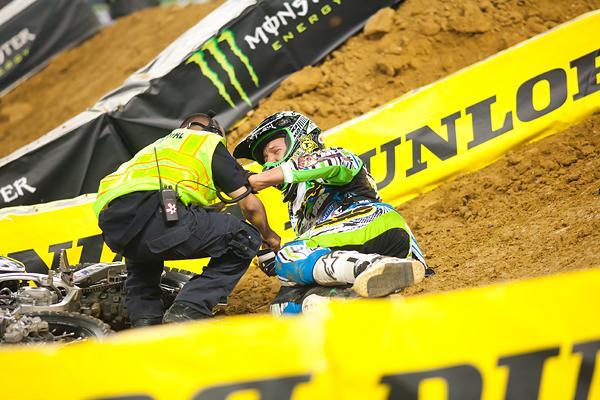 Boni broke his tibia and fibula in Dallas.
Photo: Andrew Fredrickson
Daniel Blair – Leg and Back
Comment: Fractured his femur and L4 and L5 vertebrae in a practice crash at Anaheim 2. "Doing a lot better," Daniel told us. "Femur is healing up good. My back is slowly improving. Looking to hopefully be back by X games if everything goes OK." In this video, Daniel discusses his crash, his injuries, and his future. Also, a PayPal account has been set up to help Daniel and his family. If you are in a position to donate, please click here.
Matt Boni – Tib/Fib
Comment: According to the TiLube PR, "Matt ended up going over the bars and landing on his feet sustaining a compound fracture to his tibia and fibula in one of his legs. He was rushed into surgery where they inserted a rod in his leg. He is expected to have a complete recovery but it will require extensive rehabilitation."
Justin Brayton - Back
Comment: JGRMX's David Evans told us there was concern that Justin may have a compression fracture in his lower back, so Doc Bodnar of the Asterisk Mobile Medical Unit had him transported to Baylor Hospital. "He was scanned and released but very sore," Evans said. "He is going to try his best to ride this Saturday, but we won't know if he can compete until he tries to practice."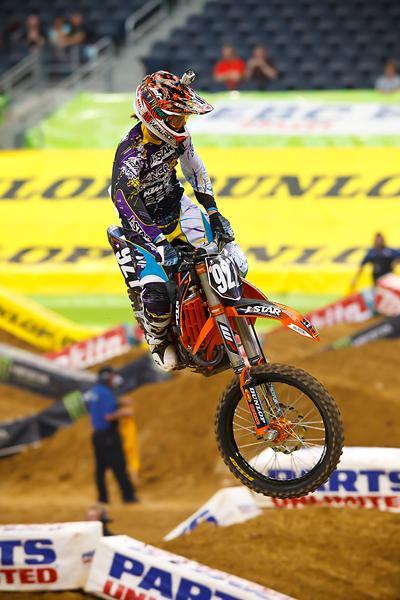 PJ Larsen suffered a broken wrist in Dallas and is expected to miss 6-8 weeks.
Photo: Simon Cudby
Kyle Chisholm – Ribs/Lungs
Comment: The MotoConcepts rider has resumed light training and should be back on the bike in a few weeks. He'll return to racing most likely at Hangtown.
Christian Craig – Knee
Comment: Tore the patella tendon from the bone and had surgery to reattach. He was recently released by his doctor and is preparing for Seattle.
Kyle Goerke – Wrist
Comment: Broke his wrist during his heat race in Jacksonville and recently underwent surgery. Will be released in four weeks to get back on the bike.
Matt Goerke – Wrist and Pelvis
Comment: According to a TiLube Racing PR, Matt suffered serious injuries with a shattered left wrist and multiple fractures in his pelvis. He is out of the wheel chair and is now able to walk and should be back in about seven to eight weeks.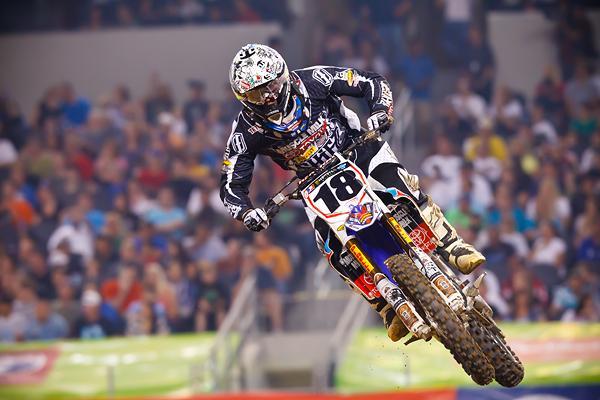 Millsaps is expected to race in St. Louis after a big get-off in Dallas.
Photo: Simon Cudby
Josh Grant - Knee
Comment: According to a statement released by Honda, Grant underwent additional surgery to his right knee to repair his anterior cruciate ligament (ACL), the result of an injury he sustained at the Phoenix SX. He anticipates a return to racing early in the summer.
Josh Greco – Ankle
Comment: Crashed in qualifying at A1 and broke his ankle. Underwent surgery and hopes to be ready by Seattle.
Tommy Hahn – Ribs
Comment: Bruised ribs and tore cartilage in his thoracic cage in a crash in Atlanta but is back on the bike and is racing this weekend in Dallas. Says his team manager, David Vuillemin: "I saw him on the bike for two days and he looks really good."
Wil Hahn – Shoulder
Comment: Broke his shoulder blade and is out indefinitely.

Austin Howell – Ribs and lung
Comment: Austin has three broken ribs and a bruised lung resulting form a practice crash at Anaheim 2. Shea Racing expects him to return at the Seattle SX.
Chris Howell - Wrist
Comment: The Spokane, Washington, privateer broke his wrist just days prior to Anaheim 1 and is hoping to return to action in Seattle.
PJ Larsen – Wrist
Comment: Larsen crashed in his heat race in Dallas and broke his scaphoid (navicular) and another bone. "Three bones are bruised also," says the JDR KTM pilot. "I got a screw through the scaphoid and it might need to be bone graphed as well. I won't know until they cut me open. Heal time is 6-8 weeks. Aiming for outdoors but wont know till we follow healing each week."
Sean Lipanovich – Kneecap
Comment: Crashed practicing the Thursday prior to the Toronto SX. Had surgery and will probably be able to ride in four to six weeks. Plans to return at Hangtown.
Jeff Mann – Wrist
Comment: Broke his wrist days prior to A1. Rehabbing wrist and hopes to return at Seattle.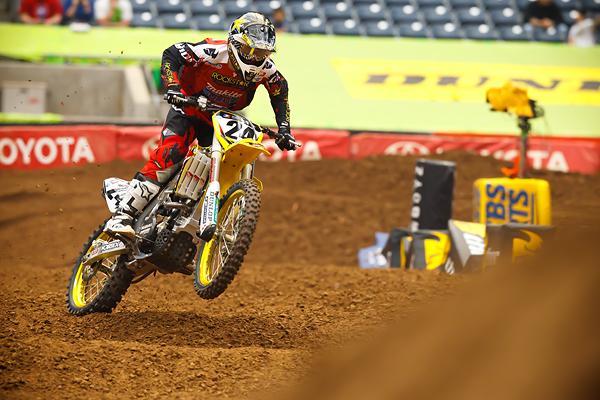 Metcalfe is still on the mend after crashes in Atlanta and Daytona.
Photo: Simon Cudby
Brett Metcalfe – Various
Comment: Still out from lingering affects of his crashes at Atlanta and Daytona. He is scheduled to return at Hangtown.
Davi Milsaps – Wrist
Comment: Millsaps went down after Cole Seely's bike launched into him after Cole crashed in the whoops. Says the Muscle Milk/Toyota team, "His hand and wrist were pretty bruised and swollen, but the swelling has gone down and now it's just really sore. He is expected to race."
Gareth Swanepoel – Back
Comment: Was diagnosed with a compressed T12 vertebra after he crashed in his qualifying heat in Houston. According to his team coordinator, Donovan Mitchell, "Gareth is almost fully healed and it looks as if he'll just fully concentrate on outdoors as of now."
Tevin Tapia – Wrist
Comment: Tevin was expected to debut for Shea Racing at Houston but broke and dislocated his wrist only days prior to the race. Hopes to return at Seattle.
Ian Trettel – Head
Comment: Crashed in practice at Daytona and suffered a head injury. Making progress—read the latest update here.
Rhett Urseth – Shoulder
Comment: Separated his left shoulder in San Diego, but he'll be back in action for Seattle.
Bryce Vallee:  Wrist
Comment: Fractured the scaphoid bone in his left wrist prior to the season and underwent surgery to repair. The bone graft was successful and Bryce has started light training. Plans to return at Hangtown.
Chad Ward – Multiple
Comment: Crashed in Atlanta and reports are that he suffered a broken wrist, punctured and bruised lung, five broken ribs, broke a wing off of his spine, and a concussion.
Jake Weimer – Arm
Comment: Was planning to race this weekend but, according to Kawasaki's PR department, he's not. "He's taking it week by week."
Did we miss someone? Email us at letters@racerxonline.com.