Edward Jones Dome
St. Louis

,

MO
St. Louis
Monster Energy AMA Supercross Championship
Don't look now, but
Trey Canard
is back in this thing! With 1-3-1 scores in the last three rounds, the Oklahoma rookie has climbed from 52 points down in the series after Indianapolis just four weeks ago to within striking distance of the lead—down 16.
Sound familiar? Last summer Canard rolled into the Red Bud AMA Pro Motocross National down by 57 points to Christophe Pourcel, but he caught fire and clicked off every one of those points en route to the 250 motocross title (with a nice gift in the form of a Pourcel crash in Pala, but hey, hasn't this supercross tour been defined by gifts?)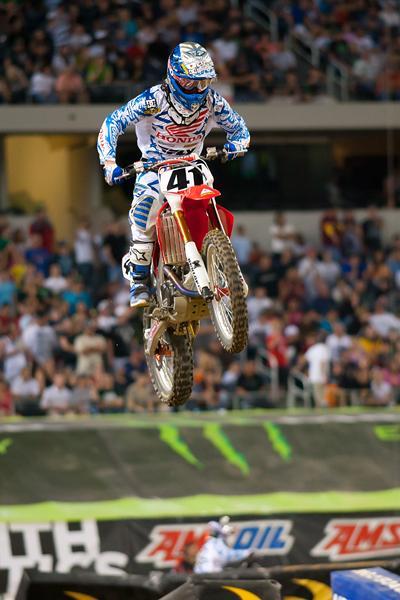 Canard is making a late season run at the championship.
Photo: Andrew Fredrickson
Now he's making a similar march, making up 36 points in a series that only hands out half as many points per weekend. Marking a further similarity, both of these Canard comebacks were not engineered merely with speed. Even after 24 motos last summer, it's hard to say who was faster between Canard and Pourcel. Bad luck, some bike problems, assorted crashes and other issues cost Pourcel, while Canard rode the wave. Similarly, it's hard to say if Canard is actually going faster than the rest of the riders he's battling in the championship right now—but once again, they're dealing with bad luck, some bike problems, assorted crashes and other issues, while Canard just rolls on.
Perhaps that's the advantage of coming from behind. Canard hasn't dealt with championship pressure for one moment this year. He's not supposed to win the crown, and up until this weekend, he really wasn't close enough to think about it much. After the race in Dallas, he was busy shaking hands and getting hugs from his local fans. Championship? That's for the next four weeks. For now Trey is just enjoying the moment.
His Dallas win marked a Texas two-step, as Canard captured the victory in Houston a month ago. But this one was even sweeter, since the North Texas race is just four hours from his Oklahoma base. The American Honda Racing rig was mobbed after the race, and Trey's mom even made up more than 70 special t-shirts for the gang to wear throughout he day.
In fact, he wasn't even thinking about winning races this year, let alone contending for the title. "Coming into the year, I tried not to think about it—that's when I go wrong when I start thinking about the wins or this and that," he explained after the race. "I just tried to focus on the preparation. But three wins like this, that's just amazing. I just couldn't even image it."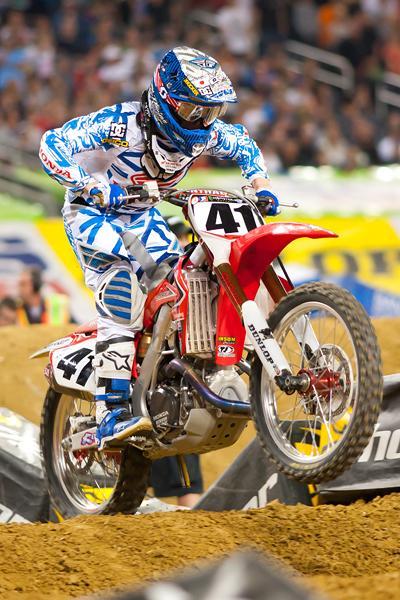 Can Canard make it two in a row in St. Louis?
Photo: Andrew Fredrickson
Canard also blocked out some bad memories of the whoop section. At the last two rounds, in Jacksonville and Toronto, the whoops cost him a lot of time. In Arlington, it was even worse when he went down hard in practice and bounced off the concrete.
"I landed right on the cement—I knocked the wind out of myself and got a little flustered. I was struggling with them, but luckily I found a good line on the left side. I didn't even make a change throughout the day, I just think I got more comfortable as the day when on. Each time I went on the track I felt better. In the main, I got a good start, and I was in a good place mentally."
After struggling with starts for most of the season, Canard has dialed them in at the last three rounds, which is as big a reason as any for his surge. But he's also minimizing the rookie mistakes that plagued him early in the season. In Dallas, while the competition bobbled, Canard rode smoothly out front. "I felt steady all race, I made a few mistakes, but not too many. There were some gifts for sure, with James and Chad and Dungey all going down, but I felt like I stayed consistent and I rode well. The only problem I had was at the end. I thought I had a little more than I thought, and those guys were on me."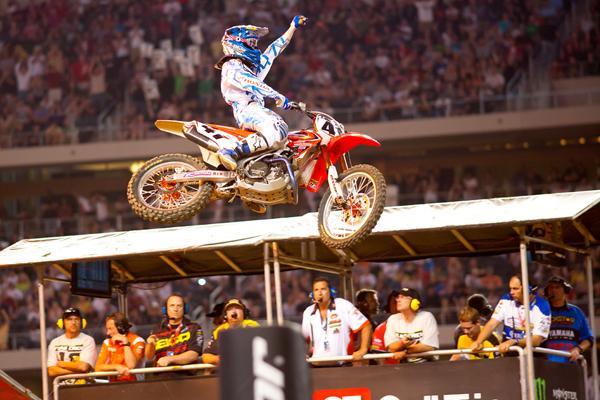 Win number three for Canard.
Photo: Andrew Fredrickson
Villopoto and Dungey got within a few seconds by the finish, by there wasn't much doubt that Canard had this one under control. Next comes St. Louis, the city where he and Villopoto met in a legendary showdown for the Lites East title in 2008. That year, Canard led the points for most of the year, and he began to tighten up as Villopoto started reeling off wins and closing the gap. Canard started riding defensively, and that simply didn't work. In St. Louis, Villopoto made the pass on Canard and appeared to have the championship in hand. Canard had finally become the hunter instead of the hunted, and with nothing to lose, he launched one last attack on Villopoto which resulted in a collision, Villopoto crashing into the finish line scaffolding, and Canard taking the championship. Clearly, Trey rides better when he's chasing—and right now he's right in that old familiar position.