AT&T Stadium
Arlington

,

TX
Arlington (Dallas)
Monster Energy AMA Supercross Championship
Round thirteen of the 2011 AMA Monster Energy Supercross series goes off this weekend in Dallas at the new (and much improved) Cowboys Stadium. The palace that Jerry built will be rocking as five riders are within scant few points of one another in what promises to be an epic race to the end.
But in this week in Kawasaki SX history, we look back at another late season race in Dallas that also impacted the points standings in a big way.
Former factory Kawasaki rider Jeff Emig explains:
"It was 1997 and I had been leading the points for a long ways when we went into St Louis for the race. I went over the bars in Friday practice and hurt myself a bit which caused me to just try and get through the round at Pontiac where I predictably struggled. The next race was Charlotte and I think I ended up with a fourth or something but I felt pretty good. My points lead shrunk a bit and Jeremy McGrath was closing in.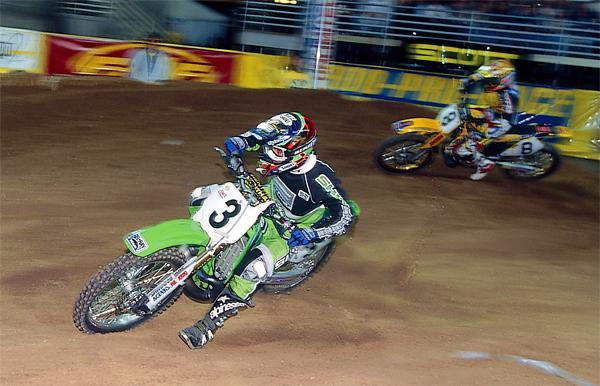 Emig's points lead was getting tight before Dallas.
Photo: Moto Verte
So going into Dallas, I had a little bit of experience racing the amateur day there and remembered this was the old stadium with the hole in the roof. When I got there on Friday, it was raining. I was thinking it was awesome and to let it keep pouring down. When you watch broadcasts from the races today, I talk about attitude when it rains and being in a good mindset. That is where it comes from.
The track is usually hard packed and blue groove in Dallas, the kind that gets slippery and the dozers leave marks on the faces of the jumps. That's the kind of stuff McGrath was really good at. For me, I looked at it like I was taking away his strength and go with one of mine, which was riding in the mud. The soil is similar to what I grew up racing in. Many times as a kid my dad, instead of packing up would make me go out and race in the mud. I wanted to be there in Dallas and race, it was all about attitude and I was ready.
The race itself went great, seems like I won my heat and then in the main I was gone. It was so muddy it was one of those that you had to single things, maybe you could double here and there and ruts were everywhere. I think they fixed the track pretty good before the main, if I can remember right. A few years earlier, in Dallas, Doug Henry won the race in the mud with a great ride. I remember being really jealous of that ride and thinking that this was now my chance. There was a jump after you crossed the start straight that I was the only one doing so myself and the crowd was feeding off of that.

Emig would go onto win the 1997 SX championship.
Photo: Paul Buckley
I think I won by thirty or forty-five seconds that night, I was on and I don't remember really how he did. Like I said, the points tightened up and I felt the pressure but after that race, there was one more race left where I felt comfortable that the momentum had shifted. I thought I would have taken a lot of wind out of his (McGrath) sails with my win. It was more about the points that I gained, it was the mindset of taking away the hope from and him and swaying it in my direction.
It was a great night and I remember being very pumped about the win that night in Dallas!"
And with that race win on his Kawasaki, Emig would go on to win the 1997 Supercross Championship a few weeks later in Las Vegas