Rogers Centre
Toronto

,

Canada
Toronto
Monster Energy AMA Supercross Championship
Chad Reed is back in the hunt for another Monster Energy Supercross Championship. Or was he ever really out of it? Get his take in this week's Going for the W: Chad Reed.
Racer X Online: Okay, I know you say you have to be in it to win it. I know you've seen crazy things happen in a title chase. But did you expect something like this to happen?
Chad Reed: I didn't, but, strangely enough, Ellie, before the main event, said, "Hey, tonight we have this crazy moon. It's creating all these problems." She had just read on Twitter about Ryan not qualifying. So she said to me, "Just go out there and get the start, and don't try to make anything happen. Just be patient tonight." So, I was like, "alright." So I got a good start, tried to be patient, I was in second. Four or five laps in, I looked at the board, and Stew wasn't in the top five. I also saw some commotion over on the side of the track. One lap I kind of browsed over there, and I saw James on the backboard. That's never a good thing, and I actually think it was the worst thing I could have seen. I was like "Whoa! This is crazy. Ellie is predicting the future here!" It really messed me up, and I lost a lot of time to Trey, obviously. I tried to regroup, and I felt like a made a good charge. I tried to go for it and get him, but it just wasn't enough.
Looked like you were making up time in the whoops.
Yeah and I would say I wasn't that comfortable in them all night long. I kind of struggled, and I finally started attacking them because I was mad. Then it started to work, it was like my bike was saying ,"Yeah, this is what we've tested for, this is what we're set up to do. To go fast. Let's do it." So the harder and faster I hit them the easier they were. They looked scary, but I just ignored that and went for it. I started making up some time on Trey. I made a pass but I couldn't make it stick. But it was a good night, it was definitely good for points. So now everyone is like, "You're back in it!" And I'm like, "I was never out of it!" So it's kind of funny.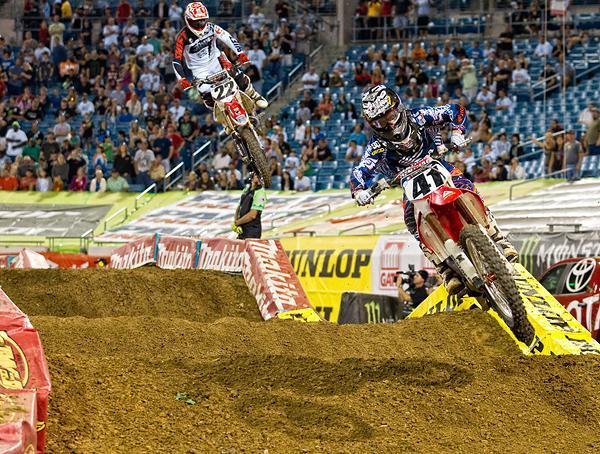 Reed battled with Canard down to the wire at Jacksonville.
Photo: Garth Milan
Well that's interesting. Your team started late, you had a bad year last year, but you honestly rolled up to Anaheim 1 thinking, even with a new team and all that, that you could really win the championship this year?
I knew we weren't starting at Anaheim 1 the best that I had felt when I had won my championships. But the right feeling was still there. Not the feeling, like, "Okay we're going to go kill it at Anaheim 1." But I just felt good. I was happy and when I'm happy, things have always worked out the way I wanted to. We needed to make some improvements to the bike, but I knew I could only make those improvements by going racing. So, there was no sense of urgency, I never once got freaked out or thought we were too far back. Coming into this race, I was 29 points down on Ryan. But honestly, I was 29 points down on Ryan before San Diego. Then after San Diego we got it down to I think 16, so we were close…
Well at one point in Atlanta it looked like you were going to close in some more.
Right, at that point it was looking like I might be down maybe 10 points or something. So I knew that this championship would be unpredictable, and I knew it would take large swings. Now, I'd be lying if I told you I predicted a night like this, but anything can happen. That's why we go racing, and that's why I find some of the reactions hilarious, to be honest. At one point before the race, I glanced at my phone because I wanted to see what was going on with MotoGP results, and see if Casey Stoner was on pole, things like that. As I was browsing twitter, I saw a lot of people whose opinion I respect on racing, guys like you, Steve Matthes, Ryan Hughes, and everyone is just like "Wow! Now we've got ourselves a series!" And I think that's funny. Really, we have a series now? Because I was planning on going to Toronto anyway, but I guess there wasn't supposed to be a championship there. I guess we were handing out rings and trophies already. So now this happened, and we're going to Toronto, and now we have a championship.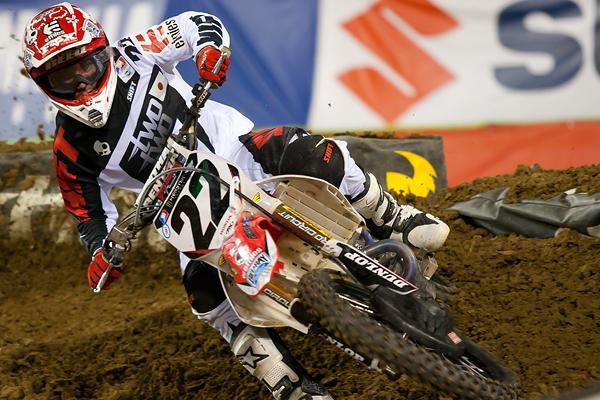 Reed is within seven points of RV's lead.
Photo: Andrew Fredrickson
So this is an interesting perspective. The last few weeks, even 29 points down, you weren't wishing you could have gotten a few extra points here or there? You just kind of figured you would lose some at some point and then at another point, you would gain some back?
Yeah. You win some you lose some. I mean, you have to look at the facts. The facts are, if you get good starts, good things happen. The facts are, and not that I was banking on this, but Ryan Villopoto has never finished a full supercross championship as a professional in the big bike class. James, he always has ups and downs. He could go on a tear in a positive way, or go on a tear in a negative way. Tonight, it took the negative route. And I'm not trying to be negative on these guys, but I'm just stating facts. These are things I've learned over the years, and you put faith in them. You don't worry about the points. Yeah, I was down 29 points, and it didn't feel awesome, but you put your faith in your team, in your guys, in your program, and in how racing works. And I think tonight showed all of that. This is what racing is about. This is why I've always said you've got to be in it to win it, and this is why I laugh at all of these championship asterisk comments over the years. Championships are not easy to win, man. And when you win them, they're well deserved.