Rogers Centre
Toronto

,

Canada
Toronto
Monster Energy AMA Supercross Championship
Jason Thomas has been racing professionally now for thirteen years. That's like an eternity in this sport, but Thomas has always been known as one of the hardest-working riders on the circuit, which definitely has contributed to his longevity. Currently, though, JT Money has been struggling with a pretty serious injury. We caught up with the BTOSports.com/BBMX Suzuki rider to get the scoop for today's Between the Motos.
Racer X: Jason, let's get right to it—how are you doing in fantasy supercross this year?
Jason Thomas: [Laughs] Uhh, not as good as I was hoping. A lot of my guys have DNFed, so I have some ground to make up.
All kidding aside, your supercross season hasn't gone as planned, especially since you're a former German Supercross champion.
Yeah, it started out pretty good. I felt like I was really prepared coming into this season and it was going well. I had some bad luck—I got taken out in Phoenix—but I felt I was riding well. It's obviously tougher to qualify this year than it ever has been in history, and then in Houston I was running inside the top ten for the first time all season and everyone knows what happened there, which was a bad deal. Honestly, ever since then it's just been a struggle; I haven't even been able to practice during the week and I've just been trying to get healthy.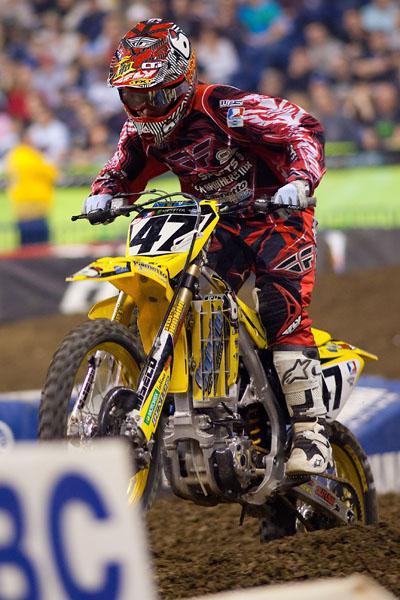 JT has been battling a knee injury since Houston.
Photo: Andrew Fredrickson
To someone reading this who didn't see Houston, tell us what happened.
I didn't really know who was behind me. I knew guys were going to be coming because of who had crashed in the first turn—I knew some of the elite guys would be trying to catch up. So, I felt pressure and Alessi kind of ran me wide. My line was normally to square that turn up and then we'd wheel-tap onto that table top and then off. Well, Alessi bumped me and it kind of shoved me outside. I had never tripled onto that tabletop from the outside, so I got bumped and didn't get to downshift and step over it, so I kind of cased it. And then when I went to accelerate off I had no drive, so I was going to go to the next table. Well, James [Stewart] had already committed behind me. I know in his frame of mind, when you crash in the first turn, it's just like full panic to get to the front. I know he was already in that zone where he was just going to go for it. It was just bad timing, really. Obviously he didn't mean to land on me and I didn't mean to still be there. I'm sure he felt bad about it and it made his race a lot worse.
Did you guys talk about it afterwards?
He came up to me in Atlanta and apologized and I was like, "Oh man, I know you didn't mean to land on me." It was just kind of a bummer that I got a bad injury from it.
Talk about what you injured.
I tore my ACL and meniscus and sprained my PCL in my left knee. So, it's pretty bad. I tried to keep it low key because I really didn't know what I was going to do with it—if I was going to get it fixed or keep racing. But it's been steadily getting better. Like, there was a ten-day window where I literally didn't get off the couch or anything. I just sat in an ice machine and would lightly bicycle on my spin bike. I tried to ride two days before Atlanta and I could ride a little bit, but it wasn't good, but I decided to try it anyway. Atlanta didn't go great but it was OK. Like, I only missed the main by two in my LCQ, so I was pretty excited about that.
And then Daytona was the next weekend and it was really hard on it. It was a lot worse for it than I kind of anticipated and it set me back a little bit. I jammed it down pretty hard a few times. Looking back, I should've just sat out Daytona because it set me back.
This type of injury usually puts a rider out for months.
Yeah, but I probably can't do a lot more damage to it, though. So it's kind of a deal where if I could manage it and strengthen my quad and hamstring and calf to compensate for it, then I could get away with it. It's the same situation I have with my right knee. I did that in '04 and I've been kind of getting away with it ever since. If you could get away with it and it will stay in place and not dislocate, then it's probably better than getting surgery and sitting out for five months.
It's really not that uncommon. I know Carmichael did the same thing and he raced with it quite a while before he got it fixed. It happens to a lot of guys. A lot of guys don't have ACLs and still race.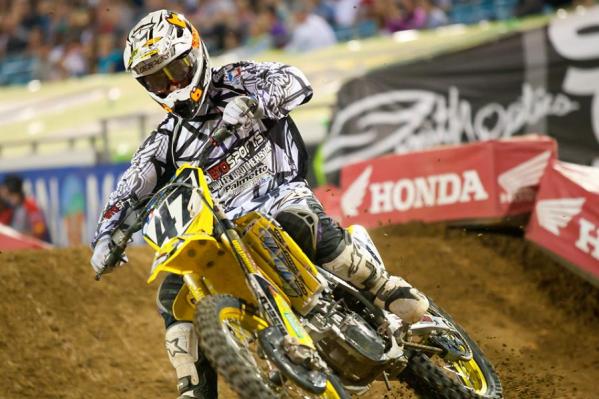 Thomas had his best finish of the year in Jacksonville.
Photo: Andrew Fredrickson
Looking on the bright side of things, you did score a season-high finish this past weekend in Jacksonville.
Yeah, it was good. In the main event I felt like I was riding normally without worrying about my knee, and that kind of carried over to this week of practice. Yesterday I was just riding like I didn't have a hurt knee, so I'm able to push a little harder.
You and Michael Byrne picked a good race to finish well at since it's your team's home-state race.
Yeah, definitely. It was the first race that both of us have qualified and both of us have done well. Byrner was hurt the first half of the season, and then I got hurt and missed the first race he was coming back for, so it finally came together for both of us. He even crashed on the start in Jacksonville, so it wasn't a perfect weekend, but it's a step in the right direction.
The team looks a lot different this year with no Lites riders under the awning. What's that like for you?
Well, it's good for me. They just had to re-focus the effort and the support. It's been good for me because my bikes are better and there is more money to put in to the resources and stuff like that.
At this point, it appears like you're just going to nurse your knee for the rest of the season.
Yeah, that's the plan. It's getting better now. I was kind of at a tipping point where if it didn't start getting better I was just going to get it fixed. The way I was riding, I wasn't happy with at all. In Indianapolis I felt I could've qualified easily if I could just ride normal, but I couldn't. I didn't feel good and couldn't ride hard, so this week was a big change from that and hopefully it continues to improve.
Will we see your team at Hangtown in May?
We'll definitely be at all of the outdoors this year.
How old are you now, JT?
I'm 31.
You've been at this a long time. Realistically, how much longer do you see yourself racing at this level?
Well, since this injury that's something that I've really been putting a lot of thought into, and right now my decision is I'm going to finish this season and race a full season next year, do my Europe stuff and then try to win the German championship next. Like, I'll race the final event the weekend of Anaheim 1 and then probably call it right there—that'd be the end of it. That's what I'd like to do.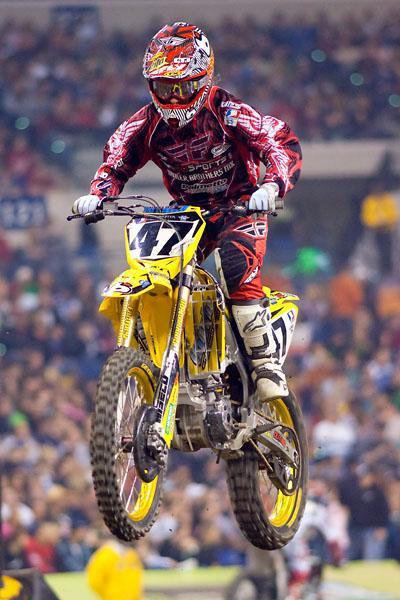 At 31, Thomas has been in this game for a long time.
Photo: Andrew Fredrickson
Where do you see yourself after your racing career is over?
I don't know. I feel like I'd like to do something with the sport since I've put my whole life into it. I feel like I have a lot of insight and if I'm an expert on anything, it has to do with racing. I'd like to do that, but it's just really tough with the economy. I'll just take it day by day.
Give me your expert opinion on the championship this year
It's been pretty crazy. Obviously the players are all at the front, but I've been a little bit surprised at the inconsistency of everyone.
I know you're a gambling man and a hell of a poker player, but if you had to put money on one rider right now to win the championship, who would it be?
[Laughs] My heart says Chad [Reed], because that's who I ride with every day and that's who I want to win, but if you're betting on logic, you'd have to pick Villopoto. It's hard not to. He's won the most races and he still has the points lead after missing a whole main event. It'd be hard not to pick him.
Before we wrap it up, I know you've got some people you'd like to thank.
Yeah, I'd like to give a big thanks to BTOSports.com. They're our title sponsor and they're way more involved than anyone probably realizes. Vince at BTO basically keeps our team going, so a big thanks to him. Thanks also to the Butler brothers, Fly Racing, Palmetto Motorsports, and my mechanic, Dan Truman. He does a lot and I think he takes on a lot more responsibility than most probably have to deal with.