Jacksonville Municipal Stadium
Jacksonville

,

FL
Jacksonville
Monster Energy AMA Supercross Championship

Since this weekend's race in Jacksonville doesn't have much of a history behind it after just holding a few races and after scouring the record book to try and find a Kawasaki winner on the same date as this Saturday's race (March 19) but coming up empty, we decided to take a look back to a little bit of Kawasaki history of a different kind.
Ryan Villopoto
is the fourth Kawasaki rider to even win five AMA SX races in a season. Better yet, he's only the second Kawasaki rider to pull off the feat in back-to-back seasons. Let's take a look back at Kawasaki's history in the premier class when one of its riders wins five main events in a season.
Surprisingly, not that many green warriors have done what RV currently has. You would think that in the heyday of Jeff Ward he would have won five races in a season several few times but nope, he only did it once, in his 1987 championship season. There were a couple of seasons that Wardy captured four wins but, sorry for Wardy, five is the cut-off here.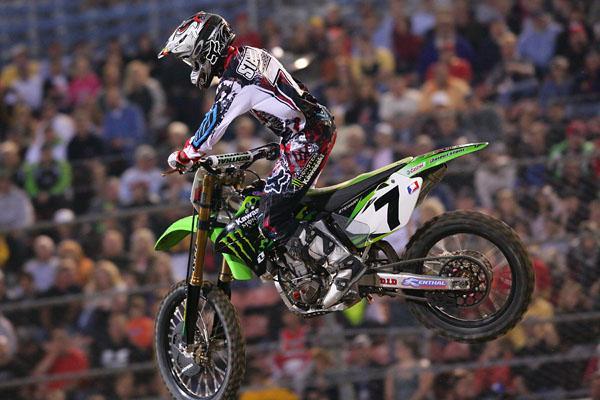 Stewart is one of only four other riders to accomplish what RV has on a Kawasaki.
Photo: Simon Cudby
Also to remember is that Ricky Carmichael did a majority of his winning on a Honda, he had one dominant year on green but the others were on red.
Think of all the great riders that Kawasaki Team Green has brought up through its ranks, both amateur and pro. Through the 1980s and 1990s, Team Green was essentially the who's who of amateur moto. But there were only four men who have equaled or surpassed what Villopoto has done this year. Only one other did it back-to-back, and that's James Stewart. Stewart was also the first to win that many races and not win the AMA Title, but Villopoto won seven last year and then succumbed to injury.
Let's take a look at the racers that have won five or more main events in the premier class whilst riding a Kawasaki:
1987- Jeff Ward 5 wins—AMA SX Champion
1997- Jeff Emig 5 wins—AMA SX Champion
2001- Ricky Carmichael 14 wins—AMA SX Champion
2006- James Stewart 8 wins—World SX Champion
2007- James Stewart 13 wins—AMA SX Champion
2010-- Ryan Villopoto 7 wins
2011- Ryan Villopoto 5 wins (and counting)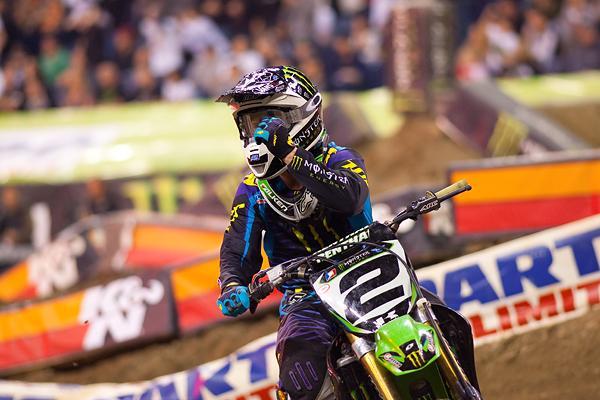 Five and counting.
Photo: Andrew Fredrickson