Daytona International Speedway
Daytona

,

FL
Daytona
Monster Energy AMA Supercross Championship
Another win for Ryan Villopoto, and now a bigger points lead. We caught up to him after the race in Daytona to get his take on the track, the season and holding on in the second half.
Racer X Online: How was the track compared to last year?
Ryan Villopoto: Way gnarlier, seemed like it got rougher, and it was longer than last year. It was physically demanding, for sure.
So was it so rough, and so long, did you ever think of backing it down or having to pace yourself this time?
The pace I was running was the pace I was willing to run, and go, for 20 laps. When he took off, I was like "Wow!" He was really on it. To me, I was just hoping it wasn't going to last. And it didn't. I was just hoping for that mistake, basically.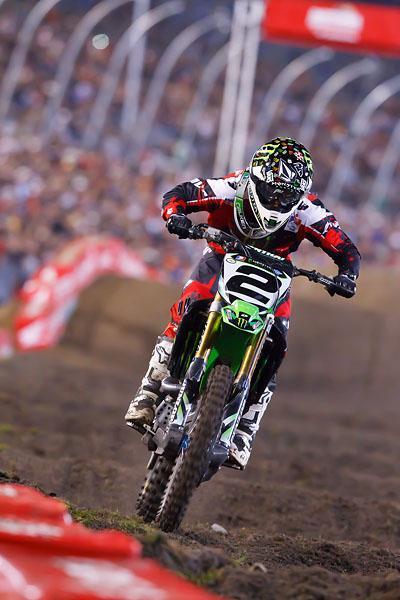 Villopoto outlasted the field en route to his second consecutive win.
Photo: Simon Cudby
So that's the hand you were going to play?
Yeah because the lighting, it was hard to see some of the sections. You had dark sand, and the track was rough and had big holes. It was just deteriorating, the grass was coming through, it was nasty.
Did you know he crashed?
I didn't see him crash, but I knew he was down, because I saw the red lights, and his bike.
At that point did you change your pace at all?
No I didn't. I could see where Davi was, and then later it was Chad, and I could see where he was, and I knew if I just maintained the same speed I would be fine.
Compare this to last week. There you got into the lead on the last lap, this week you had a big lead, more of a dominant win. Does it seem different than last week?
Yeah, but I wouldn't say I dominated it.
Yeah you're right. Stewart crashed. But you ended it with a big lead.
Yeah it's good obviously, I have a 23-point lead. But I need to win more races.
To go back to the 19th lap in Atlanta, when you had a small points lead or may have even lost the lead, and now suddenly you have a 23-point gap. That's bizarre!
I know it's pretty crazy! It's weird how it is, I guess.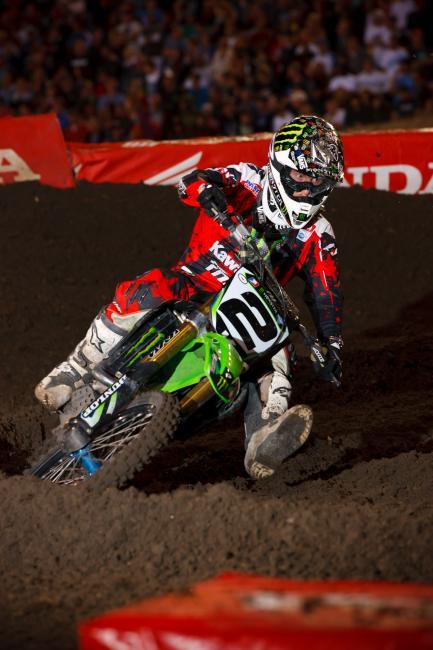 RV now holds a 23-point lead over Stewart.
Photo: Simon Cudby
Stewart was almost a lap down, did you see him.
Yeah I saw him in front of me yeah, but I was just watching the guys behind me. I wasn't worried about lapping him, that wasn't going to do anything for me. Hell, I didn't know where everyone was. I was just riding.
How about the bike setup? You change anything for this track?
I only changed the fork. I took just two clicks out, softened it up a little so it would settle in the bumps. That's it.
So you couldn't soften it up anymore?
Yeah with the supercross jumps, you couldn't go any softer. You had to just deal with it, like the rough stuff and that mogul section they put in, it was really hard on the stiff suspension. But you had to do it.