Daytona International Speedway
Daytona

,

FL
Daytona
Monster Energy AMA Supercross Championship
Courtesy of Monster Energy
Sometimes when a ball gets rolling, it's hard to stop. With Monster Energy Kawasaki's Ryan Villopoto, the ball is seriously rolling. Even when things are bad, they're pretty good. This week, his good fortune landed him in the race lead on the last lap after running third for most of the event. And the antics of his closest points rival on that last lap landed him four extra points in the championship chase. Villopoto now sits 10 points up in the championship chase as we head to Daytona.
Monster Energy: You didn't get a great start, but you were putting in laps and sort of keeping those guys in sight the whole time, but you couldn't have counted on them going down like that, could you?
Ryan Villopoto: No, not really. I wish I was up there to really get in there, but I think I was slow in the whoops. I mean, I haven't looked at segment times, but what Fish said and trainer Aldon, I was slow in the whoops. I was just a little bit slow there, but everywhere else I think I was real similar. But I think the track was tough to make a big difference or gains on people.
Well, on that last lap, you come around and you see those two fighting to get up; what went through your head? Did you hear the crowd?
I mean, I'll take it! Yeah, I heard them. I mean, I'll take it; it's a gift for sure. You know, it's sometimes not about being the fastest guy, it's about being smart, too. Like I said, I'll take it. It's a blessing, for sure.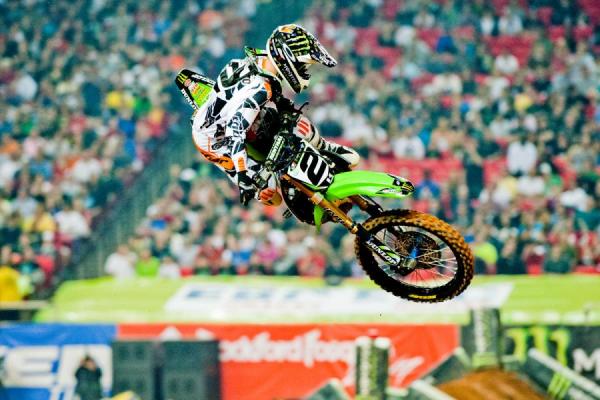 Villopoto was handed a gift when Stewart and Reed came together.
Photo: Courtesy of Monster Energy
Basically, you would have lost five points and probably been second in points if Stewart would have won. Now, all of a sudden, you're seven more points up...
I think if anybody is the guy to find speed, it's Chad [Reed]. I think he's done that and I think he's one of the players now. It's going to make it tougher. So, we're going to have to be on it and hope for the best. I mean, all of us are. You know, it can go so many ways. It depends so much on the start because we're all so close.
What's going on with your starts? In the heat races, it seems like they're all right, but in the main events it seems like they kind of stink...
Well, at least it wasn't last weekend's start [in San Diego]... Actually, I was good out of the gate. James [Stewart] had a little bit of a wheel on me, he was a couple gates inside of me, and then I just checked up a little too much going into the first turn and kind of got swallowed from the inside and outside. But, like I said, I'll take that over last weekend, for sure.
Did anything interesting happen during the week?
No, nothing interesting, but we go back home to Florida and I get to ride my new Supercross track. It's going to be good to get on that dirt and be back home.
You call Florida "back home" now?
It's home. I mean, it's fun. I'll leave it at that.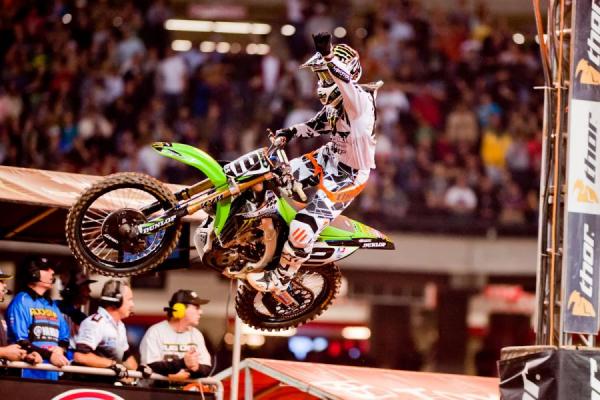 RV celebrates his win in Atlanta.
Photo: Courtesy of Monster Energy