Georgia Dome
Atlanta

,

GA
Atlanta
Monster Energy AMA Supercross Championship
Ben Evans #49 finished eighth in the West Lites main event last weekend, in San Diego and was the top privateer for that weekend. In 2007, Ben won the 450 Pro-Sport class at Loretta's Lynn's Amateur National and turned pro later that year, riding for Team Solitare. Born and raised in Idaho, Ben moved to California to pursue his professional career and have all the best possible resources close by. Now he is living in Southern California, has a solid team behind him, training hard, and getting the results he is capable of. We caught up with Ben before he was going riding today and found out more about him and his big plans coming up.
Racer X: Hey Ben! Excellent job last week! How is your season going?
Ben Evans: It's been pretty consistent actually. My speed has been really good over the last few races. I knew that I should have had a better overall result, and I got it this weekend with my 8th place.
How about the rest of the season? How do you feel things have been going?
Honestly, I have been a little disappointed. I see my lap times are in the top ten, but I either got a bad start or rode a little too cautious. This weekend felt like weight was lifted off my shoulders. I was able to ride free and smooth on the slick track.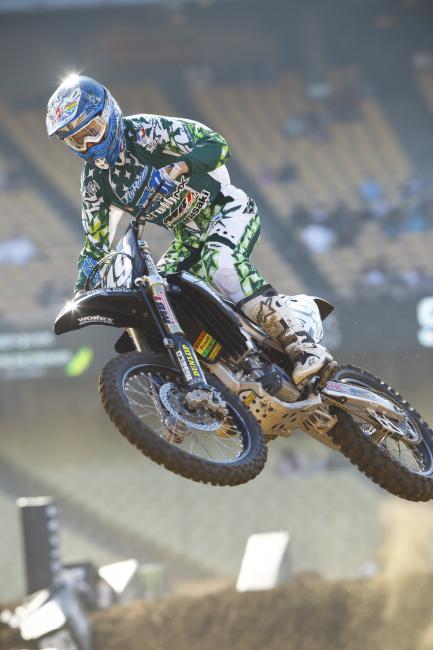 Evans has been solid all year for Truth Mx.
Photo: Simon Cudby
What kind of support are you getting or are you doing it all on your own?
Actually, I am riding for a new team this year! Truth Mx, MB1, Fly, Panic Rev is helping me out. Mike Battista from Mb1 has put in countless hours for me at the track. It has made me very comfortable on the bike. Our motors seem pretty strong with Ross "Kiwi" Miles doing our motors and with the Dr. D exhaust. I'm very happy with our program this year! Carl's Cycle in Boise, ID along with Kawasaki gave us big support with bikes. This was a big piece of the puzzle for us.
Sounds like you have a pretty good deal right now. What's the plan when the series heads outdoors?
We are not sure yet! Tyler Kalisiak, my trainer and I are getting ready for the outdoors so I'm in top shape physically. We will see what happens as the season gets closer.
Speaking of training, what's your schedule like for a week?
I live with my trainer and have been sleeping on his couch for the last four months so he doesn't let me get away with anything! (laughs) Depending on where we are at in the year, the training has been shifting. We do strength training, core training, flex-ability, and cardio. When we are on the bike we ride usually two to three times a week between race weekends. We work on sprint laps, sections, technique, and even 20 lap mains so the 15 lap mains seem easier.
Wow that sounds intense! What about your mechanic? How does that work?
I have one of the best mechanics. Andrew Bauer works his butt off constantly. He was not only working for me this year but also doing work for my teammate, Bryce Vallee.
So how does that work with your practice bikes? Do you do your own work?
I only work on them a little bit. Andrew takes really good care of me. He gets the race bikes ready each week and helps me out if I need a tire change or something. I give a lot of credit!
I remember you won a Loretta's title some years back, how was your amateur career?
I came from Idaho and racing is not as big up there. I knew I had a gift from the beginning because I would race my 65 against the 85 class. I started racing amateur nationals more when I got on big bikes. American Honda picked me up as I started to do well. I went on to win the 450 Pro-Sport class at Loretta's in 2007, I believe. My older brothers would always race with me and that made it super fun! I owe them a lot of credit for my success!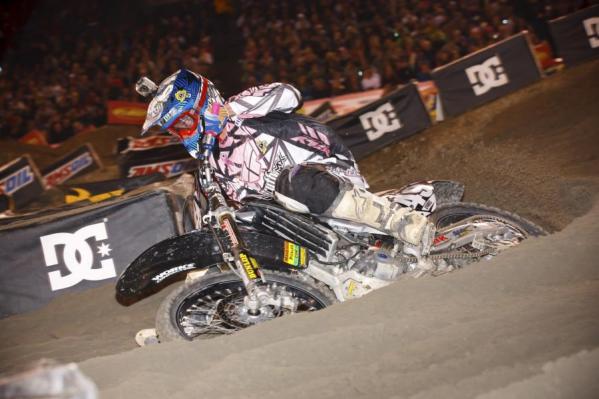 Evans is starting to find his grove in the pro ranks after a great amateur career.
Photo: Simon Cudby
Have you always lived in Idaho besides right now? What do your brothers do now?
Only the last couple years I have been in California. I think being here in front of the whole industry is important. I wouldn't get any attention practicing in Idaho. As a privateer you want to ride in front of the team managers! haha. My oldest brother Zach is a builder in Idaho. He owns his own company and has a wonderful wife and two kids. Luke is actually team manager of our team! He loves the sport like I do and really has given up his time and money to help me succeed. I am so thankful for him!
How did you get involved with motocross to begin with?
My older brothers got me into it! I wanted to ride dirt bikes for as long as I can remember. I have a funny story about that. I used to drink my bottle like everyday all the way up to 4 years old I believe. One day my oldest brother Zach came in the kitchen and told me, "Ben, motocrossers don't drink bottles!" I left the room for a while to go think about it. I came back in the kitchen a few minutes later, set the bottle on the counter and never drank one again! (laughs)
Your national number is pretty low so you must of had a pretty good year last year outdoors. How do you feel your season went in 2010?
It started off slow, but I really picked up momentum as the year went on. I think it was a little tougher riding the 450, but I got really comfortable on it. I made some changes by switching to Mb1 suspension and working with Tyler my trainer, more seriously. I ended with two 12th overalls in the last two rounds and wish the season wasn't over. I feel that my momentum has carried into this year, with my career best finish last weekend. I just keep getting faster and learning.
After you won the Loretta's title did you end up with a ride the next year when you turned pro?
Team Solitare was giving me some support for the last three outdoor Nationals, but I went into my rookie Supercross season with Ti-lube. I was actually impressed with how well we did at Ti-lube that year being my first try at Supercross and theirs as well. I started off the season with two 9th places. I was very happy with that!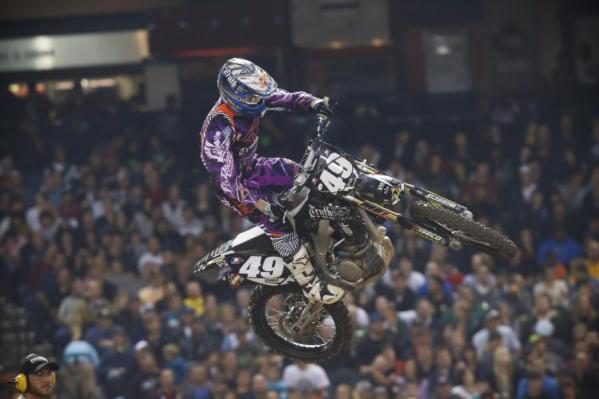 Can Evans sneak into the top-five before the season is over?
Photo: Simon Cudby
How did your first year of supercross go?
It went pretty good! I only missed two mains by pulling rookie mistakes. I had another top ten at Salt Lake and made the main at the shootout, which was really cool. My favorite race was San Diego that year when I won the LCQ. I actually got to lead a race in front of all those people. I even threw the biggest whip of my life over the finish because I was so pumped!
At this point in your career do you like riding nationals or supercross better and why?
I used to like motocross a little better. Now I have been enjoying Supercross even more. It used to be a little scary and gnarly with all the technical jumps, but now I have grown a comfort level for it. I can go out now in practice and get the track down quick without worrying about crashing or casing a jump super hard. I think believing in your bike and yourself really helps with that.
Do you have someone that helps you with your riding technique like a coach or trainer or do you just do it yourself?
Yeah, Tyler helps with coaching as well. He is a big part of the reason why I have been ticking off quicker qualifying times and not feeling tired in the main events. He has helped me qualify into the night show in the top, which in return gets me a good gate pick for the heat. This stuff really helps your night go that much easier and better being in a position to win.
So what's it going to take to get you into the top-five?
I believe a top-five start and sucking in on the back wheel of those guys. Last weekend I had a good start but was a corner behind that front pack of five-six guys. I pulled away from all the guys behind me.  I rode almost the entire main in seventh by myself seeing the guys just a section ahead of me. If I start with them, my pace will pick up that extra half a second and make a huge difference.
You have a good amount of time off before the last couple races in the West, and then outdoors start. What's your plan and goals from here on out?
I actually have some pretty big stuff coming up! I am getting married March 5th to my beautiful fiancé Julie. This will give me a little time off, which is probably not a bad thing. I plan on keeping up my intense training with Tyler right after mixing in some outdoor testing with Supercross training. I want to finish the year out strong. I can't wait for the next race after my eighth place. My goal is to battle it up with the front pack and open some eyes at the end of the year. I honestly believe I can do it!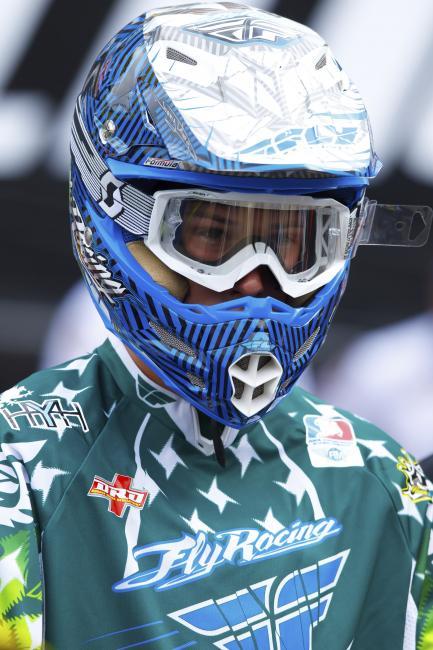 An early congrats to Evans and his wife to be, Julie, on their up-coming marriage.
Photo: Simon Cudby
Congrats on getting married soon! Looks like your going to have to get into the top-five soon to start making the big money!
It has been good motivation for me! The urgency to provide will make a man do some extraordinary things! I love her so much. She is a rad girl and wants to see me chase my dreams. She has all ready shown me her willingness to sacrifice for me to race. We won't even have our own apartment after we are married. We will be renting a room from my good friend Scott Parkinson from Panic Rev.
Wow that sounds crazy! Hope things work out for you. Well good luck with the rest of the series. Is there anyone you'd like to thank?
I would like to thank God for opening doors to make this all possible, my team, and my family! Thanks to all my fans everywhere and especially the ones in Idaho! I'd also like to say thanks to my wonderful sponsors Truth MX, MB1, FLY, Panic REV, HYH, Carls Cycle Sales, Team Green Kawasaki, JL59, DR.D, Wiseco, Works Connection, RK Excel, Ti-LUBE, Ti-FUEL, Vortex, Dunlop, DT1, Scott USA, Applied, Fusion Graphix, ODI, QTM, SDG, Cats Motorsports.