5 Minutes with…Clifford Adoptante
Georgia Dome
Atlanta

,

GA
Atlanta
Monster Energy AMA Supercross Championship
Clifford Adoptante was one of the OG freestyler riders. A fast racer they called "The Flyin' Hawaiian" (even though he was from Oklahoma), he was tough to beat in the between-motos PJ1 National Arenacross Jump-Offs, and he was fast enough to pull off the occasional race win too. Adoptante rode the first wave into freestyle and was there for some time before getting sidetracked. He was arrested in Ohio for driving someone else's rental van, which just happened to contain an illegal shipment of drugs in the back. Clifford took the rap, and now he's working to get his life back in order—he's enrolled in community college and appears to be really taking care of himself. I ran into him at the Anaheim 2 Supercross and we started talking about life, riding, and just how much he wants to get back into the motorcycle industry. Always a charismatic man, Adoptante still has a great big smile and nice words for everyone.
Racer X: Clifford, I was happy to see you at Anaheim. How have things been going?
Clifford Adoptante: Things have been going really well for myself, in a sense. You know, it was good to be back around racing and the motocross industry. I know I've been kind of MIA for quite some time, and things are going well now that my little legal issue is over with and done. It's been three years come April since my arrest, and just for the record, I definitely cleaned my act up. I kind of had no choice. I was facing the consequences of going to prison under my probation circumstances, so now that's all behind me I'm completely off of probation, everything is taken care of, and now I'm clear and free and on a good path.
You look healthy and happy to be back at the races. Are you doing any riding at all?
Yeah, I'm really healthy right now, man. I've taken a break and life has definitely caused me to change my ways and my behavior and stuff. I train quite often now, and I've been doing a little bit of riding. I've been teaching some little jump schools here and there, but nothing really serious. But I have been on the bike and I have been riding, so I've still got that fun coming out of my blood. So yeah, things are good.
When you take a break for an extended period of time, how hard is it to hit a ramp again for the first time?
For me it was a little nerve-wracking. I took a year off, and then I went down to Argentina and did a show. It took me a while to get back in the groove. I did quite a few pre-runs up to the ramp and stuff and it was a little sketchy, but you know what? I manned up and just told myself that I've been doing this for a long time, and I hit the ramp and down-sided it smooth. I fired off a few dead sailors but then, boom, I was back in the mix with some seat grabs, cliffhangers, and supermans. It all kind of came back to me. It wasn't like I was just killing it, but the nerves were gone after that. It was a good feeling; I was missing out on a lot of fun.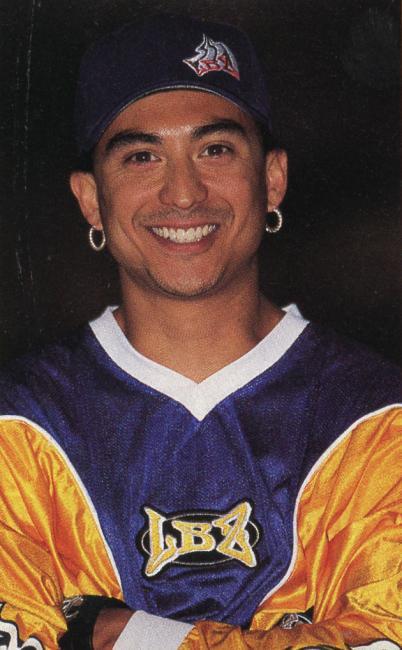 Adoptante is getting his life back, one step at a time.
Photo: Frank Hoppen
It's like riding a bicycle, only if you rode a bicycle and did a superman seat grab off of it!
[Laughs] Yeah, yeah, exactly!
So what do you want to do next? I know you have motocross in your blood. I know you want to get back in the sport.
Yeah, in the last three years I've taken some time off with myself to try and reformat my life and the way that I live, and I came to a good happy medium with that. I've reached out, and I definitely want to stay in the industry and get with a solid company that would give me a break. I think a lot of people still kind of look at me like the Clifford of old, how they used to know me. I'm not that guy anymore. People change, and people change their ways, and I've done that for myself. I'm looking to turn over a new leaf. I love the industry, and I know a lot about it. I just want to find a home with a solid company that I can grow with and just move forward. That's what I'm looking forward to doing right now.
In the meantime, what do you have going on?
I got myself into college, and I'm in my second semester. I'm going to a community college here in Riverside, and I've never been to college before. The last time I was in school and in a classroom was back when I was in high school, which was a long time ago. But yeah, I just want to get myself an education, and hopefully that'll lead into something better down the road.
Clifford teaches how to do a cliff hanger.
Honestly, I think you'd be perfect for the Nuclear Cowboyz show that Feld is doing right now. My suggestion is to shoot a resume over there and see what happens.
It's funny you mentioned that, because I've seen previews and it's an awesome show. I talked to a few riders who were on the tour and they had nothing but great things to say about it. I'm bummed that I didn't get a phone call for that tour, but it was probably because I was MIA. I just want to let people know that I'm back in action and I'd love to be on tour. I miss riding and miss being out there putting on a show. I'd be stoked on the Nuclear Cowboyz.
Well, hopefully people will see this and give you a call. It's good to see you back, Cliff.
Thanks a lot, Davey. I really appreciate it.
If you want to get in touch with Clifford "The Flyin' Hawaiian" Adoptante, drop us a line at letters@racerxonline.com and we'll forward your letter to him.