Qualcomm Stadium
San Diego

,

CA
San Diego
Monster Energy AMA Supercross Championship
Ryan Smith #831 qualified for his first West Lites Supercross race of the year at San Diego last weekend, in the tough wet conditions. He had good starts all weekend, transferred right from the heat race, ran inside the top-ten throughout the main and eventually finished a strong 13th. Like most riders, injuries have been a problem throughout Ryan's career. The last time he qualified for a main event he started to get some momentum, but an injury would set him back. Now he is more prepared than ever, working hard and also managing Lake Sugar Tree motocross track, all while racing the West in the Lites and East in the Supercross class. We caught up with Ryan while he and his mechanic we're driving through Texas on their way to Atlanta this weekend.
Racer X: Ryan, good job at San Diego! Isn't this the first race you have made the main event?
Ryan Smith: Thanks! Yes. I struggled at the beginning of the year and have improved each week. I just got a good start in my heat and rode smart. I am happy to get the first one under my belt.
Why the decision to ride the West coast and not the East? Aren't you from the Virginia area?
I am actually originally from California, but moved East when I was young. My grandparents still live out West and the weather is way better for training and riding. It just worked out better for me because last year I couldn't even ride my Supercross track in Virginia due to the snow and ice.
Give the readers a little information about your background and how you got involved with motocross.
Well, David Bailey is my cousin, Gary Bailey is my uncle, Bob Bailey is my grandpa, so pretty much when I was born they put me straight on a motorcycle! I raced in amateurs for a while but never had any stand out rides. I made it to Loretta Lynn's four times but had some bad luck with my best finish being a seventh in 450B stock in 2007. I rode some Arenacross after that and just went straight to Supercross. I had some injuries and this year is my first healthy year and I have been improving and very happy with my progress! Gary Bailey (uncle) helps me with my riding so it's a huge bonus!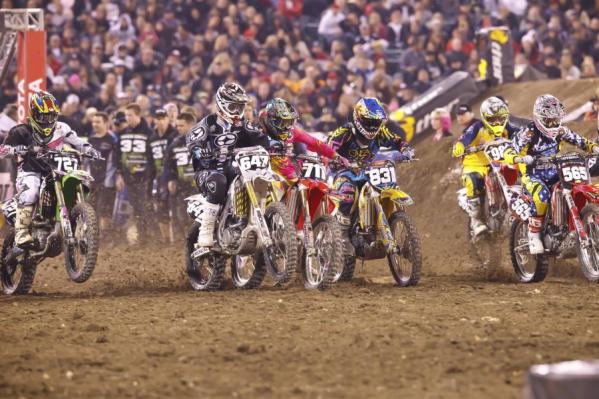 Smith is from a well known motocross family, the Bailey's.
Photo: Simon Cudby
Wow! I had no idea you are related to the Bailey's! I read somewhere that you recently had a track passed down to you from your Grandfather? What's the story on that?
Well, the track has always been a part of our family, Lake Sugar Tree, they had nationals back in the day! My grandpa still owns the track and with being hurt last year he asked if I wanted to start managing it. I was pretty nervous about it, but it is actually an awesome experience for me. I have the best track crew out there and the best facility in the world handed down to me. I am on the road most of the year so without the help of Larry Farley, it would be hard to do both racing and run the track. I can't express how thankful I am to have such an awesome crew behind me. I actually flew one of my track guys out to California to San Diego to watch and help me drive back East. He was blown away at the level of competition out there!
Was San Diego the first time you have qualified for a main event?
I qualified for Indy in 2009, that was my first main event. I finished 14th and felt like I was getting the ball rolling but tore my rotator cuff a few weeks later.
What do you do for training during the week? Do you have a trainer?
I do everything on my own this year. I work on my bikes Sunday and Monday to get them ready for the week of practicing, then Tuesday-Thursday is nothing but long hours at the track working on my issues. After all that is done I load up and drive to the track on Friday to do it all over again! I hit the gym on the way home from the practice track just depending on where I can find one!
A lot of fans like to know what the privateers travel in. Do you travel in style or roughing it in the 80's pickup truck?
My grandpa actually bought me a Funmover in 2007 and I have been sporting it since. I can't thank him enough for that, if he didn't help me I would probably be in a tent and pickup!
Do you have a bunch of people that travel with you? I've been hearing about your famous mechanic!
Yeah! Lil Nick, is the man! He has been through a lot is his life and I am thankful to have him during this journey. He helps me during the week with my bikes, laundry, cooking, and whatever I really need! I think the media really likes him!
Is it just you and him going to all the races or do you have other people coming along for the ride?
It's just been us two living in my motor home since November. My mom has flown out to visit once but besides that It's just us.
So where are you guys right now? What's the plan since the West is off for a while?
We are currently sitting in a truck stop taking a break from driving. I left San Diego at 5pm yesterday and drove until 11am today! I gave the wheel to Rob (track crew) and he drove until we got to Dallas. I am headed to Atlanta to race the 450. I plan on doing Atlanta, Daytona, and maybe Jacksonville. I will fly back to Seattle and Salt Lake in April, and I also have to find some time to get the race track ready for our Loretta Lynn qualifier in May!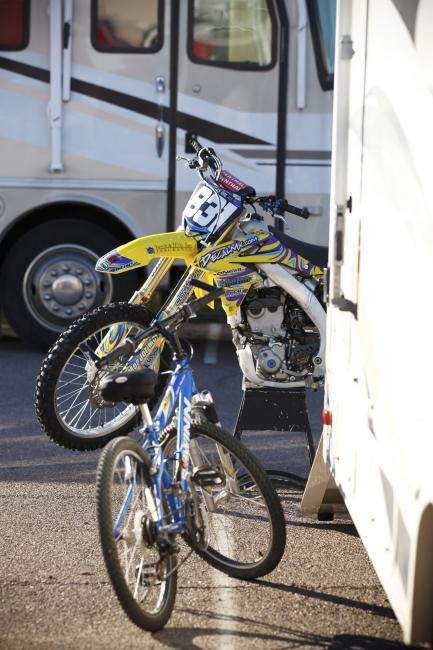 Smith is full on privateer status.
Photo: Simon Cudby
That is quite the schedule! How old are you now and are you planning to do the Nationals?
I am 19 years young! I plan on doing all the East coast rounds, and would really like to do the entire series! It just depends on money, and If we can afford to do the whole series or not.
Are you getting any help from sponsors with bikes and expenses or are you paying for everything out of your pocket?
My main sponsor is my family, without my family I would be sitting on the couch! My grandfather foots the bill on pretty much everything! I am blessed with a family that believes in me.
Your a lucky guy to have such a supportive family that has such a history in motocross! What are your goals for the rest of the year?
I just want to continue to improve and show everyone I have what it takes to be a consistent top ten guy. I have the confidence to do it now and I look forward to Seattle and Salt Lake!
Well good luck and keep it up! Do you have anyone you'd like to thank?
I have so many people to thank, and without them I wouldn't be where I am today! First of all, I want to thank my Grandpa for everything he does for me! I also want to thank my Mom, Dad, Grandma, sister and my Uncle Gary for there support. Leech and hicks Insurance, Scruggs Transmissions, O'Neal, Arai Helmets, Gary Bailey Mx school, Decal Works, Moto X photography, Total Control Suspension, Honda Suzuki of Lynchburg, Rockwell Watches, EVS, Liquid Performance, Meador Mods, Chapman Performance, and Scott. I have a lot of people that have supported me including, Matt Hicks, Doug Beall, Mike Meador, Farley Family, all the fans back home, Rob & Barry, and my girlfriend Lauren. Special Thanks to Nick Farley for helping me throughout this trip!
And anyone I forgot, Thank you so much!