Qualcomm Stadium
San Diego

,

CA
San Diego
Monster Energy AMA Supercross Championship
Things change when you own something. Think about it, when you ask to borrow something from your buddy, do you really care about it all that much? Nope, you don't worry about greasing that jack or making sure you completely scrape all that crust of that baking pan just to give you two examples for the men and women who are reading this.
The point of all of this is that on Friday night in Indianapolis, team owner Chad Reed was sitting down and signing autographs at the Indy dealer show for his fans and sponsors alike. Reed, now the owner of his own team Two Two Motorsports, had to be in San Diego the next day for the supercross. It's not easy flying from Florida to Indianapolis on Thursday, and then to San Diego on Friday night all in the span of 36 hours, and then trying to win a race, but that's exactly what Reed did this week to help out the team. His team.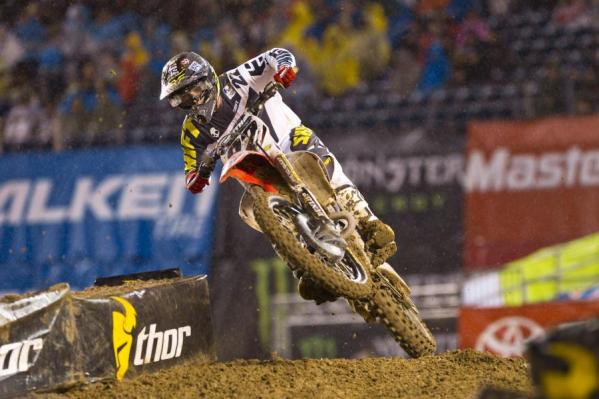 Reed now does it all as a team owner.
Photo: Garth Milan
I worked on factory Yamaha with Reed from '03 to end of '05 and let me tell you that great PR didn't always come to mind when thinking about him. For all his skills on a bike, the younger version of Chad was too busy trying to win races. Although he got really good at the racing (39 wins and counting), he didn't always specialize in making the sponsors and media happy. He simply didn't always care that much about that end of being a professional dirt bike racer.
That's all in the past now. He's gotten older, and today there aren't too many racers in the pits that are as media and sponsor friendly as Reed. He's embraced Twitter and has gained many new fans and turned haters into lovers. In talking to the Bel-Ray guys, they are so happy with their association with Reed this year, it's ridiculous. At A2, I was waiting for him when I was distracted and missed him walking out to his car. When he saw me, he came back over and asked me if I needed an interview. Very few riders would come back just for an interview. In the rain after his win in San Diego, he was high-fiving fans, signing autographs, and generally hanging out.
That's what this new Chad Reed is about. He's been to the top, had the money, went to the parties, and sees that there is more to life now. A new baby, team ownership, delivering on what you say you will you do, these are the priorities now, and over the weekend, he was taking care of business both as an owner and a racer. Mission accomplished I'd say.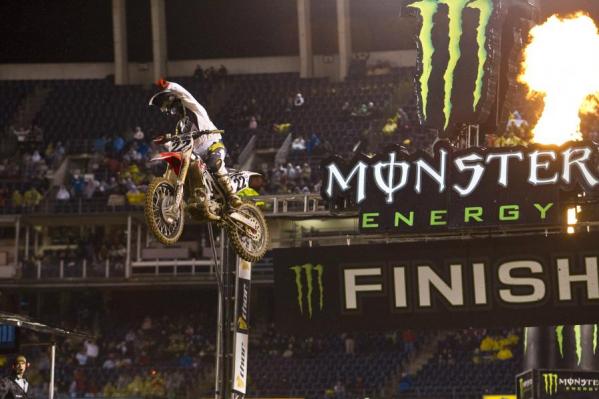 Mission accomplished.
Photo: Garth Milan