Qualcomm Stadium
San Diego

,

CA
San Diego
Monster Energy AMA Supercross Championship
Welcome to Racerhead, which is coming to you from pretty much everywhere within the American motorcycle industry world. Yeah, supercross dominated the racing landscape for the past month or two, but things are starting to pick up just about everywhere. Supercross is still going strong as it heads to San Diego, but off-road and amateur series are getting underway, not to mention that AMA Arenacross is shadowing the SX schedule.

But the real business picks up at the Dealernews Indianapolis Trade Show, an annual affair where every company in this industry struts its stuff. Dealers are still the absolute life blood of this sport, so we've got a huge crew on hand staffing booths for this magazine and website, not to mention the racing series also produced in our office.

In fact, that's why I, Weege, am actually writing this intro instead of DC--he's buried underneath a heap of posters, magazines and memorabilia trying to help get the booth set up at Indy, and then a ton of meetings to get to. Like we said, this is the real business this weekend.

How will the Indy show look against the backdrop of a still-waiting-to-rebound economy? From what I hear it's still quite huge, but you will have to wait until next week for a full status report from DC.

As for me, I've been to the Indy show plenty of times, and to me it's like an indoor Loretta Lynn's: all of your friends are there, and you're pushing the envelope on both fun and hard work for several days in a row. Have fun out there, gang. Let's let the rest of our staff weigh in.
Here's Davey with a few quick notes:
I spotted a couple of things in Alessi Weekly that I found really interesting (and the newsletter really is interesting, because it can go just about anywhere). First, they mentioned that the Houston SX was the best weekend ever for KTM in AMA Supercross, which it was: three 350s in the top ten, including tenth-place Mike Alessi, adding, "Roger D. made more bike improvements." That is correct on both fronts, as KTM still has yet to land a podium in the history of AMA Supercross in the premier class.
The second thing was a solid sportsman's move: "Best wishes to those riders that experienced crashes this weekend..." including Kyle Chisholm, Jason Thomas, James Stewart, Kevin Windham, Darryn Durham, and anyone else who was injured."We hope for quick healing and your pain to go quickly." That's well done right there.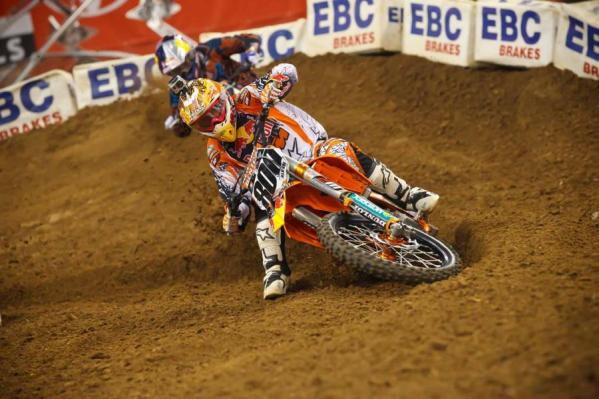 Alessi is gaining momentum on the KTM.
Photo: Simon Cudby
Johnny O'Hannah pulled off another one of his trademark tricks on an unsuspecting rider. After the Houston SX, he walked up to a rider in the Holiday Inn bar with a pen and napkin and said, "Can I please get your autograph?" As the rider grabbed for the pen, Johnny said, "I can't wait to show everyone—I got Justin Barcia's autograph!" The rider looked puzzled, then muttered something in German. It was Ken Roczen! The audience of infield announcer Lurch, Miss Supercross Diana, DVS Danimal, and Kenny himself all thought it was pretty funny.
While watching Monday night's thrashing of the West Virginia Mountaineers by Syracuse at the Carrier Dome in New York on ESPN, we spotted something that could be huge for Monster Energy Supercross. As the teams were crossing mid-court, the long, digital flip-sign under the scorers' and announcers' table called the Carrier Dome "the new home of Monster Jam," set to take place on March 12.
For years, the Carrier Dome— home to the Syracuse Orangemen football and basketball teams— has not allowed dirt events in the building. But those restrictions have been loosening up in recent years, likely due to the economy and the mediocre performance of the university's football team over the last decade. Monster Jam is a dirt event, and it is organized by Feld Motor Sports— the same producers of the Monster Energy Supercross tour. It has long been the goal of the series to make a dent in the Northeast, which has been difficult for a variety of reasons: lack of closed-roof venues, the higher costs of labor, scheduling conflicts, etc. Now it looks like they might finally get a foothold here, only it will be in the shape of a giant tread in the dirt! Atlanta to Daytona to Syracuse sounds very doable for 2012....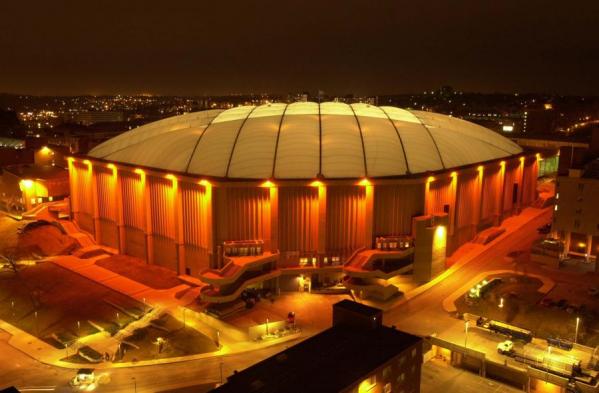 Is the Carrier Dome in the future of Monster Energy Supercross?
Along with such fellow artists as Pink, Brett Michaels, and Loretta Lynn herself, country music star Craig Morgan is a HUGE motocross fan. He's longtime friends with guys like Kevin Windham and Fred Andrews, he's sung the national anthem at a couple of nationals, and he helps Windham every year with his big Party in the Pasture down in Mississippi. This week, the Grammy-winning Morgan made news in a really cool way.
Here's Matthes:
Run for the hills— the rain's a-coming this weekend in San Diego! Besides being one of the top journalists in the sport (ha!), I also have a gig as a goggle guy for X-Brand goggles, which is the eyewear of choice for Moto Concepts Yamaha, Mike Alessi, Matt Boni, Travis Bright, Kyle Partridge, and many others, so I do tend to keep an eye on the weather. Now I'm not as much of a freak as Scott's John Knowles, but I definitely lean on the curious side, weather-wise.
After checking earlier this week and seeing that the rains were going to be during the day and then nothing at night, I just checked again, and yup, it's now going to pour all day and night. And a 70 percent chance at that. So it looks like we're in for a sloppy weekend in San Diego.
We here at Racer X explored the mud racing supercrosses of the last few years in this week's Bench Racing Ammo, and we definitely should all keep an eye out for Kevin Windham and Davi Millsaps. Lost in the chaos of Houston was Davi's great ride which basically came out of nowhere. He held third for most of the race before Ryan Villopoto got him near the end. It was a great ride, and despite the pass by RV, Millsaps looked as good as he's looked all year. You fantasy dorks should pick him up this weekend and for sure next week in Atlanta, as he usually does well there.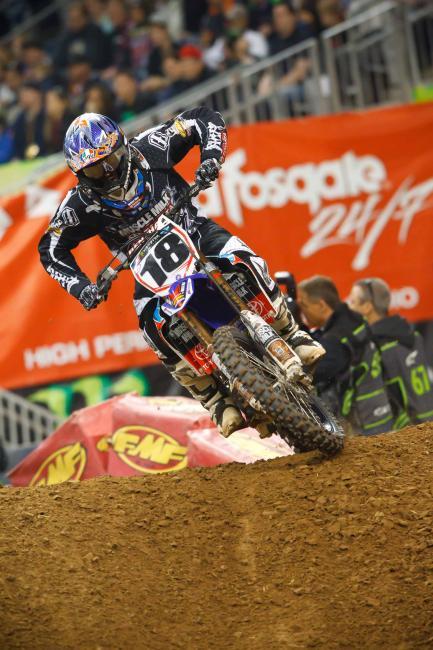 Has Millsaps' season turned the corner?
Photo: Simon Cudby
Windham is battling with Tommy Hahn for fastest guys that have no results this year to really speak of. KW's got a couple of sixths, but due to two DNFs is tenth in the points, and Hahn got eleventh last week for his best result after missing some races. He's in nineteenth right now. Both guys are really fast, but the field is stacked, and a few bad races here and there and bingo-bango, you're behind the eight-ball.
Congrats to Trey Canard on his Houston win. I can honestly say there aren't too many people out there who weren't happy to see the #41 win. As a matter of fact, on the BTOSports.com Racer X Houston SX wrap-up podcast, Weege, Ping, and I take turns in expressing our love for Trey while he's on the line. You can listen to it HERE.
We were supposed to have a James Stewart podcast up here today, and I in fact did record one with Stewie. It was awesome, funny, and very informative, but unfortunately, no one will hear it. We had some technical difficulties while recording it and there are a few spots where you can't understand what he's saying. So that sucks, but the good news is James has agreed to do another one ASAP, so look for that soon. My favorite part of the show, which I will ask him about in the redo, is his relationship with Chad Reed. Stewie says one of them will end up riding at the other's house this year, which would have never happened a couple years ago.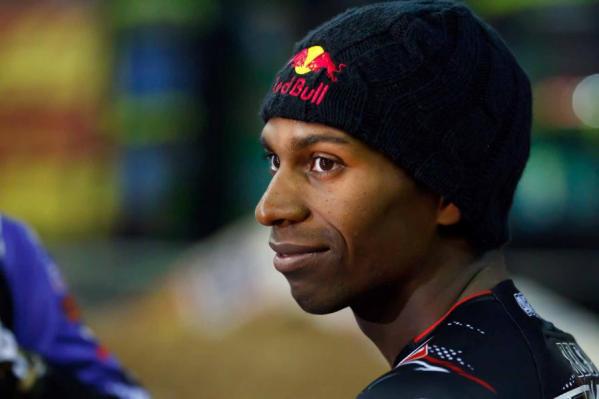 Keep a look out for a Stewart podcast with Matthes.
Photo: Simon Cudby
Looking ahead to summer, there are strong rumors that Mike Alessi will actually ride the 450 outdoors, which should make him very happy.
This week on the Pulpmx Show, we had Carey Hart and Lance Coury come by the house— er, studio— to hang out for an hour or so and talk about a wide range of topics. We covered Hart's celebrity life and what that must be like (hint: the airline people are paid off by the gossip rags to tell them who's flying in and when), his Dodge Motorsports/Hart & Huntington race team, and many more topics. For those who are wondering, Hart is a good dude who is the same guy he was years ago when he was living in his van chasing the SX dream. Coury told us about his new venture, Moto Gate, which is a cool idea if you have a pick-up and a dirt bike. Check them out on the web www.moto-gate.com.
We also had ex-AMA Rookie of the Year Paul Currie on the phone to tell us what he's up to these days, and that's installing alarms for his own company down in Florida. Currie is definitely a master storyteller, and with co-host Kenny Watson being his old team manager, we got some good details on that relationship.
Then FOS (Friend of the Show) Jason Thomas came on to give us an update on his knee, and it looks like he's going to miss this weekend but be back for Atlanta and gut this thing out. He doesn't blame Stewart for the incident, and he was classy throughout the interview as usual.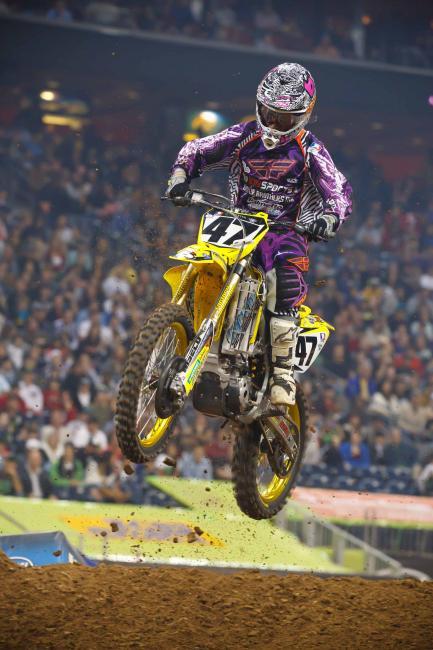 JT told Matthes he doesn't blame Stewart for their incident in Houston.
Photo: Simon Cudby
Then myself and Tits Legendary started making fun of Kenny with all these sound drops and he got up and left the show. So I guess stay tuned this week to see if he's coming back this Monday or not. I'm not really sure. His feelings were hurt and it was really mean of myself and Tits to do that, so if he's reading Racerhead (highly unlikely), I'm sorry, Kenny. We miss you and please come home.
Elsewhere on Pulpmx, I got Mitch Payton to tell us a story about helping out the late, great Donny Schmit.
Thanks to someone at Racer X for including Ross "Rollerball" Pederson in the list of greatest rider nicknames. I swear I had nothing to do with that. It brought a tear to my eye to see that. Also, DC wrote that he was the greatest Canadian rider ever, and that is correct. Sorry, JSR.
To all you people at the Indy dealer show, please remember that talking to dealers while still drunk or even legally drunk is not the best way to go about it. Try to at least get an hour or two of sleep, and try to sound like you're holding it together. Even with that garter sticking out of your back pocket.
There appears to be a little controversy between David Pingree, Jason Weigandt and Star Racing's Nick Paluzzi. Y'see, Ping or Weege or maybe both of them coined the nickname 'Snookie" for Nick because the famed Jersey Shore TV reality star's name is very similar to his. She's Nicole Polizzi and he's, well, Nick Paluzzi. It has nothing to do with the fact she's short and troll-like, but Nick thinks so.
Anyways, I had heard Nick wasn't happy about it so I stopped using it in my column and the tandem of Weege and Ping apparently made peace with Nick about it. He said he was cool with it but again, my sources say that Paluzzi would rather be called "poophead' than 'Snookie'.
Well I'm sorry Nick but a fan sent us this shot from a San Diego morning show this morning and it's clear now that we have to go with Snookie. Sorry bud!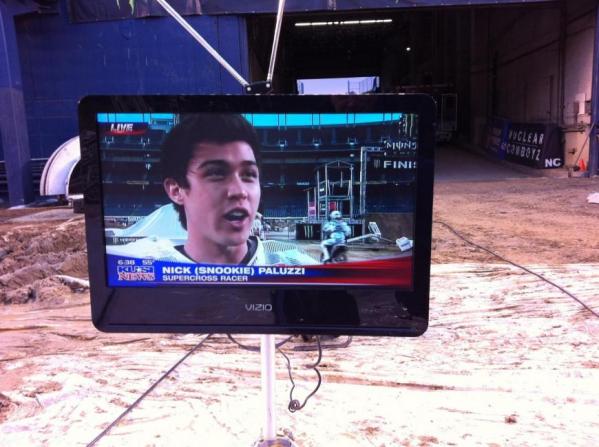 Nick will probably not be happy about this.
Okay, I gotta go and build some roll-offs!
Time for Weege:
For the first time in seven seasons, I'm missing a supercross. I came back east after Anaheim 2, and it makes more sense to have our West Coast guys cover San Diego since they're already out there than to send me out on another cross-country flight. I can't believe I'm missing a race.
I'm sure the foundation of the sport will be rocked without my presence. Yup, how will it go on without me? To make myself look even more egotistical, I've compiled race win stats on the SX races I've covered during that span, which started at the end of 2004.
I witnessed all 40 of James Stewart's career SX class wins, so I saw Stewie win more races than anyone else. I've seen Chad Reed win 19 races and Ricky Carmichael win 15. Since Stewart has never won a SX class race without me watching, I'm assuming things are going to be strange for him this weekend, and he may struggle. Sorry, Bubba.
Our weekend coverage in the Thor Race Center (racerxonline.com/race-center) will be anchored by Matthes and Aaron Hansel, with Ping on hand for scoops and video, Matt Francis shooting for Racer X films, and Garth Milan handling the photos. Sounds like I'm really not needed after all. Maybe ever again. Hmm. This is not the way I wanted this to turn out.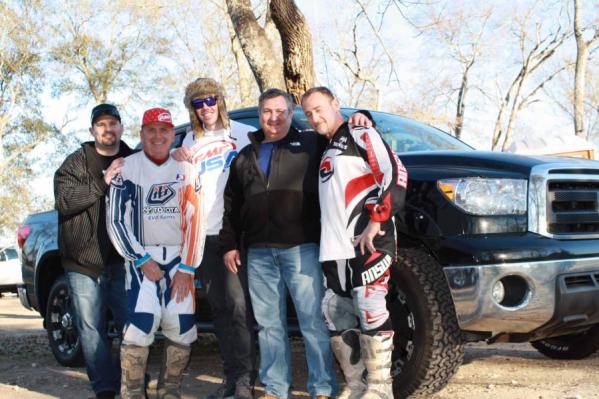 Toyota ride day organizers Coy Gibbs, Rick Humphreys, Donnie Emler, Frank Bianchi and Emil Shebelbon.
Photo: Kaitlynn Comer
Last Friday before the Houston SX, Toyota and 3 Palms Action Sports Park hosted their annual industry ride day. Big thanks to Rick Humphreys from Toyota and 3 Palms owner Emil Shebelbon for opening their doors to us. The Muscle Milk/Toyota JGR team benefited greatly from watching my form on Rob Healey's N-Style RM-Z450. Elbows up, boys. That's how it's done.
That's it from me. I don't even go to the races anymore, so what else am I supposed to come up with?
Here's
Ping:
The events of last Saturday's race have been rehashed already, but I wanted to touch on one thing. I received many emails this week from people who are upset that James Stewart keeps landing on people and never gets reprimanded for it. They make an interesting point. One incident can be called a fluke, but when you add his takeout of Carmichael in Unadilla, his altercation with Travis Preston (where he pulled out in front of him), his triple-jump mishap last year at Phoenix that collected Kyle Partridge, and this smash-up with JT$ you start to see a pattern. James needs to be a little more patient in traffic—if not for his own sake, for the sake of those around him.
Pro Circuit's Jim "Bones" Bacon sent me this link yesterday. It's clips from a list of the ten best jumps (of all kinds) of all time. Not surprisingly, Travis Pastrana made the list twice with his shenanigans on and off the bike. The number one jump is pretty amazing … and it took place in 1960!
I also got this note from John at MX Track Builders:
"Spring is rapidly approaching and for a limited time only MXTRACKBUILDERS is scheduling low-cost flat rate track overhauls throughout the United States. For more information and pricing details please contact John Steiner of MXTRACKBUILDERS at 847-204-9817 or visit us online at www.mxtrackbuilders.com."
Weird weather going on out here right now. All week they've been calling for rain on Saturday; an 80 percent chance at one point! But now they're saying it will just be cloudy, as most of the storm will already have come through by late Friday night. I'll bet Dirt Wurx has the track built and covered already and it's mint when the first gate drops on Saturday. Those guys have track preservation down to a science.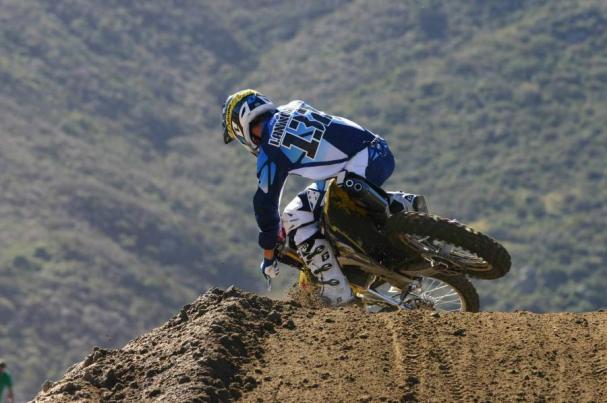 Laninovich can still throw it down.
Photo: Ping
I'm working on a new feature for the website here, and this week I called a friend to come out and help.
Billy Laninovich
is a race winner and was once a very hot prospect in this sport. He had some issues that slowed his career down, but there's still a chance we might see him on the track this year as a fill-in rider here or up in Canada. It was great to see Billy again— he's an awesome guy, and this photo should answer the question of whether or not he still rips on a dirt bike.
Don't forget: Big promo going on over at www.motocross101.com. Check it out.
Thanks, Ping!
Here's one to check out if you're in Indianapolis this weekend. Friday night and Saturday night at 9:00 at Pan-AM ice center in downtown Indy, come check out the 15th Annual Racer X Ice Hockey Challenge! Once again, night one will be a matchup between the USA and Canada. Will this be the year that Team USA prevails?
Moto PR master Pat Schutte has been brought in to coach the USA squad, which will feature the Minnesota-bred trio of American Honda's Bill Savino and the Riipinen brothers, Doug and Dave, from WPS/Fly Racing.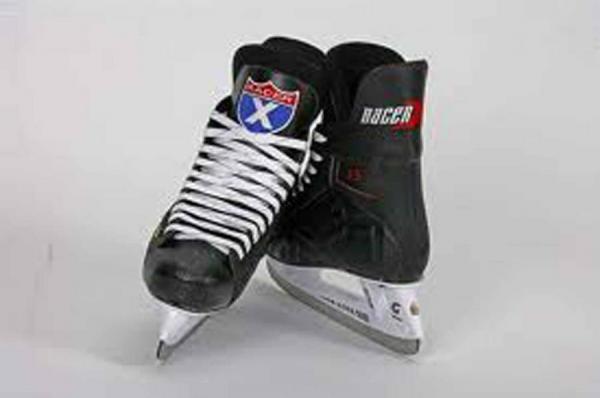 Also don't forget that Round 7 of Monster Energy Supercross from San Diego will be airing LIVE on SPEED this Saturday at 10:30 pm (EST), be sure to tune in.
That's all for this week. Have fun in San Diego or Indy or wherever you may find yourself. Thanks for reading, see you at the races.