Qualcomm Stadium
San Diego

,

CA
San Diego
Monster Energy AMA Supercross Championship
Bruce Rutherford, #795, isn't a name you probably have heard much in the past. But now, Bruce is turning a lot of heads and making people say "Bruce who?" when they hear the results.  The past two rounds he has finished in the top ten in the Lites class, finishing 9th at Oakland and 8th at Anaheim 2. So far this year he has made 4 out of 5 main events and sits 14th in the West Lites standings. Bruce is a real privateer, driving to the races in a borrowed pickup truck and supporting his racing out of his own pocket. He is beating factory supported riders with regularity now and it's just a matter of time before he starts getting support. We caught up with Bruce after he got done riding today to see how things have been going for him.
Racer X: Bruce! Awesome rides the last two rounds! Where did you come from?
Bruce Rutherford: Thank you, that's awesome! Well I come from Southern California; I've grown up here in Murrieta pretty much my whole life. As far as racing goes, I wasn't too big in the amateur scene, although I have been racing since I was three and have won a few titles back on 50's and 60's, but after that I kind of took some time off racing and was able to be a kid really, enjoyed school and riding for fun. About my junior year we started racing a bit more seriously and now here I am racing supercross a couple years later.
I heard you have raced some Nationals? Have you raced supercross before this year?
Yeah, I have raced a few nationals that are in California like Hangtown and Pala in the 450 class. Last year, I really wanted to give supercross a shot, but unfortunately I injured my shoulder just before Anaheim and had to get it operated on. In the end though, I think it actually has given me more motivation to come out swinging this year!
How did you do at the two Nationals you raced?
They both went pretty well, I qualified like sixteenth at Hangtown and eighth at Pala, but then my finishes were just outside of the top twenty which was kind of frustrating. I struggled with my starts a little, but lining up next to Dungey and Windham was such a cool feeling though!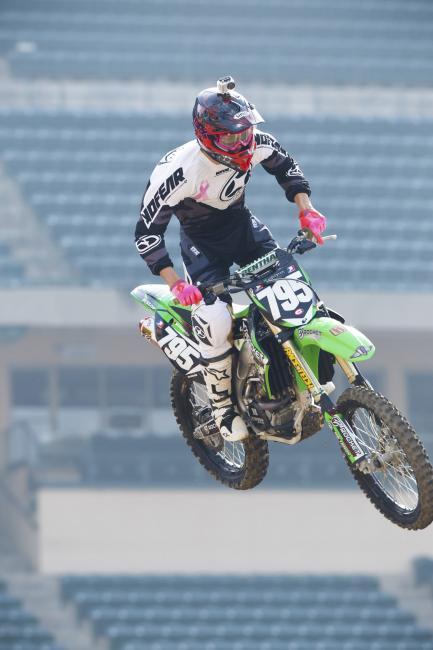 Rutherford is really starting to shine in his rookie season.
Photo: Simon Cudby
So this is your first year racing supercross, how was your first race? We're you really nervous?
At Anaheim, I was a little nervous being in that tunnel watching the opening ceremonies before the heat race, but once we got rolling though it was just like a normal race and you kind of zone everything else out. Learning a new track each week is really cool as well and kind of makes it challenging and more fun!
I've heard your bike isn't that modified and is closer to stock. Is that true? What's all done to it?
The first two rounds I was actually on a borrowed bike—which Moto Habitat and Goolsby Motorsports had got ready to go and that had a high compression piston in it. That was about it. After Dodger Stadium, we went out and bought our own bike and Don Leib over at Rocket Exhaust and Josh with Renegade Fuels did what they could to get it faster in that week with a Vortex ignition and the fuel, and now each week with more time we are getting it better and better.
How about your suspension?
Race Tech actually has got my suspension dialed in pretty well. Rob and AJ over there have been great and have been able to get out and test with me as well. Each week we always have something to work on to try and get better!
What's a normal week like for you during the supercross season?
Racing the west coast is pretty cool living here in Southern California because most of the races are all pretty local so we can drive home that night after the race. I normally rest up Sunday and get everything cleaned and back in order. Starting Monday and Tuesday, they are days where I can get some good hard riding in along with some off the bike workouts. Wednesday and Thursday are normally a bit lighter on the riding and then Friday we load up the truck!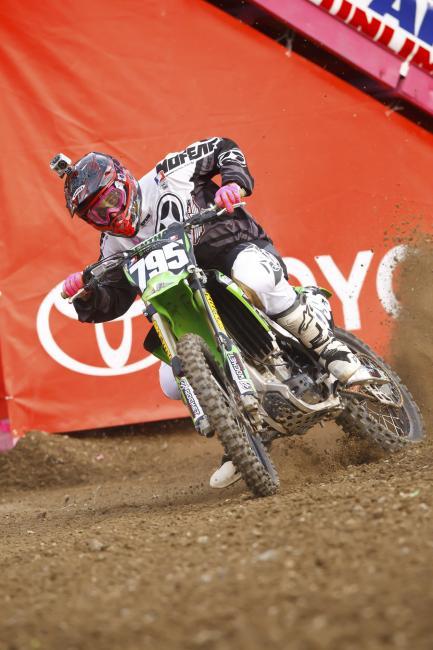 Rutherford, basically on a stock bike, has manged two top-ten's in a row.
Photo: Simon Cudby
How do you get to the races? Do you have a huge rig?
I wish! (laughs) At the first Anaheim I actually drove my 1992 Toyota Pickup into the pits, which was pretty cool! It hasn't been running too good lately, so we have just been using my Mom's truck instead on the weekends.
Do you have support from sponsors that help with costs or are you paying for everything out of your pocket?
I've actually been pretty fortunate to have a job out at Pala Raceway for the past year or so and they have helped me out with my race entries—which has been great, I can't thank them enough! As far as everything else goes, it has been coming out of our pocket.
You have qualified for 4 out of 5 main events and bettered your finishes every time. How do you feel your season has gone so far?
Yeah that really has been my goal, to just to keep getting better each race! These last two I have been in the top ten which I was excited about. I think it was round three at Dodger Stadium that I didn't make it, I was in sixth in the heat race and made a silly mistake with two turns to go and just washed out in a turn. Other than that, I've just wanted to keep improving on my results! It's been a great experience so far and we are only five rounds into it, I'm excited to keep racing!
Once you broke into the top ten did you get more attention from fans, media, or sponsors?
Yeah I definitely got more attention than what I had, I think across the board with all three; fans, media and sponsors, kind of grew after we got into the top ten. I was definitely a little surprised with it, but it's really been great and I just want to keep improving!
So have you had any talks about maybe getting some support for the rest of the series? Or are you just going to stick to what your doing?
There has definitely been some talk, but just talk really. I think it's pretty hard mid-season to try and get something worked out because everyone already has contracts and that. I mean, I would definitely be open to any fill in rides, but as of right now it looks like we are going to stick with what we have and keep doing what we are doing!
Are you planning on doing any East rounds on the 450? Also, what's your plan for the summer? Are you racing Nationals?
No, I don't have anything planned to do any east coast races on a 450, but that is something I would love to do if that option ever came up. Just for the experience alone! As far the nationals go, I also don't have anything set up yet, but I definitely want to race all of them this year, I feel like I am in shape and can do well! It will just kind of depends on what happens really.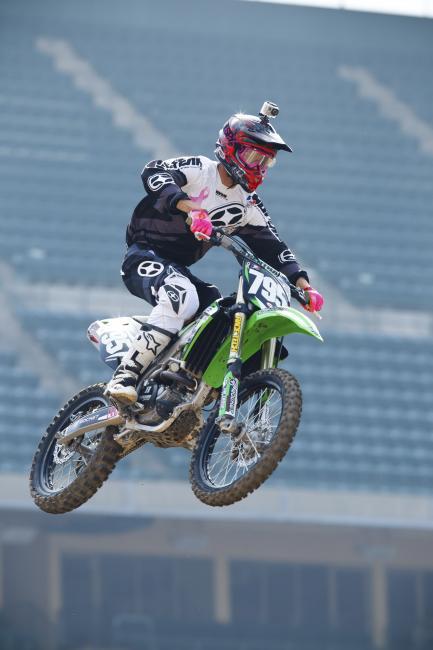 Rutherford is hoping to ride every national this year.
Photo: Simon Cudby
Speaking of being in shape, do you have a trainer? What do you do for training?
No, I don't have a trainer or anything. Just my dad! Mostly we do long walks on the beach and lots of yoga, no I'm just kidding! (laughs) Actually, I feel like riding is the best thing to keep in shape and especially here in California, you can ride seven days a week! I like to mix it up sometimes as well and do some cycling or jogging. I have a pretty rad road bike. It's like a 1980 Cannondale with shifters on the frame! As far as weights go, if I do any its really light stuff normally along with some core work.
Sounds like your Dad is pretty supportive of your racing. What's his rule in your program?
Yeah he really is, he is a huge part of it! Whether he is helping me with my riding, training, or helping me work on the bike, he is always there. My whole family is very supportive actually and I feel very fortunate to have them! I had a sponsor once actually ask how I did, and I said 'we' finished thirteenth at Phoenix and they asked, "We?" when I was referring to my Dad and I. It really is a team effort and there is no "I" in team!
That's great! Well excellent job this year and keep it up! Is there anyone you'd like to thank?
Thank you very much, I will! I would really like to thank Pala Raceway, Rocket Exhaust, Renegade Fuels, Hostility Clothing, Race Tech, Vortex ignitions, Shoei Helmets, Novik Gloves, Temecula Motorsports, Hinson, Moto Habitat and Goolsby Motorsports!