Qualcomm Stadium
San Diego

,

CA
San Diego
Monster Energy AMA Supercross Championship
Oftentimes in this column (well, pretty much every time) we'll go on and on about a win in motocross or supercross race by a Kawasaki rider. This is not that column. This column doesn't end up with the winner atop the podium covered in champagne and a wreath with his green Kawasaki that helped him win sitting nearby.
Nope this going to be a little different, this is going to tell a story of "What if?" We have all had those thoughts at one time or another. What if I had been nice to that boss, would I have got that promotion? What if I hadn't ingested all that alcohol? Would I not be in this drunk tank right now? Those thoughts are a big part of our life, and this week in Kawasaki's history, we take a look at one of those moments.
It was February 11th, 1989 and just like this weekend, the AMA Supercross series rolled into San Diego, California and at that time, Jack Murphy Stadium. There was a young man who was racing the 250 class in front of his hometown crowd, a man who had some good finishes here and there and a man who was on a Kawasaki support ride that night.
When the 20 best riders lined up that night to get the 250 main going, Mike Fisher knew this was his chance to finally break through and grab a good finish on the night. He needed to stop the Rick Johnson freight train that had swept through the beginning of the '89 season. And he got the one thing that helps every rider out tremendously--he got the holeshot.
"I obviously felt pretty good that night. I remember that it was a bit wet in practice that day and I kind of rode like an idiot that first time out" said Fisher when recollecting that night. "I was so mad at myself after that, it helped me ride so much better in the next practice."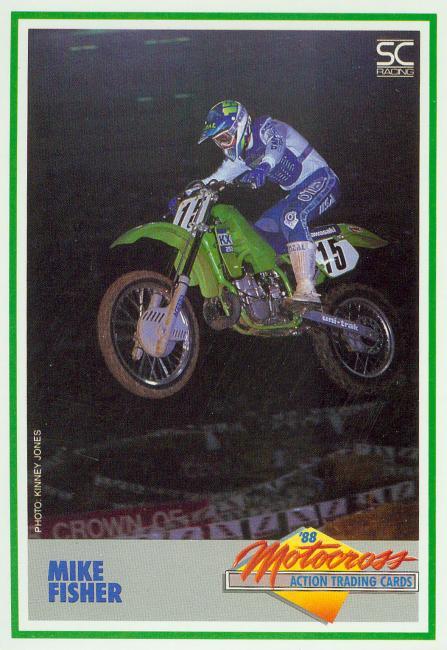 Fisher was on his way to victory in San Diego, until a crucial mistake took it all away.
Photo: Kinney Jones
When the gate dropped the number 15 Kawasaki rider wearing O'Neal gear rocketed out of the gate and started doing the unbelievable--he was pulling away!
"I holeshot the race and just started riding strong. I remember (Jeff) Stanton was behind me and I pulled out a little cushion on him and felt great," remarked Fisher. "This was a race where everything came together, for a little bit anyways, in that I got a good start. I look back on my racing and I realize that I never got very many great starts. In San Diego that night I did."
This was going to be it, the glory, the prestige, the chicks, the money--you name it and Mike was going to collect it after winning his first ever supercross and doing it in his hometown of San Diego at that.
Or was he?
"There was a section where you turn right and there were some big whoops that you almost doubled through them along with wheel-tapping one as well," Fisher tells me as his speech slows down while remembering what happened all too well.
"I just basically missed my mark, my foot came off, I missed my brake and went right into these water barriers on the outside of the turn. They were as hard as a rock which wasn't great. It was like I basically went right into a concrete wall and then flew over the berm."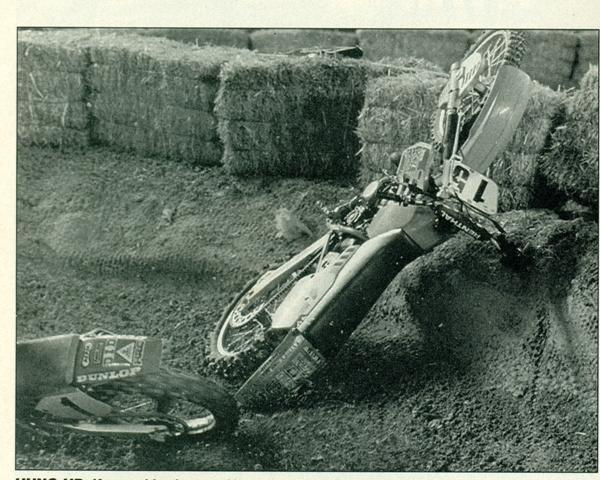 This was the aftermath of the Fisher crash.
Photo: Courtesy of Super Moto Cross Magaizne
That was it, Fisher was on pace to win the 1989 San Diego Supercross when a small mistake led to a big get-off. It was over for Fish. Everything he had imagined happening to him from winning that race was now crashing down along with him to the hard concrete floor.
"I landed all the way down onto the concrete floor. I kind of hurt my back a bit and had the wind knocked out of me bad. It was amazing I didn't get seriously hurt," Fisher told me this past Saturday. "I got up and tried to go but I was hurting and couldn't even focus to get back into the race."
What a heartbreak for Mike, the fans of San Diego and also, fans of Kawasaki machines. It was over and there would be no do-overs. He was never able to get that elusive SX win.
Today Mike who is the team manager of Monster Energy Factory Kawasaki.
"I do think I would have won, I do think "what if?" because at that time, my fitness was fine, my speed was great and I just made a mistake. I still hear about it all the time, almost every week someone reminds me that I flew over the barriers and onto the ground. That's awesome for sure," said Mike, now laughing about that fateful night all those years ago.
Ladies and Gentlemen, an almost-great Kawasaki moment!
Results- 1989 San Diego SX
1- Rick Johnson
2- Jeff Stanton
3- Damon Bradshaw
4- Guy Cooper
5- Eric Kehoe
6- Doug Dubach
7- Ronnie Tichenor
8- Jason Upshaw
9- Jean-Michel Bayle
10- Brian Manley