San Diego, CA
San Diego
Monster Energy AMA Supercross Championship
Thanks for reading this column and remember, check out BTOSports.com for some really good deals as well as listen to the podcast show to save even more money!
We took it to the east side this week…well at least the east region 250 class started up anyways. We were actually in centrally located Houston, Texas and the very nice Reliant Stadium (can we do something about that press box though? Sweet Jesus, it's so high up that the guys look like ants riding caterpillars around the dirt) and it would be interesting to see if anyone can stop Stewie's roll, how good his little brother Malcolm "Mookie" Stewart really is, who is going to be top dog on the east and whether or not I would lose ten pounds walking to and from the stadium.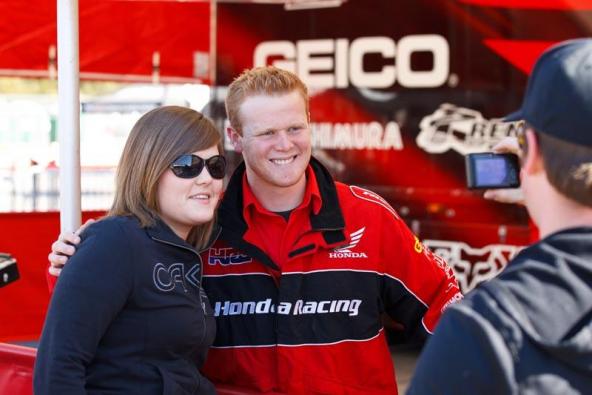 Trey's a great guy. This will be a recurring theme throughout this column.
Cudby photo
Before we get too far into this thing, I'd like to put a word out there for everyone to keep Motoconcepts Yamaha rider Kyle Chisholm in their thoughts this week. The Chiz went down hard in the heat race and bruised his lung really bad. He's still in the hospital in Houston and hopefully will be released soon. As anyone who's ever talked to him knows, Kyle's a great guy who's definitely one of the friendlier people in the pits.
This crash really comes at a bad time for Kyle (although really, can a crash ever come at a good time Matthes?) because in the last few weeks, he's really begun to turn it on with some good practice times and a definite "move up a notch in speed" move made. Weege and I spoke to Kyle right before the night show began and talked to him about that and some other stuff before then wishing him luck.
After the crash, I definitely think that Weege actually gave him some bad luck and therefore, blame Chiz's crash on him.
As always, let's start with the track.
Uh, yeah, we'd better just move on.
Well hold on now, let's tackle it objectively. It wasn't very good and I don't think you would find a rider who would say that it was. The start ran width-wise across the stadium with a super tight first turn that hosted a ton of incidents all night. There was somewhat of an S-turn after the whoops and the passing was severely limited.  Hey Dirt Wurx does some good things during the year but Houston will not be remembered as their finest hour, no doubt about it.
Chad Reed tweeted during the day that it was no good and told me afterwards that the track designers and promoters read the message boards too much, Ryan Villopoto told me that they are trying to slow the riders down somehow and a few other guys could only analyze it by telling me that "it sucks." There simply was no good place to pass and perhaps that is why some of the usually sane 250 guys (Dean Wilson and Ryan Sipes) seemed to lose their mind a bit out there. Plus there was a section out there that caused some carnage and when you add everything up, there were some testy team managers when the night was over.
One of those managers was James Stewart's guy Larry Brooks. I spoke to Larry at length on Monday and he said that he was not very happy with the track at all but he blames himself because he didn't say anything to anyone after track walk. He knew that the first turn was going to cause problems and that there was no passing anywhere but he didn't speak up and vows that's not going to happen anymore.
There was first turn carnage in pretty much every race of the night and the smart guys who were on the far right (outside) simply grabbed the brakes and cut over to the inside. Guys like Blake Baggett and Jason Thomas made the best out of a bad situation in doing that and came out pretty decent. Baggett would go on to get a third while Jason, well we'll get to that in a bit.
Here's another tidbit in regards to the first turn: one of the guys who hit the ground there was Chad Reed, and he rides a Honda in case you didn't realize it. Well if you watch the video, Reed was trapped under his bike for a little while before one of the track workers helped him up. What's so unusual about that? Because each OEM is allowed to have two representatives in the first turn and the Honda guys were watching their riders (Trey Canard and Kevin Windham) sprint away at the front of the field while a guy who was actually the highest placing Honda guy in the points laid there under his bike. Needless to say Team Two-Two manager Dave Osterman was not happy about this and is lobbying to try and get a first turn pass for someone who will be dedicated to helping Reed get up.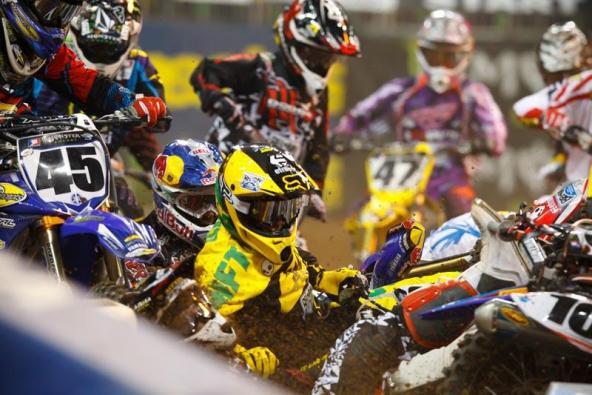 Chad's down and help isn't on the way.
Cudby photo
I want to be clear in that no way do I believe the Honda guys down there ignored Chad or didn't care about him. They were both watching their main guy(s) and when they broke free at the front, everything was okay by them. Just an oversight on their part and it's going to be interesting if Feld allows Reed's team to have a guy down there or if the Honda guys will be instructed to make sure every Honda rider makes it through the first turn before turning away. Stay tuned dear readers…
I would like to see if any non-partial people that follow the sport were not happy for Trey Canard and the fact that he won his first career 450 main event this weekend. Canard's a good guy, he's funny and articulate, he rides clean and he's a good guy. Did I say that already? I've been around him a whole bunch away from the spotlight and he's the same guy that all of you people see. There's nothing fake about him at all. Anyways, Canard has been close all year but the last few weeks, he hasn't gotten the starts that he needed to run up at the front. This weekend he did get it and also got a fortunate break when early leader Kevin Windham went down hard while out in front.
It's really, really, really hard to regroup and pass a guy back when he catches you from five or six seconds back but that's exactly what Canard did. Ryan Dungey reeled him in and looked to be prime position to grab his first win of the year but Canard zapped Dunge right back and then pulled back out from there. Afterwards, Trey just said he felt better after getting caught, there was less time to think about the fact that he was leading. Natural instinct just kicked in at that point I assume. In the end, it was a drag race to the finish with Canard prevailing by the narrowest of margins.
I really hope that Trey never gets caught with prostitutes and a bunch of drugs in a hotel room in Riverside, California because then everything in my life will have been a lie.
Unfortunately for Dungey, he didn't win Houston and not many people will talk about him and his ride because it was lost in the general chaos of the night. That's too bad for the Dunge, because he rode well. The defending champion gained a few points back on this night but after his DNF last week, it's a big uphill climb for him. I'm very surprised that he couldn't make his pass stick on Canard, but I think it's more of a case of Trey being very good than Dunge not making it happen. Does that make any sense?
James Stewart had a night to forget in Houston as he went down in the first turn with a bunch of other dudes (Although hold the tears as James was the main reason that James went down as he got sideways out of the gate and started ping-ponging off other dudes). He got up to ninth and then jumped into the back of everyone's favorite privateer, Jason Thomas. It wasn't the best move on James' part but I don't really blame him that much (and neither does JT if you listen to this podcast http://www.pulpmx.com/podcasts/houston-sx-podcasts) because there was no way that Stewie could have predicted that JT couldn't make the simplest double out there. And the reason why Jason couldn't jump it was because he got jacked up in the turn before when he made contact with Mike Alessi.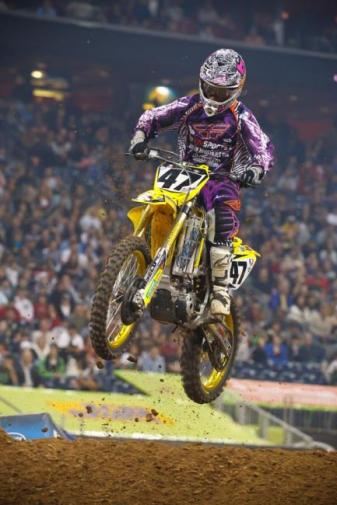 Live announcer Erv Braun kept mentioning JT$ racing his 150th main event.
This was one of the toughest.
Cudby photo
The rhythm in the section was either a double jump and then off the tabletop onto the next tabletop or single/bounce over onto the first tabletop and Thomas didn't do either. He cased the double and at that point, James was in the turn and loading up to triple onto the tabletop. If JT had done either of the rhythms that everyone else was doing, we wouldn't be talking about this right now but because JT hesitated (again because Alessi hit him in the turn before) and cased a simple double, it was lights out for both guys when James left the face of the first jump.
Stewie hit Thomas from the back and both guys exploded in a brilliant rainbow of colors everywhere. James got lucky when he landed on a tuff-block while JT looks to have suffered a pretty serious knee injury (just how did Stewie's bike just keep running while tipped over? Hmmmmm) and I'm going to put my torch away for right now and call it a racing incident. In talking to Brooks about it, he agreed with me but at the same time told James after the race that he has to be a bit smarter in traffic and realize that Alessi and Thomas are both much slower than him and perhaps that point wasn't the best to bust out a section that very few were doing? I know James is checking up a bit this year and trying to ride smarter but the old Crazy balls Stewie appeared at that moment and it bit him.
Ryan Villopoto made what could have been a rough night into a bed of roses with his third. He passed Davi Millsaps late in the race to secure the last spot on the box and it was enough to push him into the points lead. RV did what he could with all the stuff going on around him and he seemed happy after the race with his ride. That might have something to do with Stewart getting fifteenth, just taking a wild guess.
Although I didn't see it, I heard from a few people that RV was doing some jump section after the whoops going into the S-turn where he tripled and doubled or something like that. I do know that he was going to the far, far right hand side of the whoops and then sweeping the S-turn to make it one straight shot which was pretty sweet.
Also we have a breakthrough in the always frosty Mike Alessi/Ryan Villopoto relationship. It appears that the amateur rivals spoke to each other while down on the track before practice. Mike leaned in and complimented RV on his riding this year and then asked when he was going to Florida. It was a goodwill gesture from Mike and when I asked Mike about it, he said that Ryan has been riding well this year and he wanted to tell him that with the most innocent look on his face. Hey, if Reagan and Gorbachev could meet and talk nuclear peace treaties, then RV and Alessi can meet as well. Stay tuned next week when Tony takes the boys to Baskin-Robbins for some mint chocolate chip.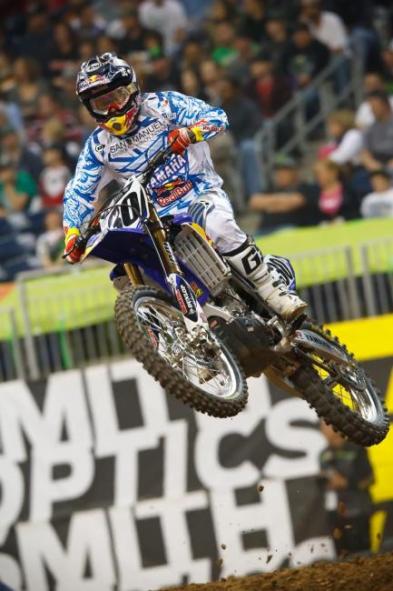 Not much mention of Kyle Regal yet this year. We're sure it's good times at the Brooks residence.
Cudby photo
This far down and no mention of the 250 class yet! Well that was won by GEICO Honda's Justin Barcia in a wham-bam-thank-you-ma'am kind of ride. Really though, does Barcia know any other way? I'm a fan of "Baby Barcia" no doubt about it but I wasn't a fan of his ride on Saturday night. He's got the speed to run with anyone in the class but I don't like passes (from any rider) when they cut inside of a turn and ride out to the exit of the turn with exactly zero intent to actually make the turn. Let's at least pretend that you want to follow the track when you go to make a pass okay? All of Barcia and Wilson's block-ramming-passing made me wonder…
What happened to the good ol'block pass?  You know when you come in hot to a turn and get on the inside of a guy and then take away his track and space? That's the way to pass, none of this coming alongside a guy, hitting your brakes and driving straight out to the exit of the turn presumably hoping to God the dude on the outside has his head up and isn't going to t-bone you and break your tib and fib.
There is no love lost between amateur rivals Barcia and Wilson (quick, get Vurb moto on this STAT!) and if neither guy is careful, both of these yahoos are going to cost themselves a race with moves like what we saw on Saturday night. As it was, those two had a good lead before the shenanigans ensued and third place Blake Wharton pulled up to within striking distance. I like Dean and Barcia a lot, I've known Dean for a few years now and I hung out with Justin and his mom in Bercy, all good people but I'm just saying that I didn't like the racing on Saturday night. Well I did like the racing in a Macho Man Randy Savage/Hulk Hogan kind of way but that's not real racing. This thing has the potential to explode in a couple of weeks when we're back at Atlanta.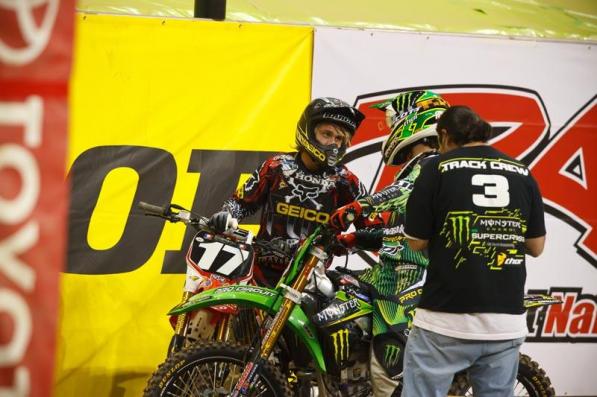 Just like in arenacross, Barcia and Wilson were able to block pass the crap out of each other and then talk about it like buddies after the race. I also have some magic snake oil I would like to sell you. Works wonders. Believe me.
Cudby photo
You know who got really lucky on Saturday night and pretty much saved his season? Pro Circuit's Blake Baggett that's who! Blake was my pick for the win when I watched practice (ask Weege) because he was absolutely flying around the track. The Kawi guys also reported good things about him and with Wilson still coming back from a shoulder injury, Baggett was supposed to be the one starting off strongest. Well in the heat race, Blake fell in the first turn and barely made the main event which gave him a bad gate pick. Like I said earlier, he braked and cut inside off the start and eventually worked his way up to fifth when Ryan Sipes cleaned out himself and Blake Wharton. This allowed Baggett to sneak into third with a few laps left. It was the definition of putting yourself into a good position and having good things happen to him because of it. So from potentially riding the anything-goes-including-stabbing-your-mom LCQ to the third spot on the box is a great victory for Blake and he's right in this thing!
Let's take a look at the results shall we?
AMA Supercross Lites Class East:
1. J Barcia Hon- Justin was a bit sluggish during the timed practices. Wonder what changed from that to the night show?

2. D. Wilson Kaw
3. B. Baggett Kaw- Baggett looked good in practice, did I mention that already?

4. R. Sipes Yam- I like Sipes a lot, had him on the Pulpmx Show couple weeks back, but I'm not sure what he was thinking trying to make that pass on Wharton with two laps to go. I agree with SPEED commentator Jeff Emig when he said it was too aggressive. Oh well, he was in fourth when he went for it and still got fourth. No loss for him, Wharton on the other hand…

5. I. Trettel Suz- Lost in all the hype was Rockstar Suzuki putting two complete SX rookies on the east and both guys doing pretty well. A fifth for Trettel is solid.
6. B. Wharton Hon- Wharton got effed.
7. J. Anderson Suz- Good ride, Weege really likes this kid as well. I'll have to watch him more.

8. L. Vincent Hon- I don't know anything about this dude but great ride. 

9. M. Lemoine Kaw- I know that Lemoine's "hype" factor among other racers was pretty high. So his ninth has to be a bit of a bummer for his fans.

10. A. Martin Hon- Good ride for the little Ewok. A top ten in the faster than the west coast east region is a more than respectable finish.

11. C. Gosselaar Suz- Little Goose lives! Well I know he raced 450's on the west coast but an eleventh is pretty good for him right?
12. S. Rife Hon- You people should listen to me more. I told you last week that Kyle Beaton was a sure-fire big points fantasy SX guy and he came through. This week in Racerhead, I told you that Rife was in the same boat and he came through once again making me look super smart. All you fantasy dorks are welcome.

13. G. Audette Yam- I spoke to someone before the race and asked them how Audette should do and they said "top ten" so I guess this is below someone's expectations.

14. M. Stewart Suz- Oh Mookie! Malcolm Stewart was better than I thought he would be to be honest. I hadn't seen him ride much besides the one time at the Stewart compound where he just did jumps all day. He got second in the heat and then caused a massive crash early in the race. Stop me if you heard that before.

15. N. Izzi Hon- Not good but I heard he had some bike problems.

16. A. Catanzaro Hon

17. T. Futrell Hon

18. P. Larsen KTM- Larsen was another one of my picks to do well and he would've had he not gotten hit but the missile known as the SS Mookie.

19. L. Kilbarger Hon 

20. D. Durham Hon- Bummer for DDT as he broke his foot in the heat race dicing with Wilson. Look for a shot of his black and blue foot on Twitter any day now.

AMA Supercross Class:

1. T. Canard Hon

2. R. Dungey Suz

3. R. Villopoto Kaw

4. D. Millsaps Yam- I give Millsaps a lot of grief from time to time so it's also appropriate to note that he had the fastest lap of the night and fought hard to get a fourth. It was by far his best ride of the year and I'm sure he and the JGR guys hope he keeps it up. Put it this way, this ride after his first five weeks is the equivalent of me getting off this couch right now and winning a 10K marathon. It's that unexpected. But this is the same dude that won San Diego last year out of nowhere.

5. A. Short KTM- Yeah Shorty! All of us in the media want Andrew to do well as he's a nice guy, always has time for people, is a good quote and a nice guy so it's nice to see him with two strong rides in a row. I have to take umbrage with something that he told me, which is that the KTM guys told him that sixth is the best that a KTM has ever done in the big bike class in SX. So I congratulated him on now holding the record but when I was drooling in my sleep Sunday morning on the plane I started to think about Mike Fisher's 1991 season on the aqua-green and white KTM's. A quick text to Fish confirmed that he indeed got a couple of fourths in '91 and that's the new standard for Shorty to match. Sorry man!
6. C. Reed Hon- Reed's mental outlook on the track affected him all day and it's nice to see him admit that. He still rode pretty well from the back to end up where he did.

7. K. Roczen KTM- This move by KTM to put Roczen into the 450 class had the potential to either be really good or really bad in my opinion and on Saturday morning one of the top guys on the team agreed with me. Well, it worked out pretty good I'd say as the 16-year old German star got a solid seventh. Also there were whips galore any chance he could.

8. B. Metcalfe Suz- Metty should have had fourth or at least a fifth as he was in an all-out war with Millsaps for most of the main event. He went down hard trying to make the pass and ended up with an eighth but you know what? I admire him for going for it that late in the race and this is a case where the paper result doesn't equal the ride out there on the track.
9. I. Tedesco Kaw

10. M. Alessi KTM- Weege has this ridiculous theory on Mike and if you listen to our wrap-up podcast shows each week, then you know all about it. The thing is, he may be right.

11. T. Hahn Yam- Hahn isn't 100% yet from his shoulder injury and he told me that he was hoping for a top ten on the night. Missed the spot by one T-Hahn but still a good ride as he almost doubled his points scored from the previous three rounds he raced. Without a doubt, Hahn's the fastest guy who's had no results to show from the speed without a doubt.

12. N. Wey Yam- Wey almost had a top five start from the outside but at the last moment, somebody or something reached up and grabbed him from behind as he was getting ready to take off. Bummer man.

13. J. Brayton Yam- JB had "quietly" on the back of his pants and he definitely had a quiet main event but that could be because he was three-quarters of a lap down by the time he got going after he, yep, you guessed it- went down in the first turn.

14. W. Peick Yam- Again, just making mains is an achievement in this field and from this guy. Much improved.

15. J. Stewart Yam

16. K. Regal Yam- Brooks not happy with Kyle's rides this year and says he expected more. Oh by the way, Regal lives with Larry and his family. This is awesome for Kyle…not.

17. V. Friese Yam- Friese hurt his finger and just rode around out there.

18. C. Blose Kaw- Blose pulled into the mechanic's area with a bruised arm that he thought might be broken but I guess it wasn't.

19. K. Windham Hon- Oh what could have been for KW! In the race that is closest to his hometown, Windham was checked out and gone but he came up short on a jump, which then made him come up short on the next one, and it was lights out from there. Tough, tough start to the year for everyone's favorite rider.

20. J. Thomas Suz- Bad break for the BTOSports.com/BBMX team if JT is out for any length of time but they do have Michael Byrne coming back this weekend in San Diego.
As you can see from the above results, there were three KTM 350's inside the top ten and I say good for the team and for the OEM. I've been critical of the bike and it's only fair to give them the props they deserve for being the only OEM with three bikes in the top ten on this night. It's a proud moment for the Austrians and they should be pumped on it. The bikes looked pretty good out there and they seemed to have found some more torque but when I asked Short about it, he said it was the same as always.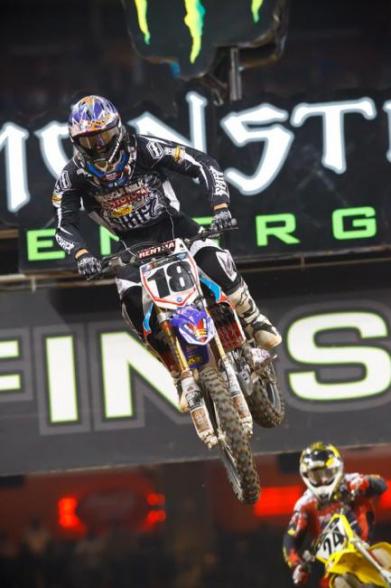 Here's Millsaps battling Metty. Dude did a good job hanging in there and nearly landed a podium finish.
Cudby photo
I finally lived the good life at a supercross. In my sixteen years of following the circuit as a mechanic or a (GASP!) media guy, I've either been down on the floor or in the crowded press box but as I headed to the press box before the night show, I came across my buddies from JGR. They invited me to Toyota's suite and upon arriving there I realized that this was where all the cool people hang out to watch the races!
Full catering, seats in front, a bar and everything inside. A little mini-hotel room! I never know where cool guys like Lechien, Buydos, Coombs, Emler and such go but now I have found the answer. And let me tell all of you, it's glorious in there. Like first class, it's a better life in the suites. Thanks to the dudes from Toyota and the JGR guys for the invite and those that follow me on Twitter were probably wondering why there were no tweets for the heat races.
Like Fight Club, now that I've spoken about it, I'll never be invited ever again. It really sucked when I went back to the press box for the LCQ's and mains and had to talk to Weege again.
When you're racing week in and week out against the Pro Circuit and GEICO teams, you have to take solace in the little things and build on them. So I have no doubt that Star Yamaha team manager Alan Brown took great satisfaction in the fact that his three riders (Sipes, Audette and Gareth Swanepoel) each topped their respective practices. Sipes led the seeded group and the other two were in the B and C unseeded groups. Like I said, you have to start somewhere!
Thanks for reading, shoot me an email at steve@pulpmx.com and we can chat.