Qualcomm Stadium
San Diego

,

CA
San Diego
Monster Energy AMA Supercross Championship
There are two kinds of classic supercross races. In one, you get a back and forth battle at the front of the pack with the best riders in the game. This year, we got that race in Los Angeles. The other is the wild one, with commotion all over the track, contenders spread out everywhere, unpredictability's around every corner, and a surprise winner. That was the race we saw in Houston. We thought 2011 would be something special, and so far I'm believing the hype!
The Houston race was the one we wish all Supercrosses could match. It let so many riders take a turn as the star. In this one, you had attention on Kevin Windham, Trey Canard, Ryan Dungey, James Stewart, Jason Thomas, Ryan Villopoto, Davi Millsaps, Chad Reed…rarely is the spotlight so wide in this sport. Heck, it got so crazy that, from up in the press box, I had to use the cheers of the fans as a guide to what was going on. I'm watching Dungey battle Millsaps, and all of a sudden I would just hear a massive roar from the crowd. Everyone in the press box would yell "What? What happened?" and then you'd realize Stewart was down on the ground with JT. Then you'd be checking on Villopoto's progress, and you'd hear another huge roar. "What? What happened?" Windham had wadded up while leading.
For real, there was too much to watch and too much to cover. Where do we even start?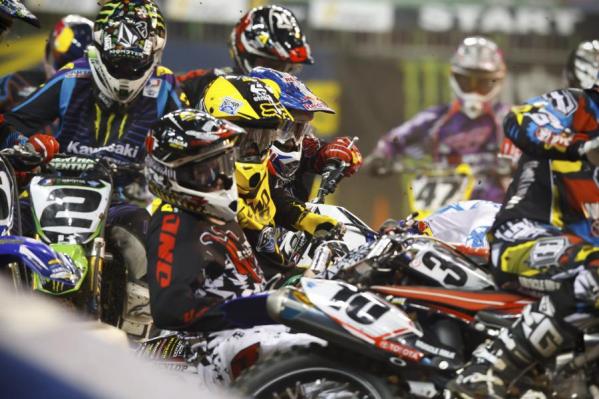 Houston got wild early.
Photo: Simon Cudby
I think we have to go with the track here. Several of the tracks this year have lacked for passing spots—last week's A2 track was really difficult to pass on—and this one was no different. The riders' opinions were split, but only because you had guys who complained, and guys who wanted to complain but just kept it to themselves. You didn't hear anyone say they liked the layout.
Now granted, we can go all crazy here and get out the pitchforks for the track crew. (Incidentally, I found out last week that pitchfork is actually spelled with one word. Now you know, too. Redux—the column of education!)
Oh yeah, so, where were we? Pitchforks for the track crew? Well, yeah, the Houston track was tight and didn't offer much passing. But that's a two-way street. Think of this: a tight track with limited passing makes for awesome racing if the fast dudes start in the back. Villopoto and Stewart had won all five races this year, but they ended lap one in 12th and 15th. On this track, there was no way they could come all the way through. Someone else was going to win!
Over the years I've heard a million suggestions on how to make better racing, but every one of them has the equal and opposite reaction. A tight track with less passing room should make the racing worse—but in this case, it was better. I've heard people suggest outlawing factory bikes to tighten up the racing, too. But sometimes good bikes make the racing better, especially if the fastest guy isn't on the best bike, and the second fastest guy is.
So on this night, the track worked, and if Kevin Windham had just held on to win the darned thing, not a single fan in the stands would have had a problem with any of it.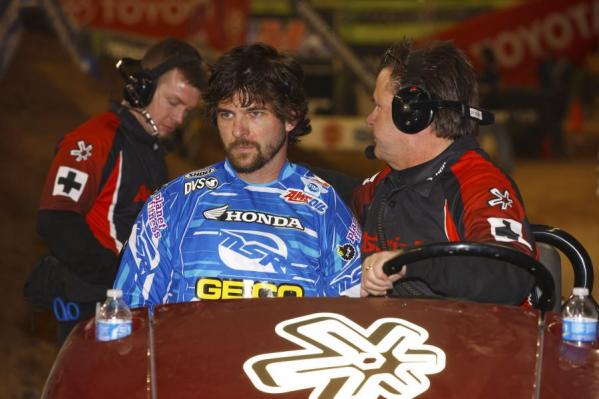 Windham uncharacteristically made the mistake that would cost him the win.
Photo: Simon Cudby
But he didn't. Uncharacteristically, K-Dub just threw it away. Coming into this race, which scenario was more unlikely: Windham wins, or Windham is on his way to winning and wads it up? I think somehow the second one was even more unlikely, and yet, it happened.
It was a huge crash. Kevin walked off under his own power, but he was hurt. I saw him in the pits later. Looking for a scoop, I asked for an interview, and it went like this:
"Man can you talk?"
"Not really. I'm on a lot of morphine right now so I really shouldn't"
"Okay I understand. Does anything specific hurt? Any major injuries?"
"I'm on so much morphine right now I'm not really sure."
Fair enough. I texted Kevin today, he said he's banged up and broken hearted. He's also at the doctor to make sure that's about it. I'll let you know as soon as we know more.
So Windham was out. Reed, Stewart and Villopoto were way back. Canard and Dungey were the next best candidates for victory, but neither guy was exactly lighting it up. I've seen both ride better this year, and I suspect the track may have had something to do with that. It was like everyone had to just concentrate on the track instead of charging and racing and challenge each other. Heck, it even bit Windham, one of the most precise riders of all.
For a good portion of the main, I couldn't understand what was taking Dungey so long to get going. After losing a huge pile of points last week, this was his golden opportunity to make up a ton of ground. Well, I guess this is why he's supercross champ and I'm not—with a few laps left, he had worked his way right up to the leader and made a pass!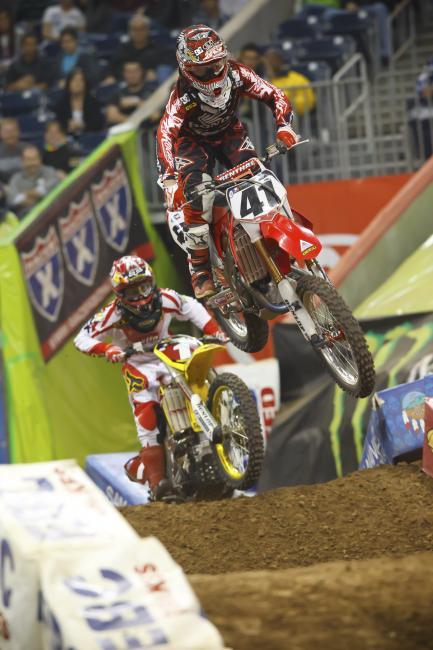 Dungey and Canard went back and forth most of the night.
Photo: Simon Cudby
That got Canard going. He seemed to be riding conservative, as if he was trying not to lose the race instead of trying to win it. The instant The Dunge made the move, Canard found the mojo, got aggressive, and actually pulled back away! What an awesome show of heart and determination.
Here's where I should just go on with 500 words on how awesome Canard is. But does anyone need convincing? Who doesn't like this guy? What's not to like? There's nothing better than seeing a guy who does it all right—good guy, has talent, takes advantage of it by working hard—get the reward. Suffice to say that if Windham couldn't get it, Canard is second on the feel-good story of the night.
As for Dungey, last week's chain derailment looks even worse now. He's still 31 points behind Villopoto. If he had just even finished fifth last week, he would have scored 15 more points than he did, putting him at a manageable 16-point deficit. But hey, just four or five more crazy races like this and he'll be right back in it!
This tough Houston track really highlighted the difference between the experienced riders of the SX class and the wide-open kids in the Lites division. Where Canard and Dungey looked to be trying to minimize their mistakes, it seemed like the whole Lites class was just going "grip it and rip it" all night. Take Darryn Durham. Dude grabs the holeshot in his heat race, has title-favorite Dean Wilson on him, and just rides WFO to hold him off. It was crazy the stuff DD was going feet off the pegs, hanging it out—the two battled and bumped tough blocks during the race. Unfortunately, Durham got a broken foot for his efforts—and it's worth noting that he was still fighting for the lead even after he broke the foot.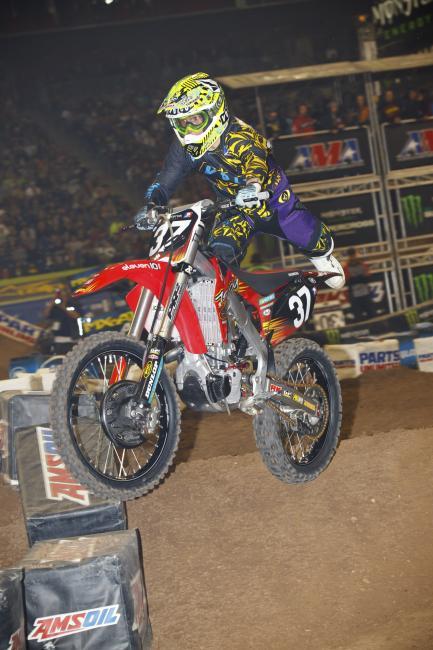 Durham was leading his heat race before breaking his foot.
Photo: Simon Cudby
Obviously Justin Barcia was hanging it out at times, too, because that's what he does. There's no love lost between Barcia and Wilson, and that was motivation enough. Before the race, Wilson admitted he wasn't back to full speed after a shoulder injury, and I heard some of the Kawasaki guys saying he may not have the full 15 laps yet, either. He could have just cruised for second, but not against Barcia. These cats scratched and clawed at each other, finding places to pass on a track that doesn't have places to pass, and generally riding the very fine line between dirty and aggressive. And it was fun to watch! Some of the pass attempts by Barcia resulted in zero corner speed and slower lap times, but that's both A) what it took on this track and B) classic Bam Bam form.
Meanwhile, Blake Wharton nearly caught up to them from third, with Ryan Sipes bearing down on him. Then Sipes tried a pass on the inside of Wharton, which had about zero chance of working. And it didn't. They collided and hit the deck, allowing Blake Baggett to slash his way from the 18th gate pick and a horrible start to the podium. Two dudes block passing each other for the lead, and two other dudes knocking each other down for third. That's how you do it in the Lites class!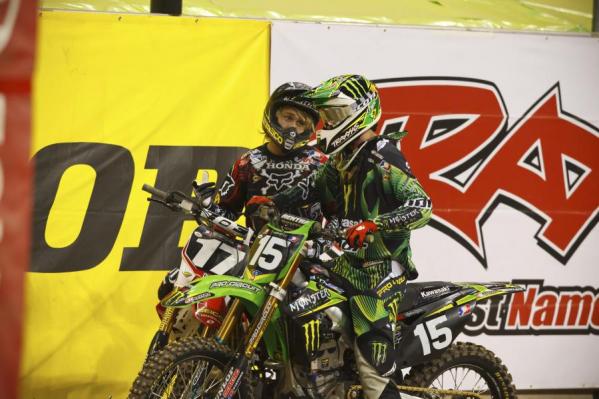 There's no love lost between these two.
Photo: Simon Cudby
Oh but there was one big collision in the SX class. Maybe you heard about it? This Stewart guy was coming through the pack and ran into the back of Jason Thomas? Not sure if you heard about that one.
Listen, you can watch this pass over and over in slow-mo (which, by the sounds of our comment threads here on the site, some of you have). But riders aren't riding in slow motion. Things happen fast, and I really don't know which side to come down on this one. JT and Mike "trying hard now" Alessi slowed each other up and messed up a rhythm lane, and Stewart's closing speed brought him right into JT. Maybe Stewart could have purposely taken a slower route through the section just in case those guys tangled, but only in hindsight does that strategy make sense. Bottom line: when a guy is coming through the pack, stuff happens.
After the race, Reed, as always the most outspoken in regards to the track, explained that you simply couldn't make passes, you had to just wait for the guy in front of you to make a mistake. But what if that guy makes a mistake right in front of you?
I also asked Brett Metcalfe where you could make a pass. He said the big rhythm lane where Windham went down presented the possibility—you "just had to go inside." But a lot of guys figured that out, like Millsaps. "I would try to go inside and Davi just had that covered," said Metty. Props to Millsaps on a good ride and a good fight. He also had the fastest lap of the night, which is something Millsaps used to do fairly often. By the way, this is now two weekends in a row where Metty and 'Saps have been pretty much glued to each other during the races.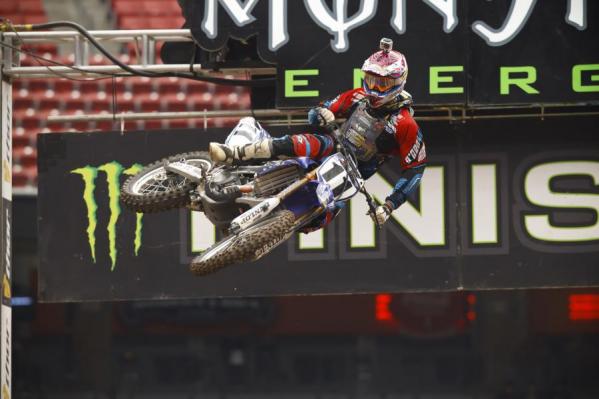 Chisholm had a big get off in Houston. Get well soon KC.
Photo: Simon Cudby
You know how cruel racing can be? Last week I said Kyle Chisholm was behind only Justin Brayton if I was going to hand out a most-improved award. Well, this week Brayton got ruined in that first turn crash—he and Chris Blose were nearly lapped by the time they got untangled from the carnage. I was, however, pumped that JB was sporting a new butt patch via the guys at Shift. It said "Quietly" because I like to joke that no matter where he finishes, it's considered a quiet finish.
Poor Chizz had it worst of all. He was fifth-fastest in the second practice, looking stronger and faster and more confident than ever. I visited him before the main and he seemed happy and relaxed, ready for good things to happen.
And then he goes down hard in his heat race and is knocked out of the race. Just when he was building all of that momentum! The last I've heard, he has a long contusion and is still in the hospital. Get well soon, KC.
That's it from me. Send me an email jasonw@racerxonline.com if you want to chat Houston, crazy Texas roads and wrong turns (made one driving to and from the track on Saturday) or getting made fun of by the JGR guys for my elbows up riding style, or anything else on your mind.