Qualcomm Stadium
San Diego

,

CA
San Diego
Monster Energy AMA Supercross Championship
By: Jen Kenyon
The 2nd Annual Ricky Carmichael University and Daytona Amateur Supercross is just a few short weeks away. Taking place at the infamous Daytona International Speedway on Sunday, the day after the Pro Supercross, the RCSX is a chance for amateur riders to race the same track as their favorite SX heroes.  Monday, RCU students get the chance to learn from some of the all-time greatest riders and industry professionals.  We caught up with Tim Cotter to get the run down on this year's event.

Racer X Online: Tim, the countdown is on for the 2nd Annual Ricky Carmichael Daytona Amateur Supercross.  What are some of the things that have changed for this year's event?
Tim Cotter: Well, I would say the most significant change this year is the ability to run under the lights at Daytona.  Last year, the event was awesome and we provided an experience to riders and families to race on such hallowed grounds.  This year, Daytona International Speedway has agreed to allow us to turn on the lights for the main events.  This change is significant as it allows us to accommodate more riders.  

With the number of riders anticipated at this year's event, just how much time will they have on the race track?
I definitely feel that last year most everyone went home getting all they wanted from the Daytona race track.  I don't see that changing for this year, if anything we will increase the track time for the event.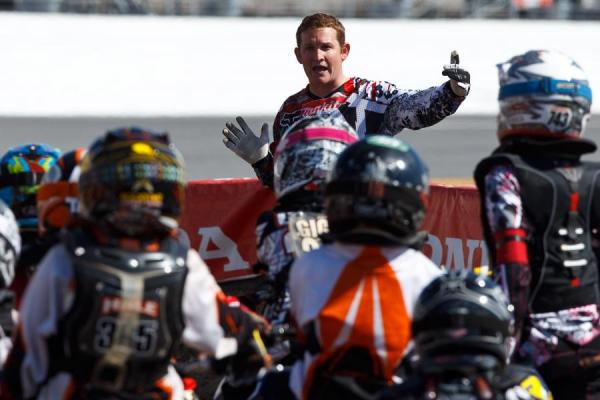 You have a chance to learn from the GOAT at RCU.
Photo: Simon Cudby
Then we have Ricky Carmichael University on Monday. Tell us a little about it.
That's correct.  RCU is by far the coolest event that I've ever been associated with.  The idea was born out of a bench racing session that we had with RC, his friend JH Leale, Davey Coombs and a few others about what this sport is lacking.  RC has always wanted to stay involved with grass roots racing and this was just a natural.  100 students have the opportunity to learn from the best in the sport and to do it at the World Center of Racing, it is just an unbeatable combination.  After graduation last year, we spoke to many of the graduates that claimed the school shaved a ton of time off their laps.  Riders were noticeably quicker at the end of the school, as opposed to their first practice session.  

Well yeah, when you're learning from guys like RC and Emig--you're bound to pick up some speed!  It seems like you're continuing to add to the faculty at RCU with more and more notable guys.
Yeah, that's right.  We just recently named Damon Bradshaw to the team.  That announcement was a big surprise to many.  Like RC, the "Beast From the East" can't stay away from motocross.  Damon told us that it seems like it wasn't long ago that he was an up-and-coming amateur rider and would have killed to have an opportunity to learn from the best.
Having both Jeff Stanton and Jeff Emig back on staff this year is a true blessing.  They did such a great job last year and are back with better ideas for this year's classes.  And we can't forget about Mrs. Carmichael – the woman that tutored Ricky throughout his career.  She doesn't give lessons very often, so when she speaks, people listen.  Also, new to the faculty for this year is 9-time Loretta Lynn Amateur National Champion, Kevin Foley.  Kevin's career path has taken him in a more administrative direction, rather than joining the professional ranks.  We're really excited about this year's faculty and the knowledge they're bringing to our students.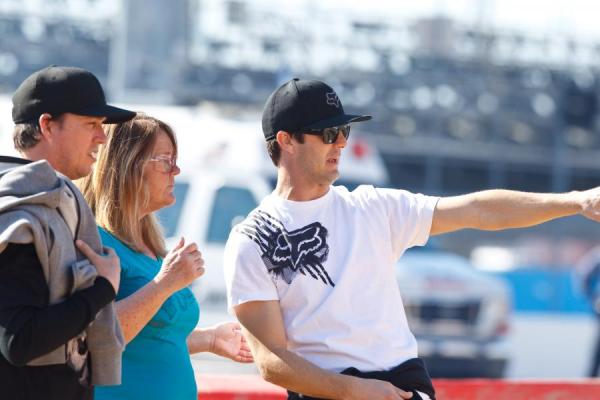 Jeff Emig is back to help teach at RCU this year.
Photo: Simon Cudby
And the riders walk away with some pretty awesome swag.  What can we expect to see for this year?
Yeah this year will be no different.  Fox Racing once again is going to be rewarding the students with a great limited edition RCU backpack and DC shoes will be hooking everyone up with a new pair of shoes.  Robb Beams, one of the sport's authorities on fitness and nutrition, will be giving every student a copy of his E program.  Oakley and Pro Circuit have also hooked us up with some very nice gifts for the students.  Should be a good time. Just head to www.mxsports.com for sign up info on Sunday's race and Monday's RCU.