Reliant Stadium
Houston

,

TX
Houston
Monster Energy AMA Supercross Championship
Most races are the culmination of weeks, months, even years of hard work and preparation, but the results sometimes change in the blink of an eye. The Moment slows down those small segments of time that have such a massive impact on an entire race.
Reliant Stadium has a retractable roof, but if Kevin Windham had been able to hang on and deliver the Houston SX win on Saturday night, the fans would have permanently blown the roof right off the joint. Windham, raised in nearby Louisiana, is undoubtedly the fan favorite in Houston—and quite possibly every other SX city—and for eight laps, he began writing another fairy tale story as he sped off with the lead.

It hasn't been a great season so far for Windham, but he's made quite a career by seizing the opportunity and grabbing wins that are each labeled "quite possibly the last of his career" when they happen. One of them took place in this very building in 2008, when Windham snagged the early lead and held it to the finish. At the time, he was a few weeks shy of his 30th birthday, and a win at age 29 seemed like one to cherish forever. Until he grabbed a bunch more that season. And two more in 2010—at the age of 32.

With younger competitors healthy and ready this year, Windham has yet to even land on the podium this year, let alone get to victory lane yet. But while those new kids on the block might have out dueled him in battles for fourth or fifth or sixth this year, only he had the experience to take advantage when a victory went up for grabs. It was just like the Steel City AMA Motocross National that Windham won back in September. Ryan Dungey crashed out, and the riders who had been battling Dungey all summer were hoping to take advantage. But there was Windham, coldly, calculatingly doing what he needed to do to snag another win when the circumstance presented itself.

In Houston, the only riders to win races so far this year—Ryan Villopoto and James Stewart—were way back early. Windham grabbed the holeshot and took off. The riders behind him, such as Trey Canard, Davi Millsaps, Brett Metcalfe and Ryan Dungey, were not making up ground on the veteran through the first half of the race. And with Windham holding a five-second lead, things looked promising, because K-Dub has always been dangerous when he's allowed to ride pressure free.

Then came the only moment that was more surprising that Windham winning the race: he threw it away. The veteran had closed the deal on plenty of wins just like this, but this time he made a big mistake in a rhythm section and crashed out of the lead. His night was over in an instant, and Canard would grab the top spot and take career win number one.

It was a huge crash, but Windham was able to walk away under his own power. Later, in the pits, he was seen hurting, battered and bruised. This time, unfortunately, Windham and his fans were left wondering what might have been, instead of celebrating another fairy tale ending.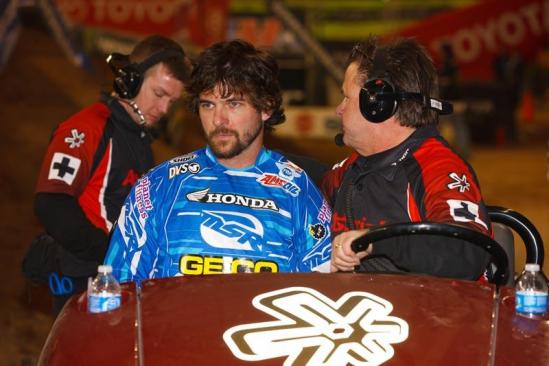 Not the way Windham or his fans wanted to see the night end.
Cudby photo