Reliant Stadium
Houston

,

TX
Houston
Monster Energy AMA Supercross Championship
It's said that anything can happen in racing, but in the case of this race, it wasn't just anything, it was everything. Where do you even start when talking about a race like the 2011 Monster Energy Houston Supercross? The first-time rookie winner? The championship shakeup and new points leader? The battle to the finish? The Lites East opener?

All of the above apply in this one, as wild and crazy of a race as you'll ever see. And it indeed ended with a new points leader, a fresh winner, and a dizzying array of stories to cover.

Many of those stories collided in the first turn, when an epic pileup claimed favorites like James Stewart—the SX series points leader coming in—as well as Chad Reed. Ryan Villopoto spun coming off the gate, but he was able to sneak around the trouble and at least avoid the big crash, salvaging merely a bad start. Reed and Stewart were way, way back, and the ultimate first-turn crash victims, Justin Brayton and Chris Blose, were nearly a lap down by the time they had their bikes back up and running.
And meanwhile, Houston's favorite racer—Kevin Windham—grabbed the holeshot and started checking out. It's been a tough year for the veteran GEICO Powersports Honda rider, but he was on his old-school game in Houston, rejuvinated and distancing himself from the field early on.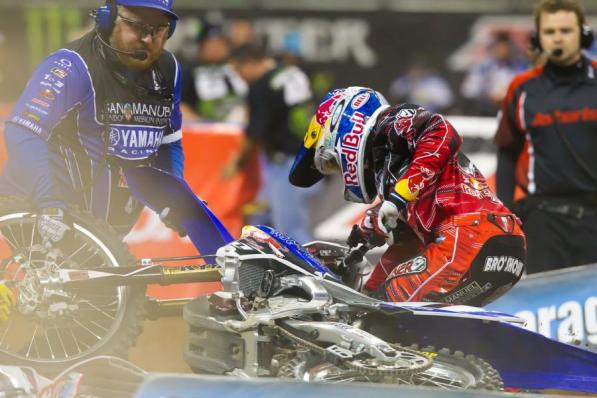 Once James Stewart was down in turn one, the door was open for a wild race.
Cudby photo
Meanwhile, Stewart and Reed were way back on a track that was very difficult to pass on. They were barely approaching the top ten near the halfway mark.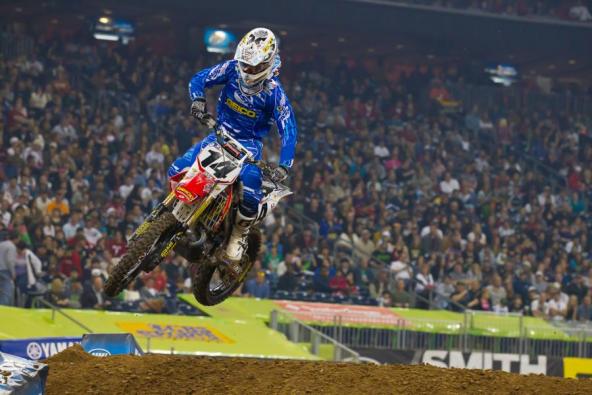 For eight laps, the Houston SX was all Kevin Windham's.
Cudby photo

Then it all broke loose again. First, on lap eight, Windham, carrying a lead of nearly five seconds, jacked up a rhythm lane and ended up swapping right off of his bike and into the ground. His night was over in an instant. He would later walk off under his own power, battered and bruised but apparently free of major injury.

Then Stewart crashed into the back of Jason Thomas in the same section, going down hard again himself and bending his front brake rotor. Stewart wasn't injured, but Thomas may have suffered a knee injury in the crash.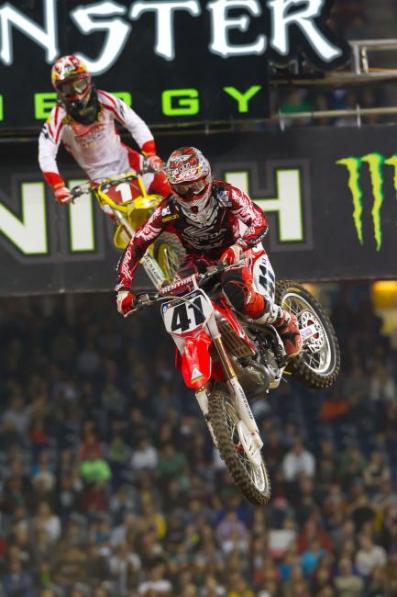 Late in the race, Canard and Dungey got into it with a scrap for the win.
Cudby photo
With Windham out, Trey Canard seized the lead on his Honda. But Canard began to tighten up, and defending SX Champion Ryan Dungey began to find his groove. The Rockstar Makita Suzuki rider started closing the gap, and then Canard made two big mistakes in a rhythm lane. The battle for the win was on, and Dungey made the pass momentarily, only for Canard to respond and pass him back. With that pass, Canard seemed to loosen up, and he unleashed a few strong laps to get his gap back. On the last lap, Dungey dug deep and closed in again. Dungey knifed inside in the final corner on the last lap, and the two exited the corner side-by-side in a drag race to the finish for the win. And Canard held his ground and edged ahead, capturing his first career SX win in dramatic fashion.

"I don't even know what to say right now," said an elated Canard after the race. "It's just, crazy!"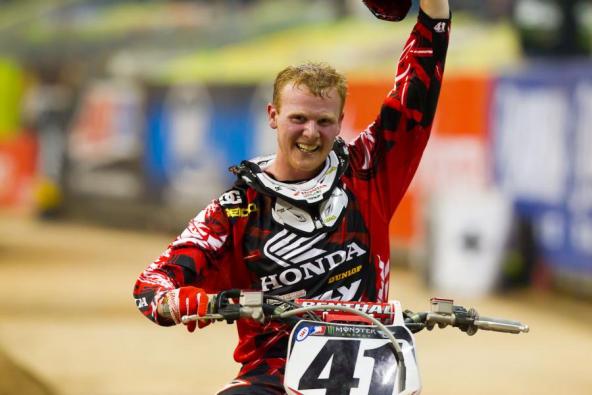 Just six races into his full-time 450 career, Trey Canard has a victory.
Cudby photo
Dungey took second. Third? Villopoto, who carved his way back from about 12th on a track that was extremely hard to make passes on. With Stewart's crash-induced 15th, Monster Energy Kawasaki's Villopoto grabs the points lead back, as well as a nine-point gap.

Villopoto fought past Muscle Milk Toyota's Davey Millsaps late in the race for third. Millsaps hung on for fourth ahead of Red Bull KTM's Andrew Short. Short fought past Dungey's teammate Brett Metcalfe, and Metcalfe crashed in the whoops on the last lap, handing off sixth to Reed. KTM rookie Ken Roczen took a solid seventh in his first-ever SX class race, ahead of a recovering Metcalfe, Dodge Motorsports Hart and Huntington's Ivan Tedesco, and Roczen's teammate Mike Alessi.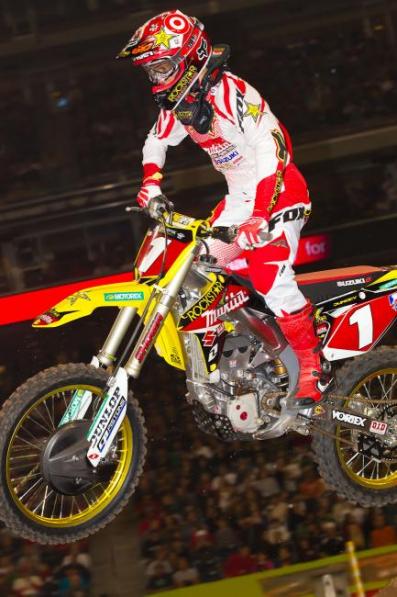 Dungey's close second helped take some of the sting out of last week's DNF.
Cudby photo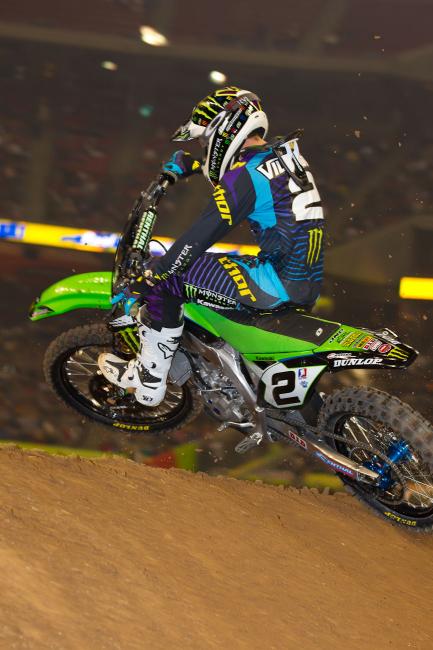 Ryan Villopoto carefully picked his way through the field and landed third.
Cudby photo
The wild race made the big battle for the opening round Lites East Region win seem tame, even though it packed some action of its own. James Stewart's brother Malcolm grabbed the holeshot in his first career SX, but Dean Wilson quickly put his Monster Energy Pro Circuit Kawasaki into the lead, following by GEICO Honda's Justin Barcia. Stewart crashed spectacularly in a rhythm lane and went back to last, although he would fight back to 14th at the finish.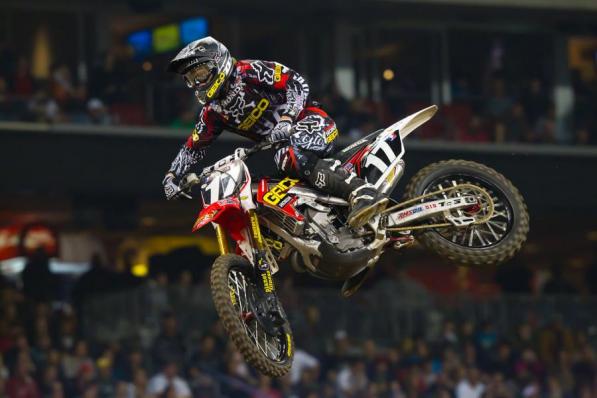 Justin Barcia outdueled Dean Wilson for the opening round East Lites win.
Cudby photo
Barcia went after Wilson for the lead. Most pegged this duo as the early favorites for the Lites East Title, and they didn't dissapoint, making repeated passes on each other for the lead. As they swapped lines and block passes, Barcia's teammate Blake Wharton started closing the gap from third, with DNA Shred Stix Star Racing Yamaha's Ryan Sipes closing in fourth. Later in the race, Barcia finally started pulling away from Wilson slightly, and Sipes tried a ill-fated pass on Wharton. He cut inside, they collided and both went down.

Wilson's teammate Blake Baggett inherited third for a podium finish. Bagget had down down twice in his heat race and snuck into the main event with a ninth-place heat race finish, which gave him a terrible gate pick for the main. He kept digging to get into the top five, and then take third from Sipes and Wharton due to the crash. Sipes recovered for fourth, and rookie Rockstar Suzuki rider Ian Trettel snared fifth in his first career SX.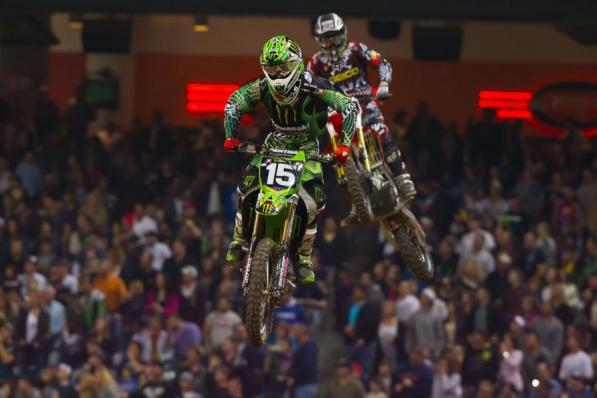 Except the Wilson/Barcia battles to continue.
Cudby photo
Lites Results
1. J Barcia
2. D. Wilson
3. B. Baggett
4. R. Sipes
5. I. Trettel
6. B. Wharton
7. J. Anderson
8. L. Vincent
9. M. Lemoine
10. A. Martin
11. C. Gosselaar
12. S. Rife
13. G. Audette
14. M. Stewart
15. N. Izzi
16. A. Catanzaro
17. T. Futrell
18. P. Larsen
19. L. Lilbarger
20. D. Durham
SX Class Results
1. T. Canard
2. R. Dungey
3. R. Villopoto
4. D. Millsaps
5. A. Short
6. C. Reed
7. K. Roczen
8. B. Metcalfe
9. I. Tedesco
10. M. Alessi
11. T. Hahn
12. N. Wey
13. J. Brayton
14. W. Peick
15. J. Stewart
16. K. Regal
17. V. Friese
18. C. Blose
19. K. Windham
20. J. Thomas


Supercross Class Season Standings
1.     Ryan Villopoto, Poulsbo, Wash., Kawasaki – 132
2.     James Stewart, Haines City, Fla., Yamaha – 123
3.     Trey Canard, Shawnee, Okla., Honda – 112
4.     Chad Reed, Tampa, Fla., Honda – 105
5.     Ryan Dungey, Belle Plaine, Minn., Suzuki – 101
6.     Andrew Short, Smithville, Texas, KTM – 80
7.     Brett Metcalfe, Lake Elsinore, Calif., Suzuki – 80
8.     Justin Brayton, Cornelius, N.C, Yamaha – 65
9.     Davi Millsaps, Carlsbad, Calif., Yamaha – 62
10.  Kevin Windham, Centreville, Miss., Honda – 61

Supercross Lites Class Eastern Regional Season Standings
1.     Justin Barcia, Ochlocknee, Ga., Honda – 25
2.     Dean Wilson, Menifee, Calif., Kawasaki – 22
3.     Blake Baggett, Grand Terrace, Calif., Kawasaki – 20
4.     Ryan Sipes, Ekron, Ky., Yamaha – 18
5.     Ian Trettel, Lake Elsinore, Calif., Suzuki – 16
6.     Blake Wharton, Aubrey, Texas, Honda – 15
7.     Jason Anderson, Edgewood, N.M., Suzuki – 14
8.     Lance Vincent, Youngsville, La., Honda – 13
9.     Matt Lemoine, Collinsville, Texas, Kawasaki – 12
10.  Alex Martin, Millville, Minn., Honda – 11