Reliant Stadium
Houston

,

TX
Houston
Monster Energy AMA Supercross Championship
After the race, we grabbed some of the top riders and found out about the race that was. Here's what they had to say:
James Stewart: "I had a decent jump, but I ended up going down in the first corner. Me and Dungey kind of tagged, and I had to check up, and I got hit in the back by Trey. So my guy was down there trying to help me get up, and I ended up tripping backwards and falling over again! So it was a rough first corner. The bike was a little bent up. I was coming through. Thomas ended up rolling that table top and I got caught up and landed on him. That bent my front rotor. It was locking up in the air after that. It was a tough one for sure."
Chad Reed:
"Warning, you're not going to get a lot of positive out of me tonight. I felt like I tried to fight for a good start, because, on this track, if you didn't get it, you were in trouble." - Chad Reed
But I guess getting a bad start would have been the same as ending up on the ground, so it worked out about the same. I'm being optimistic here!  Yeah, I fought for the start all the way down that start stretch. I think it was James, Dungey and myself, and we were just going off of each other, and neither one of us let off, and James and I ended up on the ground. I was kind of on the bottom of it, which kind of sucked. I tried to get up and fight. It was just follow the leader until a guy made a mistake, then you'd make a pass, then try to go up to the next guy and hope he made a mistake. I was kind of lucky that a lot of the guys did make mistakes when I got up to them, the only one I had to get aggressive with was Tedesco, which kind of sucks but what do you do on this track? "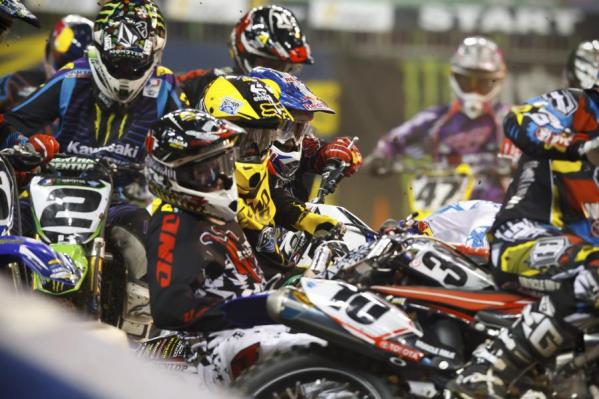 Reed and a host of others, including James Stewart, came together in the tight first turn.
Photo: Simon Cudby
"I'm that guy right now, I guess. You can look at the track map on paper and you know it's not going to work. And I understand there's pressure from the fans to create longer lap times. I understand that, but do you do it at the expense of a great race track and great racing? The answer for me is no. They're trying to zig zag the track around the stadium, hey, we should do a section out back, maybe race into the football gym, maybe into the press box... I hate to be that guy. But I feel like, when it's a good race track, I've said it's a good race track. When it's bad, I say it's bad. Hey, these guys are professionals. If I'm getting bad starts, I have to go to work and fix my starts. You have to work on everything and get better. But year after year, these guys do the same thing. Now, I do want to say this, a lot of my complaints in the past where how they finished the track, the dirt, the transitions, the berms, just the finishing touches, and they have stepped it up there. Now, it's just the layout. I respect what they're doing in getting creative to try to extend the lap times, but it's not working. You took out half the field in the first turn. Maybe I'm just bitter because I was on the bottom of it, but at the end of the day, you just want good racing, as a fan."
Jason Thomas: "The night was good for me until about eight laps in. Mike Alessi ran me high in a turn and I think (James) Stewart tried to pass both of us at once and I was in the line and he landed on top of me. We went down pretty bad. I hurt my knee kind of and I hope I can tough it out and keep riding. It sucks because I felt like I was doing pretty well, there were a couple of guys that were going to get me- Chad (Reed) was coming and obviously Bubba was going to pass me. I felt like I could have easily got my best finish of the year.
"I wasn't mad at him (Stewart), he's trying to get to the front. He's got a lot at risk. He's going so much faster than us that he miscalculated and ended up on the ground. I'm not mad at him, it ruined his race as well."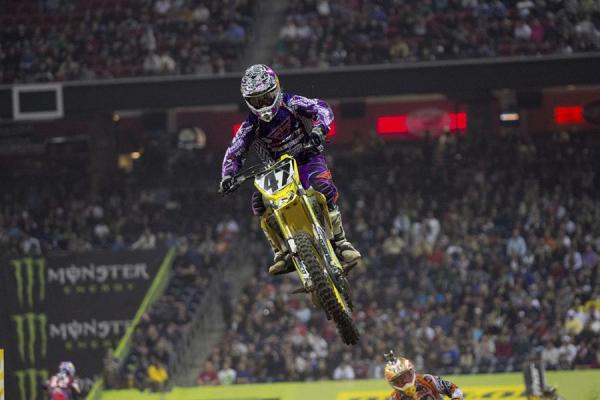 Thomas was having a solid night before coming together with Stewart.
Photo: Andrew Fredrickson
Brett Metcalfe: "It was good. Heat race went well, main event I got another great start and was about second. The whole race I was on Davi's (Millsaps) butt, really, and I was feeling good. Then Trey went by us, and Ryan (Dungey) too . But I was still up into the top five, and about halfway through I really started finding my groove, but I just couldn't find a way around Davi. He just wasn't making any mistakes. Then I started trying some silly stuff to try to figure out a way to pass, and I started making mistakes doing that. RV got past me when that happened, and then I made another big mistake when he passed me. I dropped back, and I wanted to keep charging, but on the last lap, I didn't even realize Shorty was behind me. He just dove inside of me and got me. Then through the whoops—man, I crashed, and it was gnarly. Me and Shorty were tight coming out of the corner, so I was still turning a little bit when I entered them, and man, the rear wheel just broke loose and I went flying. It was a yard sale. I'm feeling okay, but obviously when you rag doll through whoops and bounce off of them, you're gonna' be a little sore. It's okay. I'm walking."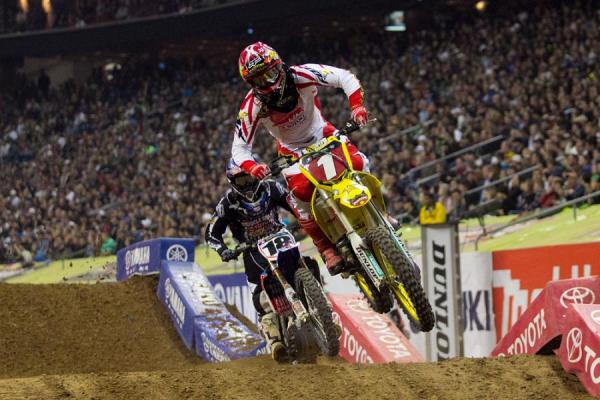 Dungey re-grouped in Houston with a solid second place finish.
Photo: Andrew Fredrickson
Ryan Dungey: "Last week, we still don't know what happened. It was just an unfortunate deal. The chain derailed, it's motocross and anything can happen in this sport. Most importantly, you have to focus ahead and not dwell on the past. So I feel good that we were back on track here. I got a good start, about fifth, and eventually I was able to close in on the leader, Trey, and I was able to make the pass, but I couldn't make it stick. From there I tried to make a couple attempts, but I just couldn't make it work. All in all, a good night, we put ourselves in a good position. The bike was awesome, the team was great, but we just came up a little short.

"When I was back in fifth, that was the hard part. I was sitting there, and Millsaps and Trey were right in front of me, and one would go inside and one would go outside, and there was nothing I could do. I didn't force it. I just wanted to put myself in position to be there in the end.  Once I got into second, I was able to close in on Trey. Absolutely, when I had open laps I was able to find my lines and get some good lap times in. But once I got up to him, that was tough. The track was a little tight. I just couldn't make it stick. The last lap, it was crazy. I tried to square up, and I got a good drive coming out of the turn, surprisingly since I was so far inside, but he still had the line, he had me on the up and up and he was able to just pinch me off. Congrats to them, it's a big step for his career. But, like I said, I came up short."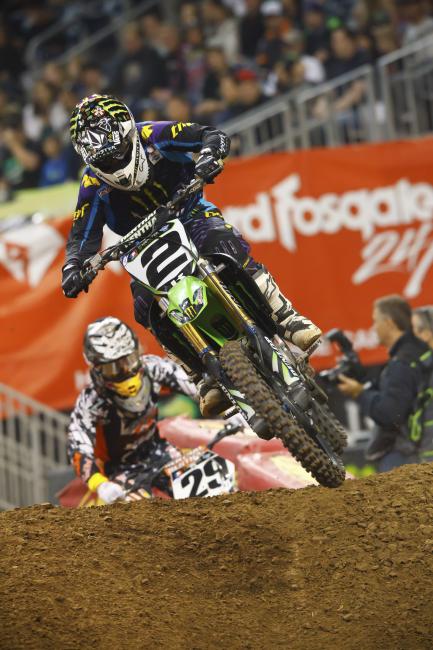 Villopoto overcame a bad start to stand on the podium.
Photo: Simon Cudby
Ryan Villopoto: "The start, it wasn't my jump (that was the problem) really, it was blue groove and I lit the tire up and spun. I worked my way up and made some mistakes. The track was tough, it was slow and slippery. I had some close calls out there for sure. I knew that I was lapping James (Stewart) because I saw what happened at the start of the race. I was marking him out there over the doubles. I didn't know about the second crash of his but I figured something was up.
"I could see Windham up there for sure on the triples. I was hoping he was going to win, bummer he went down."