Reliant Stadium
Houston

,

TX
Houston
Monster Energy AMA Supercross Championship
On one of the wildest, craziest nights of Monster Energy Supercross in quite some time, American Honda Racing's Trey Canard scored his first-ever SX win. After the race, we found him upstairs in the Honda hauler, trying to take it all in. But he couldn't. While you'd expect the outgoing Canard to have been jubilant in celebration, it was more like the moment was too big for him to digest this quickly. He was subdued, and pretty much in shock. Here's what he had to say—but be warned: no words can really sum of the feeling of winning your first supercross.
Racer X Online: You just won a supercross!
Trey Canard: (Laughs) Uh, I did? It has definitely not set in yet. I'm just in shock right now. Man, I feel like I didn't even ride as well as I did in the last three races, but I was coming from the back in those. I really needed that, to get up front and ride up front. Hopefully this will help me in the weeks to come. I really needed this. I had a bad week and this makes up for it.
Yeah, you said on the podium that you had a bad week. What's that all about?
Well, there comes a time when you're just getting bad starts, and you're doing all you can, and it's not working. It gets pretty frustrating. I was pretty spent from last weekend, and then on Monday I hit it really hard and did a lot of laps. I was really spent after that. It made the rest of the week really tough. To be honest, I was dreading coming into this weekend. But now, this is just a great feeling.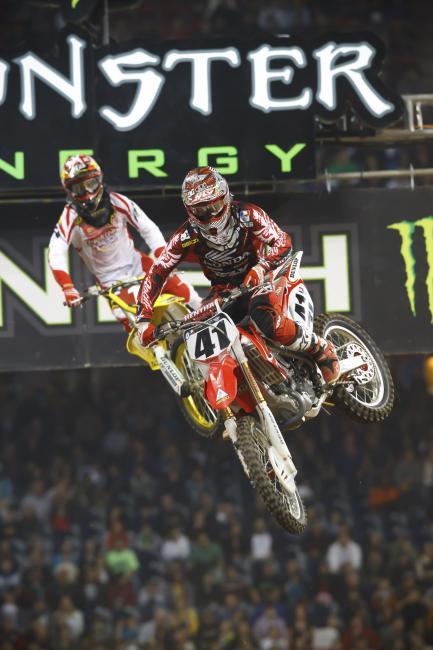 Canard held off Dungey at the wire for his first career SX win.
Photo: Simon Cudby
Take us through this craziness. First, a ton of guys were down in turn one. Did you even know that?
No. I knew Dungey was right around me, so I just tried to ride forward and not think about any of those guys. I did a decent job of that. I got around Millsaps for second, and then I was kind of surging for Windham. Then once he went down, I just kinda', man, it was like my heart stopped! I was just so excited to be up there! I got really tight and I knew Dungey was coming after me. I was really tight, and I made two big mistakes in the rhythm lane, same section to laps in a row. So then he was on me, and he came at me hard. But I finally put a surge on and had a good couple of laps. Then I had to ride out that last lap.
Did that battle loosen you up? It seemed like you rode so much better the instant he passed you.
Oh for sure. It was like, immediately my mind was good, I knew I needed to go forward again. I think him passing me there was the best thing that could have happened, because it really loosened me up and got me going again. If he had not passed me there, I probably would have still been tight, and then he would have got me a few laps later and I would have been done. So I was actually really happy that he passed me.
When you were in second, and K-Dub was kind of gone in the lead, were you even going for him? What was the strategy? Were you waiting? Were you just riding the track and trying to put in good laps?
Well, the track was really tough. I tried to just put in good consistent laps. I was catching him a little, but not much, if any at all. I was hoping I could just inch and inch and inch up on him and maybe little by little I could catch him by the end of the race. But I really don't know if I would have. It's a bummer for Kevin that he went down. But, I guess that was a great opportunity for me.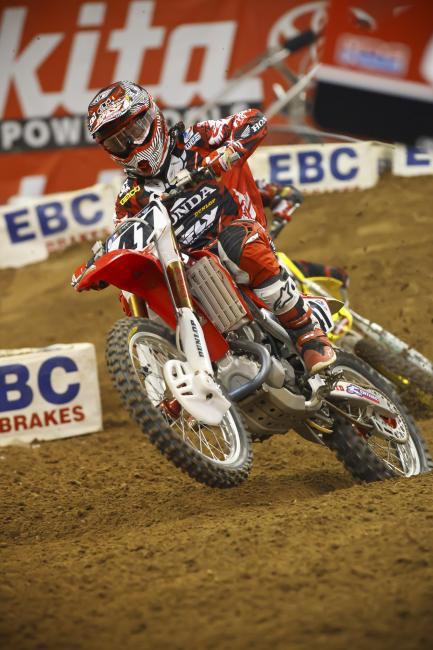 Canard capitlized on a Windham mistake to take the win.
Photo: Simon Cudby
What's amazing about this is, you've been in so many pressure situations before—and you've come out with clutch race wins and even titles. And yet this supercross class, at this level, it still got to you when you were in the lead.
Oh yeah. I mean, when I came to the 450 class, it was basically like starting over again. It's pretty tough, and you start to lose hope when you have some bad races like I was having. So, man, I don't know what to say. I'm just thankful to have things go my way like this.
That last-lap battle with Dungey was nuts. Take us through that.
Yeah I made a little mistake, I cased that little triple thing before the big triple, and Dungey must have hit it really good, and he came right up on me. I didn't know what to do in the next turn! I tried to come in tight, square it up, and make sure he wasn't right there next to me. We came together a little bit, but I saw the checkered flag, and I was like ,"I'm not giving it up right here." Man, I'm just almost in shock right now that this all happened!
And maybe the best part of all, this is one of your home races.
Yeah, there's a lot of people from home here. It's just…crazy. I don't know what else to say.
So, no words can describe winning a supercross?
No. Definitely not!
Is this how this needed to happen? You were a little down on yourself. Did you kind of need a win where things fell into place before you can get one where you just go out there and rip it for 20 laps?
Yeah, I think so. It's just so hard racing in this class, especially for a guy like me. I've always been pretty humble, and to know I'm racing the guys I'm racing in this class, it's hard for me to just go to the line in my rookie year and think I'm going to just beat everyone straight up. I'm working on that, but it's hard not to get intimidated. I really needed this. It's…it's just an amazing feeling right now.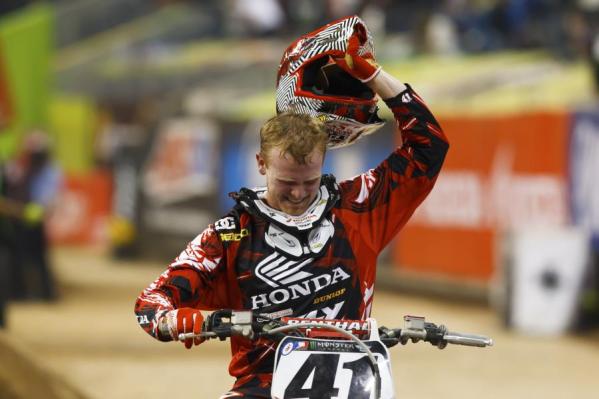 The feeling of victory.
Photo: Simon Cudby