Reliant Stadium
Houston

,

TX
Houston
Monster Energy AMA Supercross Championship
Hello, everyone, and welcome to the Rev Up. Ah, it's times like these that remind me of a quote from one of my favorite movies,
Snatch,
when "Bricktop" asks, "Do you know what nemesis means? A righteous infliction of retribution, manifest by an appropriate agent..."
Personified in the case by a nasty supercross that is banging on the door.
That's right, we're taking the madness down to Houston, Texas, switching things up a bit to see what the boys on the East Coast are going to bring to the ring. Supercross is supercross, but the vibe is always a little different on the East Coast. The riders are generally more aggressive (dirty) and, well, it's just different. Yes, I know Houston is pretty much the middle of the road geographically, but it's time for a new batch of 250 guys that are hungry and ready to brawl.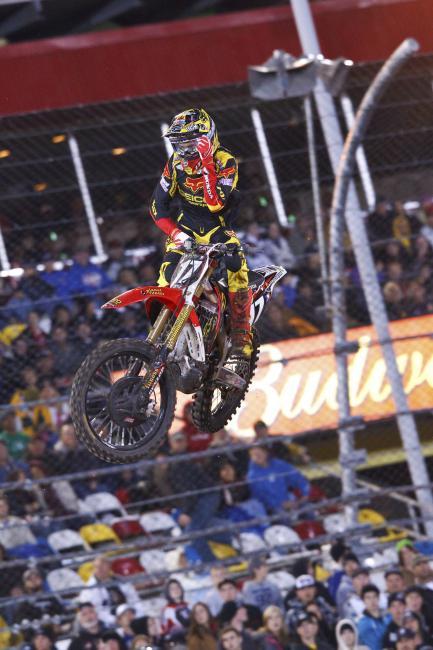 Barcia is looking for his first title in 2011.
Photo: Simon Cudby
And can you hear that? That blood-curdling scream in the distance is coming from Justin Barcia. That guy is ready to go nuts...and he has a fight on his hands.
Let's go ahead and get it up in here for a huge one. Texas-style, hoss.
250
Man, I can't wait to watch Dean Wilson and "Bar Crusher" Barcia go toe to toe this Saturday night. Wilson is going to be strong. I'm not sure why, but he didn't really get the hype that Tomac did last year, IMHO. Wilson was a threat to win almost every race he entered and the tall lanky Scotsman/Canadian or whatever he is, ahem, is a bad dude. He'll be armed with the mother of all ass-kickers with the Monster Energy/Pro Circuit rocket ship, and he's my favorite for the win.
Oh, but of course there is more. My sleeper, who isn't really a sleeper is Blake Baggett. Armed with the same machine as Wilson, it could very easily be the Wilson/Baggett show on the east side, much like the Hanson/Tickle duo out west.
Veteran Ryan Sipes can get the job done too. His size hurts him in supercross, but his experience and skill is the measure of anyone on the starting line. Equally deadly is Blake Wharton, who will no doubt be taking it around with a little extra sauce as he races in his home state. Wharton is a holeshot master and will be one to watch.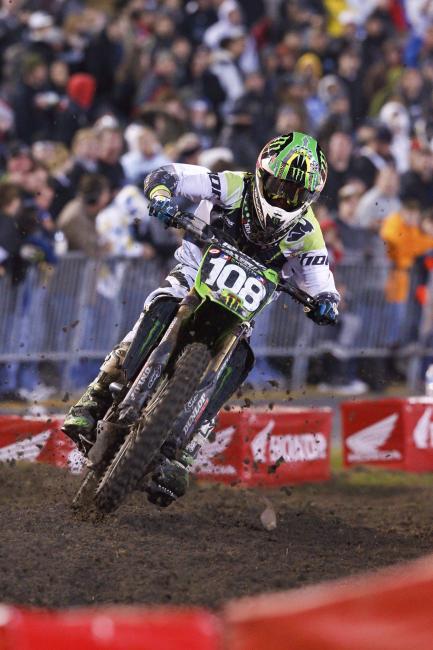 Wilson is a pre-season favorite to capture the crown in 2011.
Photo: Simon Cudby
Personally, I just can't wait to see who Barcia cleans out first. I'm not laughing. Hey, it's the big boys, Jack.
450
There isn't anything you can do when James Stewart rides like he did last weekend. I could tell after the first three sections of the main event it was curtains. The guy is just out of the solar system when he is on his game, and I've never seen him ride better than he did at A2. The boys better get a handle on him before he gets on a streak.
I used to hate the term "sophomore jinx" when I would read it in Motocross Action, but after watching Ryan Dungey push his bike off the track with a, gulp, broken chain...the phrase reverberated cleanly. Major pisser. Now all he can do is throw down and get some love back, the hard way. Win or crash.
I have been pumping him all year, but I'm going to give a special call to old man Windham to show up this weekend and ride good. He always kills it at Houston and he needs to get rolling with a good start and a solid twenty. Yep, the rest of the boys are there too. RV will be bringing it again, and Chad Reed is gradually getting back to his real speed.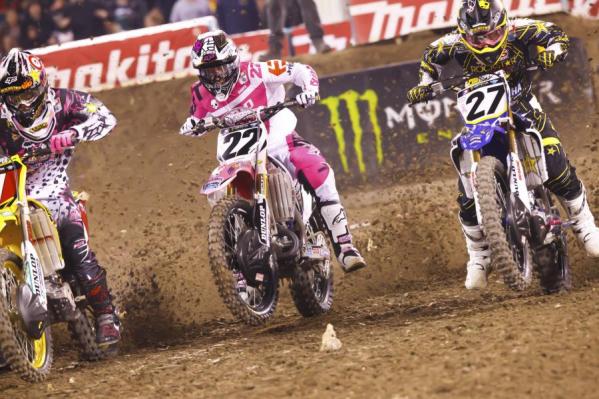 Will Reed get his first win of the year in Houston?
Photo: Simon Cudby
But, we're going to Texas, dammit. I want to see some fighting! We need some rivalries in our game right now. It's rivalry week all across the country with the "Backyard Brawl," the "Border War," and "The Tobacco Road" fights all going down. The fight vibe is in the air and I think it's going to carry over in the charge with the boys this time around.
Nemesis. No team sport here. A set of handle bars, fist on the throttle and leave your friends back at the hauler when the gate drops. The series is up to full song, and with the east coast kids jumping into the mix, we can all roll our necks and get ready for a burner in Houston.
Thanks for reading, see you next week.