Reliant Stadium
Houston

,

TX
Houston
Monster Energy AMA Supercross Championship
The joke ran amok in the pits following Anaheim 1. "Yup, just like everyone predicted. In this most stacked field ever, that the first SX class heat race of the season was going to be won by Justin Brayton."

Well, it's no joke. Brayton is a player. The well-established big four of multi-time SX race winners Ryan Dungey, James Stewart, Ryan Villopoto, and Chad Reed have been joined by Trey Canard at the front of the pack at times. Brayton is inching closer to that group, while trying to distance himself from the rest of the field, big names like Windham, Millsaps, Tedesco, Short, Metcalfe and Alessi. Punctuated by his two heat race wins on the year, and a fourth-place finish over the weekend in Anaheim, Brayton is breaking through.

But yet still no one seems to notice. Every Brayton finish, good or bad, is considered a quiet result. After the race, I joked that even if he wins a race, it will somehow be deemed a quiet win. Brayton knows it, but he's not about to change.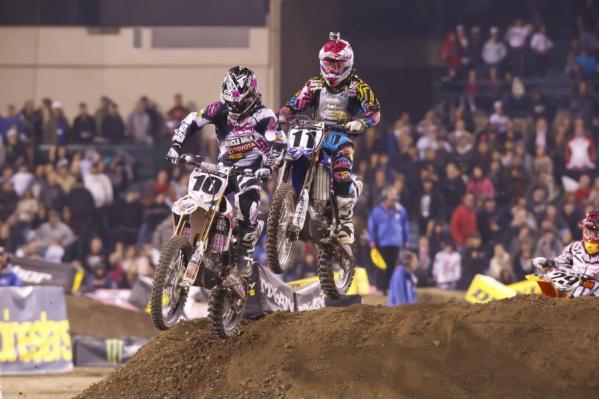 Can Brayton make it the Big Six?
Photo: Simon Cudby
"I don't know why no one seems to notice," he said after the race in Anaheim. "But I'm not going to change it. I'm not going to be a guy who throws whips while he's running fourth, or be some crazy guy who jumps on and off the track, so I guess I'm going to keep being quiet. That's how I am. I'm just going to go back to Charlotte this week, do my work, then I'll go to Houston, I'll be fast in practice, fast during the heat and I want to do good in the main. That's my deal I guess. And I'll win someday—and you know what, when I do, people probably still won't notice it, but that's okay. I'll take it."

Brayton even got into some action at the beginning of the A2 main, but you didn't hear anyone bench racing about it afterwards. "I did have some interesting stuff happen at first. Off the start, Stewart pushed me wide and Reed came in, and I just got bumped around a little bit. Then Reed didn't jump on to the table and I nearly landed on him. Alessi and Chisholm got by. I did everything I could to get around those two, and at that point, the front three were a straightaway ahead. I'm not just gonna' catch Stewart Villopoto and Reed from a straightaway behind. I don't have that kind of speed, just being honest. So I just rode a fourth—you're right, a boring, quiet forth. The top five were all kind of quiet. Canard was coming at the end, he was putting in some good laps and I was watching him. Then a couple of lappers jacked me up, but they probably jacked him up, too. He was riding good, but I was keeping an eye on him."

So now Brayton has a fourth. Can he keep making steps and join that elite group on the podium, or even in victory lane?

"I honestly do believe that I can," he says. "And that's why sometimes it's frustrating, well, I don't want to go as far as frustrating, but maybe I do think I don't get the credit I deserve for running up front."

Part of Brayton's low profile comes from his background. He's not from the literal hot spots of California or Florida, but Iowa. He didn't light up the amateur circuit, he grew up racing Arenacross instead. He never broke through to get a win in the SX Lites class. Whenever he gets a win on a 450, it will be his first SX win ever. It takes a major leap of faith to clear a hurdle like that when you've never won at this level before.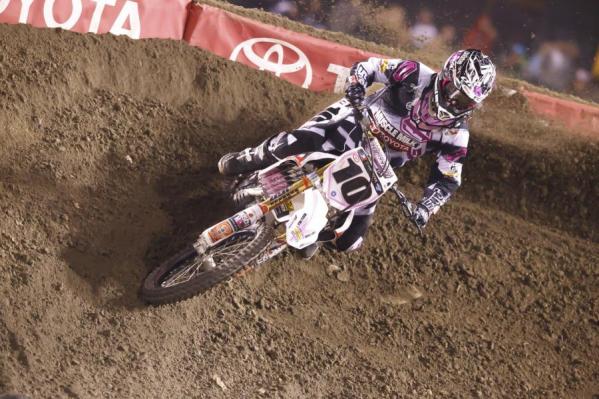 Will Brayton stand on the podium before the season is up?
Photo: Simon Cudby
"A lot of it is confidence," says Brayton. "To be honest, it has taken me a little longer to believe, because I'm racing against all of these guys who have won their whole life. I listened to a podcast last week that said I'm racing with these guys who have always been champions. I'm the only one in this group that wasn't winning races and championships since they were really young. It's totally true, but don't count me out of getting there, maybe next year or something like that. Honestly, for me, when these guys were winning championships, I was in high school dreaming of racing Arenacross. Not even supercross!"

So Brayton keeps building the blocks needed to get that first win. The expectation that a win could be coming soon makes it easy to get motivated and work even harder, but it also puts more pressure on a rider. Brayton admits that pressure got to him a little when he won those heat races this year. "This year I've shown I can beat anyone for eight laps in a heat. Last year I didn't do that. I think that's why, this year, I've had a sixth, a fifth and a fourth, and two DNFs basically, and the two DNFs were the two races where I won a heat. I feel like I'm so close to getting on the podium or winning a race, that I just put a lot of pressure on myself to do it in the main. Especially when you win the heat race, you're under pressure to back it up. So at those races where I did win the heat, I would start like seventh or eighth and just start getting really aggressive, trying to make moves and get up there, and I'd crash. Riding like that is kind of out of my element, too. The team told me I wouldn't take any chances last year, I would just be quietly in seventh or eighth. (Team Manager and Owner) J-Bone and Coy said they'd rather see me go for it and crash than just finish seventh. So I've taken a lot more chances this year. Even tonight, almost landing on Reed, I wouldn't have done that last year, instead I would have just not jumped and been passed by six guys instead of two like I did tonight."

Consider that another step toward the front. And another building block. One step closer to becoming the rider who came all the way from Arenacross to victory lane in supercross. "I'll just take more chances and keep believing in myself, and it's going to happen. Maybe this year, maybe next year, maybe a few years. It's just a matter of time."