Angel Stadium
Anaheim

,

CA
Anaheim 2 (A2)
Monster Energy AMA Supercross Championship

Welcome to Racerhead, and welcome back to Anaheim. After two straight weeks of new buildings and new tracks for the Monster Energy AMA Supercross tour, it actually feels good to be back in the big house of Anaheim. And this time it's going pretty-in-pink, as the series and its athletes and teams have joined forces to promote Breast Cancer Awareness by putting on a few pink points of flare. Thank the very cool Shasta Johnson--herself a cancer survivor--for motivating the entire sport to help prevent a terrible disease. It's times like this that remind us all how great motocross people can be.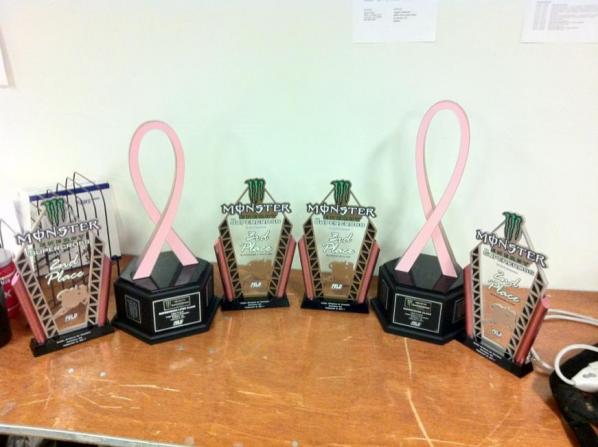 I just flew out across the United Storms of America on a rather bouncy flight, but made it here safely. It's warm, and it looks like it's going to be a great weekend. Unfortunately, it's a busy one for me, so I have to cut my time on Racerhead here short. I wasn't at Oakland anyway, so it's best to let the rest of the gang get into the business of bench racing right here.
But I will say this: there's some big news coming on the Lucas Oil AMA Motocross Series that I think is going to make a lot of people happy. Hope I didn't just jinx it right there, but there's been a lot of people working very hard to make the series bigger and better for both the athletes and the fans all over the world. Stay tuned.
Take it away, Weege.
Good times last night at the Fox Racing open house at their SoCal HQ in Irvine. The full stable of Fox and Shift team riders were in attendance—such as Ryan Dungey, Chad Reed, Ricky Carmichael and the GEICO Honda team. But the real star of the night was Jeff Emig, or more accurately, Jeff Emig's past accomplishments. Fro brought over some of his most prized trophies, including his 1997 AMA SX Championship trophy, his $100,000 big check for winning the 1999 U.S. Open, and his $10,000 Camel Supercross big check for winning the 1990 125 East/West Shootout. Fox set up a backdrop and camera and shot photos all night, using those prizes as props. They run a similar deal down at their Fox box at Loretta's, and it's always a hit. Jeff, good idea bringing those trophies to the event. For one night, we all got to live in the past just like you do every day!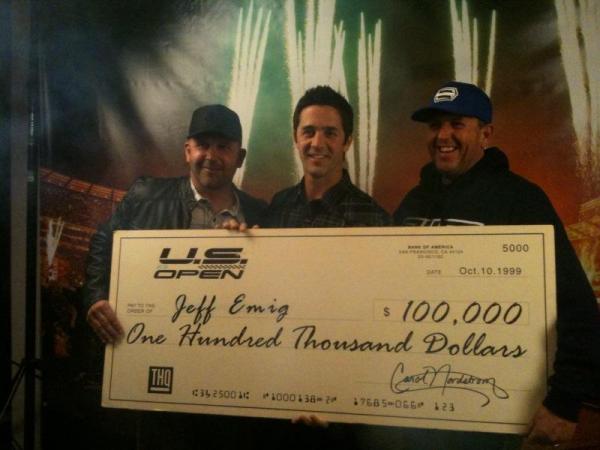 At last night's Fox party, the original Team Strategic 3, Tony Strangio, Jeff Emig and Tim Dixon, posed by the big check they won eleven years ago at the U.S. Open.
Check out Simon Cudby's video of the event right HERE
Got to chat with GEICO Honda's
Blake Wharton
a bit. Last year, Wharton was slated to ride East, but got pulled over to the West when
Brett Metcalfe
got injured. Blake was a little unprepared, and didn't have the best season. He's looking for much more this year. He's pounding out the laps in Texas, working closely with Sebastien Tortelli, and generally looking forward to the East kickoff next weekend at his home race in Houston. It's almost here already!
After the Oakland race I talked to Austin Stroupe, who most people have probably forgotten was battling for that Lites East title last year. After he crashed out of the series in Houston last year, he hurt himself again trying to come back for RedBud. Seems like forever since Stroupe has raced, but this year he's been showing speed on his Rockstar/Valli Yamaha.
"First off all, I was hurt for eight months, and I got a deal going late with Valli, and I still had some problems with my shoulder," explains Stroupe. "I was riding outdoors by middle of November and jumped into supercross in December. My plan wasn't to come back until the fifth round, but the more I rode and the better I did, I decided to come to the races and do practice. But I wanted to get out of the unseeded practice, so I rode a main event to get some points. So now I'm racing every weekend as part of my training, just trying to get prepared again. I've been getting good starts, and when you're up there, it's kind of hard to just ride around. Like this weekend I was fifth for ten laps. Sometimes I kind of wish I would get a bad start so I could just ride around in the back for twenty laps!"
A few years ago, Stroupe had a Monster Energy Pro Circuit Kawasaki ride and won a supercross and a motocross in his rookie year. It's been tougher since then.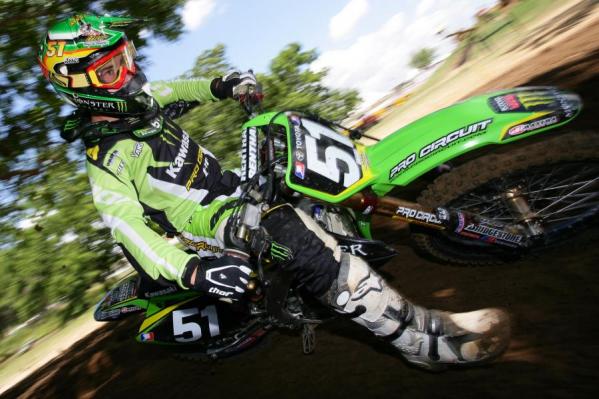 Not long ago Stroupe was the "next" Pro Circuit superstar.
Photo: Simon Cudby
"I'm just trying to turn things around, change a lot of things about me, be around more, be more into the sport," he explains. "I'm getting older and I've been through a lot, but I feel like I've turned a corner."
That's a wrap on our coverage from Oakland, and lock in our Thor Race center at www.racerxonline.com/race-center to get each and every update from Anaheim all weekend.
Now onto Matthes,
Looks like this weekend Kawasaki will finally have their fill-in rider for the injured Jake Weimer as Frenchman Fabien Izoird has landed on the shores of America and rode the bike this week. By all accounts he looked fine and let's not forget he rode here last year and made some mains. I've seen Izoird ride the last two years at Bercy as well as early last year, and in my opinion, he will be a main event guy.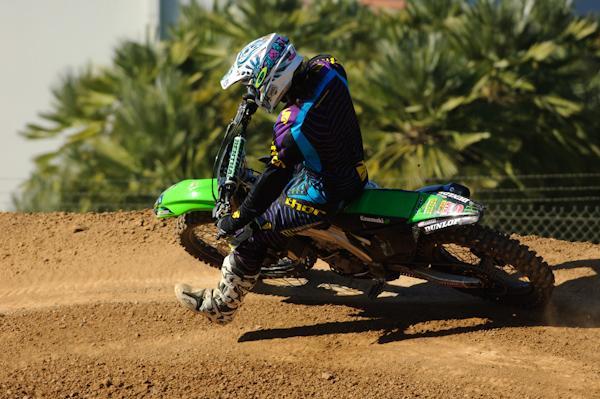 New Kawi rider Fabien Izoird rides yesterday at the Kawasaki track.
Photo: James Lissimore
What a sequence of events the green team had in filling the spot. Generally you would think guys would be stepping over each other to even fill-in for a factory like Kawasaki. The increased exposure you get for your sponsors as well as the potential to gain some spots makes it a no-lose proposition most of the time. At first the team tried to get old fill-in rider Jake Moss, but he crashed and hurt himself. Then it was Scotsman Billy MacKenzie, but he too hurt himself. The next man up was Gregory Aranda, but then he turned it down due to not being properly prepared. There was some talk about Matt Lemoine, but I heard he turned it down because he wanted to focus on the SX Lites East series, which starts up next weekend in Houston.
This was now getting ridiculous and rumor had it that Kawi was going to pull the first spectator that Mike Fisher saw that had a jersey on out of the stands to see what they had. Well, that didn't happen. It's now Izoird's turn to see what he can do with the fire-breathing beast of a 450.
Another guy making his debut--but a little more under the radar than Izoird--is Canada's own Kyle Beaton. One of the yearly favorites for Canada's MX2 (250) title, Beaton has struggled with injuries the past two years while riding for the Blackfoot Yamaha team. He also hasn't done supercross for the past couple years as Blackfoot prohibits its riders from racing the indoor stuff down south. Well he's now on the Leading Edge Kawasaki team for 2011 and ready to try his hand at A2 and San Diego.
Thanks to his Monster Kawasaki affiliation up north and thanks to Mike Fisher and Kurt Rood at Kawasaki, "KD Beets" has gotten to ride at the Kawasaki SX test track which has been a big help to him. Rumors have him riding pretty good as well as he jumped some quad at the track that Wilson has only done a few times. Beaton has a bit of a history with Kawi stars Dean Wilson and Ryan Villopoto as he's stayed with the Wilsons in California before as well as hung with Dean when Dean was more Canadian-based. As far as RV, Beaton grew up in British Columbia and raced RV (who's from Washington State) many times over the years in Canadian arenacrosses on minis.
Last time Kyle raced supercross, he made three out of the four main events he attempted so this weekend look for #134 in your program.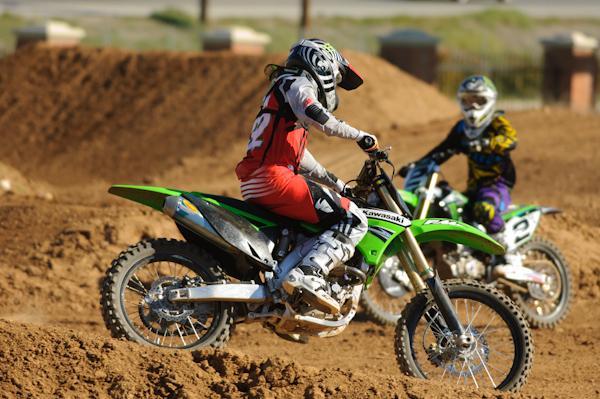 RV frantically tries to catch Kyle Beaton yesterday at the track.
Photo: James Lissimore
Ok folks, that's been your weekly Canadian moto update!
I had a busy week with the podcasts as Ping, Weege and I wrapped Oakland into a nice little bow and then I touched base with Jeff Ward to get his thoughts on the season. Wardy is a good guy to talk to, he never pulls the "I'm Jeff Ward and you're not" card like some guys do. If he agrees or disagrees with you, he generally has a pretty good reason behind it and he's put a lot of thought into an answer. If he doesn't know something, he just admits it. There isn't much of an ego on the guy at all, but I wouldn't blame him if he did have one.
And then yesterday I called up Bob "The Hurricane" Hannah for a podcast which was pretty good, as you can imagine. Thanks to DMXS's David Izer for hooking that one up as the Hurricane and the boys in the ATL are pretty tight. Bob was pretty good and I knew we'd get on well when he insulted my hero Ross "Rollerball" Pederson within one minute of talking to him. Anyways, look for this show mid-week right here at Racer X!
This little show I do called the Pulpmx Show with co-host Kenny Watson had Wil Hahn, Ryan Sipes and Jason Thomas on this past Monday. We tried to get Wil to tell us who would win the east 250 series but he wouldn't commit to anyone. We all think Sipes signed too early and could've got a good 450 ride had he held out (although I correctly guessed that his agent Bob Moore tried to get him to do the GPs), and Thomas, well, he's a privateer in real life but he's definitely factory as an internet radio guest. Listen in this Monday as we hope to have another '90s moto night with Jimmy Button and Denny Stephenson as guests.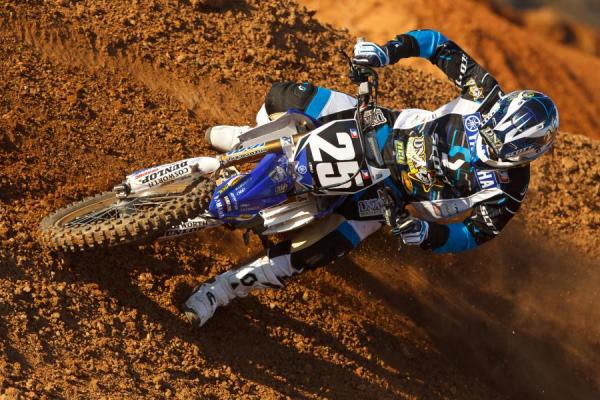 Sipes is contesting the East coast Lites series, which begins next weekend in Houston.
Photo: Simon Cudby
There's also a race this weekend in Anaheim where a lot of dudes will be wearing pink and going very, very fast on dirt bikes. After a two-week break to watch Monster Jam (Damon Bradshaw DNF'd Tampa by the way) and hang out with his family, THE
Tim Ferry
will be back in
Trey Canard
's corner to try to straighten out this LCQ'ing and sixth-placing thing that Canard has been doing. His words to me about coming to the race were "We're going to straighten Junior out."
Let's turn it over to Ping:
Races like the one Saturday night in Oakland could determine who wins this supercross championship in May. When Ryan Villopoto crashed in Phoenix he collected himself and held second place, losing only three points to Stewart. When James went down in L.A. he rebounded and minimized his points loss to Villopoto. So it was significant last weekend that Ryan finished fourth and lost the point's lead to Stewart. Success at the end of the year might be a result of minimizing damage on the nights you don't win.

The SX Lites class just got a little more interesting. I've been waiting for Broc Tickle to get his first win this year since the opener where Hansen stole the win from him by jumping over a… Oh, never mind. Anyway, he has had opportunities to win at every round and he hadn't capitalized on them until last weekend. He rode awesome and it will be interesting to see what this win does for his confidence.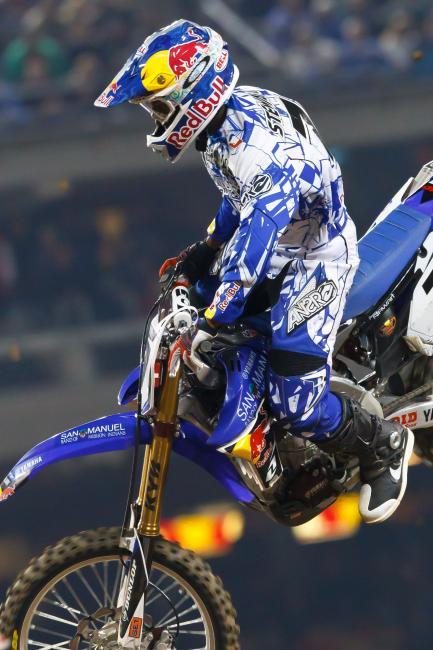 Stewart is looking to make it two in a row at Anaheim.
Photo: Simon Cudby
I'll be watching this weekend's race from the best seat in the house… the stadium floor. The Asterisk medic team is letting me come help out again so I can practice the things I'm learning in school right now. On a related note: Free IV starts and intubations at the Asterisk truck all weekend. RSI available. See you there.
It's breast cancer awareness night this Saturday which means every guy will get to release his inner pervert and wear a shirt that reveals his infatuation with mammary glands without being frowned upon. Take it easy, Pervy McPerverson, we know you love "boobies." This is actually an amazing cause so show your support by wearing pink and stop by the Susan G. Komen booth if you make it to the pits.
A couple months ago I ran a promotion for my Motocross 101 instructional DVD (which can be purchased right now at www.motocross101.com.) We drew a name from all the people who had purchased the video that month and the winner was sent a full set of Troy Lee Designs gear. After emailing this guy for over a month we finally got in touch with Dave Decker via the US Postal Service. He sent this to me last week:
Ping,
Apparently I won the Troy Lee gear giveaway that you offered last month, which I entered after purchasing your Motocross 101 video. I must say I have enjoyed your video immensely and have picked up some good knowledge I hope to put to good use this coming racing season. I especially have enjoyed your column (Ask Ping!), through the years, it is always informative and definitely always a hoot. Well, thanks for the gear (I hope it wasn't a scam?) In these poor economic times it's gonna be nice pulling up to the gate with a brand new set of gear. Now for fuel, all I have to do is drain the gas out of my riding lawn mower, weed eater, tiller…..

Dave Decker
It's not a scam, Dave, and your new TLD stuff is on the way with your name and number on it. Congrats!
For the month of February we have a new promotion. Go to www.motocross101.com and purchase a video to be automatically entered to win a SkullCandy prize pack including earphones, a tee shirt and some other cool swag. Plus, First Turn Films will throw in a bike setup DVD, Greg Albertyn's Factory Set-up Secrets, at no charge. And coach Robb Beams is still offering three free months of his Moto E Fitness program to anyone who purchases Motocross 101. If you haven't bought your copy, right now is the time. Do it. Do it.

Okay, we now return to our regularly scheduled feature.
I hope you have a DVR or TiVo for this one as the Anaheim II SX is set to air on SPEED on Super Bowl Sunday starting with the Lites class at 5:00 p.m. Eastern, followed by the AMA Supercross class at 6:00. So if you're not into watching the Steelers beat down the Packers in Super Bowl XLV, tune into SPEED for SX!
Speaking of the Super Bowl, here are some industry predicitons for the Big Game on Sunday: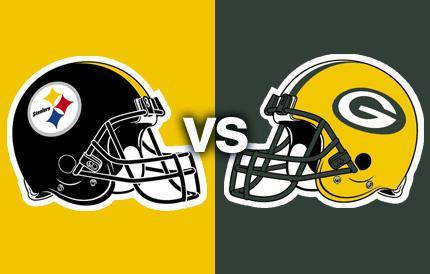 DC – Racer X: Pittsburgh 27 - Green Bay 14
Bryan Stealey – Racer X: Steelers 23 - Green Bay 20

Pete Martini - Racer X: Pittsburgh 27 - Green Bay 24

Weege – Racer X: Giants 20, Bills 19. (I just keep reliving that one.)

Steve Matthes – Racer X: Steelers 31 - Packers 24 (I really believe the Pack is going to win and betting that way but I love my Racer X job!)
Chase Stallo - Racer X: Packers 24 - Steelers 21

Andrew Fredrickson - Racer X: Packers 24 – Steelers 17

David Brozik – Racer X: Steelers 24 – Packers 21

Mike Fisher – Racer X: Steelers 27 - Packers 20

Jerri Woolen - Racer X: Steelers 21 - Packers 6

Billy Ursic – Racer X: Steelers 20 - Packers 19

Big Bob Williams - Racer X pianist: Steelers 31 - Packers 17

Simon Cudby - Racer X: Lakers 108 - Man Utd. 2
Heather Moebus - Racer X: The yellow team will win, 2 digits to 1 digit.
Alissa Murphy - Racer X: Steelers 31 - Packers 22
Jason Hooper - RacerTV: Packers 35 - Steelers 28 (The 'Stillers' will probably win, but the Ravens fan in me won't let me pick them.)

Tim Cotter - MX Sports: Steelers 28 – Packers 27
Jeff Canfield - MX Sports: Steelers 24 - Packers 21

Tim Cryster RX Virtual Trainer: Packers 41 – Steelers 31

Shawn Norfolk – Troy Lee Designs: Packers 20 - Steelers 16

Danny Dobey - One Industries: Steelers 24 - Packers 17

Ricky Carmichael: Packers 27 - Steelers 24

Reasoning: "He's sick of hearing about how good the Steelers are from Bevo and Cernic."

JH Leale - RC Racing: Packers 24 - Steelers 17

Jeff Cernic – Cernic's Racing: Steelers 34 - Packers 31 (Overtime)

Bevo – Scott Sports: Steelers 24 - Packers 21 (Hines Ward last second touchdown to win.)

Tim Boryk - MX Entry: Packers 27 - Steelers 17

Kim Parks - PMP Sprockets: Packers 24 – Steelers 14

Ryan Holliday - Kawasaki Team Green: Steelers 34 - Packers 17

Johnny O'Hannah: Packers 34 - Steelers 31 (I'm not watching it because the Patriots aren't in it. I would rather sit and watch Kevin Windham's facial hair grow for three hours.)

David Izer – DMXS: Steelers 23 - Packers 20

George Quay - Pro-Action: Steelers 24 - Packers 19

DJ Korzen - Pro-Action: Steelers 31 - Packers 28

Lou Lopez - Parts Unlimited: PACKERS!

Tim Ritchie – RedBud: Steelers 21 - Packers 17

Amy Ritchie - RedBud: Steelers 21 - Packers 17

Dano Legere - DVS Shoes: Packers 38 - Pittsburgh 34

Jeremy Garges - Twin Air : Packers 28 - Steelers 10

Randy Richardson – Michelin: (I predict the commercials will be entertaining. Other than the Motocross of Nations, team sports suck. Though I'm not a "sports fan," I am very thankful for all the baseball / football teams. Without them, we wouldn't have nice stadiums for supercross.)

Gene Stull - Stull Racing: (I think the 'Stillers' will win 24-21. Bring that crown dahn tahn!)

John Knowles - Scott Sports: Steelers 27 - Packers 20

Li'l D - FMF Racing: (I think it's going to be Pittsburgh. They are just too tough on Defense and Ben seems to be throwing waaaay too much heat! )
In other news:
Here's an interesting article where UFS Middleweight fighter Dan Miller compares mixed martial arts to Supercross:
http://www.therugged.com/featured/dan-miller-talks-similarities-in-mma-supercross/
Here's a weekend treat to check out: A mix video from the 1988 125cc Grand Prix of Spain, featuring Jean-Michel Bayle, Cagiva-mounted Davey Strijbos, and American ex-pats like Mike Healey and Bob Moore.
http://www.youtube.com/watch?v=FhIWGVzJ5Rg&feature=related
I mention this because JMB will be at the races this weekend, as a guest of both the new JT Racing and the gang at Feld, who hooked their '91 AMA Supercross Champion up with some Knothole Club tickets.... Wow, it's been twenty years since Bayle won all three titles here: AMA Supercross, AMA 250 National Motocross, AMA 500 National Motocross.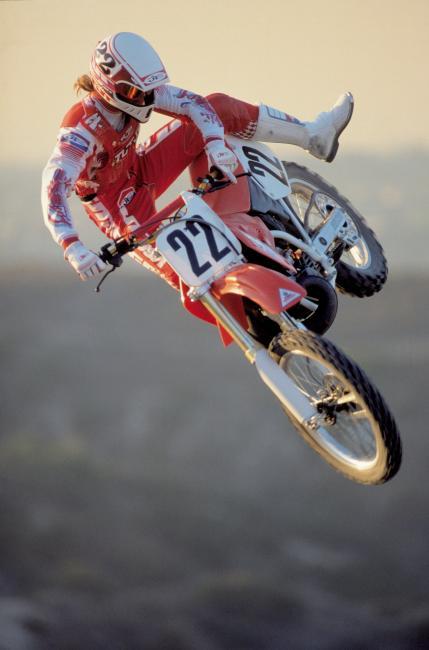 JMB throwing down the one-footer.
Photo: JT Racing
Here is an interesting note from Oakland:
Chad Reed
put down his fastest lap of the night 48.099 (third fastest overall) on the 20th lap...That's how he tracked down Dungey.
Our condolences go out to Asterisk's Tom Carson, who just lost his mother this past week.
Here is one rider we didn't have on The List: 10 Best AMA Rookies Ever, Bob Hannah. Here is his Rookie Photo from Modern Cycle – The Racing Magazine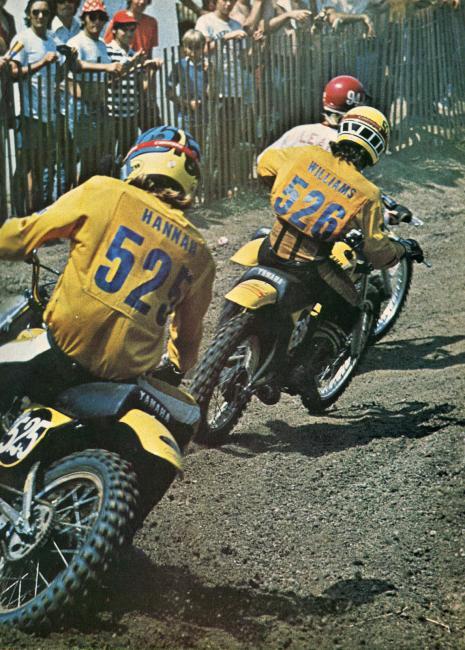 Have you heard of the rock band Main Event yet? If not, then today is your luck day. Privateer Supercross racers and brothers Daniel and Vincent Blair have just returned from the studio and have released a new album on iTunes called "Hiatus." The band put out their first album in 2006 but in 2008 decided to take a break from music and focus on racing. Daniel went on to finish 9th overall in the Lites East Supercross Championship in 2009 while riding as a replacement for Brett Metcalfe on the GEICO Powersports Honda team. But this past fall the brothers decided to get back in the studio and record again.
The new music has had a great response from the motocross community and is drawing major attention from a few highly respected producers, managers, and publishers in the music industry. Their song "Are You Happy" (http://www.youtube.com/watch?v=OCHEGOwKuDk) is also gaining momentum on a few national radio stations. The band is unsigned and the brothers have done everything themselves. Daniel is the vocalist, and Vincent plays guitars, but on the new album Vincent also recorded all the drums, strings, and bass.
Their songs have been used by the Racer X Films crew many times as well as in the On The Pipe moto vid series. The sound of the music is hard rock with some influences from bands like Bullet for My Valentine, Papa Roach, and Rise Against, as well some older bands like Iron Maiden and Van Halen.
We also just received word that Brett Metcalfe will be using their song "The Fire Inside Me" for his rider intro in opening ceremonies starting this weekend at A2.
Support these guys by picking up their new music on Itunes for only $5.94 http://itunes.apple.com/us/album/hiatus-ep/id416889502
You can also check them out at:
If you have yet to see the new 2011 Spring lineup from ONE Industries check out this video they sent over.
Our friend Daniel "DanDunes" Lamb has posted another event preview, which you can check out right here:
http://video.lpmotocross.com/friday-feature-anaheim-ii-sx-preview
And our buddies from DMXS Radio sent us this, pretty cool idea, so get ready to go off!
Toll Free 1-855-HEY-DMXS Vent Line. It's a 24/7 line set up to let folks call in and bitch, praise, complain, throw out eff-u's, or even marriage proposals. The best, funniest and most original submissions will be featured on the show each week. You can remain anonymous or claim your glory, either way let's see what you folks have. Give us your best shot.
Reminder: Subscribe or renew now and you will be entered to win a slot at Ricky Carmichael University on March 7, 2011! One lucky reader will get free admission to RC's school and the first 500 orders also get an autographed Ricky Carmichael die-cast collectible car!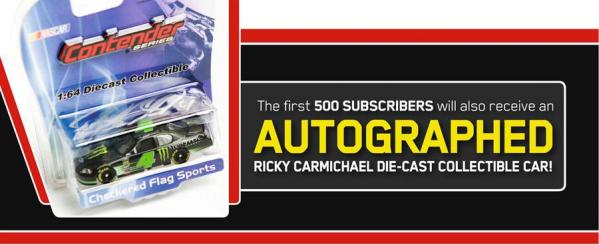 That's it for Racerhead. We'll see you at the races. Here we go, Steelers, here we go!