Angel Stadium
Anaheim

,

CA
Anaheim 2 (A2)
Monster Energy AMA Supercross Championship
Anaheim 2 is the new Anaheim 3! Yup, this weekend normally marks Monster Energy Supercross' third visit to Angel Stadium, but Los Angeles' Dodger Stadium took up the old A2 spot, which means we're only racing for the second (and final) time this year in Anaheim. Things could be a lot different than they were a month ago when this building hosted round one of 2011. Here's what to watch for:
1. Pink is in: Well, literally Pink, the singer, will be in the Dodge Motorsports Hart and Huntington pits with her husband Carey Hart. But pink, the color, will be everywhere. Anaheim 2 is the Pink Race for Breast Cancer Awareness. Look for teams and riders to bust out (pardon the pun) some cool pink livery, including graphics and gear. The stadium will be covered in pink banners, and you can expect fans to come dressed in pink, too. It's a cool look for one weekend, but beyond that, there's a real reason for all of this—lots of donations are made to the Susan G Komen Breast Cancer Foundation. Cancer is something that has had an impact on just about all of us, so if you're going to the race, donate when you see the pink booth in the pits.

2. Can Stewart start streaking? James Stewart has proven a few things this year already. He appears to be back 100 percent from a wrist injury. He's fast enough to win races again. His team is in order and his bike is working well. The desire is still there. All of the pieces fit, but there's just one major part of his pre-2010 self that hasn't happened yet—a win streak. Clearly James is still getting his racing legs back under him after a long layoff, so he's only going to get better from here.

3. Can RV stop it? Let's just be clear on this: so far, no other riders have demonstrated that they can go as fast as James Stewart and Ryan Villopoto this year. Someone else could step up, but right now JS7 and RV2 seem just a smidge faster than the rest, so Stewart building a win streak and maintaining the points lead may hinge on Villopoto's performance. We didn't get to see them settle it in Phoenix, Los Angeles or Oakland due to crashes. This could be the race we're hoping to see.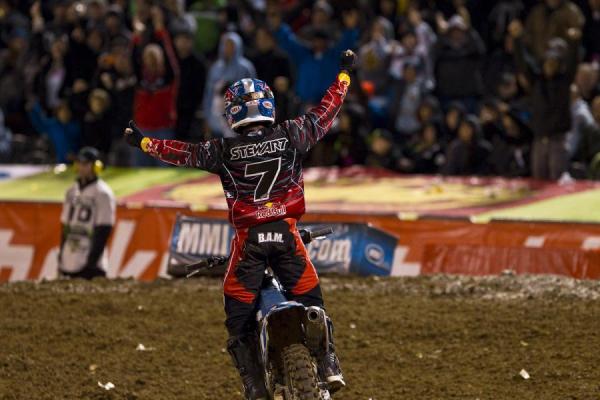 Will Stewart be able to put together a win streak?
Photo: Garth Milan
4. The time is now for Dungey: Stewart and Villopoto came into the season after big injuries and long layoffs last year. But watch the races, and you'd think Ryan Dungey, last year's champ, is the one racing himself back into form. He's been fast at times, and consistent all the way, but he's not quite as aggressive as Stewart and Villopoto at the moment. That duo is quickly building a points gap on the champ. How quickly can he respond?

5. Chad Reed needs another star: We finally saw what the 2011 edition of Chad Reed was capable of in Oakland, when he got a good start and battled Dungey to the last corner to snag second place. So now Reed is officially a player again. Will he be on the box every week like he used to be? We'll find out Saturday.

6. Hansen under pressure: L'il Hanny came into the year with momentum from the Australasian Monster Energy Super-X Title, and he promptly won the first two rounds. Then he crashed after running into Cole Seely in LA, and got beat on a slippery, gnarly track in Oakland by his teammate Broc Tickle. Now the kids are feeling it and Hanny is going to have to take the momentum back.

7. Tickle me fast: It won't be easy for Hansen, because Tickle wasn't far off of him at Anaheim 1 or Phoenix, and now he has a confidence boost from his Oakland win. Tickle will have to prove he can beat Hansen straight-up on a dry track to really put in a title run, but it's something he may be able to do. Especially if he eats his lucky Chipotle meal during the week—training be dammed!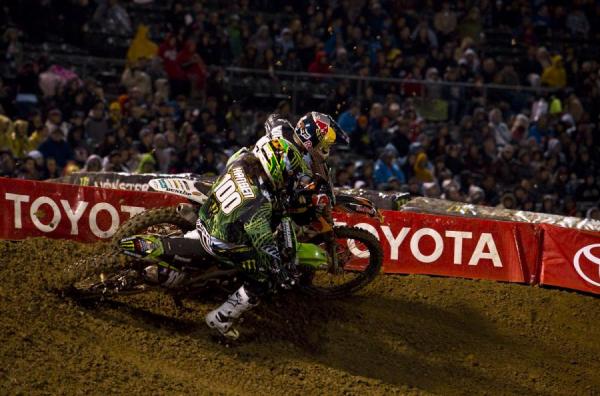 Can Hanny regain momentum in Anaheim?
Photo: Garth Milan
8. Tomac's turn? Ze German, Ken Roczen, was the rookie that had everyone talking after showing crazy speed in Anaheim and Phoenix practice. The racing has been rough on the KTM kid, though. Meanwhile, Eli Tomac has been quietly building a great season, and after grabbing some podiums, looks poised to be the first rookie to win.

9. The next guy: The big four--Stewart, Reed, Dungey and Villopoto--took the top four spots in Oakland, and Trey Canard has proven he can run the pace when he gets a start. Is anyone else ready or capable of stepping up? So far we've seen flashes from riders like Justin Brayton, Brett Metcalfe, and veterans like Kevin Windham and Ivan Tedesco would like to be there, too. One of these weekends they'll get their shot. But will they be able to take advantage.

10. Something extraordinary: After an injury-ravaged 2010, this year is already a success since just about every major contender in the SX class, sans Josh Grant and Jake Weimer, is still healthy. But besides a ten-lap slugfest in LA, we haven't quite seen the mega-battle we want yet. And so far, very few ill words have been spoken. Which comes first? The dramatic race for the win? Trash talk? One of the contenders making a mistake and losing major points? You have a feeling something big is going to happen soon.