Angel Stadium
Anaheim

,

CA
Anaheim 2 (A2)
Monster Energy AMA Supercross Championship

In yesterday's Going for the W profile on Chad Reed, we touched on his impressive career podium finish percentage. But Chad collected just one podium finish in an injury-riddled 2010 season, and has just one more four races into the 2011 season.

His runner-up ride in Oakland could be the start of a run of more trips to the box, but even if he fights his way into the top three in every race for the rest of the season, he'll only be matching his own ridiculously high standards.
Here are Chad's podium stats since joining the 250 (now Supercross) class in 2003:

2003: Podium finish in 14 of 16 races
2004: Podium finish in 16 of 16 races 
(The AMA record book shows Reed received zero points in Dallas due to a penalty for illegal fuel. But he did finish on the podium in that actual race)
2005: Podium finish in 14 of 16 races
2006: Podium finish in 14 of 16 races
2007: Podium finish in 15 of 16 races
2008: Podium finish in 13 out of 17 races
2009: Podium finish in 16 out of 17 races
2010: Podium finish in 1 out of 6 races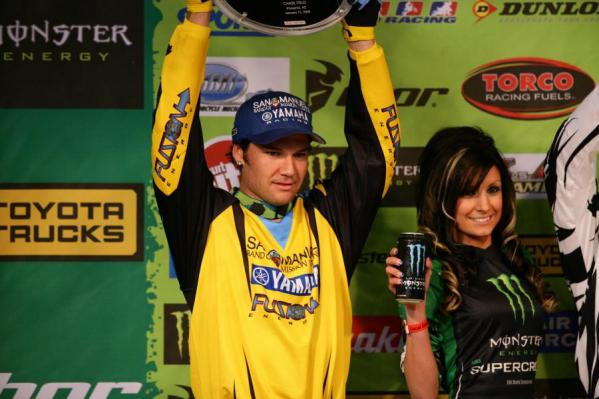 Will Reed's podium dominance continue in 2011?
Photo: Simon Cudby
Let's do some math. From 2003 to 2009, Reed landed on the box in 89.4 percent of the races he entered, darned near 90 percent. Even throwing in 2010, his percentage is still 85.8 percent, and with one podium in four rounds this year, his current average sits at 83.8 percent.

In a field as stacked as it is this season, there won't be any free passes to the podium for anyone. Is Reed going to be able to push his percentage back up toward the 90 percent mark, or was Oakland just a retro look at the box? We'll find out soon enough.