Los Angeles, CA
Los Angeles
Monster Energy AMA Supercross Championship
The fans finally got what they wanted to see in Monster Energy Supercross. A battle. Saturday night's Los Angeles race was simply as good as it gets, with
James Stewart
,
Ryan Dungey
,
Trey Canard
and
Ryan Villopoto
scrapping for the lead. There were 41,000 people screaming from the stands, and many, many thousands more watching, yelling and screaming at their TV sets at home.
But when Villopoto won, he prevented 19 other riders from enjoying the battle. James Stewart, for example, wasn't one bit excited about the race, because he finished second after leading a whole bunch of laps. You don't get great battles like this one without a healthy, motivated pack brimming with confidence. No matter how fast the rest of the pack was going, he believes this race was his.
After the race, I caught up with Stewart to get his take on the battle. Was it as fun for him as it was for the fans that were watching?
"It was a loss," he said, clearly bummed over the outcome. "So it wasn't the funnest race I've been in. But we got to battle. Hey, it's my third race back, and a third a first and a second, at the beginning of the year if you had told me I would get that, I would have taken it. But when you're out front leading the race, it's just very, very tough to take a loss like that. I'm just going to go back and do my program. I know I have it. I know I'm okay. But I think I'm just a little hot headed right now because I gave one away again."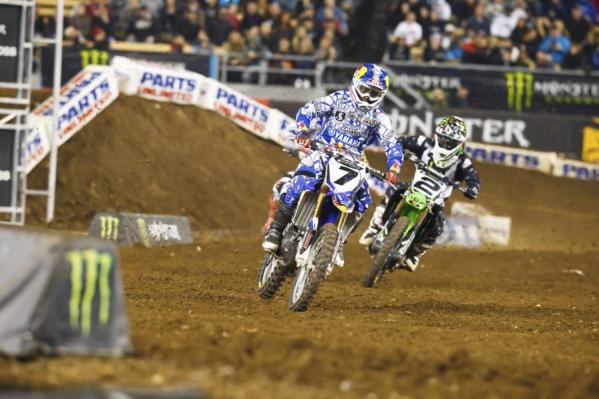 Stewart held an early lead over Villopoto, but a mistake would cost the number seven.
Photo: Simon Cudby
Yes, Stewart did crash while leading, washing the front end out on his San Manuel Red Bull Yamaha and handing the lead to Villopoto. But things weren't exactly going to plan before that happened. Stewart got into the lead on the third lap, but by lap 10 the pack was still on his wheel. Normally, once Stewart gets the lead, he simply takes off. But this time, just like Phoenix last week, he couldn't shake everyone.
"I made a mistake in the whoops one lap, and I really slowed my pace down," he explained. "And I don't know which line was slower, the outside or the inside, with the triple leading to the finish, and Villopoto ran it in on me. That was actually the best thing that could have happened, it actually got me going. I started pulling that gap out a little bit, but then I just lost the front end. Those guys took off and I had to regroup and catch them. I got back to second, and man, I was going to give it one last big effort to try to catch Villopoto. I was catching him, but then I made one big mistake in the whoops and almost lost the front end again. So I was like, I am going to have to take what I got tonight."

Stewart would salvage second in LA. But he wasn't happy about it.
Photo: Simon Cudby
For most, salvaging second after a crash, against a field that's riding this well, would be victory in itself. But Stewart isn't interested in moral victories. He wants the actual W. And he believes he was going to get it on this night. He ended our chat with complete conviction when I asked him if he would have won if he had not gone down.
"I would have won," he said.
"I would have won the race. It's just that I was not riding that good at the beginning. He [Villopoto] rode good, and Ryan and Trey were on it. I think anyone would be as mad as I am right now. When you're out front and you give one away, or let it go…I'm not going to sit here and lie: I should have won that race."