Los Angeles, CA
Los Angeles
Monster Energy AMA Supercross Championship
Hard to believe that the rider who actually owns the number-one plate is the one who needs to make slow and steady progress to get into victory lane, but that's the plan for Ryan Dungey right now. He was a little off the pace last week in Phoenix, and he was a lot closer in Los Angeles. After the race, we found him near the podium, and while it was a better night, you can tell Dungey won't really be happy until he wins.  How close is that to happening?
Racer X Online: How do you consider this night? It was obvious progress, but not the result you want. So what do you think?
Ryan Dungey: Overall, it was good. Not the result we wanted, because the number one spot is the goal. But some good steps in the right direction for us. This week, we were able to take a lot in and learn a lot, not just with bike setup, but about myself, too. There were a few areas where we found improvement. So at the end of the day, you have to progress, and I'm still thankful I'm on this team where we can do that. But tonight, and all season, I really want to be a front runner, so I need to do what I need to do to be there.
It looked so much better. Your number was finally popping up on the qualifier board, you won your heat, you had good starts….
Yeah, definitely a step in the right direction. Practice was better for sure, we were able to get into that mix, but I think I just need a little more time. Just need to keep my head down keep a positive attitude.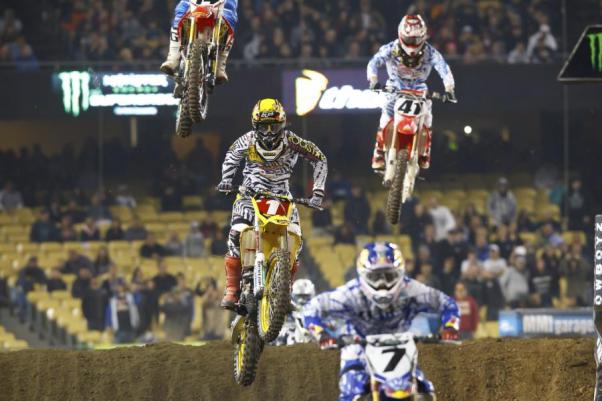 The Big Four battled for the first time all year in LA.
Photo: Simon Cudby
Well, the other guys you're racing, it was easy for them to make changes and try new things before the season because they didn't win the title last year. How hard was it for you to make changes for 2011, since 2010 went so well? Was it tempting to not change anything?
Well, each and every year we make changes, really, each and every week we make changes, so that's just the way things are.
So you're not going with your 2010 setup?
No, absolutely not. A lot of the riders will tell you, the factories can do so much for you and change so many things. There's a lot you can do, but you have to be patient, it doesn't happen immediately when you have so much you can change.
Okay let's talk about tonight's race. You led for awhile, and you got to battle James. When was the last time you really got a chance to even race the guy?
Well, last year at Anaheim 1, so a year ago, and then a little at Unadilla. It was good to be able to put in a battle with those guys, I just came up short. The track was tough tonight, very technical. But at the same time it was an awesome layout. You really had to be careful about protecting your lines. When I got the lead early, I wasn't able to get quite far enough out to ride my own lines and open it up, I had to protect. So there was a little cat and mouse. But credit to Ryan and James, they rode awesome tonight.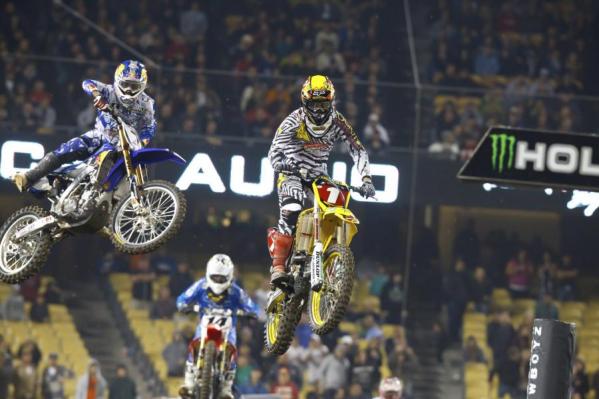 Dungey and Stewart banged bars in LA, with Stewart coming out on top.
Photo: Simon Cudby
When you were behind James, in second, he wasn't pulling away much. He would get maybe a second or two, then he would make a mistake and you would close back up, then he would get it back again. Where you feeling good in that spot, maybe around lap eight or so, when you could see him? Did you feel you could still win it?
Yeah, absolutely. I was right behind James around the halfway mark, and then Villo obviously came up on us. So at the same time I was trying to get James and trying to be cautious about not letting Villopoto run it in. But that's racing. I tried to make a pass around lap 14 or so, and I lost my rear. I lost a lot of ground, that was a big one right there.
The fans, this is the battle they all wanted to see. It was awesome and they're probably all pumped up right now bench racing with their friends. But I can tell, by looking at you right now, that you're not thinking it was awesome, because you got third.
Well, yeah. You surround yourself with good people because you want to win. You work hard during the week to win. And to limit the damage on bad nights. I don't think third is a bad night, by no means. I mean, at the end of the day you have to be happy that you're walking out of here and looking forward to the next weekend. I guess you have to be happy sometimes to just have another week to do better.
But you're a competitor!
Yes! It just is what it is. You watch the tapes, you learn from it, you try to apply what you've learned and you leave the rest behind. That's what we're gonna' take from this.