Los Angeles, CA
Los Angeles
Monster Energy AMA Supercross Championship
We're still very early in this 2011 supercross season but so far GEICO Honda's Kevin Windham hasn't won anything besides the unofficial trophy of most popular rider on the tour. It's been a rough start for the veteran between crashes and poor starts. He's been on the verge of being right there and after the LA Supercross, I caught up to the number 14 after the race to talk about the night's race, his thoughts so far and what he needs to do to make one of these stadiums explode with cheers real soon.
Racer X: Kevin Windham, Geico Honda, talk about your main event. You were up there early…
Kevin Windham: Yeah, I was up there early. I'm just not riding with the confidence I need to at this point, but it was a good night for us. I felt like I had the pace, made a couple of mistakes, and this is one of those tracks where, actually all three tracks so far this year have been the type that you could throw a blanket over everybody's lap times. You could kind of freight train along and no one is really doing anything different, and the tracks seem to be fairly easy when we are doing everything, literally the second lap of practice-like everything. You know, Phoenix was horrible, I just kind of took myself out of the action there with the run-in with (Ryan) Clark.
I heard that was a nasty crash.
I felt it! (laughing) Yeah, yeah, so between all that, I just wasn't finding myself in the position I wanted. My team is trying to settle me down and talk me off the cliff, because this kind of stuff happens every year. The start of the season is just never good for me, and I thought we were going to be a lot better with the racing we did in Italy and Australia. But anyway, the night was something to build off of, and I'm looking forward to go to Oakland, hopefully it's a mudder!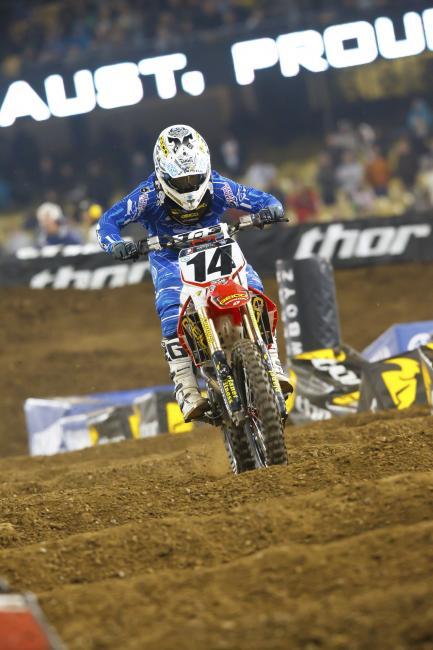 Windham is off to a slow start in 2011, can he turn it around?
Photo: Simon Cudby
What did you think of the track? I know you said it was easy, but what did you think of the whoops sections and just being here in Dodger Stadium?
It was good to have two sets of whoops, talking specifically about the whoops, and then to come have a supercross here, it's a really historic building, and listening to the list of things that have happened in this building, its a pretty short list. I'm definitely honored and privileged to be here. I thought the crowd was great, especially for a first time. It's a lot different out here on the west coast because people see motocross every weekend. Back on the east coast, my friends there, they don't think nothing about driving twelve hours to go to a supercross.
It's a slightly different crowd than Anaheim and they're only like, forty-five minutes away. So it was a different crowd here tonight, but still a good one and a good showing, especially for our first time here. Hopefully we didn't disrespect or damage the building too much, and will be back next year!
Was there one section out there that you noticed they were doing better than you, or was it just in the turns or what?
It's just everything. I mean, my scrubbing is horrible, I have the worst scrub, ever. I lose time on my jumps, I'm old-school, I go way to high. I'm also stabbing my corners a little bit, I just need to flow them. It's not any one section that I can look at a video and say "oh, ok, I need to do this different", it's just a little bit of intensity all the way around. But you know, unfortunately, that last second is the hardest one to get.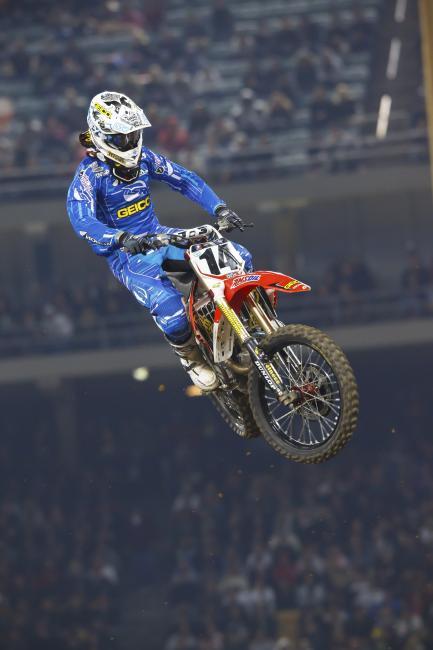 Will the Windham get a win in 2011?
Photo: Simon Cudby
You've been around a long time and seen a lot of riders come and go. What is this 2011 pace like? Is it higher than years past?
You know, I was not very good all thru the day, I'm not a good practicer -never have been. I come from an era when practice just was practice. I'm down with that, I always find a way to go a little faster in the main. But, unfortunately, that makes for a freaking long day and a real pain! It's like, all day I'm just fretting, can I get it done? Am I going to be able to get to that pace? And I felt like tonight in the main, I was close. So, that gives me something to look forward to.
I'll be honest with you, as far as going much faster than this on a dirt bike, some people say they are pushing the envelope, I don't even want to open that envelope! But it's so hard to go gracefully into the night, right? So I kind of feel like I'm in my golden years, my glory run here, but this sport sucks when you're not going well. And if they find ways to push it much harder, it's where you've got (Ryan) Villopoto tucking his front end. In three races, we've had three tucked front ends! We had it at Anaheim with Stewart, then Villopoto at Phoenix, and then Stewart back here. It's like they are on the edge, pushing the limit, and I know tucking the front end isn't that big of a deal, we can all get up from a tucked front end, but it leads to other stuff. (Trey's) Canards big crash, and all that stuff, and yeah, they are going as fast as you can possibly go. We've passed that era where we made speed in the corners, and now we're past that era where we are making it in the air. I don't know where to go from here, but I'd just like to try to catch them.
I can't tell you how many times as Ferry's mechanic, I was saying to everyone after practice, "Yeah, we've got KW covered today", and then it didn't happen. So you are absolutely right about the practice point.
Yeah, it's like I've never been a good practice guy and as long as I make the night show and get a decent start, I'll feel like I'm alright you know? (laughing) Because I know once I get to the main, then I should be fine. Even with that said, the bar is so high now, being fine really sucks you know? You've got to be great these days. But I'm enjoying the challenge of trying to get up there, and hopefully we can get it done.
Always nice talking to you KW.
Thanks.