Los Angeles, CA
Los Angeles
Monster Energy AMA Supercross Championship
The Kawasaki dominance of Monster Energy Supercross in the Lites class is over—the win streak ended at Saturday night's Los Angeles Supercross at the hands of Lucas Oil/Troy Lee
Honda's Cole Seely. Wait. Cole Seely? Yes. Just two years ago, Seely was a complete unknown in the privateer ranks, and before that, he had actually quit racing for a few months because he had stopped having fun.
Then came a breakthrough 2010 season where he became a consistent podium threat, and now 2011, where he won by leading wire-to-wire in LA. After the race, it seemed like 1,000 people were jammed under the TLD tent celebrating the team's first-ever AMA SX win. Seely was happy, but nearly at a loss for words about what he had done.
RacerXOnline: How good is that?
Cole Seely: Well, uh, I feel like I've been knocked out, and I haven't regained conciousness yet.
That good?
Yeah, that good. That pretty much sums it up right now. I can't even believe this is going on.
You've had one podium in your career, so to all of a sudden just get a win, that's a big leap. While you were leading, did that get to you? Were you getting nervous?
Yeah, I mean, I knew if I could just get a start….and I got an awesome start. So the first five laps were just so nerve wracking. By about lap six, I needed to completely regroup. Just remember what I had been working on the bike for the last few months, which is taking it easy on the bike, and not rushing into anything.
So you said you worked hard on your starts. And who was part of that start team you came up with.
Well, Jeff Ward, and my mechanic Rich. Jeff really helps us out a lot with the team. We just did tons of starts. We must have done a thousand each day!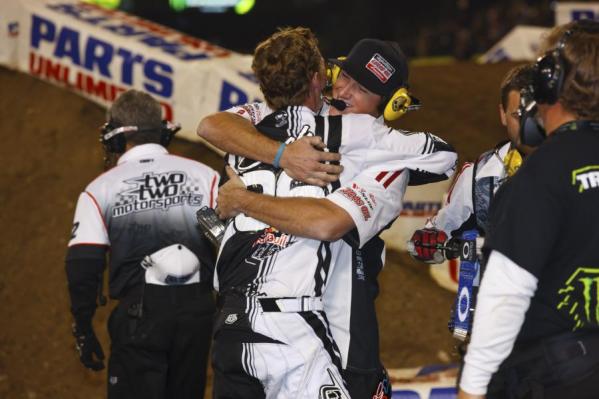 Seely scored the first ever win for the Lucas Oil/Troy Lee team.
Photo: Simon Cudby
So take us through the race. You got the holeshot. Then what happened?
Yeah, I got the holeshot, then Hansen tried to take me out. That's racing. Nice attempt. I made a few mistakes on those first few laps, but after that I smoothed out, and it actually came pretty easy.
A lot of people may not know your story. Where the heck were you two years ago, and did you think this was possible?
Um, I definitely didn't, then. It's crazy, I was on a team called Fun Center Suzuki. They gave me an opportunity when I first turned pro, and I'm thankful for them. Then this team picked me up, and I can't thank them enough. I really can't believe it, when I think about things back then, and now, I really just can't even believe it.
What's even crazier is, wasn't there a time, when you were an amateur, when you had given up and just quit the sport altogether?
Yeah. I quit when I was 17 for a few months. Then my buddy over here, Lance Coury, got me hitting ramps and stuff, and it started to become fun again.
"Dude, two years ago this guy was hitting ramps with me! That's all he was doing. This is awesome!"
-Lance Coury
That made the difference? You were taking it too seriously?
Oh yeah. It was just so hard not to get caught up in everything, riding for your sponsors, and my dad was putting a lot of pressure on me. I can't thank my dad enough, this second time around, he was like a totally different guy. He still gives me the support, but he doesn't put any pressure on me. Everything over here makes it easier, this is such a great team and we have so much fun. And Lance is a great friend, he keeps it fun, too. So I've come a long way in not that much time. I really, really just can't believe it.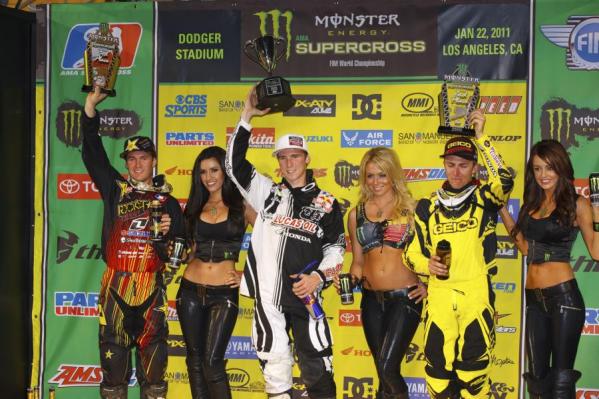 Seely picked up his first ever SX win in LA.
Photo: Simon Cudby
You've won a supercross.
I know! I've won a supercross!
This is this team's first-ever supercross win.
I know! Everyone is just so happy over here. They've just worked so hard, and I'm glad they gave me the opportunity.