The talk centered around the new venue for Monster Energy Supercross, and how it would play in LA. Local reporters were on the scene—one was literally on top of it when he crashed trying to ride a part of the track on Thursday morning. And one reporter for the Los Angeles Daily News raised a skeptical eyebrow about the event in a rather negative article you can read here.
Funny thing is, supercross in Los Angeles is far from a new phenomenon. In fact, Los Angeles is the ancestral birthplace of the sport, the host city of the first-ever supercross race, the 1972 Superbowl of Motocross (Superbowl spelled in one word, to avoid potential lawsuits with the NFL and its still relatively new Super Bowl game).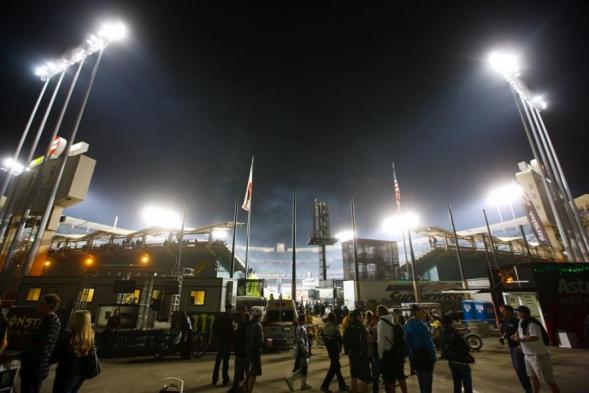 Nearly 42,000 fans welcomed supercross back to its home city.
Cudby photo
The original race ran in the venerable LA Coliseum. And by venerable, we can describe it like this: When Dodger Stadium opened way back in 1962, the Coliseum was already 40 years old. Legend has it that rock concert promoter Mike Goodwin sketched a diagram of a stadium motocross track on a napkin and went to work building what had not been built before.
Suffice to say the sport has grown quite a bit since then, and it even outgrew the old Coliseum, which hosted its last AMA Supercross race in 1998. The more modern digs of Angel Stadium of Anaheim (opened in 1966, renovated in 1998) are considered the home of supercross now—although the X Games paid tribute by hosting their Super X race at the Coliseum last summer. And there was that mostly forgotten 1999 event dubbed Summercross that only Matthes seems to recall.
A lot of supercross races have taken place in Anaheim, and the grass their still looks nice. But Anaheim is Anaheim.  AMA Supercross did not return to its birthplace for 13 years, until Saturday night, when Dodger Stadium opened its doors (and field) to non-baseball-related dirt for the first time. Finally, supercross had returned home.
Bringing dirt and dirt bikes into such sacred baseball ground may seem crazy to those outside the sport, but for those of us who grew up following supercross, it was just another walk in another park.
(And for a more positive look on the evening, check out this report by ESPN's Chris Palmer, a certified friend of the sport.)