You already know who won the race in LA. But there's more to the story than just the winner, and that's where 250 Words comes in to provide a second take on the night:
There are defining moments in each championship season, little things that end up being a major reason why a rider wins or loses a title. This past Saturday at the picturesque Dodger Stadium, I think Josh Hansen had one of those moments.
Hansen came into the race two for two in main event wins. Early in the 250 main, while running second, Hanny tried to force a pass on leader Cole Seely that, in my opinion, wasn't really there. It wasn't an opportune time to make it happen and he paid the price with a stall. That was it, 18 other riders zoomed by and Hanny was in dead last.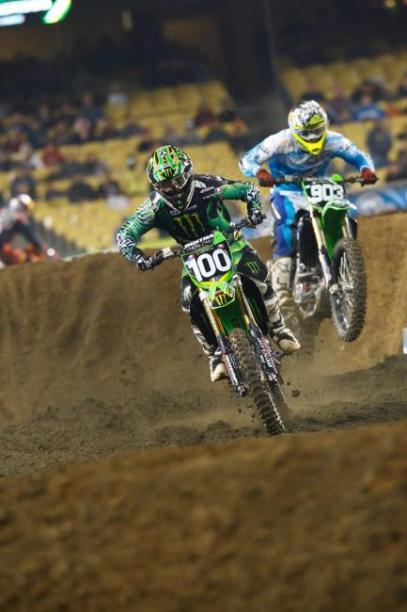 In LA, Hansen faced adversity for the first time this season.
Cudby photo
At this point some riders would have crumbled, their points deficit depleting by the second. But this is the new Josh Hansen. He fired up the Pro Circuit Kawasaki and got to work picking off rider after rider. There weren't really any more forced moves, he sliced through some of the best riders in the class and showed calmness and maturity that wasn't there even as little as a year ago. A year ago, he followed one mistake with another on his way to a sub-par season.
In LA, Hansen had the fastest lap time of the night and worked his way up to a fifth. Off the box, but a key moment in this title run. It's what you do on the bad days that counts and all in all, this was a good day for the 100.