Roczen is Top Performer at L.A. Supercross
The 16 year-old German sensation, Red Bull/KTM's Ken Roczen, impressed the crowd at Dodger Stadium as he put his KTM in the heat of the battle in both his heat and main event races.

The third round of the series was held at a new venue in the heart of downtown Los Angeles. Roczen was warmly welcome by the Southern California crowd after earning the third fastest lap time in timed qualifying and proving he was a main contender for the evenings competition.

One thing was apparent at the conclusion of this weekend: the German rider had learned how to start. Roczen had struggled with his starts the previous two rounds and that seemed to be a problem of the past as he almost holeshot the heat race coming around the first corner in 2nd position and he complimented that start with an equally impressive beginning to his main event.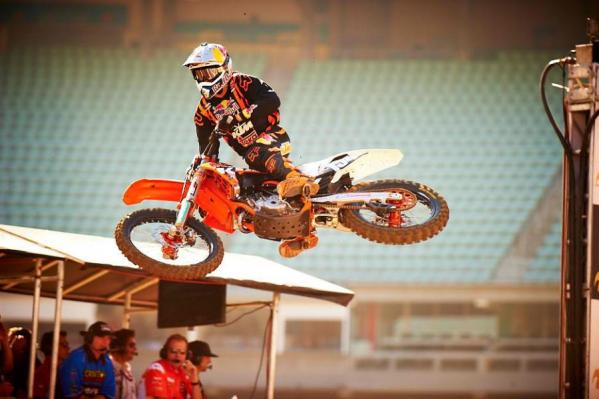 Roczen missed a triple jump on the first lap of his heat race as he sat in 2nd position which allowed Martin Davalos to make a pass. Roczen quickly caught back up to Davalos and early leader Nick Paluzzi. Both Davalos and Roczen passed Paluzzi on lap three and began to battle for the lead. With two laps to go Roczen remained in hot pursuit of the Suzuki rider. When the checkered flag flew Roczen was only half a bike length behind Davalos finishing 2nd in the heat.

Roczen put himself in good position in the main event as he jumped off the line in 2nd position behind holeshot winner Cole Seely. Roczen took an outside line a few turns later and allowed Josh Hansen to make a pass. Behind Roczen, a train of Lites riders closed in to create a five-man battle for the top position. Roczen was sitting in 3rd position early in the race behind Tomac when Kyle Cunningham came in the inside of Roczen before the finish line jump in a clear take out. Roczen had no where to go and fell straight onto Cunningham. Davalos who was in tow couldn't avoid the downed riders and also fell in the turn.

After the crash, Roczen remounted in 8th position. "After I went down, I rode a little tight and it took me a bit to get back into my rhythm," stated the Red Bull/KTM rider. Roczen's crash put him back with Josh Hansen, who had also had an early race accident. The two riders worked their way up to through the pack with a few position swaps along the way. At the end of the race Roczen had worked his way back into 6th position earning his best finish this season.

"I am okay with my result today. I am bummed about the crash because I put myself in a good position for a podium finish and once I crashed I could only salvage a top ten. The positive about the past few races is I am continuously learning and improving each race and feel that I will be inside the top three soon," remarked Roczen.

Next Event: Oakland SX – January 29, 2011

Overall Results Supercross Lites:
Ken Roczen – KTM

Ryan Marmont
Overall Point Standings Supercross Lites:
Josh Hansen – 66
Broc Tickle – 62
Cole Seely – 59
Ryan Morais – 55
Eli Tomac – 49
Tyla Rattray – 42
Martin Davalos – 40
Travis Baker – 35
Ken Roczen – 31
Nick Paluzzi –

30