Los Angeles, CA
Los Angeles
Monster Energy AMA Supercross Championship
It's the most wonderful time of the year!
Seriously, live it, love it, savor it. Dig it. Eat it up. Enjoy it. At this time of year, we're sitting in that rare sweet spot where anyone can win races, and we're still not sure what's going to happen every week. There's not enough evidence, and there's still so much room for improvement throughout the pack. Plus, the races are playing out in the MX media backyard in So Cal, so you've got just limitless videos, reports, blogs, interviews, podcasts, radio shows…so when something big does happen you've got 100 different people covering it, and even Twitter for backup.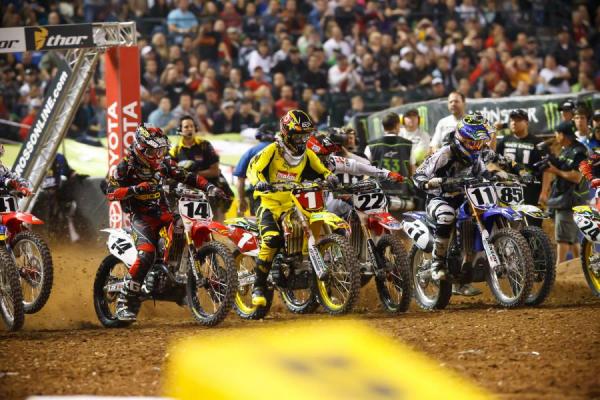 The time is now for the contenders to make their move.
Photo: Simon Cudby
This is when every fan of each rider has their best bench racing ammo saved up. You like Stewart? Throw in a "he's way faster than everyone else and you know it" fastball followed by a "Reed never beat him straight up" curveball. You like Reed? Go with juke of "he's just getting used to his Honda" move followed by the jive of "he's just waiting for RV and Stewart to crash it away" counter. Villopoto has the "he was clearly faster than James at Phoenix" and "he's in such good shape now with Aldon" factors on his side. Dunge? "He's the champ and he's only going to get better" gets you into the game, especially when combined with "he'll just have RC show him what he needs to do."
And if you're a fan of anyone else—Canard, Windham, Brayton, Shorty, 'Saps, Metty, Tedesco—whoever, you can argue that it's disrespectful to not include them in the arguments above.
Why are we able to bench race at such a fever pitch right now? Because the racing is never more wide open than it is at this point in the year. We have two races to make some judgments, but that's not enough to know anything for sure.
Round three is often the peak. For proof, I've looked back at round three over the last decade. Check out this list of great races.
2001: Ricky Carmichael beat Jeremy McGrath straight up in San Diego the previous week. McGrath comes to "his house" of Anaheim looking for revenge. And it's on, the duo battling back and fourth for 20 laps until MC pulls through for the win. It is McGrath's 72nd and last career win.
2002: Another one for the ages. Kevin Windham and Travis Pastrana led some laps, even throwing thumbs up to each other over the triples! Then K-Dub faded back, and Travis went over the bars—sadly, a recurring theme for both that season. Enter a Vuillemin/LaRocco scrap for the lead, with LaRocco ultimately fighting past DV to collect his first SX win since 1995. The fans went nuts, Cycle News wrote "One for the aged" on the cover, and then Pastrana landed on LaRocco a few weeks later and broke his arm. Ooops!
2003: Exciting by most standards but comparatively tame compared to the previous year, Carmichael takes his first win of the season and leaves with the points lead. I know RC is awesome and all, but almost any time he gets a win, it's not very exciting. Chad Reed was leading the points coming in, but crashes back to sixth. Darned rookie. Will Chad ever learn consistency? (Note: Yes, he would).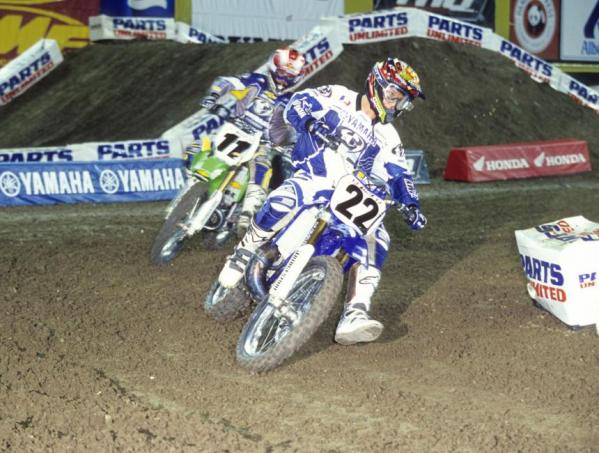 Reed would go on to learn a thing or two about consistency.
Photo: Simon Cudby
2004: The previous week's race in Phoenix set the stage for this one. Windham plowed Vuillemin off the track and won the race in Phoenix. The AMA gave him a 10-point penalty for rough riding—as far as I know the only time a rider was ever stripped of points for a block pass. Emotions were high heading into Anaheim 2. The race featured a superb three-way fight between Reed, Vuillemin and Windham, with Reed ultimately grabbing the win.
2005: Carmichael is back after missing the '04 season with knee surgery, and he battles past Reed to take the Anaheim 2 win. Admittedly the air was already out of the building for this one, since James Stewart crashed out of the series with a broken arm the previous week in Phoenix. Reed puts up a good fight for about 12 laps, but again, these RC wins are just pretty routine.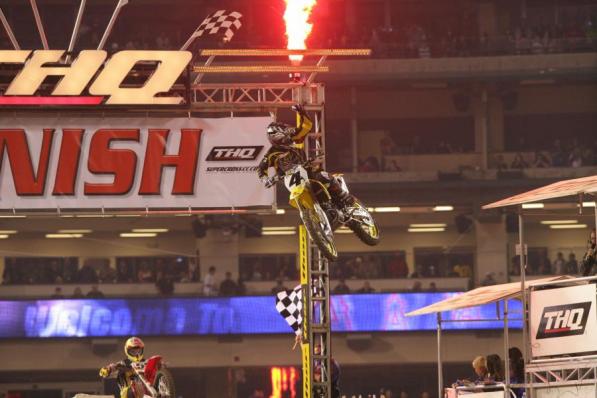 Carmichael returned in '05 to capture the title.
Photo: Simon Cudby
2006: In my opinion, the very best SX showdown ever between Carmichael and Stewart. Bubba led most of the way but RC stayed on his wheel the whole time. RC would gain time in the whoops, but Bubba would hold him back by scrubbing through the rhythm sections. With three laps to go, RC was all over him, and Stewart washed out in a corner and went down. It was such a good battle—you needed eye drops at the end because you could not blink during the main for fear of missing a pass or crash. It was so darned good even the Carmichael win was shocking!
2007: Okay, I take back what I said about Carmichael's routine wins. He's only riding a part-time season in '07 and doesn't race A2. Stewart wins with ease.
2008: Like 2005, the air was out of the building due to a Stewart injury. James pulled out of the series with a torn ACL, and Reed dominated. But what the racing lacked, the night delivered in other ways: this was the infamous SX Retro Night!
2009: A wild main event. Reed came into the race with all sorts of speed on his new Suzuki, while Stewart was struggling a bit on his new Yamaha. Reed crashed in the first turn, while Stewart had to battle with Windham and Ryan Villopoto. Every time Stewart made a charge for the lead, he would make a big mistake and let KW and RV back into the hunt. And Reed was coming on strong from last place, elbowing his way into second on the last lap and pulling within striking distance of Stewart as the checkered flag came out.
2010: Yet another amazing Anaheim 2. Stewart's nursing an injury after Phoenix (where have we heard that before?) but still goes for the win. Ryan Dungey and Josh Hill are surging. The three of them duke it out all night, until Stewart's wrist finally gives out, and then Dungey outlasts Hill to take the win.
So that's seven big hits and three duds in the last 10 years of round three. Would you take a great race 70 percent of the time? I would. That's why I'm counting on (blindly hoping?) this weekend's LA race delivers the goods.
As for Phoenix, I think we already know what happened there. James Stewart bolted up this traction control device to his rear wheel, hit the "auto pilot" button and let the bike do all the work. I mean, how else do you expect James Stewart to win a race, by actually being a talented rider or something?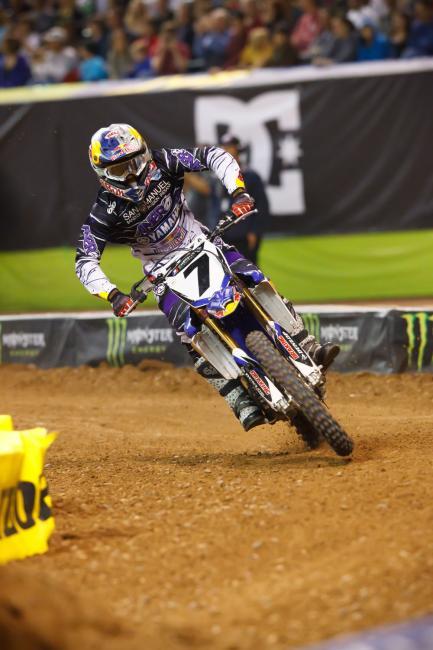 Traction control was a hot topic after Phoenix.
Photo: Simon Cudby
Okay, "traction control gate" wasn't real. The wheel sensor was there for data acquisition, but the potential for traction control is sitting in the ECU box that controls the EFI on any of these bikes. It would not be hard to set up a power curve that decides, "when RPMs increase at this extreme rate, back it down." In fact, ignition and gear position sensors have been doing this in rudimentary ways for a long time. The 1997 Honda CR250R had a system like this, and think of how lame technology was back then. Most of us didn't even have cell phones!
But there are many drawbacks to such a system. Sometimes you want to break that rear wheel lose in a corner. And panic revving just became more of a panic (imagine, even worse, if you had a traction control system that utilized the rear brakes to control wheelspin. Then you grab a handful in the air to try to get over a jump, and the engine thinks the wheel is spinning and applies the brake. Uh oh!). Point is, it's very hard to define what traction control is and is not. I do know that James grabbed a good start because he got a good start, not because of a sensor on his wheel.
And once he got that start, it was over, right? I mean, he's James Stewart, he's going to pull away.
Ryan Villopoto doesn't seem to understand. If I could show you a video clip right now, I would show you the 2009 Vegas main event, where Stewart had the lead but really just wanted to stay up and win the title. Along came Villopoto, who just wanted to win. RV attacked James. I mean blitzed it, hung it out, rode over his head, charged, attacked…he was wide open everywhere. Rarely do you ever see a dude so convinced that he's just going to catch and pass the JS7, but that was Villo that night, zero intimidation. Yeah, James was riding with other things in mind, but still, that's probably the first time I've seen someone make Stewart look mellow.
That's the way this Villopoto guys works. So he was second behind Stewart in Phoenix? No big deal, "those few tenths, there's pretty easy to go out and get" he said. A few tenths on Stewart are easy to go get? Do you realize Chad Reed has been looking for those tenths for like ten years?
Well, RV got 'em, but then his charge stopped. It looked like he was just waiting to make a pass, but he claims he didn't have any place to do it on this track. So he was just hoping James would make a mistake, and he went down instead.
The takeaway from this race is that Villopoto now thinks he can go and get Stewart, and Stewart is learning to be a little bit smarter. This should lead us to a great race this weekend at, what was it again? Round three?
(Note: It's early but I'm leaning toward Stewart in this series right now. He's proving he can ride smart, and you know there will be plenty of weekends where he just has the speed no one can match. This combo could make him one tough hombre. And if you're a big Stewart fan, you can just say that he lost Anaheim due to a bad start, and wasn't fastest in Phoenix because he didn't try to be. Any and all arguments are believable at this time of year.).
Trey Canard was impressive, too. Kid is the real deal in this class. Then you had a great Dungey and Reed battle for fourth. At one point Windham was in there, but he had a crash when he tangled with another rider (I believe Phoenix's own Ryan Clark!) and that slowed up the Dunge, too. Reedy snuck by, Dungey came back at him, and they went right down to the wire. Is Reed getting closer? Is Dungey really not a threat to the leaders? We'll find out this weekend at round three.
My apologies to Justin Brayton. Last week I wrote that JGR needs to build a time machine, launch JB into he future where he has his inevitable breakthrough race, then bring him back to the present day with confidence and set him loose. Well, Brayton told me he doesn't need the time machine and doesn't need the breakthrough—he's ready to contend now. And it looks like he is. He got a good start in the main, he fought and battled with the big dogs and didn't take any crap from them, and got sixth. Okay, he didn't beat Reed or Dungey, but he still rode to his potential. Too often we don't get to see Brayton's best due to a bad start in the main. This time he got the jump and showed he can run with the top guys. Definitely something to build on…er, JB doesn't need to build, he's ready now. Have I ever mentioned he was a high school wrestler? Don't get him mad.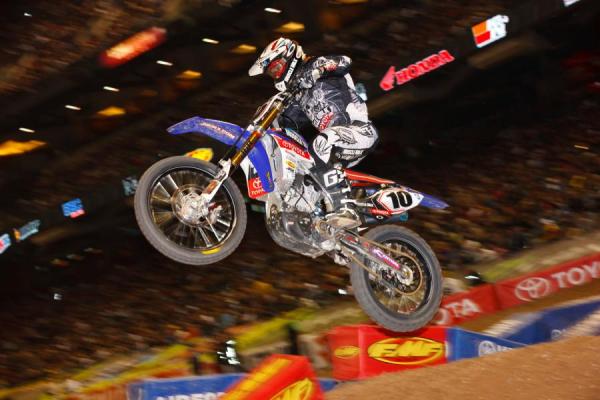 Brayton proved Weigandt wrong...again.
Photo: Simon Cudby
Mike Alessi didn't make the main event. He really didn't even move up much in the LCQ once he got into sixth place. Dudes like Friese and Boni and Jarred Browne had him covered. He was banged up front a great race crash, but still, just sayin.'
And I know Jeff Alessi did his family duty to make sure we started the season with some good Alessi drama. He, apparently, took Josh Grant out and jacked up JG's knee. But I didn't see it so I really don't know what happened. What excellent reporting on my part.
On the other hand, Andrew Short had a great ride in his heat race to take second. Now we finally saw what the 350SX-F could do. It's telling that Shorty battled past Ivan Tedesco in this one, because IT has been Shorty's yardstick since they were racing as amateurs. We've seen them duke it out countless times, from supercross and motocross lites, to their 450 days as teammates with Honda. Here they were battling again, so it looks like whatever team or displacement these guys run, they're in about the same spot.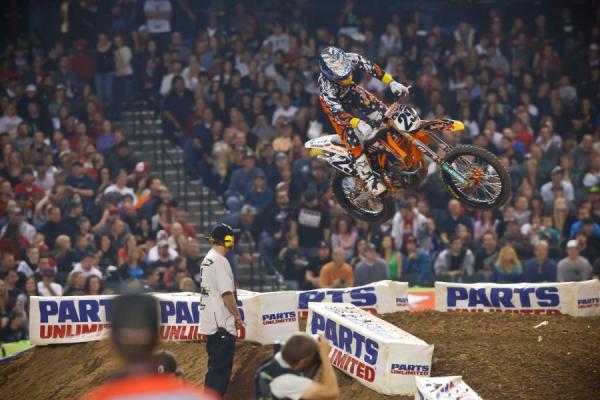 Can Short contend on the 350?
Photo: Andrew Short
In the Lites class, Josh Hansen won when Broc Tickle fell. Ken Roczen was bouncing all over the stadium, and Ryan Morias, who has barely been able to ride due to a big practice crash two weeks ago, dug deep for third. I also saw a few flashes of brilliance from Eli Tomac. I wasn't so sure about the excitement of this west lites division, but now I think the best is yet to come. Tomac and/or Roczen are going to bring it one of these weekends and the fans are going to be pumped.
Okay, that's it from me. Now, some help from you. Now that Steve Cox is no longer working for us, I'm the guy doing all the post-race interviews for this website. But I'm finding it really hard to actually find five minutes of questions to ask in a 5 Minutes With interview. Unless I resort to asking non-racing stuff, like zodiak signs or weather predictions. I need your help. Email me a few non-racing related questions and I may use some of them when I get to the 2:30 mark on an interview and don't have anything relevant left to ask. You know the address: jasonw@racerxonline.com
Thanks in advance for the help!