Los Angeles, CA
Los Angeles
Monster Energy AMA Supercross Championship
And we're back at it this week on the Observations from Phoenix SX brought to you by
BTOSports.com
where they have free international shipping on any order over $799! What a deal huh?
Phoenix has traditionally been the second of the series and always has a pretty good track. They throw some sand in there and make it a bit more technical than the opening round. I spoke to Chad Reed Racing's Chad Reed (ha!) and even he gave Dirt Wurx lots of props for the track so you know it was pretty good. Myself, I love the sand section, it got really rough and when the best riders in the world can't do all the obstacles every lap, then you have a good track.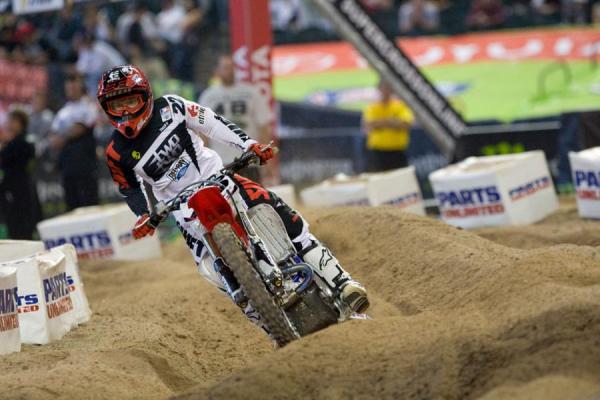 The sand section at Phoenix got rough as the night went along.
Photo: Matt Pavelek
It's been a long road back for James Stewart and he completed his journey when he crossed the finish line first this weekend. He rode a great race in grabbing the lead early and riding smooth. He made an uncharacteristic mistake in his heat race and lost the front end which I think affected him in the main event. It wasn't a track that you could just go balls-out on, it was too slippery for that. So James went out there and, although he got a bit of pressure from the "still ok to say he's rejuvenated" Ryan Villopoto, he forced Ryan into a mistake and cruised home for the win.
I guess I'm a little surprised that he's not taking the lead and completely checking out on everyone but maybe we're seeing a thinking man's James Stewart. Last week he also didn't force anything and rode a pretty smart race as opposed to the past where his hunger to win and destroy the field sometimes made him eat poo. But with age comes great power or whatever. There's an Obi-Wan Kenobi quote in there somewhere. With the win, he moved into a tie with rival-turned-buddy Chad Reed in the career sx win list.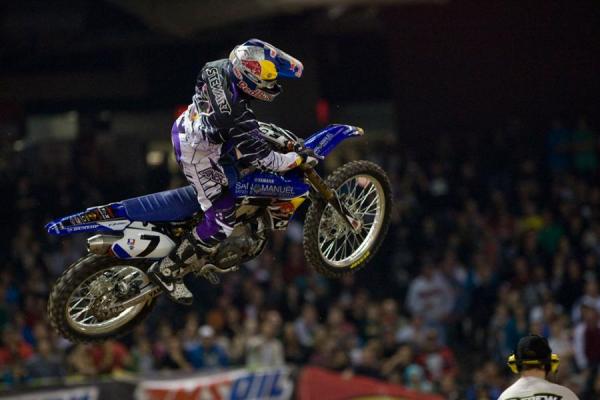 He's back.
Photo: Matt Pavelek
"The rejuvenated Ryan Villopoto" or TRRV also rode a great race in Phoenix, he dominated his heat and then in the main quickly moved into second and started gaining on Stewie. I noticed this from my comfortable position in the press box (where the pizza was fantastic by the way, I was worried about it a bit because they used to have Papa John's in the concourse but it switched to a New York style Pizzeria. Not to worry my friends, the quality was still there.) I could see where RV was making time on the seven and it was the act of staying lower in the turns and cutting inside of where James was at all times. He would lose a bit in the sand section but gain it back after the finish and before the one rhythm section.
Although he washed out and ended up second on the night, the TRRV did nothing to make me think he's not going to give Stewie fits each and every week. Interestingly enough, in the podcast I did with him after the race right HERE and despite having caught James, he wasn't sure he could've got by James. Not the usual bravado you see from these guys where if you catch someone, you're always sure you would've blew by him.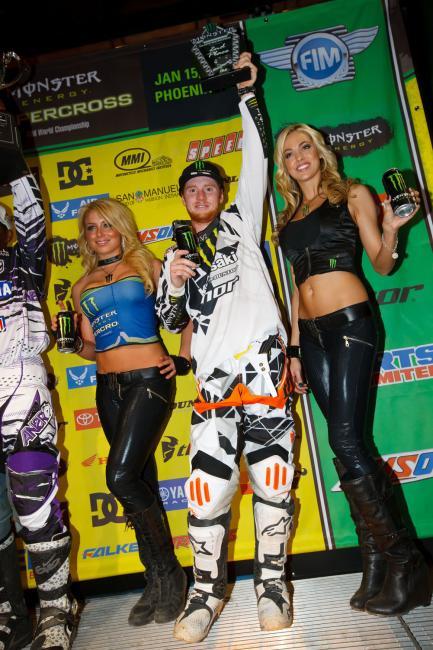 You happy Mike?
Photo: Simon Cudby
As usual with Ryan, his podcast interview doesn't go exactly the way most media things with the other riders do. I try to keep him on the straight and narrow but because we know each other well, he loves to get his digs in here and there. The stuff that he says to me when I'm not holding a mic is some of the funniest stuff around. One thing I don't get about him is the fact that I apparently can't be friends with any other riders, I have to just talk to him because interviewing other riders and talking to other riders indicates, to RV anyways, that I am a ball-licker.

Trey Canard had another good race as he rounded out the podium. The Honda guys I spoke to after the race were very impressed with his ride because of how bad of a start he got. I spoke with Trey on Monday and he said that is the number one thing he's working on this week, he's got to get better starts. Once he was third, he said he was kind of in no-mans land out there and it was hard for him to charge. You could see this as well because Reed was catching the 41.
I have to admire Trey because on the opening ceremonies parade lap he busted out a nac-nac on one triple and an Air Wheelie over the finish. It was an incredible splash of originality when you looked at Stewart, Ryan Dungey and Reed basically ride around like they don't care that they, out of all the other riders, had been selected to be showcased in front of 60,000 fans. Trey said when he did the nac-nac, there was no response from the crowd because he said "they were in shock." Our plans for this weekend in Dodger Stadium is for him to go first to maybe, you know, wake up the other guys into ooo-ing and aweing the crowd.
Josh Hansen won for the second time in the 250 class in another good ride. He moved into second early and then waited patiently until leader (and teammate) Broc Tickle made a mistake on the slippery track and from there he rode it on out. Like I said last week, he looks so confident and so good on the bike, I can't see how he loses this title.
With Christophe Pourcel, Jake Weimer, Trey Canard, Austin Stroupe moving out of the 250 class, it does seem to water the field down a little bit and when you look at the number of career SX winners racing both classes (by my count there is five- Josh Hansen with five, Justin Barcia with two, Broc Tickle, Blake Bagget and Blake Wharton with one win each) it's a little weak but hey, in a few years these guys will be the heroes. We're just going through a transition period.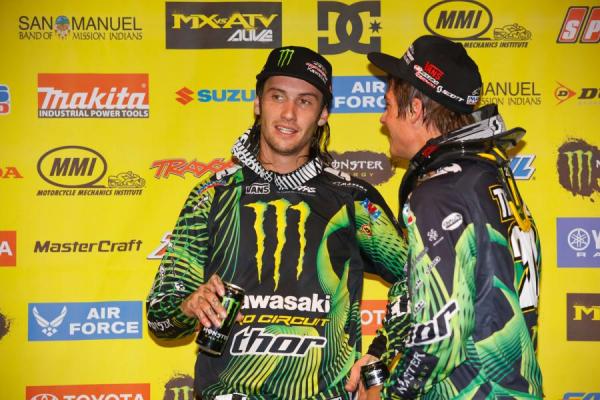 Hansen tracked down teammate Tickle for the second straight week in Phoenix.
Photo: Simon Cudby
I'm not a fan of these guys like Hansen and Martin Davalos (and even Ryan Morais-although he might get a mulligan because he's been hurt so much) still racing the 250 class but the rules are the rules and these riders or teams aren't doing anything wrong. You can go back and check the records, I was also poking fun at Grant Langston and Nathan Ramsey when they both in there.  It's just not in the spirit of the class that's all. Let's face it, Hansen was winning 250 races five years ago and Davalos has had many shots at this on good equipment. Langston was a world and national champion and racing a support class! Ramsey had won a 450 SX and finished top five in the big boys class many times before returning to the Lites.
Oh well, for now let's cheer the guys on and hope that one day there is something to prevent riders from dropping down. But the angel on the other side ofm y shoulder tells me that you don't want to deny a rider the right to make a living and that's what you'd be doing if you forced these guys up.
So you know what? I went back and checked the results because I was curious if I was indeed thinking that Morais got a bit of a free pass because of injuries. Nope. It turns out he's the clear leader in 250 main events. Due to the cave-man like AMA results archives, we could only do main event finishes so these numbers could be higher if the rider DNQ'd.
Below are the results of my work:
Career 250 Main Events
Ryan Morais- 53 (8 years in 250 class)
Josh Hansen- 48 (6 years in 250 class, 2 in 450's)
Martin Davalos- 33 (6 years in 250 class)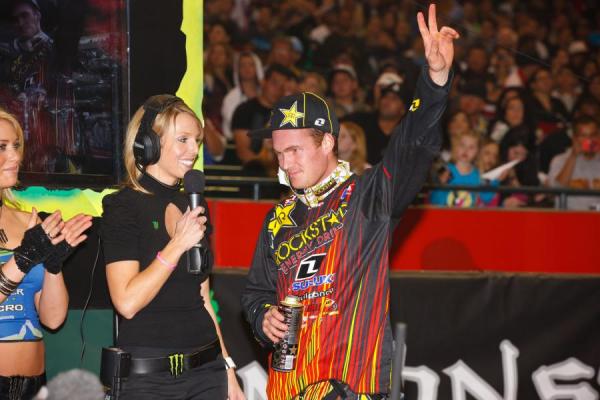 Morais grabbed a podium spot in his 53rd main event start in the Lites class.
Photo: Simon Cudby
By the way, I spoke to our own David Pingree to get his take on this and although we don't have the records to show it, we did the rough math and figured out he raced in over 65 125 main events. Yikes! In Ping's defense, he wanted it known that he had no 250 teams to go to besides "Moto XXX or Honda of Troy."
So, 65 starts. This has to be some sort of record. I would like you all to HAIL TO THE CAREER 125 MAIN EVENT RECORD HOLDER- DAVID PINGREE!!!!
And speaking of rules, what a disaster this whole traction control thing is huh? If you want to get my take on it read THIS but suffice to say, the notion that James Stewart was cheating is ridiculous. But there does need to be some boundaries set in my opinion. Oh and the TV crew shouldn't speak about what they don't know everything about.
What's up with Ryan Dungey? I'm not really sure but his mini-struggles so far through two races indicates that either that number one plate has indeed got him feeling pressure, or that the class has stepped up its game and he was a bit flat footed. One thing I know you can rule out is him slacking in anyway. He's a hard worker and probably did as much, if not more, this off-season to get physically ready.
Uncharacteristic heat race results and poor practices me wonder what is going on with Dunge, and to be clear, a second and a fifth is something that most riders would love but after the "2010 Dungey Demolition" tour I think it's reasonable to expect more out of the guy. If he keeps this up, we're going to have to start asking about Roger DeCoster's departure and how it affected him (although I know they still talk) and as well, did he indeed catch a break with other riders getting injured last year?
Remember the outdoors last year though when he struggled at Hangtown and guys like Weege were completely writing him off? He went 1-1 at the next round and then pretty much won out the rest of the year.
Let's take a look at the results shall we?
AMA Supercross Lites Class:
1. Josh Hansen- See that man in the driver's seat? That's Little Hanny. Beep, beep-next stop is title town.
2. Broc Tickle- Tickle's close, real close to winning one of these things. It's almost unfair how good these riders get when they switch to Mitch's team. Just a huge step up in confidence and a pretty big step up in machine as well. Ask Chris Gosselaar or Ryan Morais or Matt Walker or Jimmy Gaddis or…
3. Ryan Morais- Mo71's third is pretty good all things considered. He crashed the Tuesday before Anaheim and KO'd himself. Last week he saw spots during the main and this week he got on the box at a track that's been good for him before. He's not practiced since the crash so like I said, pretty good for third.
4. Cole Seely- Seely rode awesome in coming from fourteenth end of lap one to fourth. He also had the fourth fastest time of the night.
5. Eli Tomac- Nice rebound from Anaheim.
6. Tyla Rattray- Rattray dropped back half-way through the race which is weird for him and on his Twitter account he mentioned something about his wrist.  Twitter- the new CNN!
7. Jimmy Decotis- Decotis got Wil Hahn's bike and finished right about where he did as a privateer. Which is a good finish.
8. Travis Baker- T Bakes did…okay. He's coming back from an injury that hurt his prep time but he's on a better bike than last year and needs to do better.
9. Martin Davalos- A crash did him in.
10. Kyle Cunningham- Ditto for KC. But unlike almost every other time, this crash was not started by Kyle.
11. Jake Canada- He's doing it for the beaver. And he's the first true privateer dude in the results.
12. Ben Evans
13. Bruce Rutherford- Again, I have no idea who this guy is but he's got a cool name.
14. Antonio Balbi
15. Nick Paluzzi
16. Casey Hinson- Dude probably got some good clutches.
17. Ryan Marmont- "The Marmit" rode great!
18. Scott Champion- I would like to apologize to Scotty on my Twitter jokes on Saturday night. He rode great and I shouldn't have written those things. Ellie Reed felt I was out of line and although my wife hasn't said anything to me, I can guarantee you she also thinks I was out of line. Blame it on Weege, he was egging me on. Good ride Scott!
19. Ken Roczen- Ken Rocks is nuts. He's 16 and can't wait for anyone or anything to come to him. He has to go out and make crap happen and sometimes, crap doesn't want to happen and therefore, crap happens to you. He reminds me of a 16-year old Stewart or Damon effing Bradshaw. He's mega-fast and will figure it out soon but until then, there will be some more "crash on triple onto concrete, win LCQ, go fast in main, crash spectacularly in main" type of rides.
20. Christian Craig- Craig's had it rough to start the year but I'm telling you, he's got some serious style on a motorcycle. And trust me, I groomed Tim Ferry and I know style.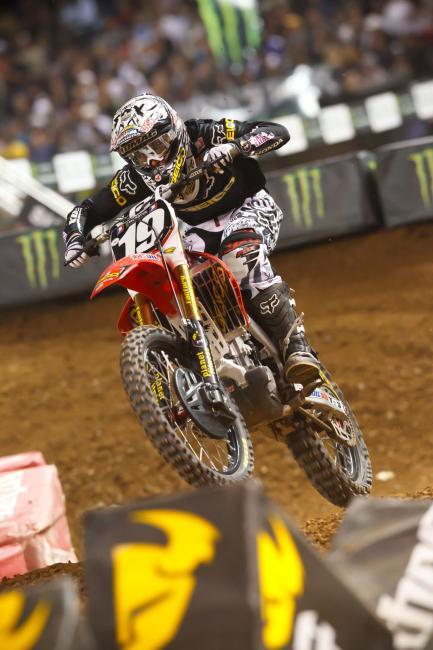 Tomac opened eyes in Phoenix.
Photo: Simon Cudby
AMA Supercross Class:
1. James Stewart
2. Ryan Villopoto
3. Trey Canard
4. Chad Reed- I thought that Reed's fifth last week looked better on paper than it did if you watched the race. This week I feel the opposite, his ride was better than a fourth. I think he's getting there but to me, I can't believe the amount of under-jumps/over-jumps I see from a guy that usually is so, so good at the technical stuff.
5. Ryan Dungey
6. Justin Brayton- Brayton is getting there, I think the JGR Yamaha's look better this year.
7. Andrew Short- Much better than last week, Shorty rode great all night. I noticed that he could never really do the triple onto the table-top thingee that all the other guys were doing. I can't help but think an extra 100cc might help him there. #justsaying
8. Brett Metcalfe- I got a feeling that Metty is going to see a lot of 5th through 8ths this year.
9. Kyle Chisholm- I got a feeling that Chizz is going to see a lot of 6th through 10ths this year.
10. Kyle Regal- It didn't look good when he had to go to the LCQ but the Regal Beagle rebounded with a top ten.
11. Davi Millsaps- A crash late in the race contributed to this result.
12. Nick Wey- Wey had a new mechanic this week as he had some technical problems last week. This is how the sport works people. It's a cruel world these riders/mechanics/teams live in. But unlike some other teams, Valli kept his old guy around.
13. Weston Peick- This is a good result for a dude that looks like he could be the middle 'backer in a 4-3 defense.
14. Ivan Tedesco- This result isn't as good on paper as it was in the race. Confident all day, looking good in the heats and running inside the top ten easily, Tedesco went down when he tangled with lapper Ryan Clark.
15. Chris Blose
16. Tommy Hahn- T Hahn is getting screwed this year. Last week a mechanical issue due to the dye in his gasoline and this week he crashed in his heat and then again in the main. He's much better than 16th.
17. Ryan Clark
18. Jeff Alessi- Jeff should be ashamed of himself for what he did to Josh Grant in the heat race. Just a brutal move that, I don't care what he says, was intentional. The AMA has already scheduled a hearing with him. Jeff, this isn't some daytime drama where you avenge your brother's name and everyone is cool in the end. This is real life.
19. Kevin Windham- KW went down hard on the eleventh lap in the race while running fourth. I heard he hit his head on a camera stand or something but I can't verify that. During track walk he was standing looking at something weird and when I asked him what was up, he said he was looking for his opening ceremonies lane to another lane jump. Then he started looking at the finish line take off to a backside of a berm 8000 miles away and he thought it shouldn't be a problem. He's nuts.
20. Austin Stroupe- Stroupe rode fantastic in his heat and I looked forward to him being in the mix in the main event but alas, he was a DNS. Which was better than last week when he was a DNS for the night show. He's working on coming back from a shoulder injury and the team and Austin made a mutual decision to shut him down. I spoke to his trainer Randy Lawrence and RL says that they are taking it "week by week" with Stroupe.

Metty needs better starts if he wants to contend in 2011.
Photo: Simon Cudby
The Award for Nicest Looking Gear at Phoenix
This very prestigious award is given out by me for the snazziest looking rider of the night. Last week it was Mike Alessi and the rules of this award are you can't win it two weeks in a row and you have to be in the main event. Which Mike, due to bad luck and bad starts (huh?), didn't make. So this week's award goes to (drum roll)… Nick Wey!
I like the different colors that MSR has going on right now and the yellow and black bumblebee look is strong. I am also a sucker for gear that contrasts the rider's bike. So good job MSR and Randy Valade (2003 Canadian 125 west champ by the way) for all that you did to help Wey win this award.
As you may have read last week, Gothic Jay, Josh Grant's mechanic, was effectively benched last week when he objected to a certain part being put on the race bike (and stop emailing me asking me what part, I'm not going to tell because I don't really have specifics of what it was) and while I admire Jay's gumption, I don't think it was a good move on his part and have told him that.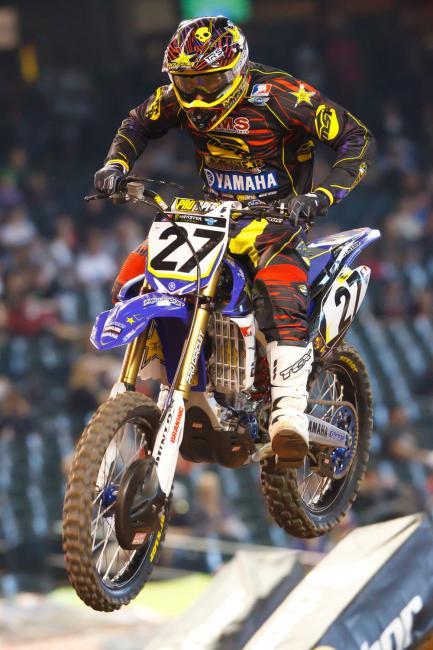 Nick Wey's black and yellow MSR gear caught the eyes of Matthes.
Photo: Simon Cudby
Anyways, he was back this weekend working for Josh, everything is okay and the situation has been figured out. Everyone is, in Jay's words, moving forward and he also told me he hopes that his name never appears in my column again.
Thanks for reading, email me at steve@pulpmx.com if you want to chat about Fee-nix or anything else that's on your mind.