Phoenix, AZ
Phoenix
Monster Energy AMA Supercross Championship
Ryan Villopoto wasn't the fastest rider at Anaheim 1, but he got the start and got the win. He was the fastest rider at Phoenix, but he didn't get the start. The Monster Energy Kawasaki rider closed up to the rear fender of the leader, James Stewart, but lost the front end and crashed before he could try a pass. But after the race, Villopoto said he may have not tried to even make a pass at all. Here's the explanation of how the race turned out.
Okay so last week James was fast but didn't win, tonight you were fast but didn't win.
Oh yeah, tonight, my riding was way better. But, the track wasn't…you really couldn't do anything different. We were the same. He had one section of the track that he was better, I had one section of the track that I was better. It was like cat and mouse out there. I knew that, basically, someone was going to make a mistake and that was going to decide it. Unfortunately, that turned out to be me that made the mistake first. But even if I had not crashed, I think it would have been the same way. In and out, in and out, for twenty laps.
So you weren't just sitting there waiting and setting him up?
No. It wasn't like I was saying, "I think I can pass him right here, and I'm just waiting for the right lap to do it." And I think if the tables would have been turned, and if I were ahead, he would have been the same way. He would have had to just wait for a mistake. So that's what I tried to do, and he didn't make one.
Is this all due to the layout of the track, or the soil?
Phoenix has always been slippery, so it's mainly the soil. It's just really hard to push on.

Explain this. You were able to roll up on him quickly and close the gap when he had a lead. But then you couldn't gain any more time when you got to him.
Well, that's the thing. I was behind Kevin early, and he was able to pull away a little bit. So that kind of lead, those tenths, they're pretty easy to go get. I was able to do that. But to pass someone, you need to make up like a half second, or a full second, all at once. To pass someone, you need to go so much faster than the guy in one section just to get next to him, and it's not going to happen out here. We didn't have a long set of whoops, they were short, and it seemed like the straight sections were short. It was fun, but it was hard to set something up.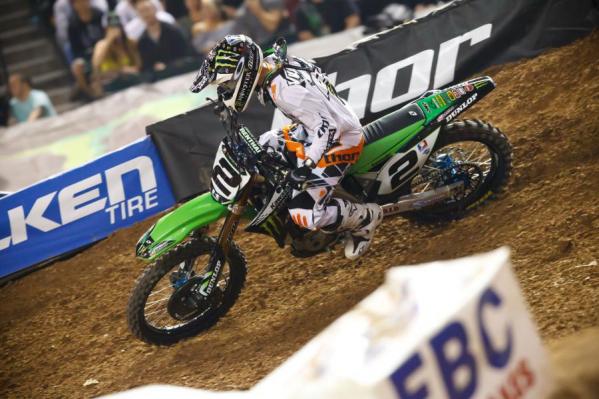 Will Villopoto be ready to challenge Stewart at Dodger Stadium?
Photo: Simon Cudby
So it was a fun track to ride?
Yeah, it was okay. And the sand section got rough, which was cool, but everyone just held it on through there and did the same thing.

What was better about your riding this weekend?
I was just smoother and faster. It was good to get a race under my belt and just be more comfortable. If I had to pick out anything, it would be the corners. I think that was good.

It looked like you were faster in most of the corners, especially after the finish line into that flat turn, and then around the sections after that.
Yeah, but he had one turn down really well, the corner that led us into that triple onto the table top. He was quicker there everytime. Then I would close back in on him through the whoops and after that.

So, you get second place, and you crashed. Normally you'd be bummed with that, but are you happy because of the speed?
Yeah it was good. I just wished I would have stuck there and pushed him to the end. But it's fine for tonight. It's only the second round.