5 Minutes With... Tyler Bowers
With seven main event wins in a row, and a decent points lead, it's safe to say that Tyler Bowers was the rider to beat in 2010 AMA Arenacross. Sure, there were a couple other winners, but it was the Kentucky native that looked to be taking home the championship. But as things often happen that all changed overnight after a practice crash left him sidelined with a severely broken femur – with only two events left. Still, when all the points were tallied, Bowers managed to cling onto a podium championship finish behind teammates Josh Demuth and Chad Johnson. At the moment in the 2011 AMA Arenacross Championship, Tyler is now tied with teammate Chad Johnson for second in points. This is where we caught up with the nineteen-year-old - just after round two in Kansas City, MO, to get his take on Arenacross vintage 2011.
Racer X: Tyler, we are a couple rounds into the 2011 AMA Arenacross series, how are you feeling now?
Tyler Bowers: You know, in a word, I'm feeling "good". I'm feeling very positive about the series. Of course it would be great to have a couple wins and the points lead, but I am happy with my riding. I had a long time off with my leg injury, and it feels great just to be on a motorcycle. I've learned a few things since Tulsa, and now just need to stay focused and strong. My starts have been a lot better this year, and I need to capitalize on my strengths.
I hate to bring up a negative point, but your crash late last season had to be devastating.
Yeah, it sucked for sure, but when you race motocross for a living you are going to get hurt – you just don't know when! Of course you never want it to happen, but it's only made me stronger. It has taken a while, but it's much better now.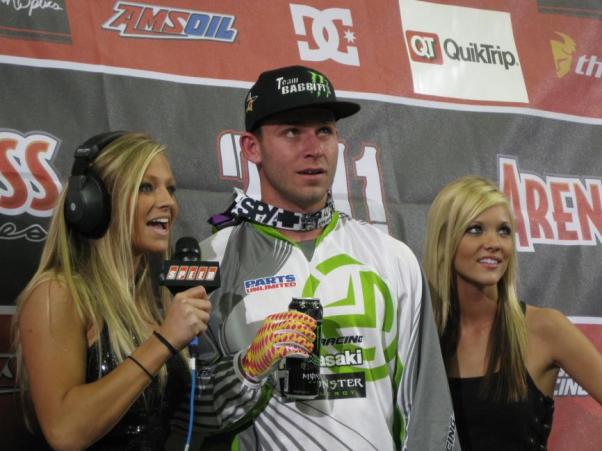 Bowers currently sits second in points.
Photo: James Kimball
Speaking of that, I saw you hanging at Red Bud last summer and it looked like you were still having a tough time getting around – are you really 100 percent right now?
No, I'm not back to normal yet; actually I'm not even that close. I've had lots of improvement for sure, but still have a lot more coming. When you saw me at RedBud I had probably been walking only a few days. Before that I had been in a wheelchair for 3 ½ months – which definitely wasn't any fun! Now looking back on all this stuff it has truly made me a lot stronger. Now when I am working out at the gym it makes me work that much harder. All that I want to do right now is ride. When I crashed this past season I was probably a little burned out on riding. I was then going to the track every day, and after doing the same thing for fourteen years it can get kind of old. Now I have all that fire lit back up and I feel great good on the bike! Anyways, so I may not be back 100 percent on the bike, but I know that I still have the speed, I haven't forgotten how to ride a motorcycle.
Continuing on with that "speed" comment, I think most people would agree that you had the 2010 championship won until that crash. Are you the guy to beat in 2011?
Well, I definitely don't want to sound cocky, as anything can happen, but I do feel that I have put in the work to do well this year. I have come from a long ways back to get here, and right now I am just glad to be back at the races. So, I feel like I am about there, but am I the one to beat? We'll see. Every single day I wake up and work out, ride some, eat, work out some more, and then go to sleep. It's my life and I am doing everything possible to win. It gives me a lot of confidence to eat, breathe, and sleep motocross. There are a lot of good riders out there, and things can change quickly. I just need to ride smart right now. I can only control what I'm doing.
If I understand correctly, you've been doing a lot of riding at the Factory Kawasaki test track. Has that been a nice benefit?
Oh yeah, of course that has helped a lot. I think that just being in California has helped a lot. I also go to Milestone and ride a lot. There are a lot of guys to ride with, so that helps and is always good. Back from my days of racing supercross I was on the Yamaha track, and the Honda track, so it is good to be out riding with a lot of fast guys.
I'm assuming that your Kawasaki KX450F is somewhat similar to last year's bike.
There have only been a few minor changes. My mechanic Chad Goodwin does all the motor work for the team, but other than that I like to keep mine as stock as possible. It's pretty hard to beat an off the showroom KX450F. When I first rode a Kawasaki I thought that it was one of the best bikes out there, if not the best bike. With Enzo Suspension, and Maxxis tires, it's even that much better. It's a great program with Denny (Bartz, Team Manager) and Eddie (Babbitt, Team Owner) behind us, they are very hungry for a championship – as they always are. Just take a look at the bikes, the way that they are done up is awesome. We have a great bike, and a great crew behind us.
What are the dynamics like with your teammates Gray Davenport and Chad Johnson? Do you guys all get along?
The nice thing about my teammates is that we all know that we're friends off the track, but when we're on the track it's a little bit of a different story. Out on the track we are all going for the win, and it can get a little tense at times, but we all understand that we'll be racing each other at some point during the night. We trust each other and try to keep it a little safe when we are together, but at the same time we need to be aggressive with each other.
Tyler, that was a great way to wrap things up. Do you want to add anything?
I really would like to thank my family, my mom and dad, and my sister Chelsea – they've been behind me throughout everything that I have been through this last year. Also, I have some great friends back in Alabama that have always stood behind me. In particular my buddies Jeremy and Michael (Scuzz) back there have really helped me out. The Little family out in California has also really helped me out a lot. The entire Babbitt's Monster Energy Kawasaki TiLUBE presented by Maxxis team has helped me out a lot. Finally, I want to give a shout out to my mechanic Chad, he may actually be my biggest fan - he's always got my back.