Phoenix, AZ
Phoenix
Monster Energy AMA Supercross Championship
James Stewart's long road back to the top step of the podium is complete—it took exactly a year after his crash and wrist injury in Phoenix last year to finally taste victory again. But this win was a not a dominant performance, but more of a calculated, methodical victory on a very slippery track. He joined us for this week's Monday Conversation.

Racer X Online: Have you ever gone a full year, without winning a race? Is this like the longest stretch ever?
James Stewart (laughs) No, no I haven't. I mean, seriously, if you start doing the math and adding up the numbers, it's been like a year and six months, and I've won two races in that period, and I've only raced what, four times, five times? So it's definitely been awhile, and I've been out of that race pressure for awhile. But tonight I felt like I handled it pretty good. Tonight, on this track, you just needed to ride around and see what happens. I ended up doing that and winning.

It is kind of weird. Last week you could make an easy argument that you were the fastest guy—the lap times showed that. You finished third, but tonight you won. Did you feel like you were the fastest guy tonight?
No, not at all. And I wasn't even trying to be the fastest guy, for sure. In the heat race, I lost the front end in that corner right over there. I was like, "Dude, somebody's gonna' fall tonight." So I knew someone was going to fall, and I knew if it wasn't me, I'd have a pretty good chance of winning. So I really focused on my starts, and I wanted to nail that. I got that, I think it was me and Dub (Windham) coming through there, and that was pretty cool. I ended up pulling it off.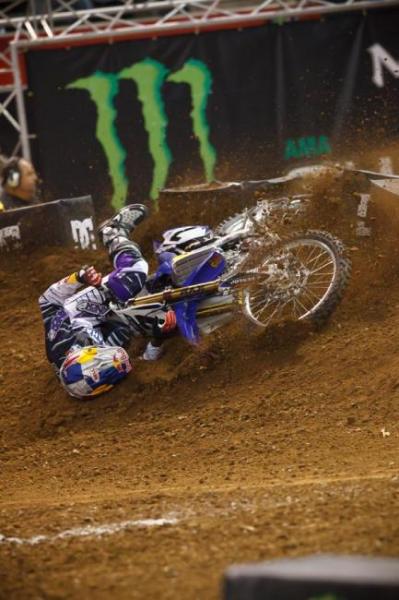 Even the minor crashes in supercross can teach you a lesson.
Cudby photo
So the heat race crash, that wasn't caused by just one bad line for you? That could have happened on any corner on this track.
Dude, that could have happened walking your bike to the gate! It was that slippery. And Ryan actually slid out [in the main event] in a different spot, I was actually a little bit higher. Like I said, it was one of those races where you just needed to ride around and let it happen. So now we'll go back, watch some tapes, and try to get better. But it feels good to be back.
Well yeah, let's take a step back here. This long road back, you've won a race finally. It has to feel so good.
Oh yeah, especially after Unadilla. You know, I went there, and I got my butt kicked. And then last weekend at Anaheim, being so fast, but still not winning. It was like "What's up with this?" This weekend we kind of had the opposite, we were struggling a bit, and we had to find a way to win. And Ryan, I think he had an awesome heat race, and he had a lot of confidence going into the main event. It does feel good to get a win for my team, and we'll just build on this.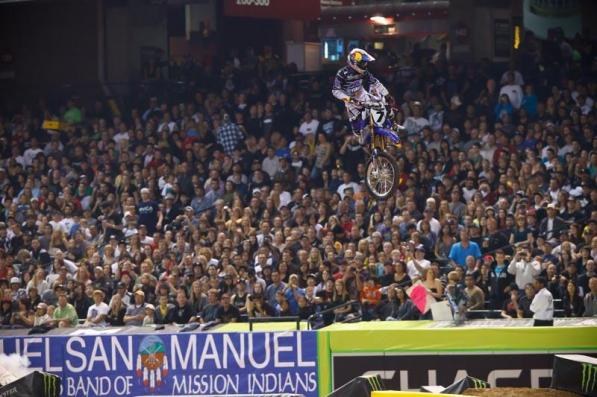 Phoenix was a lot better to James this year.
Cudby photo
Let's go back to last week. When you first tried to lay down a fast lap in qualifying, in your first supercross healthy in a year, the number seven went to the top of the qualifying board.  What did that feel like? Did you expect that to happen?
I thought it was broken.

What?
I thought it was broken!

No!
I'm not gonna' lie. Because it was actually seven and then twenty-two. So I really thought it was broken then! Then I looked up again and it happened again! So I really thought something was up and someone was trying to mess with us. But then I saw the times after the heat race, so I caught up with the whole deal. But it's going to be a tough season. It seems like it always takes me a few races to get going, well, not to get going, but to find my groove. Remember, the year I battled with Reed, at the beginning of the year there were a bunch of nights where he was faster than me, and I still ended up winning them. So hopefully it won't be quite that hard at the beginning of this year, but we'll find out.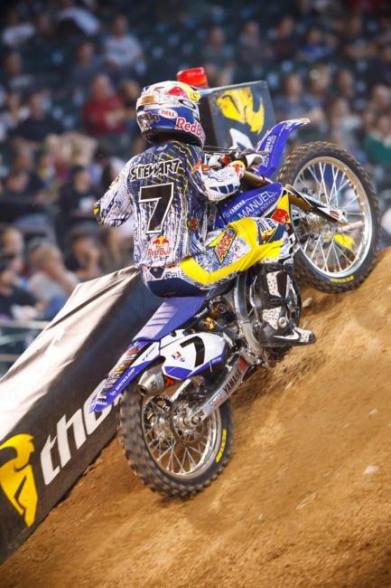 Stewart's suspension looks much more dialed in this year.
Cudby photo
Well on the flip side of that, the last two years, your bike setup seemed off at the early rounds. But this year, the bike has looked good.
It's really good. And that's from the changes we made to the team. That's has been key to my success so far. And I think we're only going to get better. We still have a group of guys who are working together for the first time. So it's good to get a win but hopefully from here we get better.

Okay, so are you just crazy pumped right now, like, "I'm finally back. This is finally over?" Or are you already in championship mode, just taking each race at a time, and not making too big a deal out of one win?
Well for sure, it feels good. Finally I'm back, finally I chalked up win number 38. It's been a long time. So that's good, but at the same time, if Ryan would have passed me tonight, I would have just let him go. I wouldn't have been able to do anything with him. I know how we rode in the heat race, that it was going to be a tough main event. Things went my way tonight. A lot of that comes from working with Johnny (O'Mara) and the way he approaches things, and a lot of the guys on the team. We were just calm, cool and collected.
Last thing. We know how competitive you are. Was it just killing you to be hurt, to be watching these races and knowing if you could just get healthy you could get back out here and win races like this?
It was, for sure, tough. Once I got past a few weekends, I was okay, because I knew I was busted up and there was nothing I could do. Then, it actually started getting worse. It's like you saw on my TV show, all I was doing was just waiting for this phone call that never came. Then I finally got a release, and we had a couple of weeks before Unadilla, and I thought we can do this. So I was feeling good, I thought I had at least one moto in me, and man, I rode my butt off there, and I got third, and then obviously in the second moto, I couldn't go. So then after that we just were riding and riding, trying to get ready, and we showed up at Anaheim, rode my butt off again, and I got another third! Then tonight, I was just out there riding, and I got a win! (Laughs). So it was a little confusing at first but it feels good now.