Phoenix, AZ
Phoenix
Monster Energy AMA Supercross Championship
At last weekend's round of Monster Energy Supercross, James Stewart laid down the fast laps, but ended up third in the main event after a bad start. Ryan Villopoto won the race, but may not have been the fastest rider in the building that night.

Just take that story and reverse it for round two of the series in Phoenix. This time Villopoto had the speed, but not the win, while Stewart came out on top on a rare night when he may not have been the fastest man on the track—or the planet.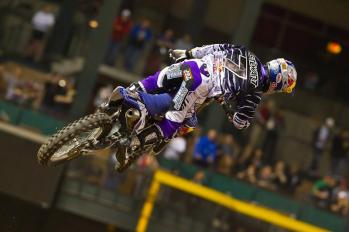 James Stewart grabbed his first SX win in 53 weeks.
Cudby photo
"I wasn't even trying to be the fastest tonight," said Stewart. "I knew on this track, it would just come down to who fell."

Stewart did look to be the fastest earlier in the day with blistering practice times—faster than anyone in both sessions. But when Stewart jumped out to a heat race lead and then washed his front end out in a corner and crashed, he realized the key to success on this slick track was riding conservatively and keeping the bike upright. Perhaps this year's version of Stewart, with last year's injury ruined campaign in mind, knows more about patience than ever before.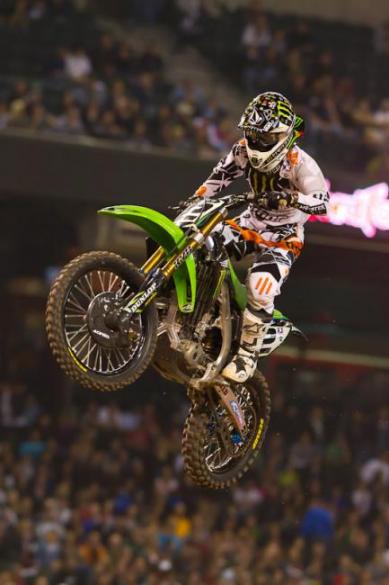 Villopoto appeared faster than Stewart in the main event, but a crash ended his bid for the win.
Cudby photo
And getting a good start helps, which Stewart did by grabbing the holeshot. Villopoto started about fourth and sliced to the front immediately. He was soon around Kevin Windham and into second, and then quickly made up ground and closed the gap on Stewart--yes, closed the gap on Stewart. Just four laps into the race, the duo had distanced themselves from the pack, and a headsup one-on-one race for the win began to materialize.

With the speed he had, it looked like Villopoto was ready to just sit back and wait for an opening to make a pass, a rare moment for someone to shadow Stewart and not lose ground. But Villopoto says he could not find spots to make up ground, and once he got to Stewarts rear wheel, he knew it would just be a battle to see who would make a mistake. The race stabilized once the two were close to each other, no more than few bikelenths separating them at any time. Then it all changed when Villopoto ended up making that mistake: he lost the front in a flat turn near the mechanic's area and went down—just like Stewart did in the heat race.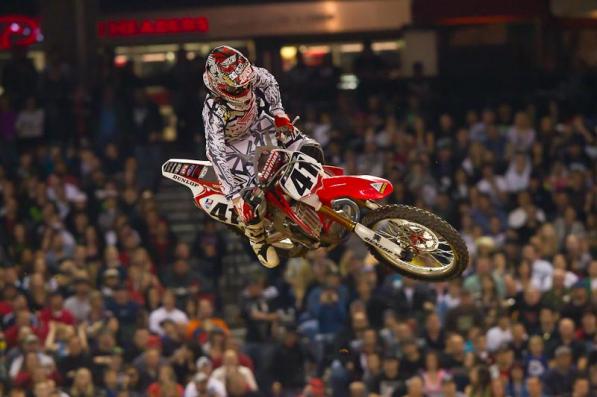 Trey Canard is the real deal--he took third, and pulled away from a Chad Reed and Ryan Dungey battle.
Cudby photo
This time Stewart wasn't necessarily the fastest, but he got the win. He took to the race with patience, let his competitor make the mistake, and calmly took the win as if it were just another race. But it wasn't just another night—Stewart had not won a race in over a year. His 2010 season essentially ended with a massive crash in this very stadium, and the victory on this night marked the end of a long, long journey all the way back to the top.

But he didn't treat it that way. Instead of celebrating hard, Stewart is already in championship mode, already taking it one race at a time, already thinking about points and consistency instead of blowing away the naysayers with his speed.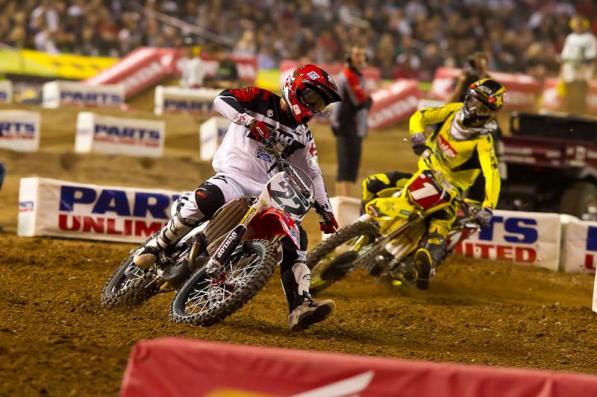 Reed and Dungey battled with Justin Brayton, and then took their fourth-place scrap down to the wire. Reed held tough and got the spot.
Cudby photo
His most formidable challenge could come from Villopoto, who picked his KX450F back up and finished second. "I was happier with my riding tonight than last week, and I got good points so I can't complain," said Villopoto. "It wasn't like I was just sitting there waiting to set him up. We couldn't do much different on the track, so I really didn't know how I could pass him. I figured it could come down to one of us going down, and it was me."

They were well in front of the rest of the field, led by Trey Canard who took third. Canard's run looked impressive, as he worked his way through a battle with Windham, Ryan Dungey and Chad Reed to get the spot. But at the end of the night, the rookie was actually bummed about how many mistakes he made.

"I'm happy with the finishing position," said American Honda Racing's Canard. "It might have been different if some other riders were closer."

Fourth went to Reed, who struggled in practice but came alive at night, grabbing a heat race win when Stewart crashed out of the lead in that race. In the main, he rode well and won a battle with Dungey and Justin Brayton to take fourth, holding back Dungey's charge all the way to the end.

The problem is, Reed and Dungey expect to be in the mix with Villopoto and Stewart, and they were well off of that pace on this night. And Canard finished ahead, too.

So now the series rolls on to its debut in Los Angeles' Dodger Stadium with the potential of a two man breakaway. But which one is fastest is completely unknown at this point.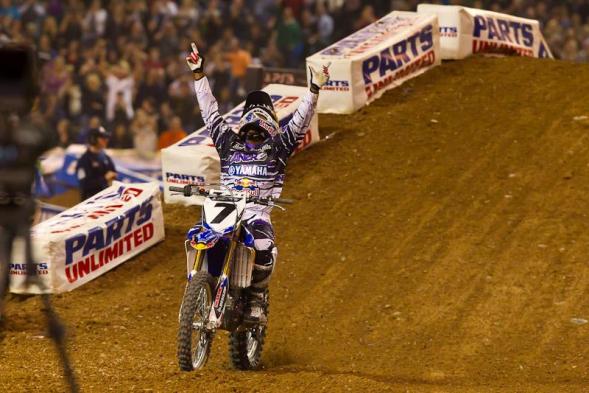 Stewart was elated when he crossed the finish, but soon settled into championship mode, seeing this win as just a small step in a 17-race series.
Cudby photo
In the Lites class, Monster Energy Pro Circuit Kawasaki's Josh Hansen won the race for the second-straight week. His teammate Broc Tickle led some laps, again, but crashed in a routine corner and handed the lead over t0 Hansen. He recovered for second, with Ryan Morias digging deep for third on his Rockstar Suzuki. Morias just edged Lucas Oil Troy Lee Honda's Cole Seely and GEICO Honda's Eli Tomac.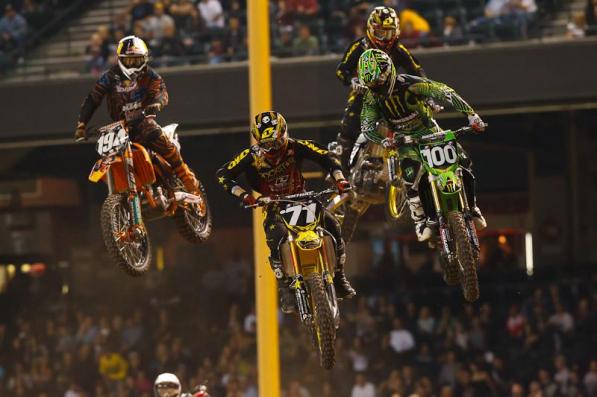 Hansen (100) had to battle through a close pack early--including Morias (71), and Roczen (194). He settled down and let the race come to him--and won.
Cudby photo
Red Bull KTM's Ken Roczen was fast in practice again, although Hansen edged him for the top qualifying spot. Roczen crashed hard after casing a triple in his heat race, then won the LCQ and battled with the lead pack for a few laps in the main. But he crashed hard in the sand section and unfortunately took out DNA/Star Racing Yamaha's Kyle Cunningham with him. Roczen never got going again, while Cunningham fought hard to maintain a tenth place finish.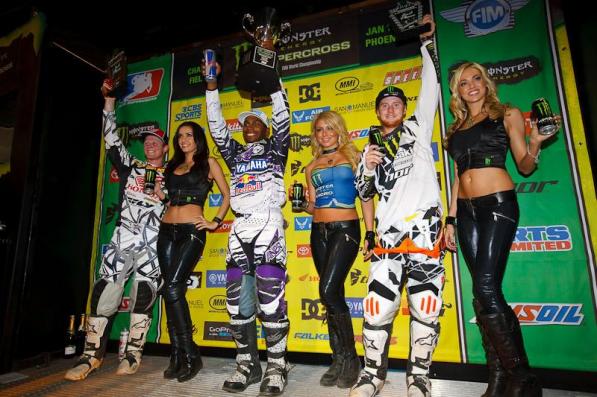 Big four? Canard has already proven he's a top three player.
Cudby photo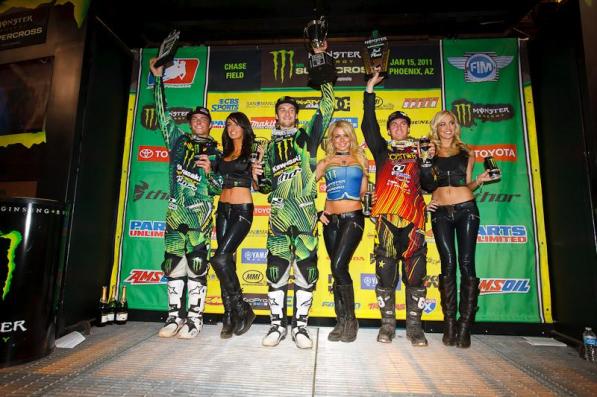 Hansen has two-straight wins, but Tickle has led laps in both races and seems ready to challege for the crown.
Cudby photo
Look for more later today with Racer X News and Notes, full results in Monday Wake Up Call, as well as plenty of info all week long.

Supercross Class Results: Phoenix
1.             James Stewart, Haines City, Fla., Yamaha
2.             Ryan Villopoto, Poulsbo, Wash., Kawasaki
3.             Trey Canard, Shawnee, Okla., Honda
4.             Chad Reed, Tampa, Fla., Honda
5.             Ryan Dungey, Belle Plaine, Minn., Suzuki
6.             Justin Brayton, Cornelius, N.C, Yamaha
7.             Andrew Short, Smithville, Texas, KTM
8.             Brett Metcalfe, Lake Elsinore, Calif., Suzuki
9.             Kyle Chisholm, Valrico, Fla., Yamaha
10.          Kyle Regal, Murrieta, Calif., Yamaha

Supercross Class Season Standings
1.     Ryan Villopoto, Poulsbo, Wash., Kawasaki – 47
2.     James Stewart, Haines City, Fla., Yamaha – 45
3.     Trey Canard, Shawnee, Okla., Honda – 38
4.     Ryan Dungey, Belle Plaine, Minn., Suzuki – 38
5.     Chad Reed, Tampa, Fla., Honda – 34
6.     Brett Metcalfe, Lake Elsinore, Calif., Suzuki – 26
7.     Andrew Short, Smithville, Texas, KTM – 25
8.     Kyle Chisholm, Valrico, Fla., Yamaha – 22
9.     Ivan Tedesco, Murrieta, Calif., Kawasaki – 21
10.  Justin Brayton, Cornelius, N.C, Yamaha – 20

Supercross Lites Class Western Regional Results: Phoenix
1.             Josh Hansen, Elbert, Colo., Kawasaki
2.             Broc Tickle, Holly, Mich., Kawasaki
3.             Ryan Morais, Murrieta, Calif., Suzuki
4.             Cole Seely, Corona, Calif., Honda
5.             Eli Tomac, Cortez, Colo., Honda
6.             Tyla Rattray, Wildomar, Calif., Kawasaki
7.             Jimmy Decotis, Peabody, Mass., Honda
8.             Travis Baker, Temecula, Calif., Honda
9.             Martin Davalos, Cairo, Ga., Suzuki
10.          Kyle Cunningham, Aledo, Texas, Yamaha

Supercross Lites Class Western Regional Season Standings
1.     Josh Hansen, Elbert, Colo., Kawasaki – 50
2.     Broc Tickle, Holly, Mich., Kawasaki – 44
3.     Ryan Morais, Murrieta, Calif., Suzuki – 35
4.     Tyla Rattray, Wildomar, Calif., Kawasaki – 35
5.     Cole Seely, Corona, Calif., Honda – 34
6.     Martin Davalos, Cairo, Ga., Suzuki – 30
7.     Eli Tomac, Cortez, Colo., Honda – 27
8.     Travis Baker, Temecula, Calif., Honda – 26
9.     Kyle Cunningham, Aledo, Texas, Yamaha – 19
10.  Ben Evans, Garden City, Idaho, Kawasaki – 18
11.  Nick Paluzzi, Riverside, Calif., Yamaha – 18