Privateer Profile: Rhett Urseth
Phoenix, AZ
Phoenix
Monster Energy AMA Supercross Championship
Rhett Urseth has been racing professionally since 2007 with mixed results. The last few years a lot of stuff has happened to hinder his progress, but now he is training full time to give it another shot at supercross on his Kawasaki KX250F. Rhett also goes to school full time at Arizona State University and is pursuing a medical career, but his passion is racing and he manages to still train and race at the professional level. At Anaheim last weekend, Rhett qualified for the night show, finished tenth in the heat and fourth in the LCQ, narrowly missing qualifying for the main. We caught up with Rhett to see how things are going before his hometown race.
Racer X: So Rhett, tell the fans out there a little bit about yourself and how you got involved in motocross.
Rhett Urseth: Well, I got a PW50 for Christmas in 1995 when I was four-years-old and have been riding ever since. We attended all the amateur nationals just like everyone else. I was never the top dog in my class; more like a top-ten guy. So I've basically just been the average joe my whole racing career. I've been pro for a few years now, and it's been tough being a privateer and I've had a few injuries that seemed to hold me back quite a bit. Also, I've went to public school my entire life since preschool. I am a junior at Arizona State University and I'm majoring in Kinesiology.
Kinesiology! That's different. What's that all about?
[Laughs] Yeah, every time I tell someone what my major is, they always do a double take and I have to explain. Kinesiology is the study of human movement in regards to physiological, mechanical and psychological aspects. It is pretty difficult, but I like it. I knew when I graduated high school, I wasn't going to have a $100K factory contract waiting for my signature! So I decided to go to ASU. I've always been interested in the bodies, muscles and bones, so hey, why not study about them. I'm planning on graduating ASU and getting accepted into a graduate school where hopefully I can become a physicians assistant, pharmacist or dentist.
So you manage to go to school full-time at ASU and train for supercross… how do you make time for training and riding?
Well, that's what is so hard. You have to take twelve credit hours to be considered a full-time student, but if you want to graduate in four years you have to take fifteen. So I take the fifteen credit hours and just that alone seems like a full-time job. Then I have to find time to get to the SRC (ASU student gym) or use the stationary bike in my garage, and also ride It is so hectic and I feel like a robot. I try to schedule my classes on Monday, Wednesday and Friday and those are the days I hit the gym too, so I'm at school all day. Then Tuesday and Thursday I usually ride. I wake up around 7, start riding by 8 or 9 and get done about 5. Then I ride on Saturdays and take Sunday off to recover and feel like a human again. We are on Christmas vacation until January 18, so no school to worry about. I've been full steam ahead training for SX and riding almost every day.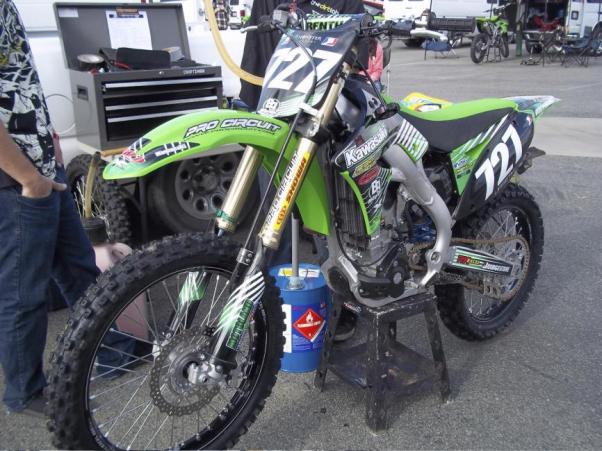 Urseth not only races full-time, but manages to squeeze in college as a Sundevil at Arizona State.
Photo: Chris O'Neal
Wow, that's crazy! So where have you been riding and who have you been riding with?
Well, there are two main supercross tracks I ride at, then one private SX that is at someone's house. Ryan Clark had a track built at a place called Speedworld that is good training. Also, I'm from a small town called Casa Grande and oddly enough the other place I ride all the time is here. It is a place called MotoLand MX Park, which is owned by Mark Brooks. He has helped me out tremendously over the years. I usually ride with Clark, Chris Blose, Buddi Bruner, and Deven Raper. When I can I have one of my roommates or gym partners come out and film to see all my errors through out my motos. I send them to one of my best friends, Dennis Jonon, and we call each other and discuss what I was doing wrong that day.
Sounds like you have good access to supercross tracks. Do you think you have an advantage living in Arizona?
I wouldn't say an advantage at all. Yeah, it's nice being able to ride about everyday of the year and I also have a decent amount of tracks, but you also have to think about the Texas and California kids. They can ride as much as Arizona kids, and pretty much anything moto-related is smack dab right in the middle of the California sunshine. Everyone knows California is where it is at for the most part, generally speaking. I mean, when you think of motocross, you think of Glen Helen and when you think of Supercross you think of Anaheim 1. Or at least I do.
So back to when you first turned pro, tell me about what you did for races and how your results were.
Well, I raced Glen Helen when I was 17 in 2007 and think I got a 22-22 or something. 2008 was nothing, nothing happened. Then came 2009. I felt good going into A1 and I was riding for Warthog, but made no mains. I just couldn't get a start and was way too nervous. I raced a few outdoors and never missed a main, but the best I've ever finished was 21st. That was at Washougal. The next weekend I broke five transverse processes in my back. Then last year I rode for Ryan Clark's team but broke my thumb a week before A1. I thought it was a good idea to still race, and when I was running eighth in my heat race I fell and dislocated my hip.
Then February 23 my fourteen-year-old cousin crashed and passed away riding in the desert by my house. Our whole family was devastated and my head wasn't into racing anymore, but I still was training for outdoors. I fell and broke my collarbone and shoulder, so that was that. I took a break over summer, cleared my head and realized I wanted to keep trying. So I've been training my ass off and I'm getting better everyday.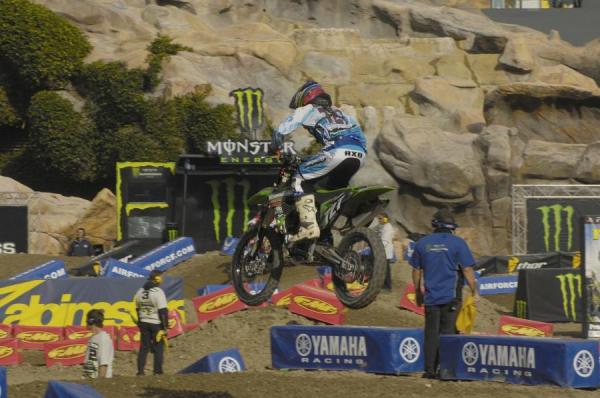 Urseth just missed out on the main at A1.
Photo: Chris O'Neal
So what's the plan for this year?
This year I'm just doing everything on my own with my parents backing me. If it wasn't for them I would be done and working a job like every other college kid. We are just going to cruise to the West rounds in my '06 Chevy extended cab. The plan is to make every main this year. I feel that my speed is there and my fitness is great. So we will take it as it comes and whatever happens, happens!
Do you have any goals set for the series?
Well, granted I've never made a supercross main, so that is my primary goal. I want top twenty lap times in practice and good starts in my heat. I want to progress every weekend and be a top fifteen guy by the end. And if I feel that I gave it all I had that weekend, I can't get too bummed, because after all it's just a dirt bike and I'm thankful I get to live the life I have.
Is there anyone you'd like to give a shout out too?
Oh yeah, for sure. First of all I'd like to thank my parents for all the years of hard work to get me here; all the countless dollars and hours spent with me. Also I'd like to thank Ryan Clark (The Dirtlab) and Mark Brooks (Motoland MX Park) for helping me any way they can. Also my roomates for keeping me motivated and in the gym. James at Pro Circuit, Phil from CrankWorks, Nicole at Liquid Performance, my mechanic Keith, and anyone else I'm forgetting, I'm sorry. But after that I pretty much don't have any sponsors as of now. (laughs) I'm looking for any help I can get and that would be greatly appreciated. I don't have any gear, goggle, or boots sponsors yet. If anyone is interested in helping me in 2011, my email is urseth72@aol.com. Thanks to everyone that reads it, and thank you Chris for giving me my fifteen minutes.