Phoenix, AZ
Phoenix
Monster Energy AMA Supercross Championship
With all of this hype for the first round of Monster Energy Supercross, we expected to see the battle to end all battles at Anaheim 1. We didn't get it. Each main event featured just one pass for the lead. But that's a good thing—just more questions to answer for the next race.
So on to Phoenix we go, with Ryan Villopoto, Ryan Dungey and James Stewart all thinking they're right where they need to be. In the end, it's pretty exciting that we had such a boring first race.
We almost didn't have it so good. By the time the main event rolled around at Anaheim, if you were hoping for a good race, you had already gone into "praying James Stewart doesn't get a good start" mode, because his speed earlier in the day indicated that if he got out front, no one was running him down. And that, folks, answers what I think was the biggest question heading into the new season: Would James Stewart be the old James Stewart?
We probably shouldn't have ever doubted it. The broken wrist is fixed, his team is working harder than ever, and Stewart has hooked up with Johnny O'Mara for some guidance. If he's healthy, focused and motivated, why would he not be as fast as usual?
When the number seven immediately flashed to the top of the fast qualifier board, it was as if sanity had returned. Stewart was the fastest dude out there, and I can't remember why anyone thought he wouldn't be.
Two weeks ago I mentioned that if anyone could get on a roll and make this exciting series a route, it was Stewart. I think that's still true. I'm not saying it's going to happen; I'm saying it could. I don't see either of the Ryan's hanging 10 wins right in James' face, but I can see James doing it if he's on his game. And he is.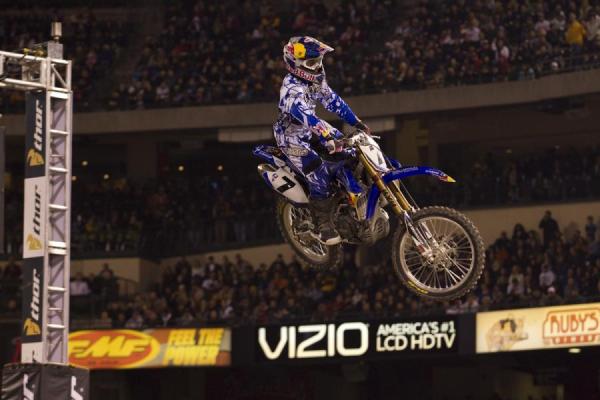 Is James Stewart back?
Photo: Garth Milan / TMG

However, he didn't win. By now you know Ryan Villopoto, who didn't look that spectacular earlier in the day, won. And Ryan Dungey, who also didn't look that spectacular earlier in the day, finished second. As always, the recipe to beat Bubba will not be to out-speed him, but to out-consistent him. RV nailed the start and was gone, Dungey grinded out a good finish on a sub-par night, and Stewart blew the start and took third. But Stewie's fastest lap in the main event was eight tenths quicker than anyone else. Just sayin'.
So now we're left to wonder if Anaheim 1 left the answers to another week, or if it actually gave us the answer and only avoided the question. If Stewart had gotten the start, would we still be saying this series is wide open?
For this week, we'll focus on what we know: Villopoto won. Only RV2 could have done it like this. First, it was his first race back from a major injury. Second, he was only so-so in practice and his heat race. Does he care about this? He does not. Villopoto's approach to racing is very simple, and it goes something like this: "I will get a good start. I will ride fast. I will win." As Ping says, "He doesn't get lost upstairs."
Any other rider would have been at least a little tentative after that leg break. Any other rider would have been worried after Stewart smoked him in his heat race. Villopoto does not care.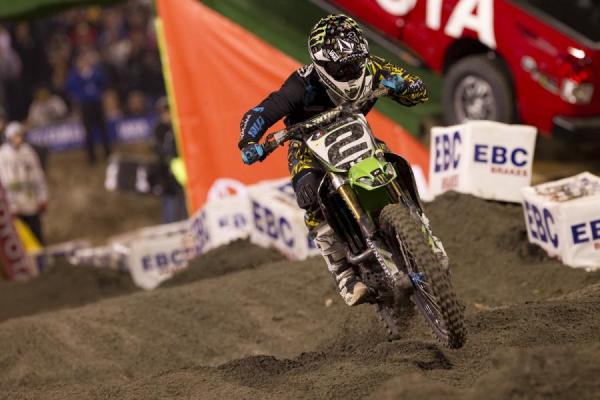 Villopoto didn't miss a beat, returning from injury to capture the victory at A1.
Photo: Garth Milan / TMG

Technically, Stewart was away from racing for even longer than Villopoto, as he broke his wrist 51 weeks ago, and outside of his performance—or "appearance"—at Unadilla, he certainly had some racing rust as well. But Stewart's injury wasn't as violent as Villopoto's. Heck, James came back and raced two more mains before he realized he had a broken wrist. In St. Louis, Villopoto was done in an instant. He was in the hospital for three weeks and on crutches for a few months. Lots of hardware in that leg. Does Ryan care? He does not.
Then you have The Dunge, who was set up perfectly to have a sucky night and ignite the Racer X Online comments section, the Vital MX board, Twitter and Facebook with "Dungey's done" posts, until he quietly found his groove and scored second. Quiet was the theme here. At no point did Dungey do anything particularly impressive. But he's the champ, he has confidence, and he just knows he will be on the podium. You can bank on the guy making 17 races healthy, never getting tired, and never throwing it away. Stewart versus Dungey is like fire versus ice. Or Stewart versus Reed.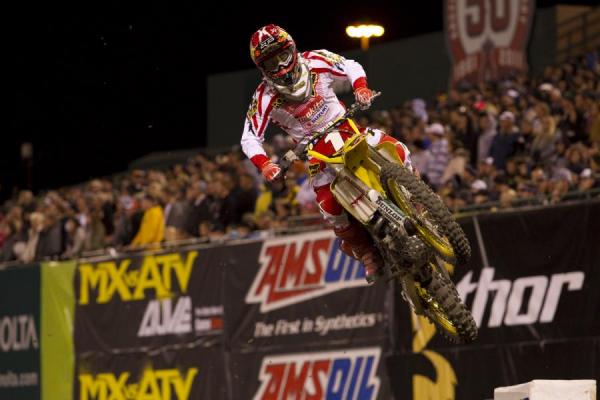 Dungey was solid in his first title defense race, picking up a second place finish.
Photo: Garth Milan / TMG

Well, yes, the actual Chad Reed is out there, and he did okay with fifth. Not a podium, and not able to hang with Stewart when they were in traffic, but at least this was better than last year's opener, and there's plenty of time to get better. You can see the task Chad is up against. Looked like Villopoto and Stewart had their bikes dialed and their regular riding styles back, just like they never left. Reed looked like he was only maybe 80 percent there (it could have been only 75 percent, but experienced race watchers like myself can detect a riders "dialedness" down to a plus/minus of 5 percent). I still wonder how effective he can be with his own team. Villopoto or Dungey have suspension guys waiting on them with specs and screwdrivers after each practice. Chad has a new team, complete with an experienced mechanic and team manager, but he also has to go find his suspension guy, Bones from Pro Circuit, in another truck working primarily for another team.
About five years ago, DC asked me to research some opinions on works suspension, and what the riders think of allowing it with the production rule. Every single one of them, privateer to factory guy, said you might as well allow works stuff, because the real advantage of a factory team is having full-time suspension guys, not trick shocks and forks. I don't doubt that Chad can get the cool parts he needs, but does he have the infrastructure to match the others? I guess we'll let the results decide. By the way, I've never ridden a factory bike so I may be just making this whole problem up.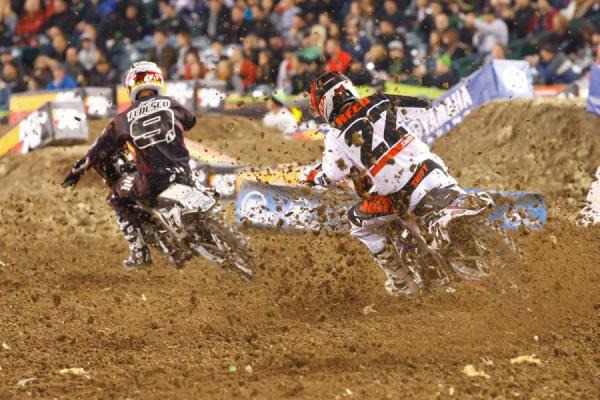 Both Reed and Tedesco were solid at A1.
Photo: Simon Cudby
Before the race, people were talking about "The Big Four" of the Ryans, Stewie and Reedy, but we already have a kid looking to break into that group. Trey Canard rode awesome and laid down a legit fourth. I could see him being this good, if not better, every week.
Who else can hang with the big dogs? Well, we all knew in the first heat race of the year, with this stacked field, that Justin Brayton (!) was going to be the one to come out firing and win. I mean, who didn't predict that? He flat handled Kevin Windham, too, as K-Dub had him under pressure, and Brayton just settled in and pulled away. JB was nowhere to be seen in the main, though. This is starting to happen too often for Brayton—he shows that he has the stuff to be a player, but when the main event comes, he gets a bad start and doesn't ride to his potential. You'd be amazed how often his #23 came up to the top of the qualifying board early last year, and it will happen again this year, only it will be #10, which means 23 actually won't go to the top again, but it will be the same rider, just a different number. Do you know what I mean?
Anyway, Muscle Milk Toyota (JGR) has some great technology, but what they really need is a time machine to get Brayton into the future, when he finally has a breakthrough race and gets the confidence he needs, and then bring him back with that confidence today. He could be on the podium next week, and he could also tell me what lottery numbers to play. But he would probably keep that to himself, eh? Jerk. If he ever wins the lottery I'm calling him out for cheating.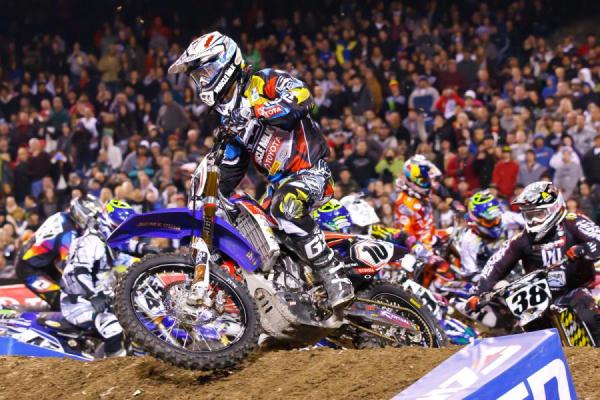 Will Brayton's qualifying times translate to wins in 2011?
Photo: Simon Cudby
Ivan Tedesco sure tried to be a player. Before the race, his agent, Scott Taylor, told me the Dodge Motorsports H&H bikes got a lot better once factory Monster Kawasaki switched from Pro Circuit to FMF, because PC had some good Kawi stuff laying around with no place to go. Onto Ivan and Blose's bikes it went. At first I thought this was just more agent BS, until Blose and Ivan ripped starts in the heat races and then Ivan ripped it again in the main. Ivan didn't give in either. He fought tooth and nail for every inch on that track. It was cool to see, and I'm also impressed that he didn't pump way up and go too far to the back. You notice how most riders don't get so crazy on opening night? Usually it's better to try to calm the nerves rather than engage them, but Ivan is making it clear he is motivated this year.
P.S. The house I'm renting here in California is owned by Kyle Bentley and his mom. Kyle is working with Ivan this year as a technician on the team. I better say good things about the bikes and team or I'll be living in cardboard.
Yawn. The Monster Energy Pro Circuit Kawasaki team swept the Lites podium. We already figured Hanny and Tickle would be frontrunners, and now that we know Tyla Rattray can indeed ride supercross, is anyone else going to mix it up with these guys?
Wil Hahn went down before the night began, and his teammate Eli Tomac never got going. Surely, Eli will be better soon. Martin Davalos was fast in practice, but a crash in his heat race sent him to the LCQ. His Rockstar Suzuki teammate Ryan Morias didn't have it after a big crash practicing earlier in the week. Will any of these guys get back up there, or are we looking at a Team PC domination-fest?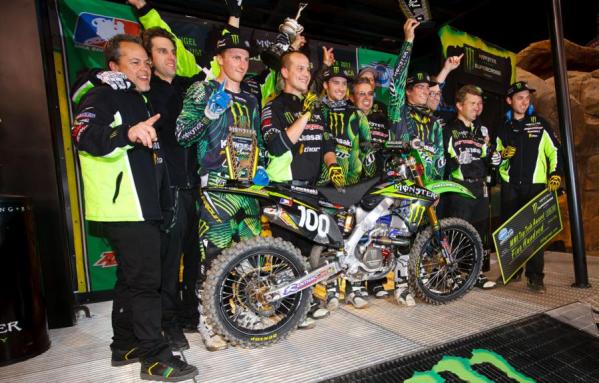 Can anyone stop the Pro Circuit freight train?
Photo: Simon Cudby
Two new kids that generated some buzz: DNA Shred Stix/Star Racing's Nick Paluzzi, and Luca Oil Troy Lee's Christian Craig. Look for more on them, soon.
One dude did show the speed to win, and this one led to the most shocking moment of the day. I'm watching the first timed practice session with the seeded Lites riders, waiting to see which rider's number pops up first in 2011. The winner? Number 194, Ken Roczen! Here is a 16-year-old in his first supercross ever, and he nails the fastest lap in his very first timed lap ever. Very impressive. Unfortunately, like a true 16-year-old, he could not hold it together, and crashes and nerves slowed him as day turned to night. I would think he and Tomac have the highest upside of anyone in this class—we don't know how fast they can go, but it's probably very, very fast. These two kids could be the ones to challenge the green team for wins. But as for the title, I think it's Hanny's to lose, and if he does lose it, Tickle will be solid all the way.
Except a lot to change in Phoenix. Nerves and hype have a big impact at A1. Also, the track was tame, which is fine because you want the guys to get out of round one safe. In a few weeks, when the nerves are gone and the bikes are dialed in, then you can get all gnarly. This track featured only one tricky section—a rhythm lane—but by main event time, most of the top dudes were all doing the same thing there. When Stewart was coming through the pack, he could only pass in two places: a left hander before the sand, and the left hander before the finish. Otherwise, he had to wait. Roczen had the same problems in the Lites race, except he wasn't quite as patient. The Anaheim track was really tight, and it seemed like a lot of the riders tried to combat that by railing the berms and rounding the corners. But it was actually faster to stay low in the berms and square things off—Villopoto noted that Stewart was doing that in the heat race, and when Brayton started pulling away from Windham in his heat, he did it by staying low. If you were riding up near the tuff blocks, you were losing time. Phoenix is totally different.
No one talks about Brett Metcalfe, but he did show some real speed running up front in his heat and the main. He didn't stay there thanks to an off-track excursion, and I also think running so far to the front in the opener may have tightened him up a bit. He showed more potential than the results indicate.
On the other hand… Andrew Short's maiden voyage on the KTM 350SX-F was not good. He finished tenth, but he never looked competitive, where Metty had his moments. After the race, Shorty told me he just didn't execute, but the bike and team are fine. Let's hope he's right.
We'll find out soon enough from all of these guys. On to Phoenix!
Email me: jasonw@racerxonline.com