Phoenix, AZ
Phoenix
Monster Energy AMA Supercross Championship
And we're back! Thanks to
BTOSports.com
for sticking behind this column and making it happen. Same great taste, new home for Observations! Did you know that
BTOSports.com
has free shipping for any international order over $799.00? Now you do.
The first race of the 2011 season kicked off and the first of what is 29 races (17 SX and 12 MX) has started. The series kicked off at the traditional Angel Stadium at Anaheim (can you imagine kicking the SX series anywhere else? Remember when they went to Orlando? What was that all about?) and we were set for some exciting racing.
It was age (Chad Reed, James Stewart, Andrew Short) versus youth (Ryan Villopoto, Ryan Dungey, Trey Canard) in a battle for the (superior) ages. Everyone I spoke to was excited for this race and this season. It's easy to get jaded in this day and age, but from the media guys to the mechanics to the racers themselves, everyone was ready to get it on.
I'll just put it out there right now: I didn't like the track, and many people I spoke to didn't either. But here's the thing: it was pretty much exactly what was needed for the first round. All the things I didn't like about it (low speeds, too many 180 turns, no originality) were good for the first race. There's no need to go out there and blow guys out of the water right off the bat. Let's get everyone in and out healthy with a race under their belt before unleashing hell.
Still not happy to not see over/under bridges out there. Well, there was a bridge that the riders went under, but on top was a Toyota truck, not dirt. We'll see if we can get some more of the most exciting obstacle in supercross in the upcoming rounds.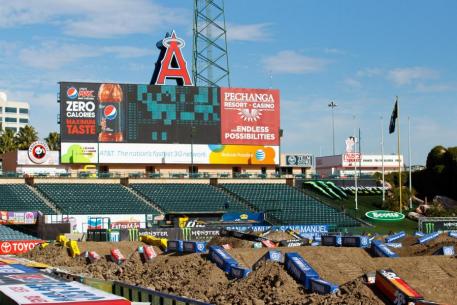 Things should get more difficult after a cupcake opening round.
Photo: Simon Cudby
Most Impressive Rider(s) of the Night (450)
I think you would have to go with three guys, and that would be the winner, the rider who got third, and then the rider that got sixth. Let's take them one at a time, shall we?
We all knew Ryan Villopoto was going to be a threat in the race. But he was very impressive in going out and grabbing the win. He sprinted away from last year's champion, Ryan Dungey, early and kept it pinned the whole way. RV really showed that he's recovered from his terrible injury last year, but I we knew that anyway from the preseason buzz. He's hired a new trainer, Aldon Baker (and Baker's split from James Stewart would fill up this word doc with all the rumors and stories behind it), and promptly dropped some pounds. Which isn't all that surprising because that's what Ricky Carmichael and James Stewart also did upon hiring Baker.
He got caught in the heat race by Stewart (which actually might have been a good thing because he told me after the race he learned a few new tricks from the 7) but there was no catching RV in the main. He applied what he learned from James into the 20-lap race that actually means something and won the opener. He was back and back in a big way.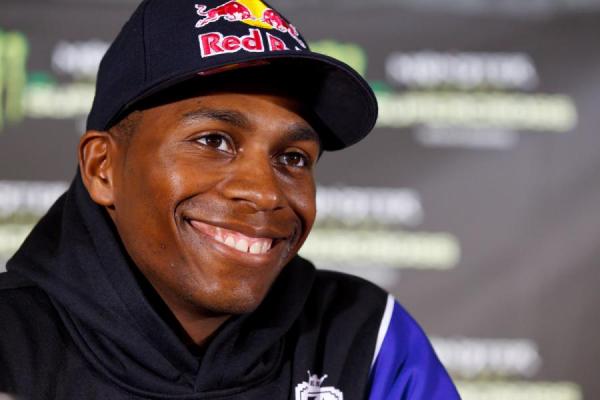 Stewart was all smiles before A1.
Photo: Simon Cudby
Another rider I think was very impressive was James Stewart. Stewie hadn't raced a supercross in a long time, and last time we saw him, he looked very un-Stewie-like at Unadilla. He was also telling us that his wrist still bothered him. Medical technology has advanced greatly over the years but it was still going to be interesting to see how James reacted to this injury. Well, he reacted well, setting the fastest qualifying time, dominating his heat race, and coming from pretty far back in the main to get a third. The old James Stewart may have rushed or pushed a pass when it wasn't there and gone down, but the 2011 James Stewart played it smart, got 20 points, and looks to be back to superhumanness.
Also, not to be overlooked, James' bike looked great. The L&M team has struggled in years past with bike setup at the early races, but with a new suspension guy/engineer on the team, things look much better.
Did I say L&M? Well, that may not be the case anymore, as I heard a while ago that James bought into the team, but then sources tell me that James bought the whole team! So now manager Larry Brooks is working for James on a team that he started. Bizarre.
The other rider who impressed me was Ivan Tedesco. Sure, his seventh on paper may not look great, but he was on it at times and looks to be a little reinvigorated with the switch to H&H Kawasakis. He holeshot the heat and the main event, and although he tightened up while up front, he still looks to be improved on last season.
It's not a big surprise to me, because I've seen Ivan ride a few times up here in Vegas at the H&H facility and he's looked good. He seems to be back to being that aggressive guy, and hopefully he can keep it up. Well, keep up the holeshot and lead part, not the fade back to seventh part.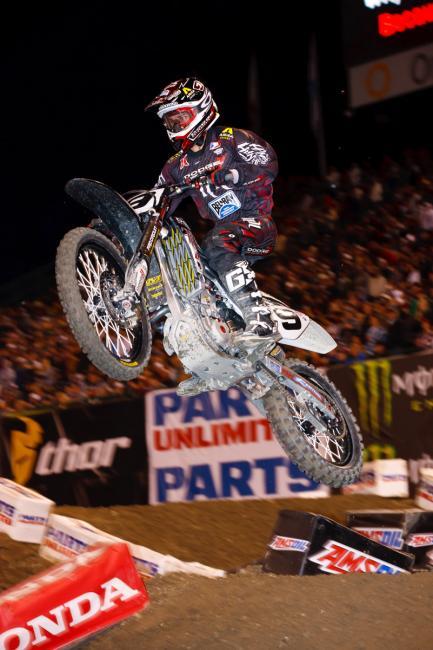 IT had a solid opening round of the season.
Photo: Simon Cudby
Things That Make You Go Hmmmm Department
The switch from Pro Circuit to FMF exhausts for Monster Energy Kawasaki is something that may not interest casual fans of the sport but believe me, it's a big deal in the pits. And congrats goes out to FMF for winning its first 450 main event since the days of Vuillemin on a YZ250 two-stroke. Anyway, with PC running Kawi's Lites program and supplying camshafts, pistons, and other hard parts to the factory guys, it's pretty amazing to me that the factory guys switched exhausts. But in talking to manager Mike Fisher, I got the full story from them and I suppose it's more convoluted than just (what they think is) a simple performance gain.
Sources close to the situation insist no money exchanged hands (Pro Circuit is famous for not paying anyone to run their exhausts) and that also wasn't the motivating factor. Light weight, performance gains, and a different end cap were just some of the reasons I heard. I know there are some hard feelings going on between PC and factory Kawi but Mitch did come on over to the rig to congratulate the guys on RV's win.
And what a night it was for Kawasaki, no matter what exhaust was run by what team. Hart & Huntington Kawi riders holeshot races, RV won, and then to top it off, Pro Circuit's 250F team swept the Lites main event with Josh Hansen, Broc Tickle, and Tyla Rattray. It was quite a tour de force performance from the team, and if you're Kawasaki's marketing department, you're glowing.
Hansen looked in control the entire time and looked like he could make the pass on Tickle whenever he wanted to. In the past, I've always thought that when Hanny made a mistake, he tried to go faster to make up for that error which resulted in more errors. In 2011, with an Australian 450 title under his belt, he looks confident and should be a front-runner the rest of the way. Can he win the title? Sure he can, but he's going to have to relax and realize that his talent/bike/team is the best, and if he's not out front at the start of a race, things will come anyway.
Let's pour over the results:
250 Results
1 100 Joshua Hansen
2 20 Broc Tickle: Tickle was good. He's not flashy or anything, but he's really fast. I wonder if Star Racing owner Bobby Regan watched Tickle, looked at his bike and then broke down in tears.
3 28 Tyla Rattray: Ratters came very close to not even racing after a bad practice crash. So his third seems even better than it would normally be.
4 23 Martin Davalos: Martin impressed with his practice times and even a trip to the LCQ couldn't damper a pretty good night for him.
5 36 Cole Seely
6 71 Ryan Morais: What happened?
7 194 Ken Roczen: This kid will make the box very, very soon. He's the real deal, and I bet the Mattstedt, Germany, tourism board's business just picked up with people wanting to check out his hometown.
8 58 Travis Baker
9 72 Nick Paluzzi: "Snookie" did very well considering he had six days on the bike after coming back from a broken wrist. Great ride and hopefully he keeps it up. This was his first SX!
10 19 Eli Tomac: I'd look for Tomac to do much, much better this coming week.
11 903 Antonio Balbi
12 49 Ben Evans
13 35 Kyle Cunningham: Cunningham was fast but then crashed. Stop me if you've heard that before.
14 995 Ryan Marmont
15 374 Cody Gilmore
16 795 Bruce Rutherford: I don't know anything about him, but he has a great astronaut name.
17 965 Travis Bright
18 166 Dakota Tedder
19 144 Christian Craig: Craig looks really good on a bike and probably would've done better had he not left the door open and got stuffed while up front in the main.
20 73 Topher Ingalls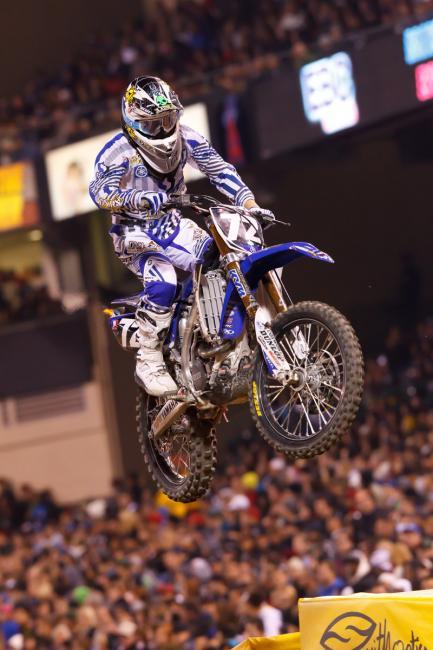 Nick Paluzzi was spectacular in his rookie debut.
Photo: Simon Cudby


450 Results
1 2 Ryan Villopoto
2 1 Ryan Dungey: A good practice crash followed by a so-so heat race made some people think that The Dungenator was in trouble, but he rebounded for a solid main event second.
3 7 James Stewart
4 41 Trey Canard: Not surprised at all with Canard's great ride. He's been on it and will be a factor every week. Of course, we all know who his mentor is.
5 22 Chad Reed: Reedy's fifth looks better on paper than it was in real life. He struggled in the rhythm section, his suspension looked soft to me (but I could be an idiot) and he's got some work to do. I'm still a believer.
6 14 Kevin Windham: KW was steady and guess what? The fans loved him.
7 9 Ivan Tedesco
8 24 Brett Metcalfe: Good ride by Metty but I'm sure he wishes he hadn't crashed in the main.
9 33 Joshua Grant: Grant is slowly working himself into race shape after another off-season surgery.
10 29 Andrew Short: Shorty wasn't happy with his ride and it's been a long time since we saw him such a non-factor in the race. When he told me he was having trouble with the quad, I can't help but think an extra 100cc might have helped. But that's just me.
11 11 Kyle Chisholm: Another quiet good ride for Kyle; He was a little bummed after the race and wanted to do better, but hey, you can't win them all.
12 27 Nicholas Wey: Wey had mechanical problems in both practices which probably hurt his results. Still, a 12th from the last gate pick isn't too shabby.
13 30 Kyle Regal: To be honest, I expected better out of Regal from what I hear about him at the Yami track and from his team manager. With him living with Larry Brooks, I guess he'll be hearing all about it over some turkey and peas.
14 800 Mike Alessi: Mike's first SX in a year was … okay. He almost got a great start in the main.
15 47 Jason Thomas: The little man just keeps trucking. Stacked field? 15th. Injury: depleted field? 15th. JT does what he does.
16 10 Justin Brayton: Brayton won the first heat of the year in a great ride and he looks, I don't know, more stylish this year. Crashes held him back in the main but he'll be there.
17 38 Chris Blose: A crash in the second turn didn't help things.
18 50 Matt Boni: Boni's back on a Ti-Lube Kawasaki and trying to get back to that 2009 level.
19 18 David Millsaps: Not the debut that JGR or Davi was looking for but I get the sense that he's still coming around.
20 12 Thomas Hahn: T Hahn had a mechanical problem where the motor wouldn't run due to it not getting any gasoline.
Something happened this weekend that I had never seen before: Honda benched Josh Grant's mechanic for insubordination. Seems that "Gothic" Jay didn't want to put a part on his bike and Honda said no problem, go to the stands and watch. I worked with Jay for three years at Yamaha and know him well, and I also know the Honda guys well. It's a bizarre situation, and while I admire Jay for telling me he was "taking a stand for mechanics everywhere," I wonder how that's going to play out when he's working at Burger King next week. Stay tuned for more on this next week. We'll see what happens.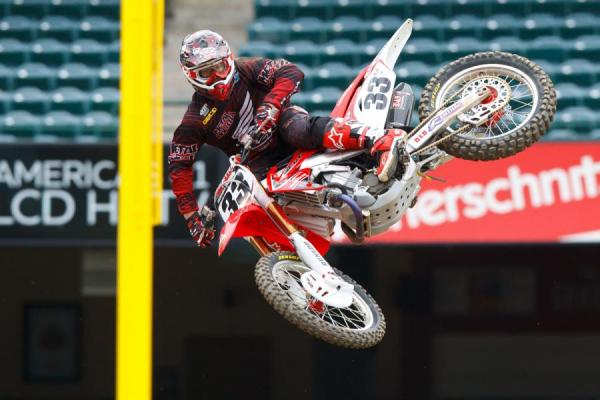 Grant stayed in play at A1, while his mechanic fouled out.
Photo: Simon Cudby
Apparently, JGR Yamaha has a rear holeshot device on their bikes. I didn't see it or anything like that, but it's nothing new—it's been used in Europe and even over here by some privateers. I'll do some snooping this week and get back to you.
Even though riders Andrew Short, Mike Alessi and Ken Roczen didn't do that well at A1, I visited KTM this weekend and they are an exciting team. With the three guys I mentioned plus the injured Marvin Musquin, they have an interesting collection of talent over there. A new bike, new sponsor, new team managers, plus new mechanics-they are gelling together and everyone is cool and happy. Plus I think the bikes are the nicest-looking ones in the pits. Keep an eye on these guys.
I love Roczen's riding style. He's great on a bike and reminds me of Barcia out there. He's exciting and I had him on my Pulpmx Show this past Monday and he's got a cool personality. He's 16 with a bright future ahead of him and it was so awesome when, on the parade lap before the 250 main, he passed everyone and started jumping all the jumps and doing cross-ups.
Valli Yamaha's Austin Stroupe qualified for the night show but pulled out before the heat races. It was an odd decision but I spoke to team manager John Mitchef and he explained that he just wasn't ready for the main event and they want to ease him in slowly. Which goes against what I hear in the pits but who knows?
Nicest Looking Gear/Bike Combo
I think I've got to go with Mike Alessi and the orange-black-and-white motif on his Alpinestars gear. I also liked the helmet, and I've already said that I liked the way the bike looked. So congrats, Mike, on winning this prestigious honor.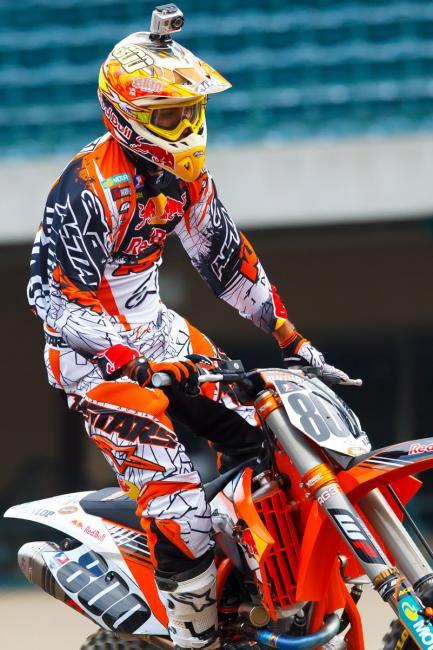 Alessi was decked out in the new Alpinestars gear at A1. Something Matthes enjoyed.
Photo: Simon Cudby
Speaking of Mike, we had his dad, Tony, on the Pulpmx Show and he said that he wasn't at Anaheim and in fact wasn't going to be at any races all year. He says he's decided to step back and let manager Roger DeCoster work with Mike because "everyone says Roger is so great and this is what I should do." Stay tuned for more on this. How do I know there will be more? Because there always is.
Thanks for reading. Email me at Steve@pulpmx.com if you want to chat or have another version of something that I wrote.