Anaheim, CA
Anaheim 1 (A1)
Monster Energy AMA Supercross Championship
Rockstar Makita Suzuki's Ryan Dungey came into Anaheim sporting the number-one plate for the first time in a series race (previously he has sported the digit at the East/West Lites Shootout in Vegas and the Motocross of Nations). It's been said that defending a title is harder than winning it in the first place, and when Dungey started the day off a little shaky with a practice crash, it looked like that may be the case. But just like he did last season, he progressed throughout the day, found his groove, and landed on the podium. But is The Dunge happy with a runner-up finish to Ryan Villopoto?
Racer X Online: Okay I'm going to start this off with a story for you.Ryan Dungey:
…Okay.
No, it's going to be good. You'll enjoy this. Twenty years ago, Jeff Stanton came into this race as the defending supercross champion. It was a surprise because no one expected him to win the year before. And Stanton is known as one of the toughest, gnarliest guys ever. He is so mentally strong. But at Anaheim, he admitted the number one plate was heavy, the pressure got to him, and he finished sixth. And this is Jeff Stanton! So you got second in your first race with the number-one plate. You okay with that?
You know, I think, at the end of the day, last year was amazing. It's something special, and maybe something I never expected to accomplish, especially at twenty years old. So that was awesome. But I think it's key to keep pushing forward and not rely on past accomplishments. To wear the number-one plate is an honor, and something you work so hard for. But at the end of the day, it's just a number on your bike, and it shouldn't affect the way you ride. It's important to keep making new goals so you can work toward them, and just keep moving forward.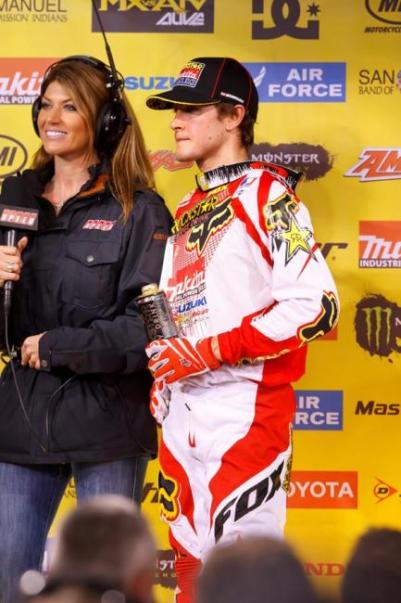 Slow start to the day, but the same old visit to the box.
Cudby photo
You weren't on top of the boards in practice, you had a crash, and the heat race wasn't great.
Yeah.
Did you feel okay going into the main? Were you worried?
I felt pretty good. Today we had to do some fine tuning in practice, we found a good setting and I think we had a good pace in the main. We just came up a little shy. Villopoto rode a great race. But it's a good start to the season, no doubt. We just need to take what we learned tonight and apply it to each race.
Last year that was one of your strengths. You might not have started the day on top, but you and the team made great changes and great progress as the day went on. We know some of the personell has changed over at your team, do you feel you can still make all the right changes?
You know, that's one of the hardest things, and one of the things we're always trying to work on. You can start the day out, and roll out and be like, "Man, what's up with my bike?" You just don't know. That's where learning and paying attention is really key. Especially the 450, it's heavier and it seems like it needs more fine tuning every week, more so than the 250F. So it's a work in progress. We always come in after practice and have a team meeting with the suspension guy, team manager, everybody, and we try to make the right changes. We have a lot of knowledge on this team. Hopefully we find the right setting. And if not, sometimes you just have to deal with it. Like I've said, we've all had to deal with our tests, and I think it's how we go about them that matters, and trying not to let them get to us.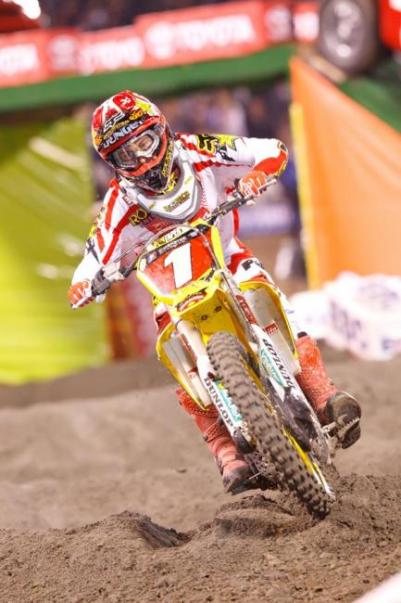 Dungey also finished second at Anaheim 1 last year, but that's about the only thing those races have in common.
Cudby photo
Okay, last thing about the race. You were in second for the second half of it. Were you trying to catch Ryan or were you happy in second?
I was absolutely trying to lay down good laps, and trying to catch him. He got out there, and that's hard to do, you're playing catch up. It is what it was. I got into second and just tried to ride clean laps, and if I caught him, great, but if not, hey, it was absolutely a good start to the season and we'll work on it from here.