Anaheim, CA
Anaheim 1 (A1)
Monster Energy AMA Supercross Championship
Josh Grant and Davi Millsaps have essentially traded teams, with one moving from a Honda to a Yamaha, and the other doing the opposite. Grant came through Honda's amateur program before landing a pro deal on the Factory Connection Honda squad (known today as GEICO Powersports Honda). But when it came time to find a 450 ride for 2009, he went with Joe Gibbs Racing and Yamaha. After two seasons with that team--a great one in 2009 and a bad one in 2010—Grant is back on Honda, this time with the full factory squad, American Honda Racing.
Racer X Online: Josh, You are back home in a way.

Josh Grant
: Well, it explains itself in a way. I rode Hondas my whole amateur career, I basically grew up riding Hondas and stuff, so it feels like I'm back, it feels like I'm home. And I really am. I came back from North Carolina and I'm back with my family in California and doing things, so I'm really stoked.
How bad has that shoulder injury been?
This year, the beginning of it, might be a little tough. I haven't had that much time back on the bike with my shoulder injury, and then I also broke a small bone in my foot, which kept me off the bike another two weeks. A lot of the work has been getting that shoulder back to 100 percent, so I hired Randy Lawrence as my trainer, and we've been working hard on therapy. I feel like, physically, I'm better than I have been in the past, so to start the season, I feel ahead of the game from where I could have been. It's good—new team, new gear, it's good. I haven't even had much testing time, but I told the guys I feel so at home on the bike, it doesn't matter.
You got hurt at Southwick. How did the shoulder injury even happen?
It wasn't even a bad crash. In practice I just tucked the front end, and stuck out my arm.
Was it the shoulder you hurt at the beginning of the season?
No, it was the other side.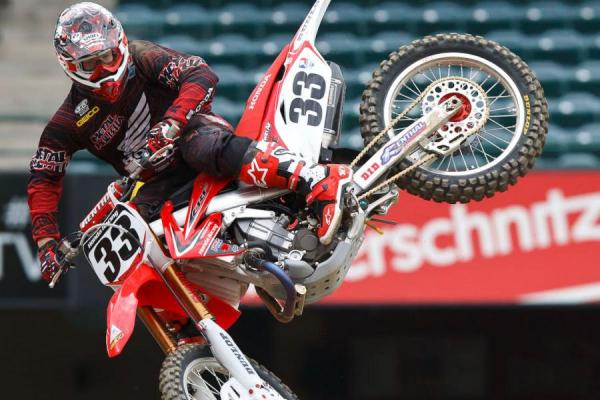 Josh Grant made the jump from JGR to American Honda Racing for 2011.
Photo: Simon Cudby
You won this race in 2009, but you didn't race supercross at all in 2010. So where do you feel like you fit in with this field? Can you put a number on where you expect to finish right now?
I can't! I came here in 2009 and won the first round and had a bunch of podiums, so that was a good year for me. Last year I had a shoulder injury right before the first round, so that kind of screwed up the whole deal for me. Even X Games, I won that, but I didn't even do any supercross testing or riding leading into that race. So this weekend is what is going to be the base of all the hard work I've put in for the last few months. So hopefully I can build from that. Be top ten, be top five, let the races keep coming together, and just keep getting better from there.
Davi Millsaps joined Team Honda in 2006, and delivered an East Region Lites Title as well as three Supercross Class wins for the team. Last year he crashed hard at the Budd's Creek AMA Motocross and knocked himself out of the rest of the season. Courted by the Muscle Milk/Toyota Joe Gibbs Racing squad, Davi decided to make a change from Honda to Yamaha. Here's a progress report on the switch.
Racer X Online: Davi, we haven't seen you racing in awhile. What's been going on?
Davi Millsaps: It's been a fun off season, I had a lot of catching up to do because I had a big injury. Then I switched to a new bike, I was on Honda for over five years so, I mean, it was fun, but it's taken some time to get used to the bike. I've had fun, and I like the team and stuff, but really it's just fun to be riding again. Everyone thought I would never race again because I lost a kidney. But here I am.
So what are down to with the kidney?
One is good and one is 80 percent.
Can 20 percent of a kidney do much for you?
No.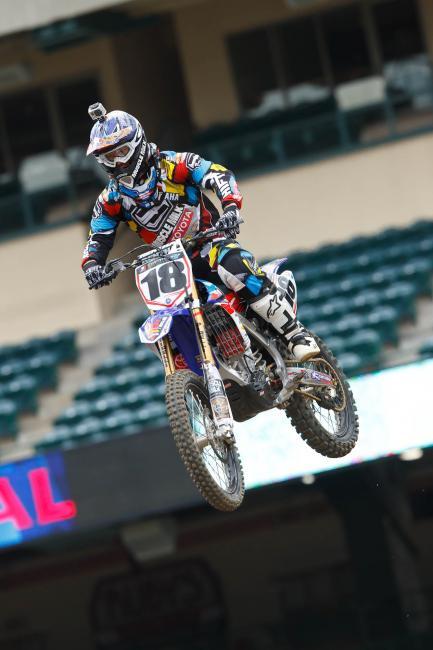 Davi Millsaps is riding for Joe Gibbs Racing in 2011.
Photo: Simon Cudby
Man. So what was that experience like?
When it came down to the doctors telling me, "You don't have any blood in your kidney, but you only need one of themm" I was like, "Do I really want to take this chance again?" Eventually I got it to 20 percent in the one kidney, and they did say it could come all the way back to 50 percent, and that would be enough to keep me off of dialasis, even if I lost the other one. I haven't had it checked in a few months, so they're hoping it will keep coming back, and that would be enough to run my body if something bad happened. So I'm okay now.
How's the team?
It's great. The best thing about it is getting to move back east.
But let me get this straight—you still had a place in Georgia all along, right?
Yeah, but I was in California sometimes, and in Georgia sometimes. Now I'm back east all the time. And I love it. I absolutely love it. Unfortunately I haven't had much time to ride super hard because I was off for so long. It took me a long time to get into the swing of things. Once I got going, I hired a person off of my team to help me out, and I really like working with him. He lives right next to me, and he's here to push me. When I come to the track I know I need to do work, and I need to be ready.
Everyone says this team has more of a team concept than the other teams out there. Is that what it's like? Do you all do everything together instead of going on your own during the week?
Before I came to the team, everyone had their own opinion. So I tried to have an open mind. I didn't come in with certain expectations. I just knew I was moving back east and I needed to do work. So far it's been great.