Anaheim, CA
Anaheim 1 (A1)
Monster Energy AMA Supercross Championship
It's always exciting when a new crop of rookies moves up to the 450 bikes and the supercross class, and this year's rookie crop includes last year's Lites West SX Champ Jake Weimer (who is now out hurt) and last year's 250 AMA MX Champ Trey Canard. It also includes Brett Metcalfe, who logged some great rides last summer when he switched to a 450 outdoors. He's now Ryan Dungey's teammate over at Rockstar Makita Suzuki, and will try to duplicate his 450 motocross success indoors.

Welcome to the big class in supercross. Are you excited? Nervous?
Well, I'm excited and nervous! So you kind of hit the nail on the head there. I just want to go out there, be in control of the motorcycle, nothing crazy, but give myself my best chance to win. I don't really know if I'll be fast enough to win, or to podium, or where I'm going to be. We'll see where we stack up, so I just want to believe I can do well. And I do!

The strange this is, everyone will say, "Just ride cautious and don't get hurt." But is that something you can really do?
No it's not. You can ride cautiously, but sometimes that puts you at more of a risk. When you're in your groove, that's when you're most comfortable. I want to ride as fast as I can but not go over my limit, and you can't put a number on that. If you're fast enough for fifth, then take fifth. If you're not, you're not. I don't want to force myself to go crazy and try to win when I can't. So that's my game plan, go in there and be level headed, but ride hard.

It was such a good summer for you, especially over the last few races. Can you carry that all the way into this year, on a new team, new bike, new series, all of that?
Yeah, I think I am. I'm carrying the confidence, and the belief in myself. I feel like I won a race, at Southwick. I know I didn't actually get the win [note: Metcalfe ran out of gas while leading on the last lap] but I know that I did my job, regardless. I've carried confidence through the off-season, and I feel like I matured. I feel like I'm thinking more about everything that I'm doing. Hopefully that will carry over. Like you said, supercross is a whole new game for me doing 450s, so who knows? It could take two laps, twenty laps, or two rounds. Who knows how long to get used to it? But I'm going to just try to carry on like we were doing at the nationals.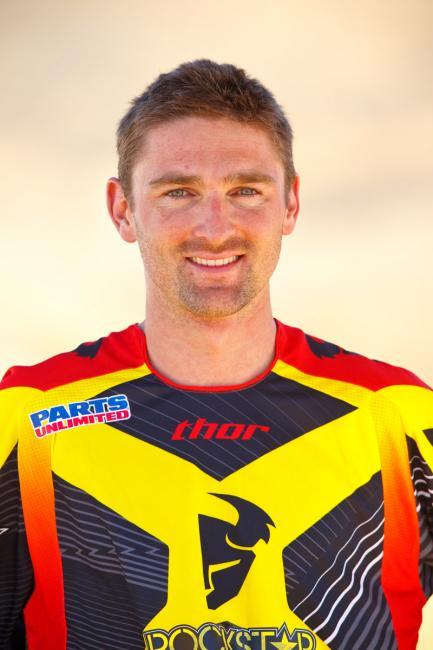 Brett Metcalfe
is on a new team and in a new class for 2011.
Photo: Simon Cudby
You're also on a new team, and that team has gone through some changes with Roger DeCoster, Ian Harrison and others moving to KTM. You weren't there when they were, but from what you can tell, is the team still solid?
It's been awesome! But I will admit at first it was a little shaky, with Roger leaving at first, and then along the way some other people left, so it was a little shaky at times. But everyone who has stepped in has been great. [New Team Manager] Mike Webb has been great, Ray Tetherton has stepped up, Don from Yoshimura has been there. The people who have been around long enough have kept it going smooth, and our test sessions have been no different from what they were in the past—at least from what I've heard! The resources and options available to me have blown me away.

Last thing. You were really under the gun to perform last summer, because your contract was up, and you were trying to transition into the 450 class, where it's not easy to get a deal. You have to feel so relieved right now.
Exactly. On paper, you have to say Rockstar Makita Suzuki is the number-one team, and I'm on it. That's only on paper, of course. But going into the nationals, I could look at it as a make or break. I knew this year, it was going to be ridiculous to get a ride. I knew the pressure was there, but I tried not to focus on it. I didn't try to force it from the first race, I waited until I was ready, and then I went with it. So I want to do the same thing again. Just be me, and do what I do.