Welcome to Racerhead. Some weeks are busy, and some are just plain crazy—and I'm only talking about the off-season! After months of speculation, the puzzle pieces started falling into place as to where many top riders would hang their helmets in 2011. The whole frantic process started with Brett Metcalfe officially signing with Rockstar/Makita Suzuki (or maybe it was Roger DeCoster signing with Red Bull KTM), and it's ongoing as I type this. But we do know more now about where a half-dozen guys are moving than we did at the beginning of the week! I will let Steve Cox break all down below.
Anaheim is less than 100 days away!
It's never too early to start thinking about racing again, and with Feld Motor Sports releasing the blueprints to the 2011 racetracks, the Monster Energy AMA Supercross tour seems right around the corner. I know the Feld guys have been having discussions with a lot of folks and teams about the designs and track ideas, including a variety of past champs, and here's where they are with the tracks right now (all are subject to change of course): 2011 Supercross Track Maps.
Also, if you don't think the riders are anxious or even interested when the new numbers come out like us fans and race-watchers are, you would be mistaken. I was fielding calls all week long. Take Broc Tickle, for instance. The new Monster Energy/Pro Circuit Kawasaki rider texted me several times before the numbers came out looking for clues as to what he would be wearing in 2011. Broc wanted #20 again, and he did the math and figured he just might have it. After joking with him, "You're now #44," I had to inform him that BT101 would probably now be BT20, and he's (The Other) BT21. Townley totaled 324 points to Tickle's 287.
"Okay. If only I didn't get hurt!" BT21 responded. "Last year I got 285 points and got 20, and Nico got 282 in '08 and got 20… The U.S. is getting better and better!" But then BT101 checked in from New Zealand and informed the AMA that he wanted to keep 101, so that gave Tickle the #20 he coveted. It also means Blake Wharton will keep #21. The only real problem? Wil Hahn shot a video with Simon Cudby the other day running #32, which he thought would be his number, but it's now 31. "Thank God I didn't already get that '32' tattoo!" joked Wilbur.
In case you missed it, here's the video Simon made of #32-for-a-day Wil Hahn, putting his new GEICO Powersports Honda through its paces: Wil Hahn on GEICO Powersports Honda.
And while he was out there, Simon the Great also made a clip of the new #41 in America, Team Honda's Trey Canard. Check it out: Canard on his new 450.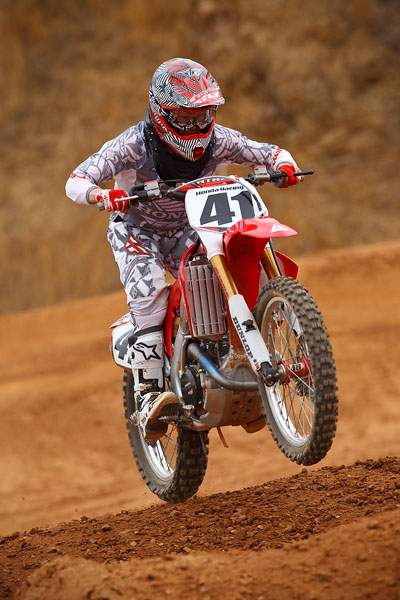 Trey Canard is looking good and comfortable on the 450—even better than last spring when he landed on the box five times!
Photo: Simon Cudby
I also got calls from the new #19, a call about #30, and a message from France about a potential number. What's really changed is that the AMA decided to make the riders who have yet to earn a permanent number take the two-digit numbers they earned, which means Jason Lawrence (338), Nico Izzi (341), Martin Davalos (577), and more have to run the double digits they earned. The three exceptions are BT101, Christophe Pourcel (377), and Mike Alessi (800), as they earned the right to make those permanent numbers in previous seasons.
To see the whole list of 2011 AMA Supercross/AMA Motocross numbers, here they are: LINK.

Also, starting next year, any rider with a permanent number will have to earn a minimum of 25 points (barring season-ending injury) to hold that number in 2012. Last year #3 Mike Brown scored 26 points, so he would be fine, but the world's fastest vet—45-year-old John Dowd—scored less than that in his one and only outing, so he needs to stay off the ground in the first turn at Southwick (which I hear will have a new start for 2011) if he wants to keep that #16.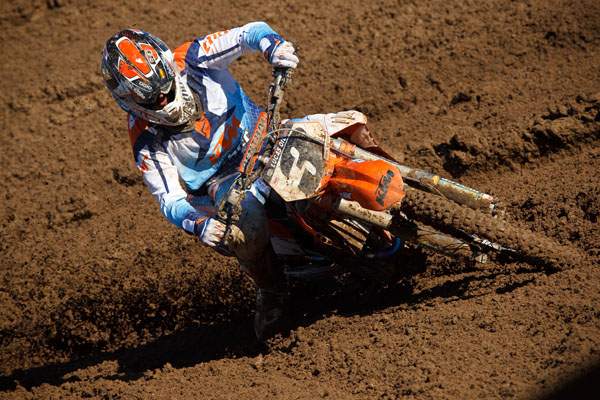 Mike Brown is still #3, but he's still earning it!
Photo: Simon Cudby

Those of us in the Racer X office this week were lucky enough to get to check out the final cut of Taylor Congdon's new moto-masterpiece, MOTO2. This film has something for everyone: lots of moto, some very cool off-road stuff and desert stuff, an awesome urban trials segment with Julian Dupont—it's really, really good, and we're proud to be the presenting sponsor. If you haven't become a Facebook fan of MOTO2 yet, head over HERE and hit the Like button.
And if you haven't pre-ordered your own DVD, you can fix that by going to www.motoxcinema.com. It's worth every penny.

And mark this one down as too-good-to-be-true: LINK
The Royal Court Theatre Company even sent us a note looking for stickers and swag to make it all look more authentic, which led to speculation in the office that either "Red Bud" is the most elaborate ruse yet to get free stickers, or we're going to have to head to the West End of London for the big debut in a couple of weeks! Our friends at Moto—Adam Duckworth and Ben Johnson—will be there as extras playing English journalists the night J-Law got cuffed and stuffed! No word on whether Lawrence will play himself, but how cool would that be?!
Okay, I made that last part up. But it's got to be in there, right?!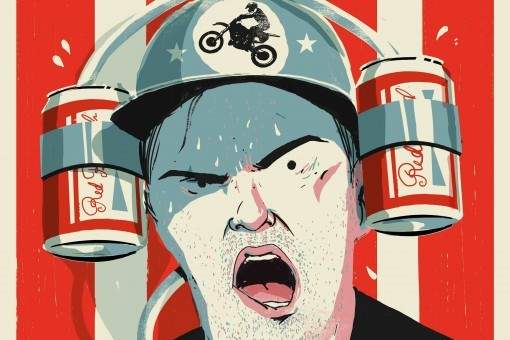 There is a gifted thespian in London who will play the role of "Red Bud Fan #47" and spend the entire production feigning sleep atop empty beer Keystone Beer cans beneath a Toyota Tundra pick-up

How broad is the all-out war between Red Bull and Monster for the lead position atop the energy drink category? They're even fighting it out in cyberspace! Check out this article: LINK.
All year long we've been asking you to help us decide the five fastest riders from each state in the U.S., and this is the week we have long waited for: California's Fox Fifty! As you know, there are so many fast guys from the Golden State that the guys we left off the nomination list alone—Micky Dymond, Mike Bell, Donnie Hansen, Bob Moore, Magoo!—could probably give just about any other state a real run for its money. The choices were tough, but we got it down to a manageable group for you to vote on right here: LINK.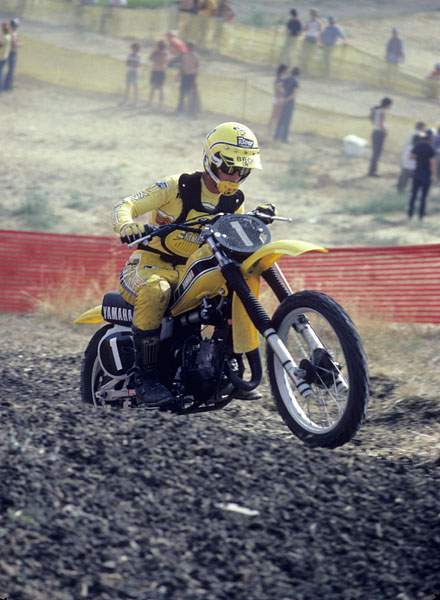 Where does the Golden Boy rate on the Golden State's Fox Fifty?
A belated thanks to Scott Wallenberg, a lifelong family friend and great coworker over the last dozen years, for the birthday present he handed me at the Motocross of Nations: a genuine Team Sweden jersey from the 1996 Motocross des Nations at Jerez De La Fontera, Spain. (I'm not Swedish but Scott is extremely-Swedish!) I was at that race to watch Team USA decimate the field, and I have to rank it up there with Team USA '86 and '07 for all-time teams. But I have absolutely no idea who #16 for Sweden was that year—the guy who wore this jersey Wallenberg gave me! So let's do some flash trivia, open to anyone in the world: A free digital subscription to Racer X to the first person who can tell me who #16 was in the '96 des Nations! Letters@racerxonline.com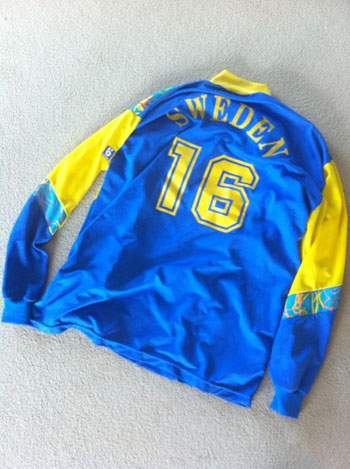 And speaking of the '96 MXdN, here's a letter from Racer X reader Steven Abbate looking for some help:
For many years, I have been trying to find video footage of the 1996 Motocross des Nations from Jerez, Spain. I remember the original article 14 years ago, how they sent Team USA flying through the air like alpine skiers, like Emig shown on page 164! If anyone from RacerX could help me find a video of 1996 MXDN I would greatly appreciate it. Ask Emig--maybe he has some footage of it!. Especially when he spanked everybody on a 500.
If anyone can help Steve, send us the info: Letters@racerxonline.com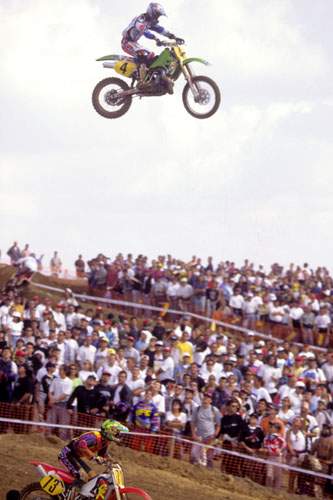 Here's an old DC photo of Jeff Emig taking the high line at the '96 MXoN on his way to a pair of Open-class wins for Team USA, which included the great Jeremy McGrath and the great Steve Lamson. That whole team was great!
Okay, let's start with Ping:
I'm pretty sure Broc Tickle can relax. Despite earning the points for #20, Ben Townley will keep my number again for next year. That is, if he stays here for the 2011 season. Or if the jackals on the internet don't form an angry mob and burn him at the stake for his "aggressive" riding in Colorado. I think Ben will be back next year, personally.
Are you feeling left out while the pros get ramped up riding supercross again this month? Competitive Edge is trying to help. They're building an "amateur supercross" track, and they're going to have a fall series under the lights. The grand opening is the weekend of October 23-24 and there will be a long list of top pros and industry companies in attendance to show their support for the local facility. Click on the flier for more details and be sure to come out and ride!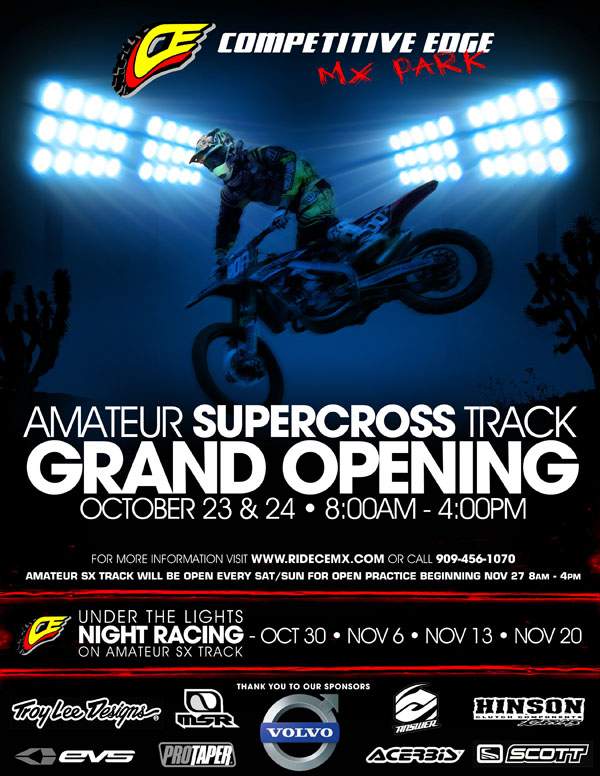 Honda introduced its 2011 CRF250R this week. The new bike features some of the refinements made to the 450, including suspension adjustments, quieter muffler, stiffer steering damper, and improved ignition mapping to increase the low-end response. Simon Cudby shot a video that you can check out here. LINK.
Could Chad Reed end up at Hart & Huntington for next year? The former AMA Supercross and AMA Motocross Champion is quickly running out of options. According to someone close to the team, Carey has been working with Dodge to come on as a title sponsor, and they wanted someone like a Windham or a Reed on the team. Well, KW stayed with FC, soooo…
H&H also parted ways with Rockstar, which would open the door for Monster (Reed's sponsor), and both Carey and Chad are managed by the same guy, Steve Astephen of WMG. It seems like a good fit.
In the meantime, Reed will definitely be riding a Honda down in Australia this weekend. He has been riding the bike for a couple months now and really likes it. With some of the big puzzle pieces falling into place, we should all find out where the rest of the guys will land soon. What about Pourcel? Stroupe? Josh Grant?
Which takes us over to Steve Cox:
Josh Grant is headed to Team Honda, Ping. More on that in a minute.
Silly season is more like the NFL Draft this year than it is a normal silly season. The teams have budgets (or "salary caps") that they can't go above, and there are only so many racers to go around. But once the first big name dropped, the rest started dropping too—not just because the teams have their budgets sorted out now, but because every time a rider signs with a team, that rider is off the market and so is that spot on that team.
I interviewed Brett Metcalfe for a Monday Conversation about it earlier this week. He signed a two-year deal with the factory Rockstar/Makita Suzuki team. That very likely meant the Suzuki team was full (with he and #1 Ryan Dungey), so not only did Honda have to give up on Metty, but any other riders who wanted that spot at Suzuki now have to give up on that spot.
The next piece to fall was Andrew Short. Short grabbed up a spot at the factory KTM team, which rumors have it will again be sponsored by Red Bull in 2011. I'm sure Roger DeCoster likes what he's seen of Short through the years, and especially over the weekend at the Red Bull Motocross of Nations, but I'm betting Short's great PR skills helped Red Bull to decide to nudge the KTM team in his direction as well.
Then DC heard directly from Larry Brooks that Kyle Regal had been tapped to be James Stewart's teammate, which makes it sure seem like they are serious about racing next summer. That was a job that Shorty was rumored to be interested in, and apparently was very close to accepting before the KTM deal landed on his desk.
Then came word that Kevin Windham is staying on for two more years at GEICO Powersports Honda, which also caught some folks by surprise!
Andrew Short was another guy that Honda probably wanted to keep but couldn't. Their answer? Josh Grant! It's funny that when someone is hurt, many times there isn't a lot of talk about him during silly season – case in point, Josh Grant and Jake Weimer. But with Grant, everything I had heard had him staying with Yamaha to race with the Valli Motorsports team, but now that's not going to happen. He's going to Honda to be Trey Canard's teammate. And really, this makes sense, as Grant is a Honda guy from way back in his amateur days with Honda of Houston and then Factory Connection Honda in the early part of his pro career. Now he's making a circle back to Honda, where he probably should've ended up a couple of years ago, except the factory team was full at the time.
He brings with him a flat-out butt-kicking of Ryan Dungey in the first moto at Colorado, a win at Anaheim 1 in 2009, and don't forget his X Games gold medal.... Actually, that was no big deal. But between he and Canard, this team is going to be stout. They are both very, very fast.
Could Honda add a third rider? Maybe. But with at least two, they may just stick with that number.
I still have Weimer going to Kawasaki's factory squad to race alongside his friend Ryan Villopoto, although nothing has been finished up there yet that I know of.
This leaves Chris Pourcel. Why hasn't he signed yet? Is his asking price outside of the budgets of the teams? I don't know what's going on, but he may be getting a bit nervous now that the teams are spending their money.
And this also leaves Chad Reed, who rumors had going to KTM a while back, and according to his own Twitters might end up in early retirement.... (By the way, @CRtwotwo is to twittering what @JS7 is to scrubbing.) Or as Ping mentioned, he may end up at Hart & Huntington, but there would need to be some serious factory backing for suspension and other R&D at minimum. Or there's always the chance that he'll just pick up stakes and go car racing if no one can meet his dollar figure. He has that luxury, whereas Pourcel doesn't.
More may happen as soon as today, and certainly next week, so stay tuned to Racer X Online as we'll strive to get you the information as soon as we know what's going on.
Switching gear, tonight I'm heading over to the Oakley headquarters to check out An Evening with Dr. Hans Keirstead. He is a pioneer in spinal-cord-injury research and is probably the most likely person to eventually heal spinal-cord injuries, and tonight will be a bit of an update on the progress he's making in his research, so I'm looking forward to that. Check it out at www.eveningwithhanskeirstead.com.
And tomorrow I'll be heading out to Starwest for the Ross Maeda Benefit Ride Day. Anyone who wants to get in a day of riding, you may as well do it there, so you can help out a moto friend who needs it. Check out more details HERE.
That's it from Cox; here's more from the week in general:
Congrats to former KTM pro rider Hans Neel and former KTM employee Kelly Renshaw, who tied the knot September 25 on Holston Lake in Bristol, Tennessee.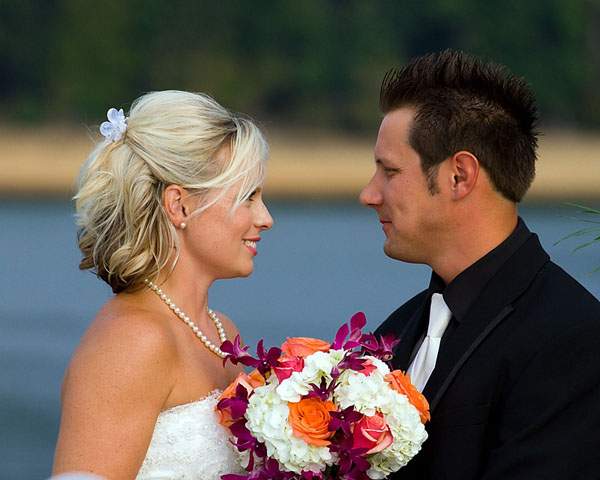 We got this message from Brandon Kruger at Milestone MX:
"We're opening up our supercross track to AMA pros this coming Monday, so anyone interested in getting out and putting in some laps, check out our webpage here for all of the details."
If you're a history buff like me, or just dig really cool houses, you might find this next story interesting: Lucas Oil founder Forest Lucas recently bought what is thought of as one of the nicest residential properties in the Midwest, known as Le Chateau Renaissance, and built by the founder of Conseco Insurance. LINK.
What's cool is that the property was on the market for five years and was once listed at close to $20 million, but Mr. Lucas bought it for just $3 million—in cash!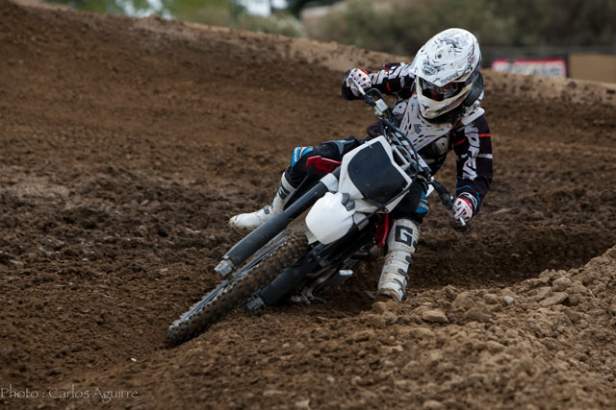 LEIB Michael Leib will ride for Ricci Husqvarna on the GP circuit next summer.
Photo: Carlos Aguirre
Michael Leib, the fast California kid who summered in Europe on the Grand Prix tour, will head back there in 2011 as a factory rider. Leib has signed a letter of intent with Husqvarna and Ricci Racing. To learn more about Michael's rookie year as a pro and how what life is like on the GP tour, check out this week's Between the Motos interview: LINK.
Want to see more of the sensational Ken Roczen? How about the extremely fast Clement Desalle? The two Teka Suzuki GP riders were class winners at the Red Bull Motocross of Nations last month — Roczen in the MX2 and Desalle in the MX3 — as well as Grand Prix winners in 2010. Fox Racing shot these two play-riding earlier this year at Lommel, Belgium, and Alex Rankin decided to splice together a mellow riding clip. Though their goon-riding skills are rather weak compared to masters like Trey Canard and David Vuillemin (the Marlon Brando of goon-riding) their sand-riding skills are exceptional. Check it out right HERE.
A very select group—everyone watching the B class at Loretta Lynn's in 2008—got to see the first Ken Roczen-vs.-Justin Barcia matchup, but the second one will have an international audience, as Barcia is headed to the Paris-Bercy SX on a 450. Simon Cudby spotted him at the Honda track today to work on a cool video that we will have up this weekend on Racer X Online. Those two—Barcia and Roczen—have similar riding styles, similar speed, and similar mannerisms. Separated at birth?
After the debacle of the MXoN "Jerseygate" involving the Italian team, the FIM Motocross Commission has passed a new rule that will hopefully prevent that from happening again. The FIM has ruled that the top half of any nation's jersey belongs to the national federation (Italy would wear their blue) and the bottom half belongs to the teams (Cairoli could run Red Bull, Philippaerts Monster, etc.). If it sounds like a strange rule, it was an even stranger scandal that almost kept Cairoli out of the MXoN.

Attention privateers – check out this letter we received this week:

My name is Alex Schiffman and I live in Bremerton, WA, just an hour outside of Seattle. My family and I have a full on SX practice facility that many privateers have taken advantage and trained at for supercross, but the past few years my dad and I went further to help the privateers anad we just finished building a 2,900 square foot house with 3 bedrooms and 3 1/2 baths for riders to rent a room and have full access to the track. We even have a shop that riders can work and store their bikes. If any riders are interested, they can reach me at alexschiffman@hotmail.com. Here's a video Mike Flynn (who happens to turn 26 today, happy birthday Mike!) shot of Greg Crater practicing out on the track. HERE.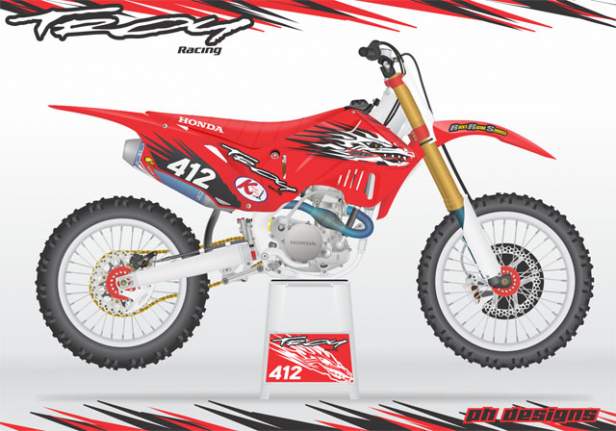 Check out Levi Kilbarger's Slater Skin'd 2011 CRF250R SX weapon designed by Pedro Henrique Paulinelli!
So here we are now for a silly season AMA breakdown. Here's what we've compiled so far:
Rockstar/Makita Suzuki
Ryan Dungey (450)
Brett Metcalfe (450)
Team Honda
Trey Canard (450)
Josh Grant (450)
Monster Energy Kawasaki
Ryan Villopoto (450)
Moto Concepts Yamaha
Tommy Hahn (450)
Kyle Chisholm (450)
L&M Racing
James Stewart (450)
Kyle Regal (450)
Muscle Milk/Toyota/JGRMX
Davi Millsaps (450)
Justin Brayton (450)
Red Bull KTM
Andrew Short (450)
Mike Alessi (450 outdoor only)
Marvin Musquin (250)
Ken Roczen (250 West SX only)
Monster Energy/Pro Circuit Kawasaki (250)
Josh Hansen (SX-only)
Troy Lee Designs Honda (250)
Rockstar Energy Drink Suzuki (250)
GEICO Powersports Honda (250)
Star Yamaha
Ryan Sipes (450)
Kyle Cunningham (450)
Gannon Audette (250)
Gareth Swaneopoel (250)
Valli Yamaha
Ivan Tedesco (450)
BBMX Suzuki
Jason Thomas (450)
JDR Motorsports KTM (250)
P.J. Larsen
Tye Simmonds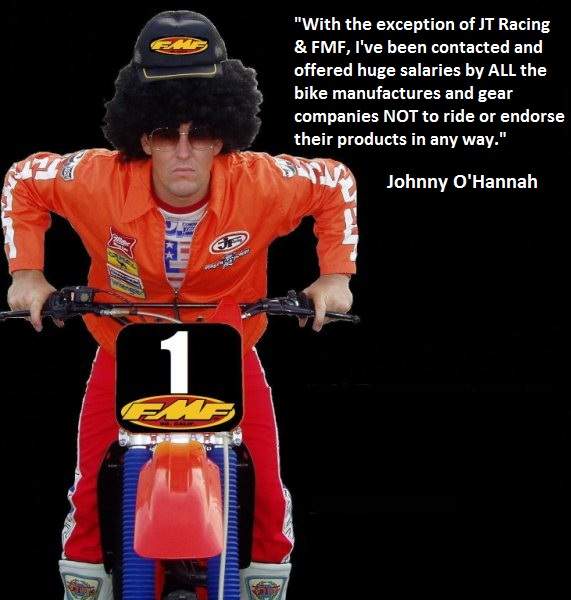 That's it. Enjoy your weekend. Thanks for reading Racerhead. See you at the races.