Basically all of the talk heading into the season finale at Pala Raceway surrounded the 250cc class. More specifically, the seven points that separated Trey Canard from Chris Pourcel for the class championship.
However, the racing itself proved to be somewhat anticlimactic, as the showdown never quite happened because first Canard fell, and then Pourcel fell. But when Pourcel fell, he didn't get up. He dislocated his shoulder. Just like that, the championship was over. No one expected it to end like that. It left both riders and both teams sort of in limbo, not knowing what to do next.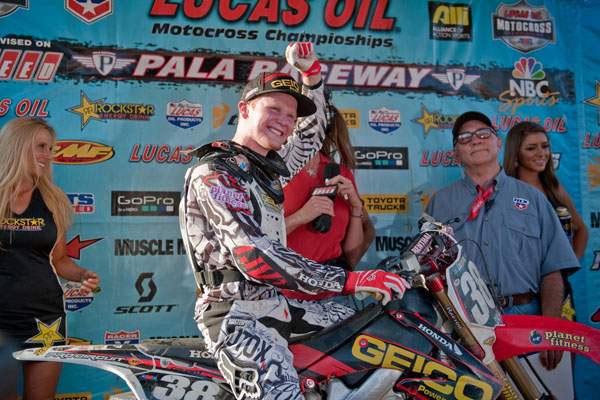 Trey Canard isn't the only winner to leave Pala Raceway. Chris Pourcel is a winner, too.
Photo: Steve Cox
However, for me, that's not the end of the story. It's just the start. I personally like both Canard and Pourcel. For Canard, he's impossible not to like; he's nice, genuine, and he gives it his all every time he's on the track. And for Pourcel, he used to be hard to understand, but I ended up sitting next to him on a flight home from a race last year, and after talking for the whole flight (something he still makes fun of me for), I came away understanding him. He's a great guy, too. Dry humor, swagger, and an appreciation for life after overcoming paralysis a couple years ago.
The end of the story is that, hours after everyone left, Pourcel walked up to Canard's truck and asked to get a championship T-shirt to remember the event by. Long story short, what I witnessed was an exchange between two hardcore competitors that was full of nothing but respect and admiration for each other's strengths. Pourcel gracious in defeat, and Canard gracious in victory, it could be that I witnessed the beginning of the new generation of 450cc rivalries.
Wouldn't it be something if I did?
(For more on these events, check out the race report here, the Monday Conversation with Trey Canard here, and the 5 Minutes with Chris Pourcel here.)